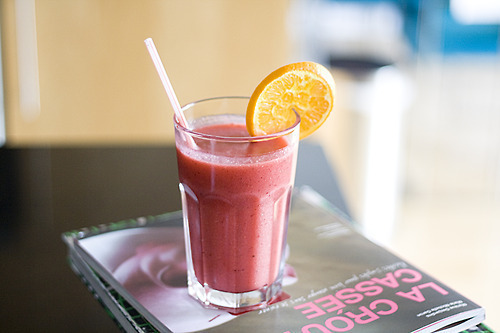 Ik sta vaak nog versteld als mensen hun glas jus d'orange beschrijven als gezond. Ergens begrijp ik het, maar ik vraag me toch af waarom iedereen maar denkt dat alles wat ergens met fruit te maken heeft, direct gezond is. Ik zal je uitleggen waarom ik geen fan ben van vruchtensappen/fruitsappen.
In fruit zitten vitamines! …
Fruit zit bomvol vitamines, mineralen en vezels. Maar fruit bevat ook natuurlijke suikers. Nu ben ik totaal geen tegenstander van natuurlijke suikers, maar er is een verschil in het opeten van je fruit en het opdrinken van je fruit. Wanneer je fruit eet, doe je er langer over, dat is logisch. Er gebeuren een aantal dingen in je lichaam in de tijd dat je het fruit aan het eten bent. De geur komt vrij, je reukzintuigen worden geprikkeld, de smaak komt langzamerhand tot stand in je mond en je bent enige tijd aan het kauwen tot je het fruit kunt doorslikken.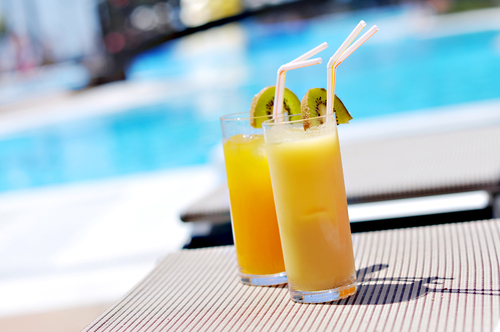 Een natuurlijke reactie op het kauw proces is dat de spijsvertering op gang komt, dit zorgt ervoor dat er spijsverteringssappen worden aangemaakt zodat je maag en darmen klaar staan om het fruit op te vangen en te verteren. Wanneer het gekauwde fruit in de maag terecht komt krijgen de hersenen op hun beurt weer een seintje dat er voeding in de maag zit en dit betekent dat er na enige tijd een voldaan gevoel optreedt.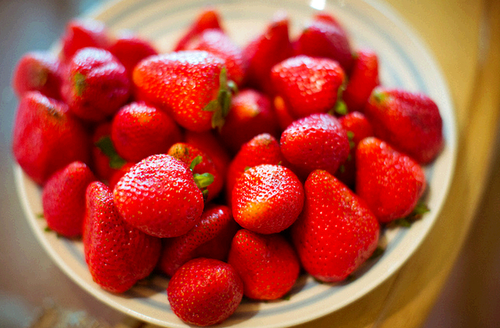 Dit hele proces wordt overgeslagen wanneer je lichaam in één keer een glas fruit- of vruchtensap binnen krijgt. En niet alleen dat, tijdens het juicen van het fruit gaat er ook een groot deel van de vezels verloren doordat de schil vaak eraf wordt gehaald, de pulp eruit wordt gehaald en door het juicen zelf worden de vezels deels afgebroken. Dit resulteert in een geconcentreerde sap die in één keer door je lichaam opgenomen kan worden.
Dat klinkt gezond?
Dat klinkt gezond, maar dit brengt nadelen met zich mee. Dat de sap nu een geconcentreerde hoeveelheid vitamines en mineralen bevat is waar, maar dat betekent ook dat de sap een geconcentreerde hoeveelheid suiker bevat. En doordat het in één keer je lichaam inkomt, schiet je suikerspiegel dus ook in één keer omhoog. Dit veroorzaakt een piek in je bloedsuiker en na een piek komt een enorme daling. Deze pieken en dalingen wil je zoveel mogelijk vermijden op een dag.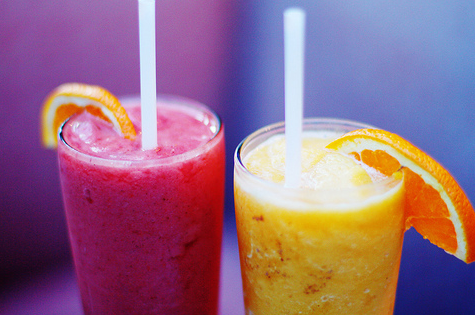 Wanneer je een evengrote hoeveelheid fruit eet, en dus kauwt, komt er beetje bij beetje een deel van het fruit je lichaam binnen, waardoor het stukje bij stukje verteerd kan worden. Je suikerspiegel blijft stabieler doordat de insuline de hoeveelheden suiker in delen kan opvangen.
Let wel, er is een verschil tussen smoothies en vruchtensappen! Smoothies houden je suikerspiegel beter in balans; lees hier verder over het verschil tussen smoothies en sappen! 
Dit is een gedeelte uit een eerder artikel dat ik heb geschreven en graag nogmaals wil benadrukken. Zie "Juicing. De voordelen en nadelen".
Bewaar, Like, Tweet of Pin!