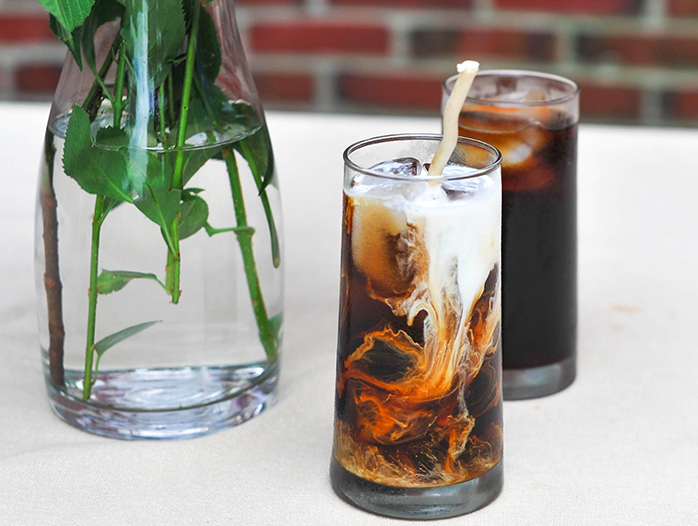 Ik ben een koffie fan. Zoals je waarschijnlijk al weet. En vooral als het weer warmer wordt, kan ik niet wachten om over te gaan op ijskoffie! Nu wil ik voor deze zomer mijn ijskoffie skills masteren. Oftewel: ik wil keigoede ijskoffie leren maken, waar de Starbucks jaloers op kan worden. Hehe. Ik heb wat research gedaan op het web en zal het delen in dit artikel zodat ook jij, de ijskoffie master wordt in jouw omgeving. Recept van de bovenstaande foto vind je hier.
De recepten van de foto's kun je vinden door op de foto te klikken. 
IJskoffie, geen milkshake
Nu zijn er een hoop varianten van "ijskoffie" te verkrijgen in tentjes. Velen hebben meer weg van een milkshake dan van ijskoffie (zie foto hieronder met link naar recept), met bijvoorbeeld gecondenseerde melk, slagroom, veel siroop etc. Prima hoor, maar dat is niet wat ik zoek. Ik hoef geen romige, mierzoete shake met een beetje koffie. Ik wil juist koffie, met melk en eventueel een zacht zoete smaak erdoor. En vooral lekker koud, ijskoud!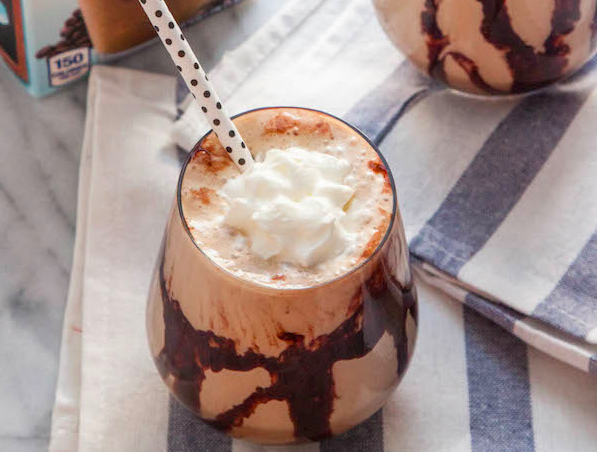 Pindakaas in je ijskoffie?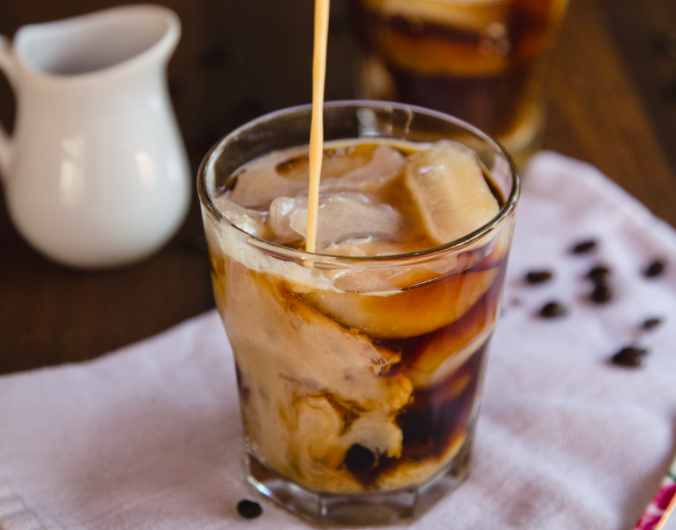 Deze vond ik interessant! Er zit namelijk pindakaas in de ijskoffie; say whaaat! Er wordt room, honing en pindakaas bij elkaar gedaan en opgewarmd in een pannetje. Nu is dit wel iets dat ik wil proberen! Hoe gaaf zou dat zijn om een lekkere ijskoffie met pindakaas smaak te kunnen maken? Ik ga deze eens proberen met amandelmelk in plaats van room. Mocht het een succes worden, dan komt het recept natuurlijk online; de Teni versie, ofcourse.
IJsklontjes van vanille en koffie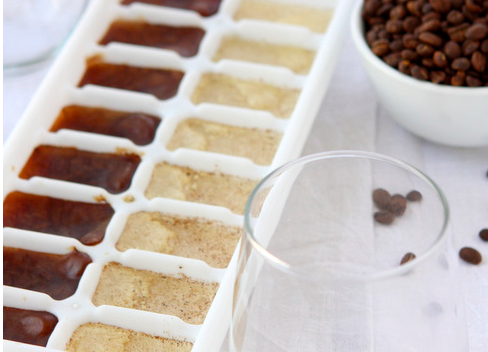 Ik heb zelf wel vaker ijsklontjes gemaakt van koffie, maar ijsklontjes met vanille smaak? VET SLIM IDEE! Ik denk dat dit de ijskoffie echt een super lekkere geur en smaak gaat geven. Niet te zoet, juist lekker. Nu nog proberen 🙂
Pumpkin Spice in de zomer?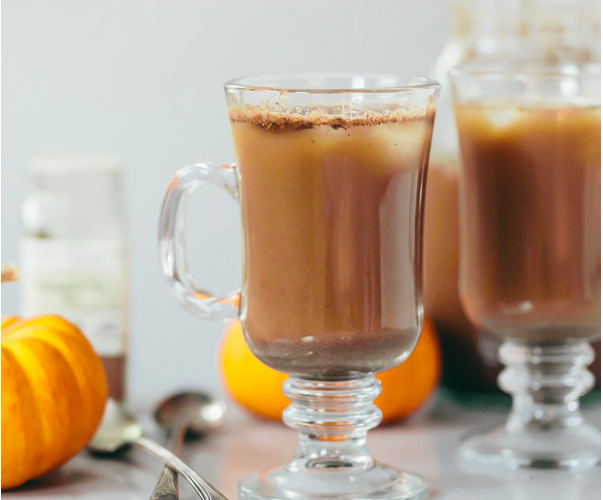 Ja, waarom ook niet? Al associeer ik pumpkin spice toch echt met de herfst, lijkt het me ook geen gek idee om het in de zomer te proberen! Heel simpel recept met maar 3 ingrediënten, waarvan 2 de koffie en de melk.. Dan kun je de 3e ook wel raden, haha 😉
Sinaasappelsmaak!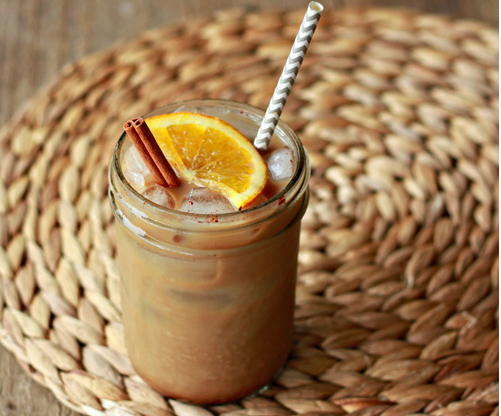 Valt een beetje in hetzelfde straatje als de pumpkin spice als je het mij vraagt. Sinaasappel smaak (met wat kaneel en nootmuskaat) ijskoffie! Dit zijn de ijskoffies waar je een goede indruk mee kunt maken op etentjes denk ik zo! Tenminste, als ze lekker gemaakt worden! Na een maaltijd is er vaak ruimte voor wat koffie of thee, maar in de zomer is dat niet altijd even prettig aangezien het al warm is buiten en je liever een koud drankje wilt. Zie het even voor je; zomerse dag, lekker met vrienden gebarbecued, de zon gaat onder en jullie zitten buiten op een bankje na te genieten, sommigen hebben een koud biertje, anderen hebben de ijskoffie! JUM! Je kunt er zelfs wat rum of Baileys (oeps) doorheen doen. Hehe 🙂
Koffie koud krijgen
De koffie zelf koud krijgen kan op verschillende manieren. Ik ben er best lui in, dus ik zet gewoon koffie zoals ik altijd doe en doe vervolgens ijsklontjes in het glas erbij om de koffie te laten afkoelen. Je kunt ervoor kiezen om koffie ijsklontjes erbij te doen zodat je koffie niet water wordt. Maar zelfs daar ben ik te lui voor en maakt het me niet heel veel uit aangezien ik al best sterke koffie zet.
Je kunt er ook voor kiezen om gemalen koffie in een koffiefilter te doen, dit bovenop een kan te plaatsen en vervolgens koud water in het filter gieten. Of juist heet water, met in de kan wat ijsklontjes (zie hieronder):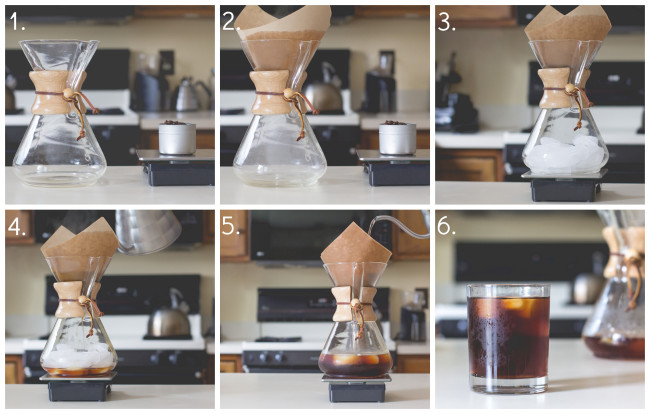 Hopelijk hebben jullie nu net zoveel zin als ik om jullie ijskoffie skills te verbeteren deze zomer! Tenminste, als je ervan houdt. Even voor mijn vrienden en collega's: verwacht de beste ijskoffie ooit van mij! Haha 😉
Fijne zondag allemaal!