In de fitness/voeding/gezondheid wereld hoor je vaak voorbij komen dat je vooral moet luisteren naar je lichaam. Honger, pijn bij sporten, etc. Maar aan de andere kant zijn er weer evenveel uitspraken omtrent de 'no pain no gain' mentaliteit. Het idee dat als je je doelen wilt bereiken op fitness gebied, het niet allemaal even comfortabel gaat zijn, sterker nog: reken er maar op dat het oncomfortabel en zwaar gaat worden. Maar hoe weet je nou of je hard genoeg traint om vooruitgang te boeken maar ook weer niet te hard dat je jezelf kapot maakt? 
Luister naar je lichaam
Hm. Als ik dit bij mezelf zou toepassen, in alle eerlijkheid, dan denk ik aan de volgende scenario's
6:00 uur gaat de wekker, tijd om op te staan – Hell no. Ik blijf slapen. Mijn lichaam is overduidelijk niet uitgeslapen genoeg om op te staan. Doei.
Tijdens het hardlopen – Pijn in mn zij. Wat een rotgevoel dit. Ik ben uitgeput. Ik kap ermee. Doei
Tijdens elke andere workout – Dit voelt niet prettig. Ik kan niet meer. Ik wil niet meer. Ik stop ermee. Doei.
Dit is natuurlijk het andere uiterste, snappen we ook wel he? Laten we enigszins ons verstand gebruiken, we weten namelijk dat bewegen en sporten goed voor ons is. We weten ook, dat als we een strakker lijf willen, we toch "wat harder moeten bewegen" dan we misschien willen. En stiekem ook wat vaker dan we willen. Tja, het komt allemaal niet uit de lucht vallen. De kunst zit hem in het uitvogelen wanneer je hard genoeg traint om je doelen te behalen en wanneer het te hard is en het je juist belemmerd om je doelen te behalen.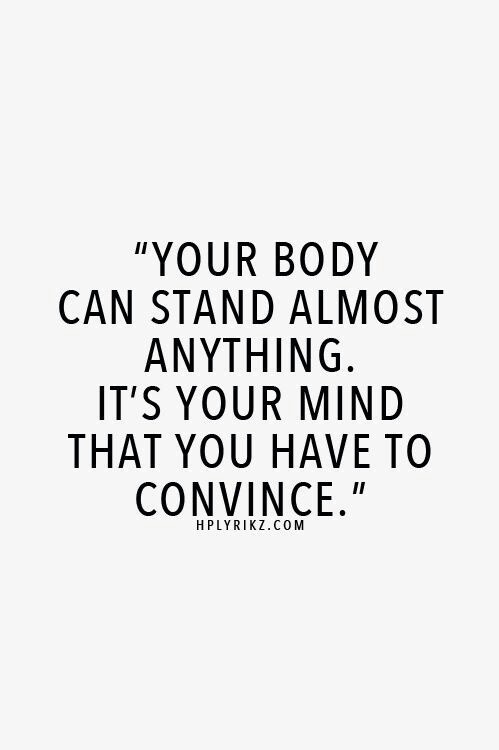 No pain no gain
Hopelijk zijn we het erover eens dat je je enigszins oncomfortabel moet voelen tijdens je workouts om vooruitgang te boeken en resultaat te zien. En niet te vergeten; je lichaam gezond te houden. Dan rolt de volgende zin uit mijn hoofd:
"Oncomfortabel zijn/voelen = niet gelijk aan je lijf belasten" 
Oftewel, het luisteren naar je lijf hoeft niet van toepassing te zijn als je je oncomfortabel voelt, dit kan juist goed zijn voor je lijf maar zijn het je hersenen die je laten denken dat het vreselijk is. We moeten dus eigenlijk onze hersenen zodanig weten te trainen dat ze herkennen wanneer en welke signalen "goede pijn" zijn en welke "slechte pijn". Nu is het lastige dat dit voor iedereen anders kan zijn (zucht, zoals met zoveel!), dit heeft te maken met je fitnesslevel, maar ook met eventuele eerdere blessures of zwakke delen van je lichaam.
Signalen
Als we wisten waar we naar moesten luisteren, dan konden we beter inschatten wanneer we te ver gaan en ons lichaam meer in gevaar brengen dan helpen. Er zijn wel enkele signalen die onderscheidend genoeg zijn om rekening mee te houden. Denk bijvoorbeeld aan:
Constante spierpijn die héél langzaam verminderd (5-6 dagen i.p.v. 1-3);
Slecht slapen, slecht in slaap komen, onrustig slapen, heel licht slapen, veel moeite met opstaan;
Verkoudheidje dat al vele weken aanhoudt;
Pijn in de gewrichten, ook tijdens dagelijkse activiteiten die amper belastend zouden moeten zijn (wandelen, bukken, traplopen etc.)
Dagelijkse pijn die niet héél erg is, maar meer zeurderig of knagend;
Hard trainen van je spieren is belangrijk om vooruitgang te boeken, maar vaak wordt vergeten dat het uitrusten (van je spieren) net zo belangrijk is (1). Soms is het uitrusten net die ene sleutel die je nodig had tussen al het harde trainen en gezond eten. Die extra uurtjes slaap kunnen je helpen met het onder controle krijgen van bijvoorbeeld onstilbare honger (check dit artikel) maar ook je energieker maken (duh) waardoor je intensiever en effectiever kunt trainen. Als je het mij vraagt? Dan zeg ik; Slaap is de basis, daarna voeding en vervolgens training.
En de basis moet bij mij een aangepakt worden. Haha. Slaap gaan we serieuzer nemen! Ode aan slaap.