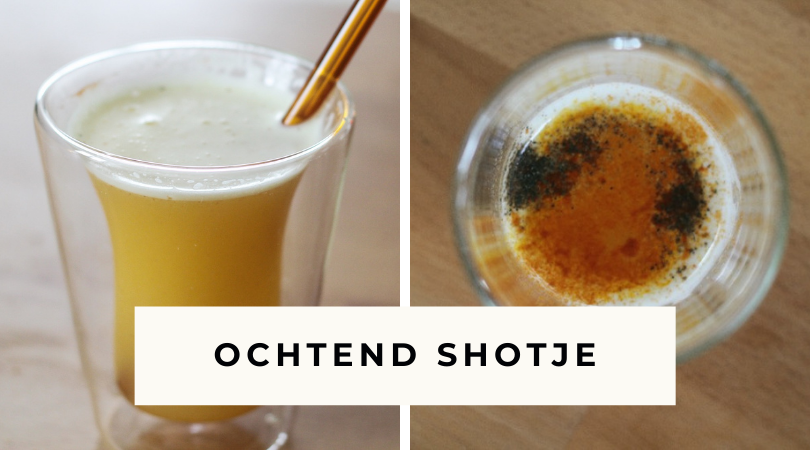 Er komen altijd zóveel vragen over mijn 'ochtendshotje' wanneer ik het post op Instagram, dat ik het met deze post in het vervolg wil opvangen! Hier vind je alle informatie over mijn ochtendshotje: van de ingrediënten tot hoe vaak ik het drink en meer!
Hoe vaak en wanneer?
Het idee van mijn ochtendshotje is dat ik het elke ochtend drink. Maar daar heb ik geen zin in. Soms kost het teveel tijd, soms staat het me niet aan en soms vergeet ik het.
Ik ben daar verder heel relaxt in: wanneer ik eraan denk en zin heb om het te maken – dan doe ik dat! Of ik maak het wanneer ik denk dat ik wel een boost aan voedingsstoffen kan gebruiken.
Dus niet elke ochtend en ook niet volgens een schema. Geheel volgens gevoel.
Als ik het drink, dan gaat dat meestal op een lege maag na mijn workout. Voor mijn workout heb ik vaak al wel zwarte koffie gedronken.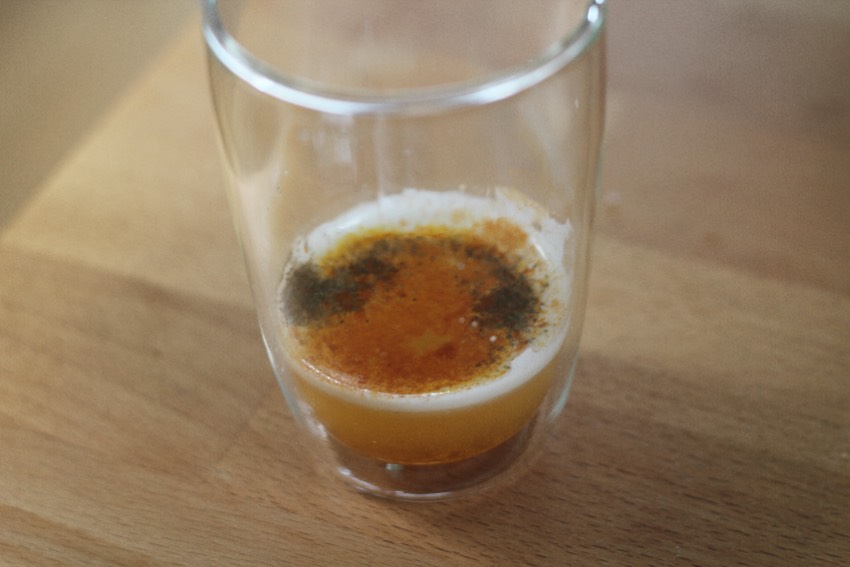 Soms is het zo'n klein beetje en soms is het het hele glas vol (vaak afhankelijk van of er wortel, sinaasappel en/of citroen in gaan/gaat).
Wat zit erin?
Ook dit verschilt elke keer. Het is maar net wat ik in huis heb en waar ik 'zin' in heb. Het shotje is meestal best heftig, dus echt lekker is het niet – ik drink het vooral voor de gezondheidsvoordelen, maar daar komen we zo op.
De hoeveelheid ingrediënten en de combinatie verschilt van keer tot keer. Ik denk dat ik meestal op zijn minst 3 van de onderstaande ingrediënten gebruik.
Gember uit de juicer
Wortel uit de juicer
Sinaasappel, geperst
Citroen, geperst

Kurkuma

(poeder) + Zwarte peper (klein snufje)

Green juice

poeder

Cayenne

peper (poeder)
Waar is het goed voor?
De ingrediënten dienen voor verschillende dingen. Het zijn in ieder geval geen synthetische voedingsmiddelen en ze bevatten stuk voor stuk krachtige stoffen. Klik op de ingrediënten hierboven in het lijstje om naar een bijbehorend wetenschappelijk artikel op mijn site te gaan voor meer informatie!
Het kan natuurlijk zijn dat ik ooit ga experimenteren met andere ingrediënten, maar voor nu is dit wel de basis waaruit ik mix en match! 🙂