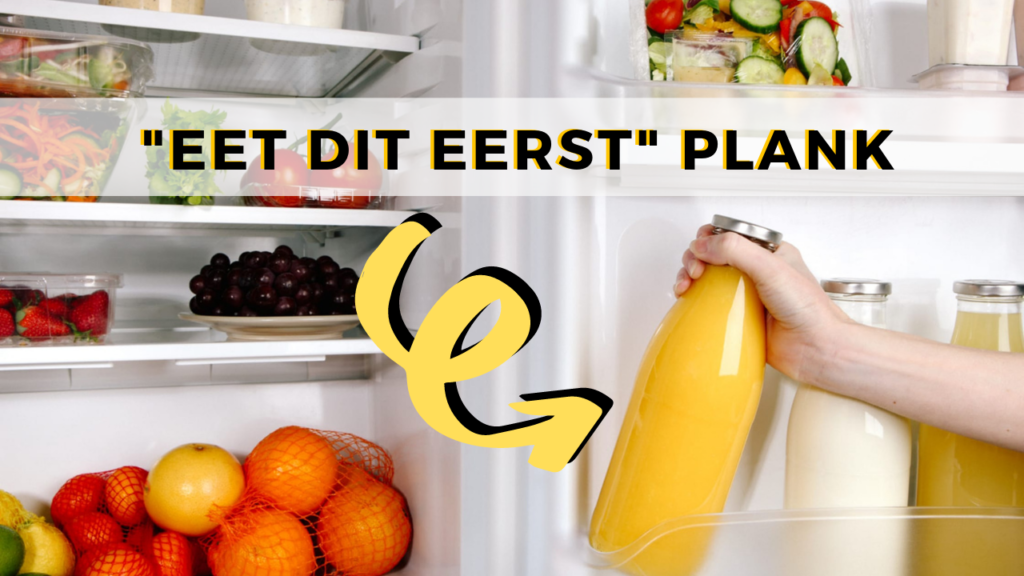 Als iemand die vrij bewust is van voedselverspilling én mijn portemonnee graag gevuld houdt (niet onnodig laat leeglopen), ben ik altijd op zoek naar manieren om mijn laatste restjes eten nog in iets te verwerken óf slimme boodschappen trucjes om zo min mogelijk voedsel te hoeven verspillen.
Tijdens één van onze vele Whole Foods bezoekjes hier in Amerika (mocht je het niet weten, ik ben hier 2 weken op vakantie) werd ik geïnspireerd door hun benadering van eten, verspilling, milieu, biologisch etc. Ik zag een boek van Ben Simon (Imperfect Produce) bij de kassa liggen en besloot er doorheen te bladeren. Waar hij Ben Simon bekend voor staat is een zogenaamde "Eat First Shelf" – dat vond ik nog eens een goed idee.. !
Precies, de "Eet dit Eerst Plank"
Hij zegt "Elke keer als ik mijn koelkast open doe, denk ik: 'Is er iets wat nog maar een paar dagen houdbaar is?' dan leg ik het op de plank die ik heb vernoemd als de 'Eet dit Eerst Plank'".
Oftewel, elke keer als je iets pakt uit de koelkast, scan je even of je iets dient te verplaatsen naar de plank waar de producten liggen die bijna niet meer houdbaar zijn.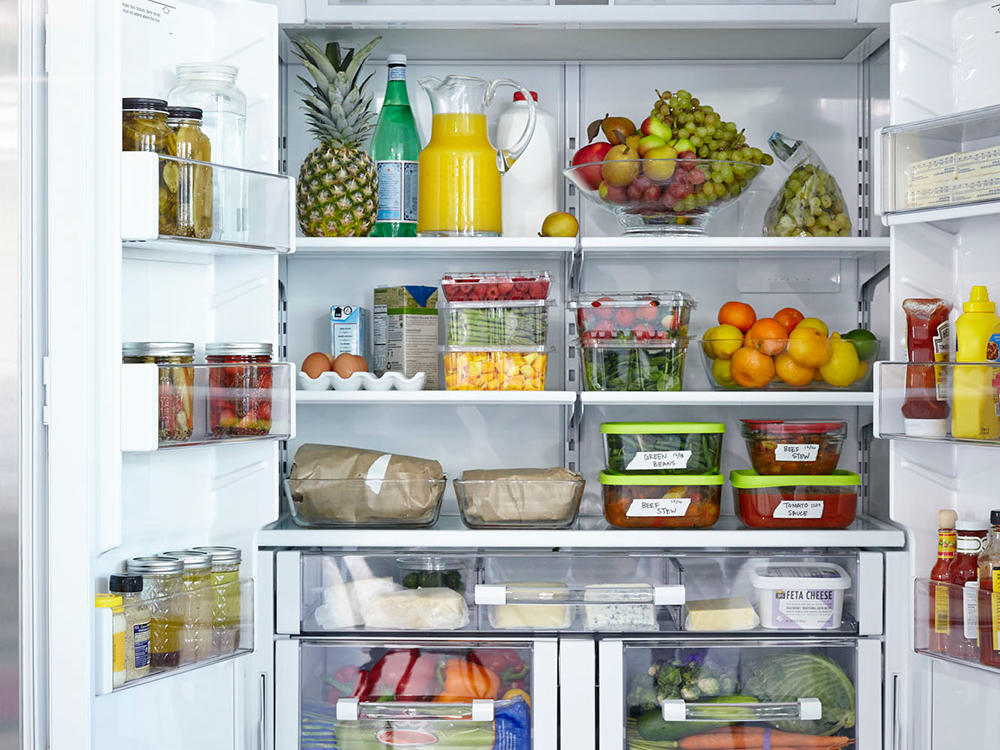 Hoe begin je met zo'n plank?
Je kunt het principe toepassen wat ze in veel restaurants doen, de "First in, first out" methode. Alles wat als eerste de koelkast is in gegaan, dient als eerste opgegeten te worden.
Als je op maandag eieren en kaas hebt gekocht en op dinsdag vlees en spruitjes – dan eet je de eieren en kaas als eerste op.
Dit is natuurlijk niet letterlijk te nemen, het is een manier om je eten beetje bij beetje naar die ene plank te verplaatsen: Het liefst bovenin zodat het goed zichtbaar is in plaats van dat al het eten dat je als eerste hebt gekocht verdwijnt achter alle laatst gekochte producten die vooraan komen te staan. Onderin kan ook, het voordeel daarvan is dat het daar meestal het koudst is in de koelkast en dat in je voordeel kan werken voor voedsel dat nog even goed is.
Je hebt dan de neiging om te vergeten wat er ook alweer achterin de koelkast verschuilde en het pas aan te treffen als het overdatum is. Je kunt het zelfs labelen met "Eet dit Eerst Plank" als reminder naar jezelf en de anderen in je huishouden.
HOE je voedsel langer kunt bewaren
Het is vervolgens belangrijk om te weten hoe je voedsel het beste kunt bewaren zodat het langer meegaat. Groente en fruit kunnen het beste niet direct naast elkaar liggen omdat fruit vaak ervoor zorgt dat alle andere producten er direct omheen sneller rijpen. Asperges en kruiden kun je het beste bewaren door ze als bloemen te behandelen; de eindjes eraf knippen en omhoog staand in een pot met water bewaren. Nu heb ik dit uit een boek van een Amerikaan waar ze bijna allemaal mega grote koelkasten hebben. Ik kan me voorstellen dat niet elke koelkast in Nederland de ruimte heeft om asperges staand in een pot te kunnen bewaren – het is slechtst een tip – het kan ook in de deur natuurlijk.
Wat kun je met restjes?
Zelf ben ik een fan van restjes bij elkaar gooien als een soort wokgerecht met wat bloemkoolrijst getopt met hummus of avocado. Je kunt er ook heel goed soepen mee maken – deze kunnen dan ook weer ingevroren worden.
Fruit dat bijna niet meer goed is dient zich perfect voor een zelfgemaakte chiajam – bijvoorbeeld dit recept dat met elk soort fruit gemaakt kan worden.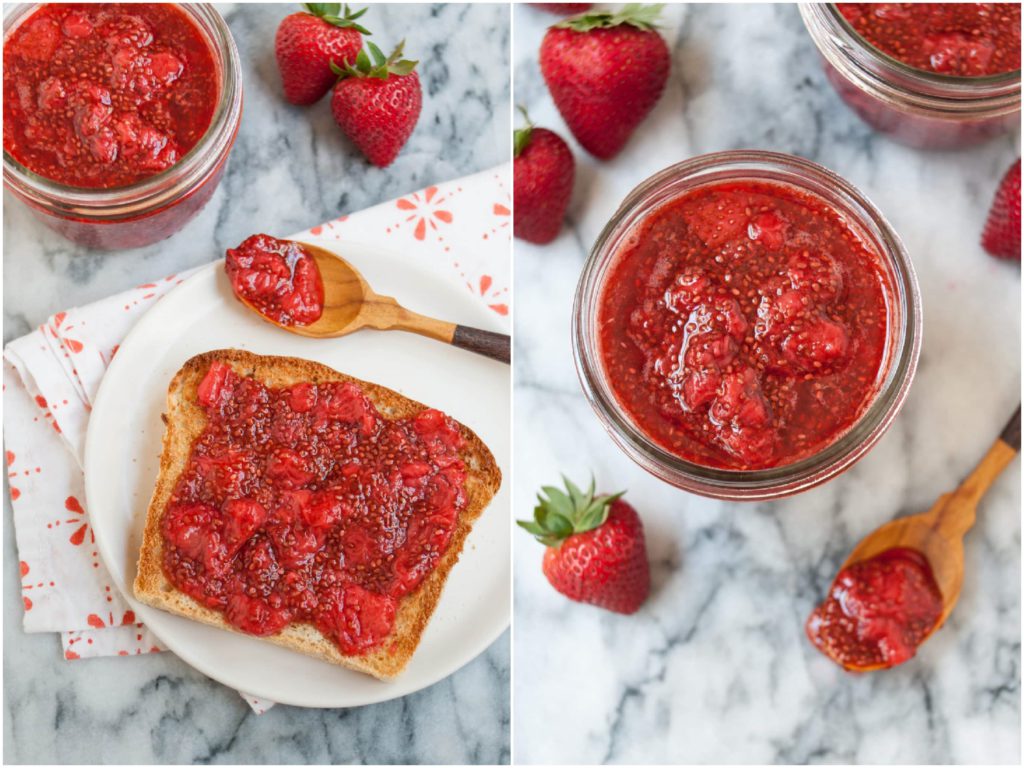 Even op Pinterest zoeken naar "recipes with leftovers" en je zult merken dat de mogelijkheden eindeloos zijn, als je maar wilt.
En als je echt even niet weet wat je met een product moet doen wat bijna overdatum is – gooi het dan in de vriezer voor later. Hier heb ik eerder een artikel over geschreven met tips om je vriezer op een geniale manier in te zetten en geld te besparen.
Geniale manieren om je vriezer te gebruiken en geld te besparen!
Zodra ik thuis ben, ga ik een 'Eet dit Eerst Plankje' creëeren, wie doet mee?
Foto's; Emma Christensen, KKGAS / Stocksy, Cooking Light