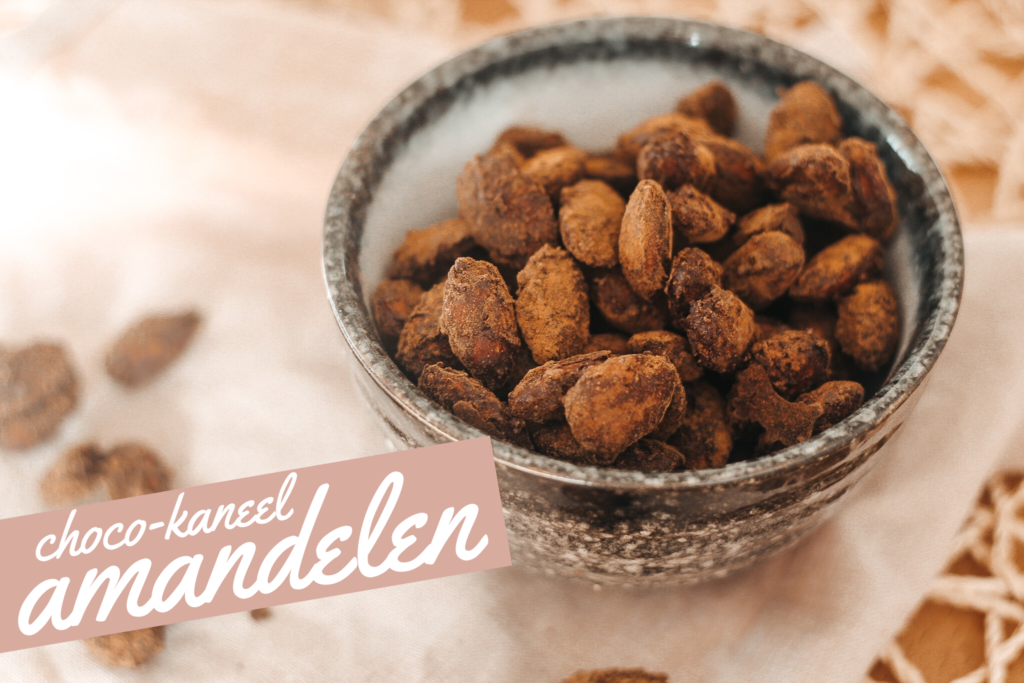 Hoevaak ik deze chocolade amandelen met kaneel in de supermarkt heb zien liggen en gedacht: Daar ga ik toch niet zoveel voor betalen? Ik kan dit zelf ook maken! En uiteindelijk besloot ik dat ook te doen, heerlijk zelfgemaakte choco kaneel amandelen voor bovenop je yoghurt of havermout of gewoon als snack bij de koffie of thee!
Wat heb je nodig?
1 eetlepel kokosolie
50 gram pure chocolate chips (of gewoon een blok pure chocolade)
100 gram amandelen
2-3 eetlepels cacao poeder
2-3 eetlepels kaneel
2 eetlepels kokosbloesemsuiker of basterdsuiker*
snufje zeezout
*optioneel
Smelt de kokosolie en chocolade samen au bain marie. Haal de schaal de kom van het vuur en doe daar de amandelen bij, meng ze lekker door de chocolade. Spreid ze daarna uit over een bakplaat bedekt met bakpapier en besprenkel ze met een mini snufje zeezout (dit mag je ook overslaan als je het niet lekker vindt).
Meng de cacao, kaneel en eventueel suiker in een klein schaaltje, proef even of je de verhouding lekker vindt. Ga dan lekker los over de amandelen tot ze helemaal mat zijn. Ga er met een spatel of lepel doorheen om te zorgen dat alle kanten bedekt zijn. Laat ze dan een paar uur rusten (kan ook in de koelkast). Als je het lekker vindt om wat 'clusters' te krijgen, zorg dan dat ze een beetje aan elkaar plakken als je ze laat rusten. Zo niet, zorg dan dat ze allemaal los van elkaar liggen.
Na een paar uur kun je al aanvallen – verslavend lekker! Enjoy!