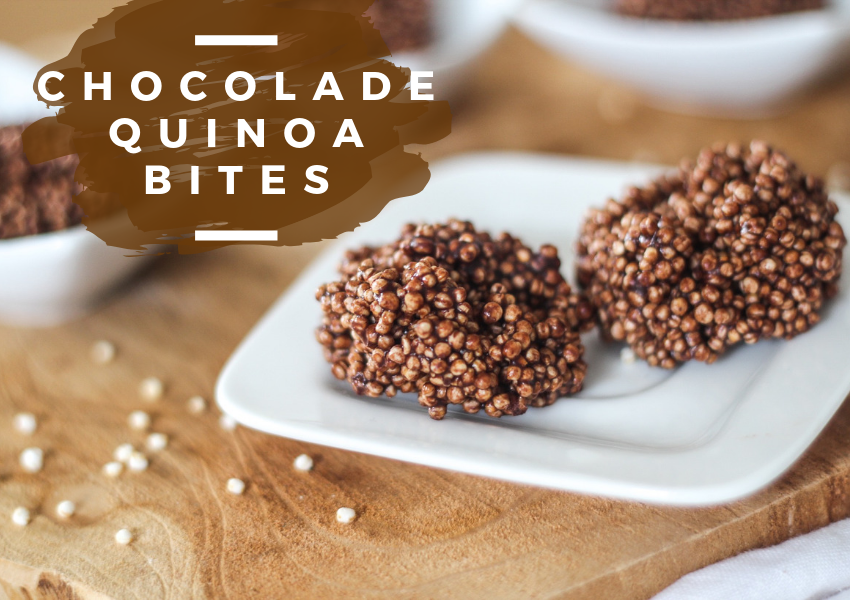 Toen ik laatst in de supermarkt "Quinoa puffs" tegen kwam wist ik dat ik hier iets mee moest doen voor een recept. Wat een geniale manier om quinoa te verwerken in een recept, in de vorm van deze 'puffs'. Natuurlijk moest dit een zoet recept worden waardoor de quinoa niet alleen voor het knapperige zorgt, maar ook dient als een complete eiwitbron en je suikerspiegel stabiliseert. En oja, natuurlijk moest het ook lekker zijn.
Deze chocolade quinoa bites heb je binnen 15 minuten klaar staan om op te snacken!
Wat heb je nodig voor 5 chocolade quinoa bites?
15 gram quinoa puffs (ik heb ze bij de Lidl gekocht)
5 gram cacao poeder
1,5 eetlepel honing
1 eetlepel kokosolie
0,5 eetlepel pindakaas of amandelpasta
5 muffin vormpjes
That's it! Voor dit recept heb je geen oven, keukenmachine of blender nodig – ook wel eens fijn lijkt me!
Doe de cacao, honing, kokosolie en pindakaas/amandelpasta in een pannetje en zet het op een laag vuur zodat alles samen smelt. Blijf het wel doorroeren zodat alles goed wordt gemengd. Als alles gesmolten en goed gemixt is mag het vuur uit.
Doe de quinoa puffs in een hoge schaal en giet hier het mengsel uit de pan overheen, roer het door met een vork zodat alle quinoa puffs bedekt zijn. Verspreid dit nu over de 5 muffin vormpjes en plaats deze 10 minuten in de vriezer zodat het hard wordt. Daarna is het een kwestie van uit de vriezer halen en smullen maar!