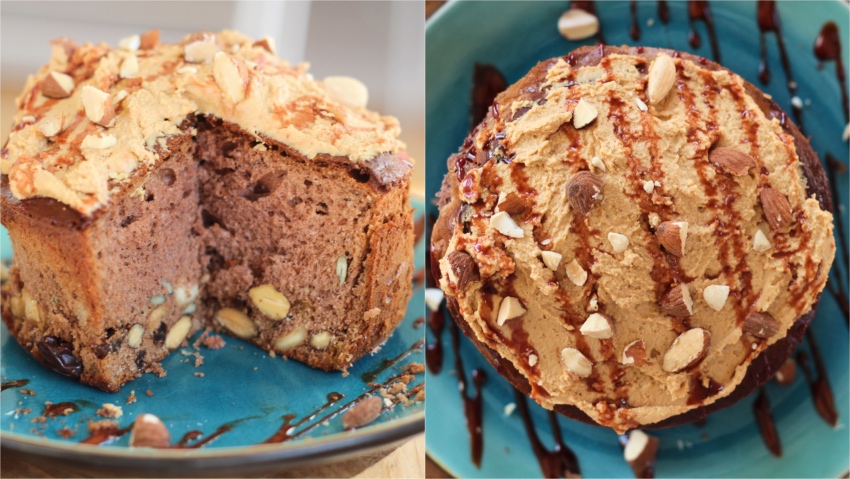 Ik was er helemaal klaar voor. Honderd procent. Ik ging een chocolade cake maken met heel veel eiwit en zonder een bloem of meel. Tot ik het resultaat uit de oven haalde en dacht: HET IS MISLUKT! Alles was helemaal opgeblazen en buiten de cakevorm terecht gekomen. Ik heb het zeker een uur laten staan uit teleurstelling tot ik er een stuk afscheurde en proefde, omdat ik stond te wachten op mijn koffie.
WOW! Dit was heerlijk en fluffy! Dit is toch niet mislukt! Ik heb alles wat buiten de cakevorm was weggelaten en de mooie ronde vorm versierd met een pindakaas glazuur, stroop en noten. Ja, hij is heerlijk geworden! En dat moet gedeeld worden 🙂 
Wat heb je nodig?
100 gram whey eiwit (of neutraal of vanille of chocolade smaak)
3 eetlepels cacaopoeder
5 eetlepels honing (of ahoornsiroop, dadelstroop, wat jij maar wilt. Als je whey met een smaakje gebruikt kun je hier minder van gebruiken, anders wordt het heel zoet)
2 eieren
1 rijpe banaan
1 theelepel baking soda
2 eetlepels gesmolten kokosvet of boter
Noten/zaden/vruchtjes/wat jij maar wilt
Voor de topping:
Dadelstroop
Pindakaaspoeder gemengd met water – of gewoon een laag pindakaas!
Noten/zaden/vruchtjes
Zoals je ziet kun je vele kanten op met dit recept. Zolang je de dikgedrukte ingrediënten hebt, kun je met de rest lekker variëren.
Verwarm de oven vast voor op 170 graden Celsius. Doe de eiwitpoeder met de cacaopoeder en baking soda in een klein bakje en meng dit door elkaar met een vork. In een grotere kom doe je de gesmolten kokosvet, met de honing en de eieren. Meng dit ook door elkaar met een vork. Prak de banaan en meng dit erbij. Vervolgens kun je de droge ingrediënten beetje bij beetje toevoegen aan de kom met de natte ingrediënten en dit met een vork mengen. Wanneer het beslag lekker dik is geworden voeg je de noten en zaden toe naar keuze. Ik heb gebruik gemaakt van twee verschillende zakjes; een beetje van de Alesto mix van de Lidl en een beetje van de Noten&Pitten van Nuts About Nature.
Verplaats het geheel in een bakblik (groter dan die van mij, ik heb een mini, dus dat was niet zo slim) en plaats dit in de oven voor 20-30 minuten. Als je hem uit de oven haalt, laat hem dan even afkoelen en snijd eventueel de randen in zodat je hem er makkelijk uit kunt halen. Versier de cake met pindakaas, stoop, honing, chocolade, noten, zaden wat jij maar wilt en enjoy!
Oja, wees voorbereid op heel veel foto's.. !