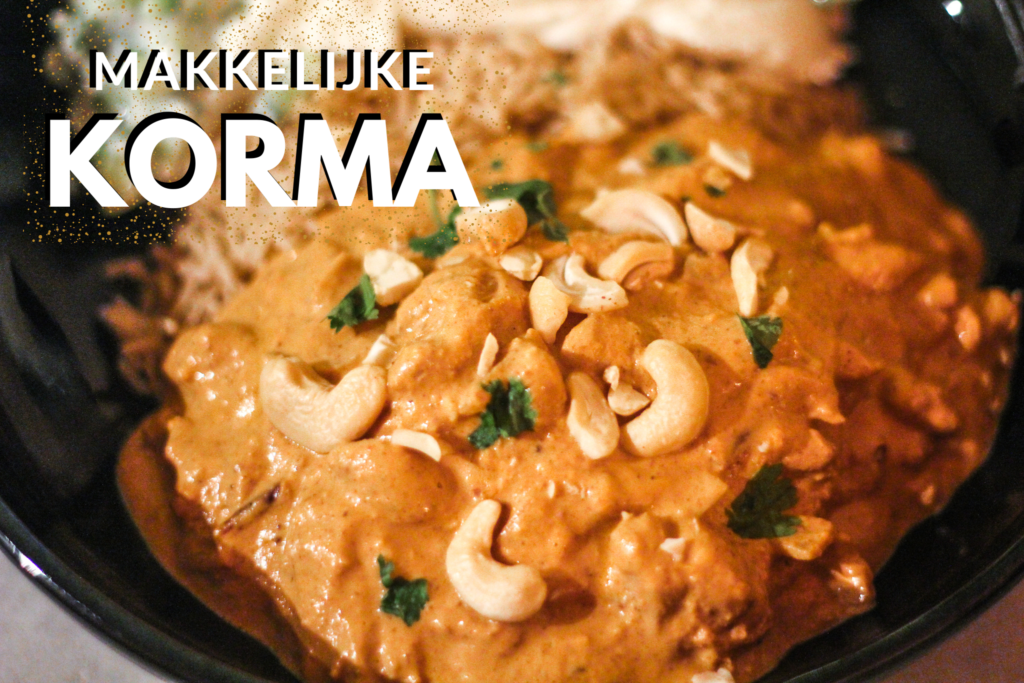 Als je iets te vaak buiten de deur geniet van een goede korma en je je af en toe afvraagt of je het zelf zou kunnen maken, dan is dit hét recept voor jou! Er zijn verschillende manieren om Indiase gerechten klaar te maken, waaronder ook dit recept. Ik ben gegaan voor zoveel mogelijk pure ingrediënten en een rustige bereidingswijze – naar mijn idee een heerlijke manier om een maaltijd te bereiden!
Wat heb je nodig?
400 gram kippendijen, in stukjes gesneden
1 eetlepels tomatenpuree
1 eetlepel gember, geschild
2 teentjes knoflook
1 eetlepel garam masala
1/2 theelepel paprika poeder
1/4 theelepel chili vlokken
1 theelepel kardemom (poeder)
1/2 theelepel zout
1/2 theelepel kurkuma
100 gram amandelen
200 ml yoghurt (geen mager)
1 eetlepel olijfolie
2 eetlepels boter
1 gele ui, gesnipperd
60 ml volle room of kokosroom
handje cashewnoten en wat koriander als topping
1.Doe de tomatenpuree, gember, knoflook, garam masala, chilivlokken, paprika poeder, kardemom, zout, kurkuma en amandelen in een keukenmachine en mix het geheel tot er een gladde pasta ontstaat.
2. Doe deze pasta in een grote kom, doe de yoghurt en kip erbij. Roer er met een lepel doorheen tot alles gemengd is. Zet dit voor minstens 20 minuten of het liefste voor 1-2 uur in de koelkast. Als je hier geen tijd voor hebt, mag je dit ook skippen en direct door naar stap 3.
3. Verwarm de oven voor op 180 graden Celsius. Verplaats de kip naar een ovenschaal en zit dit in de voorverwarmde oven voor 20-30 minuten.
4. Verhit wat olie in een koekenpan, bak hier de uien heel langzaam tot ze gekarameliseerd zijn (5-7 minuten).
5. Voeg de kip uit de oven toe (nadat de kip 20-30 minuten in de oven heeft gezeten), bak dit even een paar minuten mee.
6. Voeg de room toe en meng het geheel goed voor een paar minuten en laat het op een zacht vuurtje gezamenlijk warm worden.
7. Eenmaal warm is het tijd om het op te dienen! Dit kan gewoon met wat rijst maar ook extra luxe met cashewnoten, koriander, rijst en yoghurt! Aan jou de keuze, enjoy!