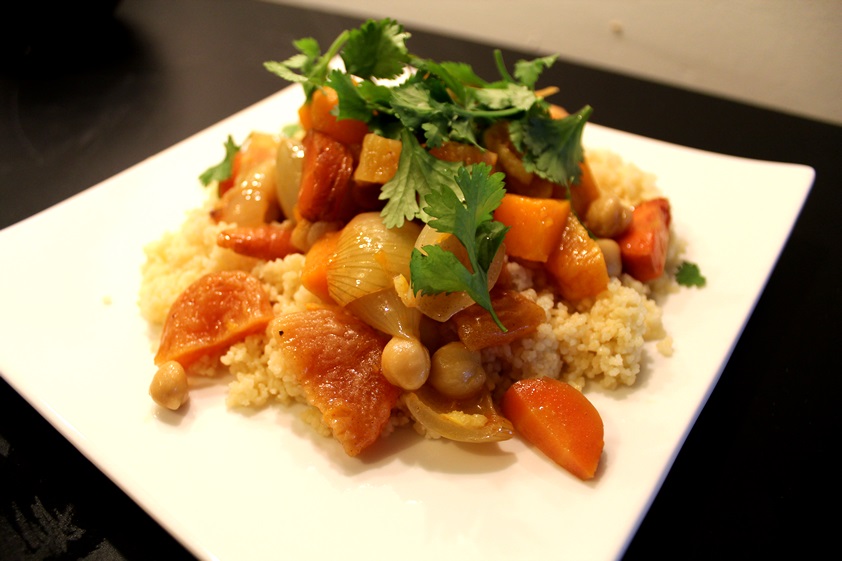 Een tijd geleden hebben mijn vriend en ik een geweldig boek cadeau gekregen "Plenty" van Yotam Ottolenghi. Uit dat boek vandaag een recept: Winterse couscous! (Want ja, het is nog niet voorbij, het gaat wéér sneeuwen).
Wat heb je allemaal nodig?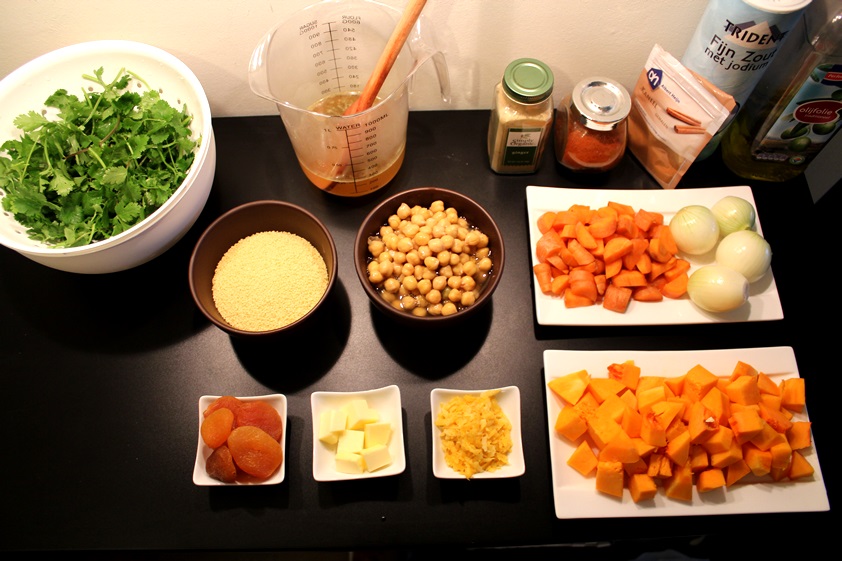 2 middelgrote wortelen, geschrapt, in stukjes van 2 cm
4 uitjes
2 kaneelstokjes (ik gebruik kaneelpoeder)
5 eetlepels olijfolie
1/2 theelepel gemberpoeder
1/4 theelepel paprikapoeder
300 gram flespompoen, geschild, in blokjes van 2 cm
75 gram gedroogde abrikozen, grofgehakt
200 gram kikkererwten (uit blik of gekookt)
3,5 dl kookvocht van de kikkererwten en/of water
170 gram couscous
2,6 dl kokende groentebouillon
20 gram boter, in blokjes
25 gram citroenschil, fijngehakt
30 gram korianderblad
zout
Dat is behoorlijk wat!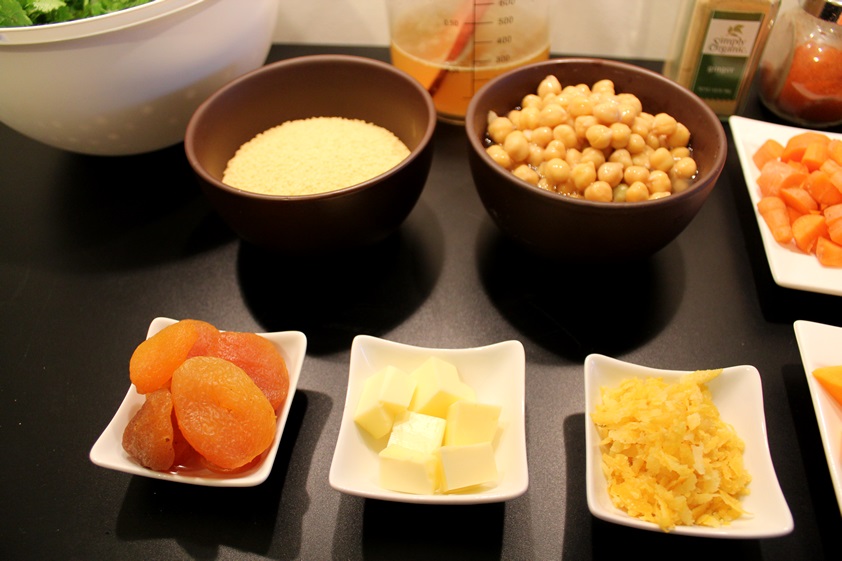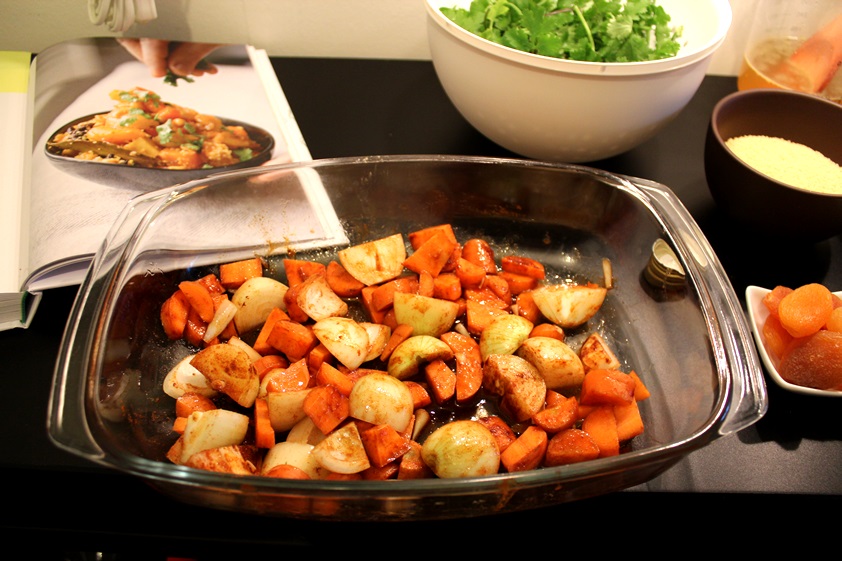 Verhit de oven tot 190 graden celcius. Doe de wortel en uitjes in een grote ovenschaal. Voeg kaneel en 4 eetlepels olijfolie toe. 3/4 theelepel zout en alle overige specerijen toe en schep alles dor elkaar. Zet de schaal in de oven en rooster de groenten 15 minuten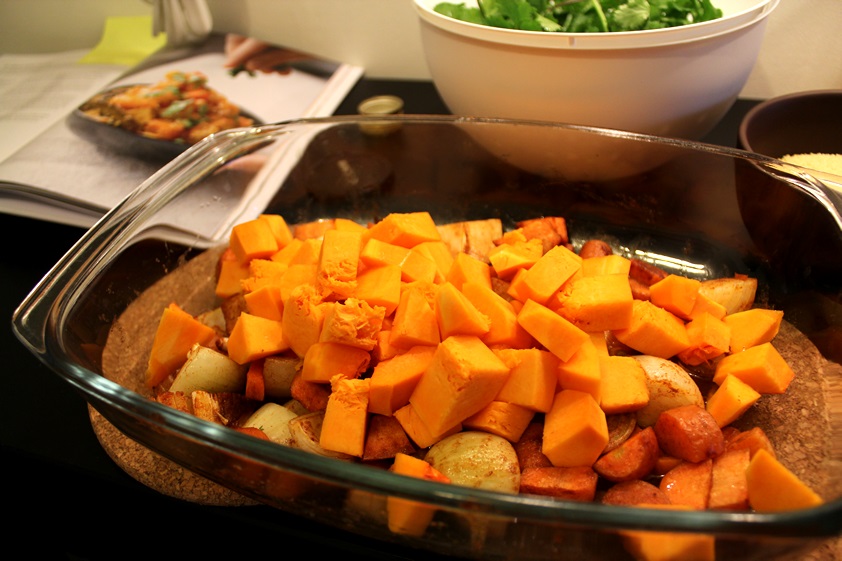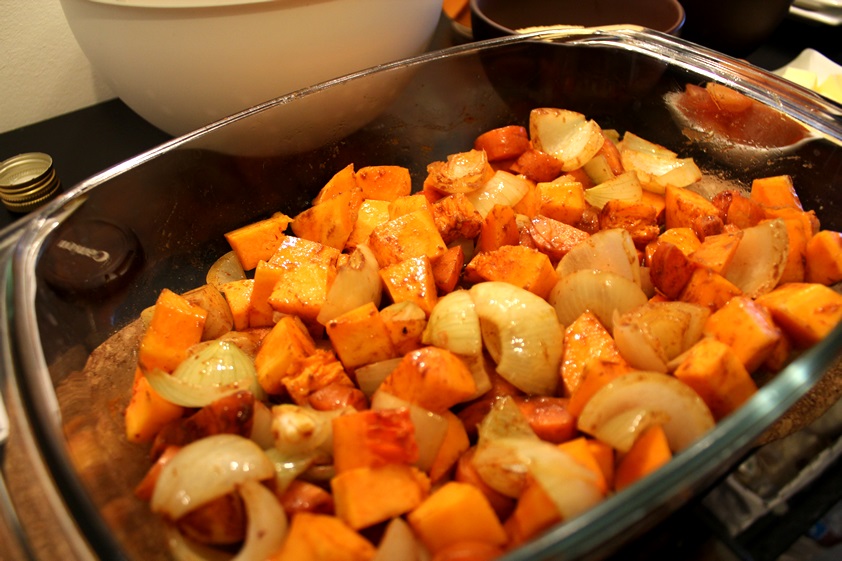 Schep de pompoenblokjes door de groenten in de schaal en zet hem terug in de oven. Rooster alles nog 35 minuten, waarna de groenten beetgaar moeten zijn.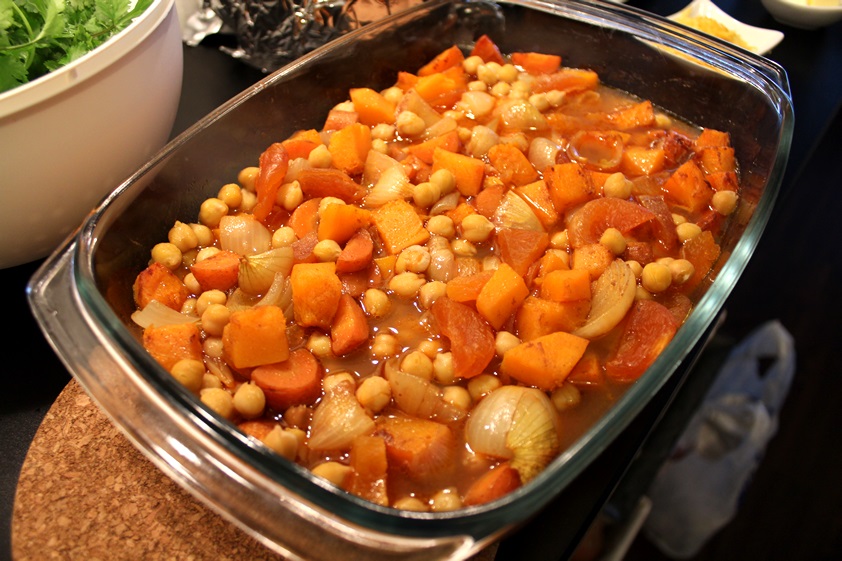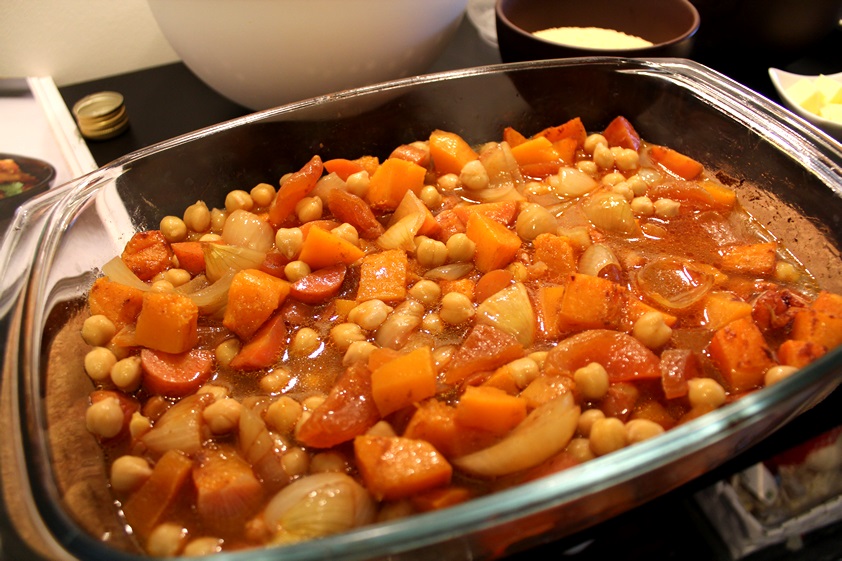 Meng de gedroogde abrikozen en kikkererwten met het kookvocht en/of water erdoor. Zet de schaal weer in de oven en rooster alles nog 10 minuten tot alles goed heet is.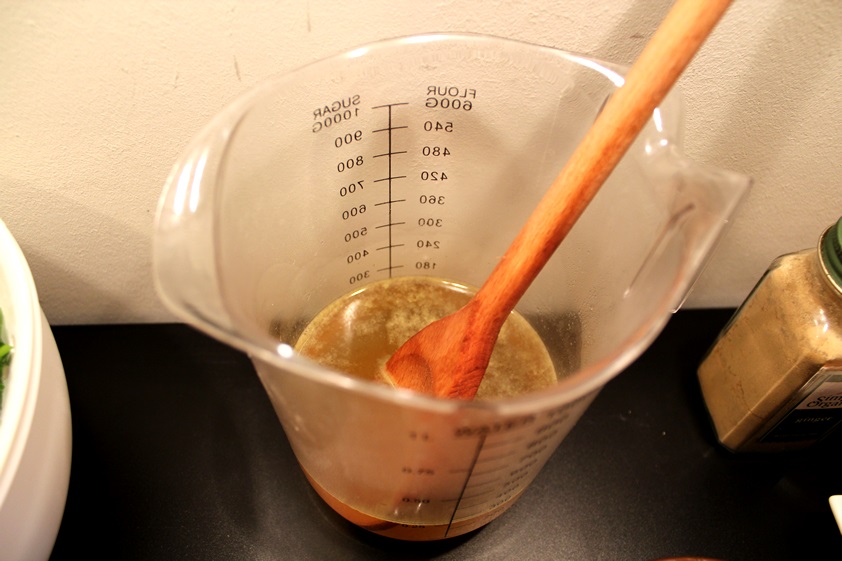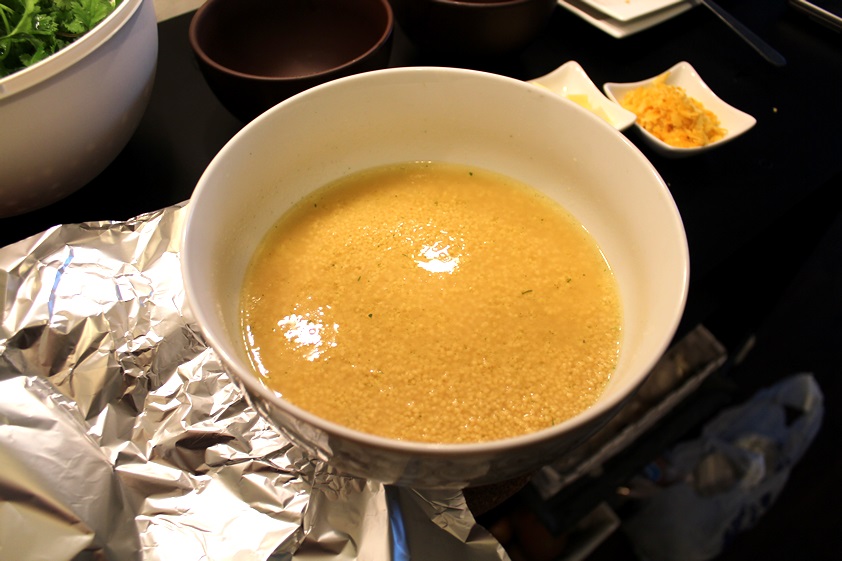 Doe ongeveer 15 minuten voor de groenten klaar zijn de couscous in een grote vuurvaste schaal met de overgebleven eetlepel olie en theelepel zout. Giet de kokende bouillon over de couscous. Dek de schaal af en laat hem 10 minuten staan.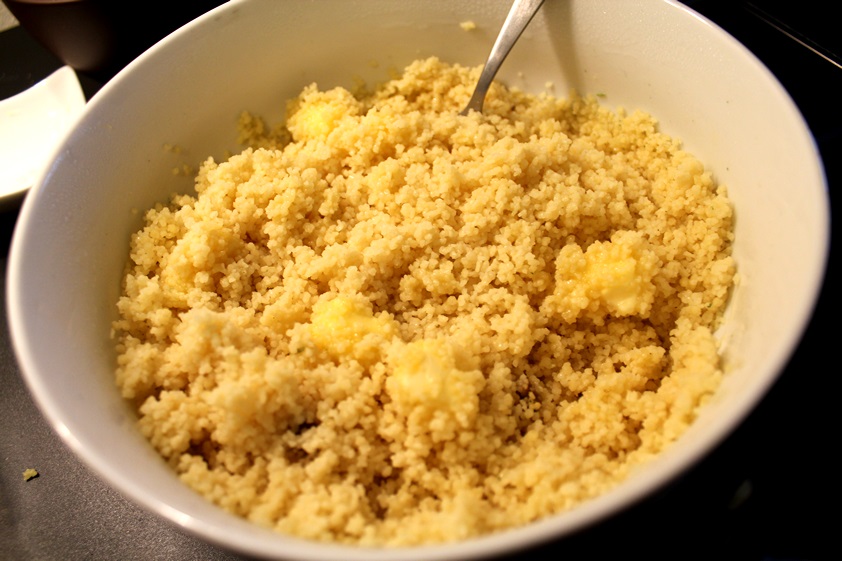 Voeg de boter toe en roer met een vork door de couscous om de korrels los te halen en de boter te laten smelten. Dek de schaal weer af en zet hem op een warme plaats.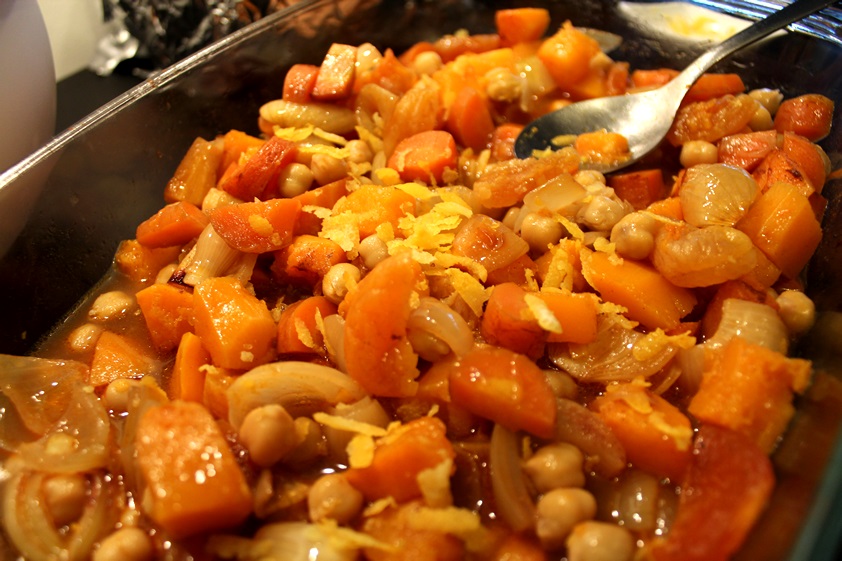 Wanneer je de groentenschaal uit de oven haalt, schep dan de citroenschilletjes erdoor.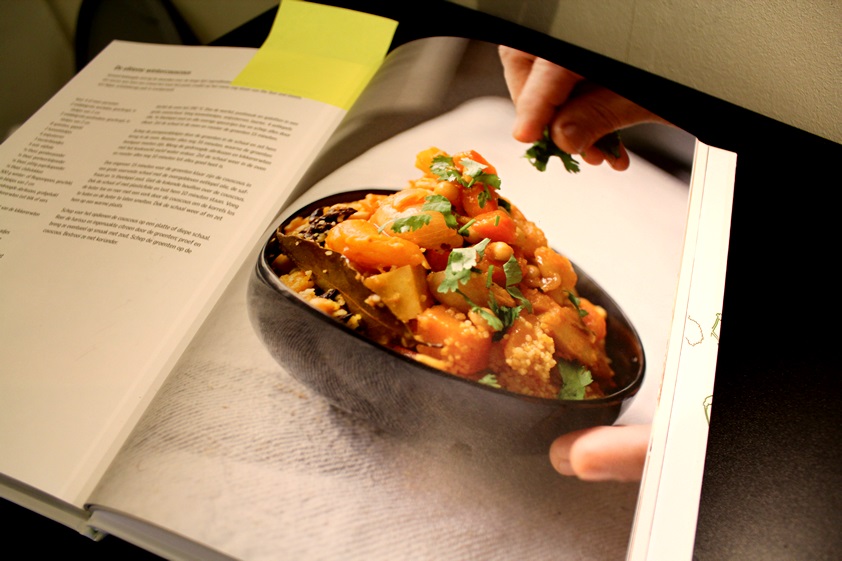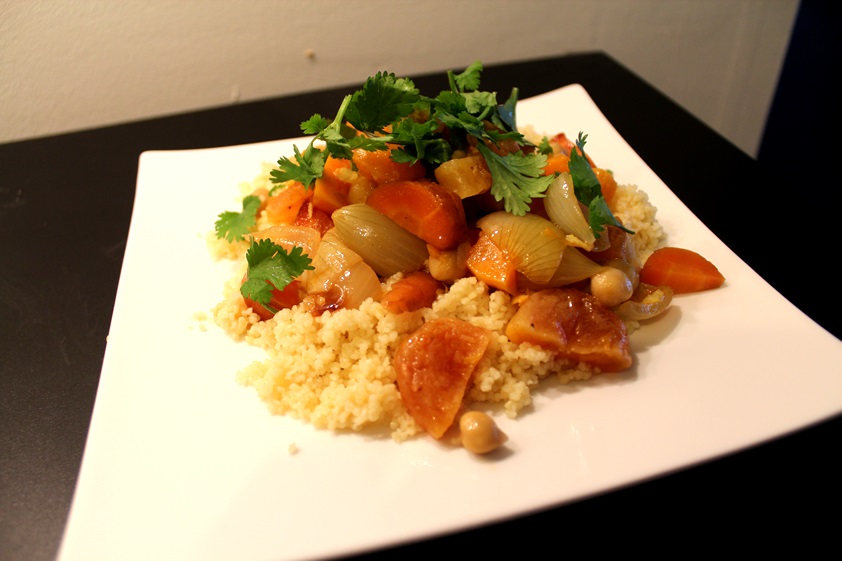 Voor het opdienen: schep de couscous op een bord en schep de groenten erop. Als laatste nog wat koriander bovenop. En genieten maar!
Bewaar, Like, Tweet of Pin!