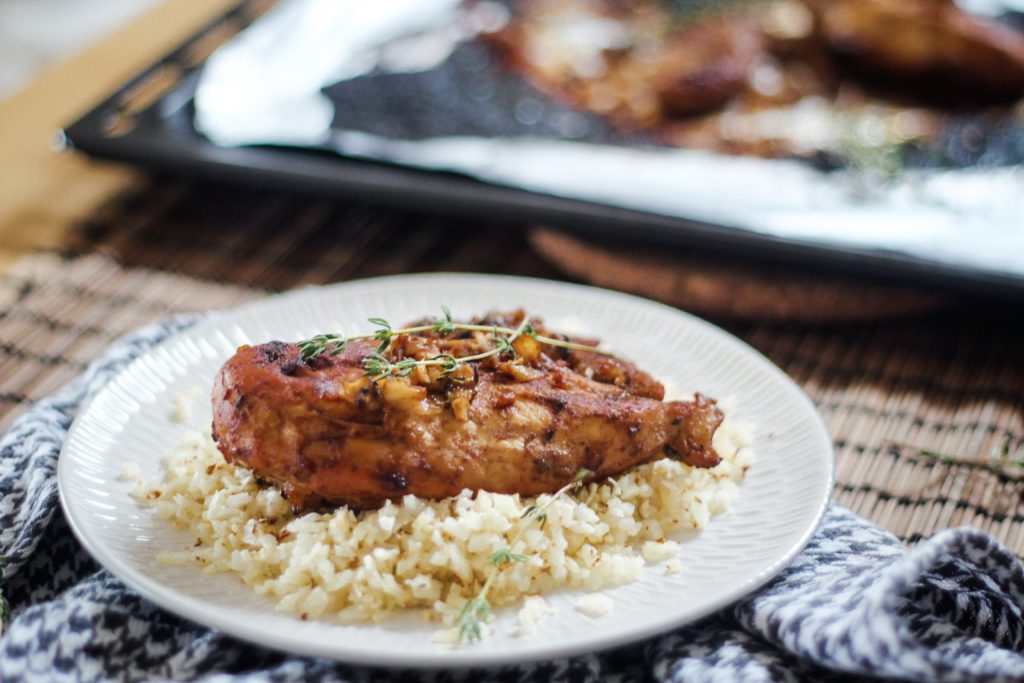 Als je eens de tijd wilt nemen om een waanzinnig lekker smakende Jamaicaanse kip te maken, ook wel Jerk Chicken genoemd, dan is dit het recept voor jou!
Normaal gesproken ga ik graag voor snelle recepten die binnen no-time klaar zijn, maar er schuilt daadwerkelijk een geheim achter recepten waar je langer over doet. De smaak is zo intens en lekker, vooral als je ziet welke ingrediënten ik gebruik om de beste smaak te geven aan de kip!
Wat heb je nodig voor ongeveer 4 personen?
8 kippendijen
scheutje olijfolie
2 eetlepels Worcestershire saus
Voor de marinade:
2 theelepels piment
1/2 theelepel kaneel
1/2 theelepel nootmuskaat
'vingertopje' (ongeveer 6 cm)
verse gember, fijngemalen
4-5 takjes verse tijm
8 teentjes knoflook, fijngemalen
2 theelepels sojasaus of tamari
2 limoenen, uitgeperst
1-2 theelepels Sriracha
2 eetlepels olijfolie
1 sjalotje of een normale ui, in stukjes gehakt
Om de smaken echt lekker in de kip te laten trekken adviseer ik je de marinade een dag van te voren te maken en bij de kip te doen. Als je hier geen tijd voor hebt, dan op zijn minst twee uur van te voren marineren.
Plaats de kippendijen in een plastic zakje (het liefst zo'n Ziploc zakje) en meng alle ingrediënten van de marinade in een kom. Giet dit vervolgens in het zakje bij de kip en masseer het totdat de kip helemaal bedekt en 'ondergedompeld' is in de marinade.
Plaats dit in de koelkast.
Wanneer je klaar bent om de kip te gaan bakken, haal je het zakje uit de koelkast en verwarm je de oven vast voor op 220 graden Celsius. Doe wat (olijf)olie in een pan en bak hier de kip die je met zo min mogelijk marinade uit het zakje haalt. Dus probeer alle knoflook en ui stukjes echt in het zakje te laten, deze gaan anders verbranden in de pan.
Bak de kip totdat deze bruin/goud is aan de buitenkant. Het kan zijn dat je in twee batches moet bakken als je veel kip hebt en een kleine pan. Plaats een velletje bakpapier of aluminiumfolie op de bakplaat (je kunt ook een ovenschaal gebruiken!) en besprenkel deze met wat Worcestershire en Sriracha saus. Plaats de kip hier bovenop. Giet de marinade uit het zakje bovenop de kip en plaats dit in de oven voor zo'n 15 minuten. Draai de kip om en bak dit nog zo'n 10 minuten in de oven en je kip is vervolgens klaar!
Serveren met wat (bloemkool)rijst is héérlijk!
Mijn kip is op de foto ietwat droog geworden, dit komt omdat ik geen kippendijen heb gebruikt en de olie heb geminderd. De keer erna (zonder foto's) heb ik het recept uitgevoerd zoals deze nu beschreven is en is het perfect gelukt. Daarom zullen de foto's er bij dit recept nét een beetje anders uitzien. Bij jou zal de kip sappiger zijn, wat dus ook de bedoeling is!
Eetsmakelijk!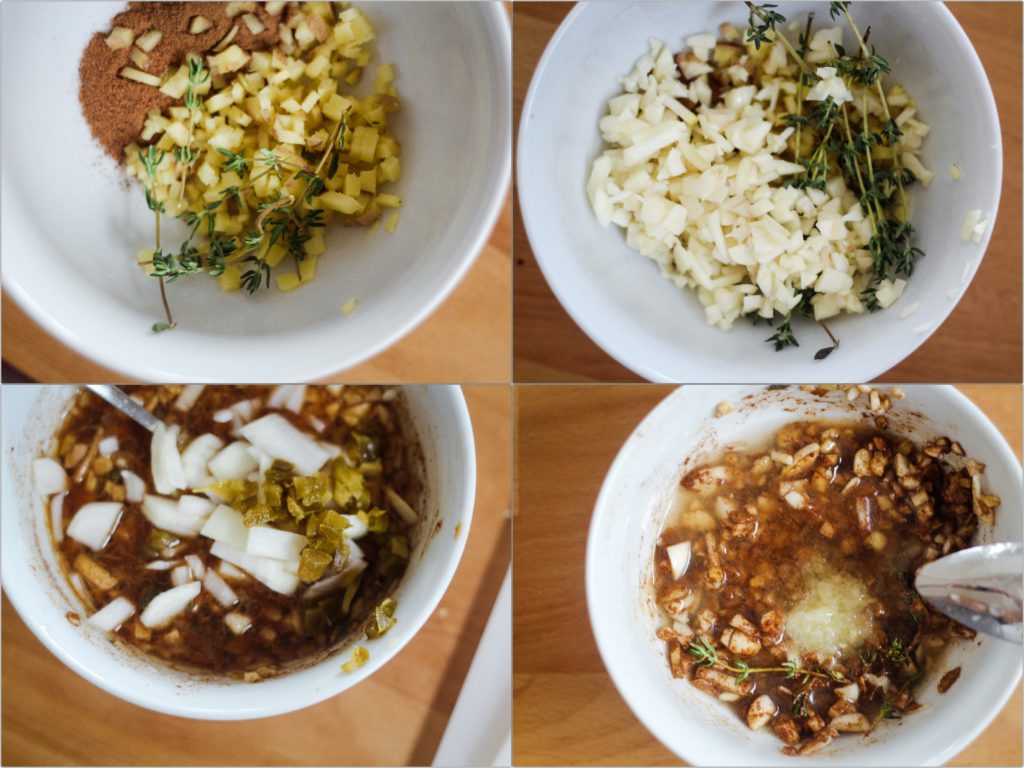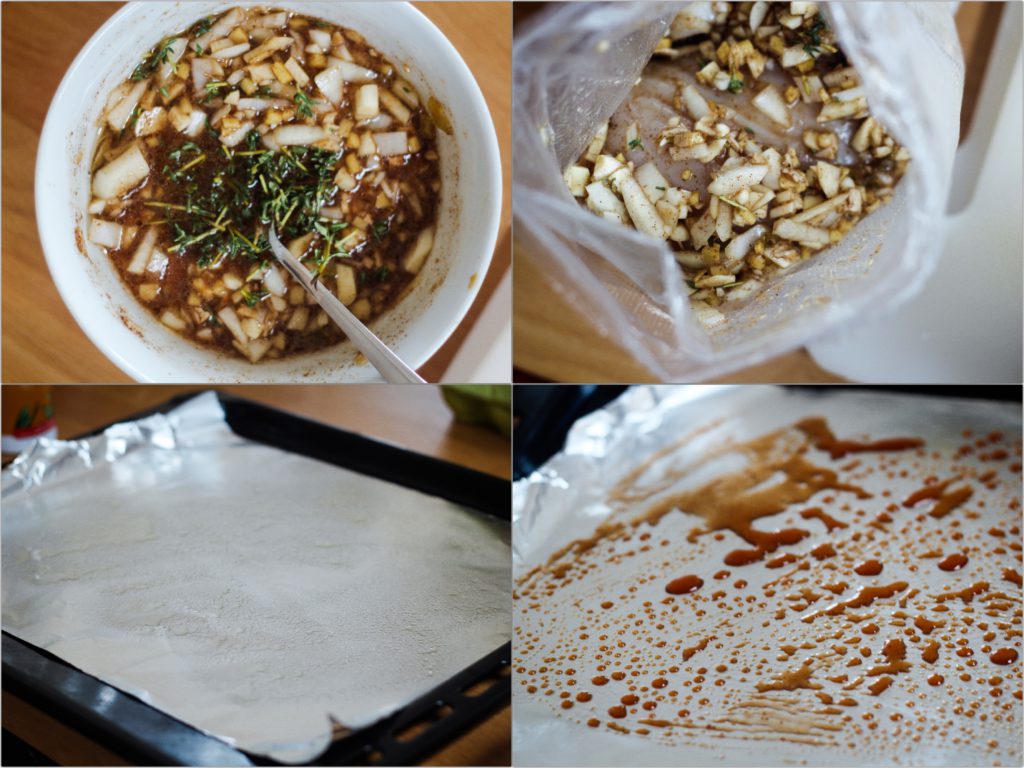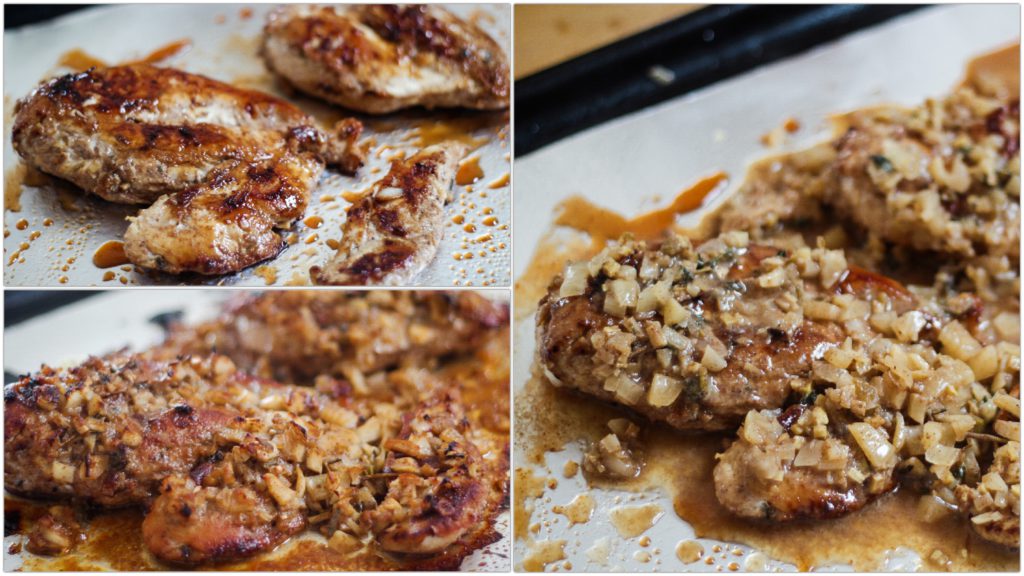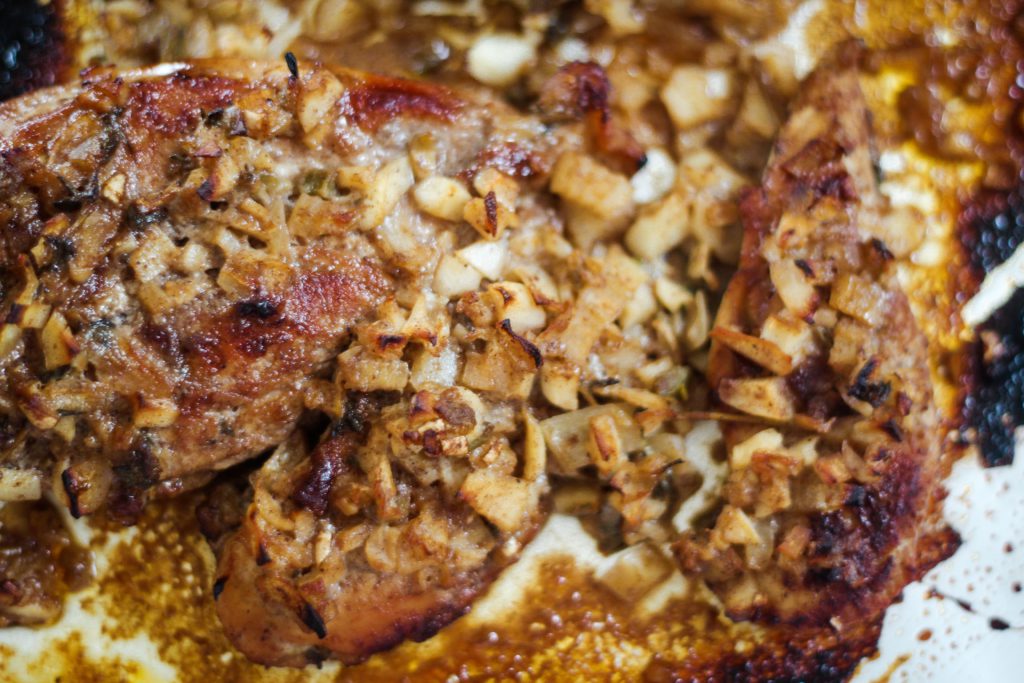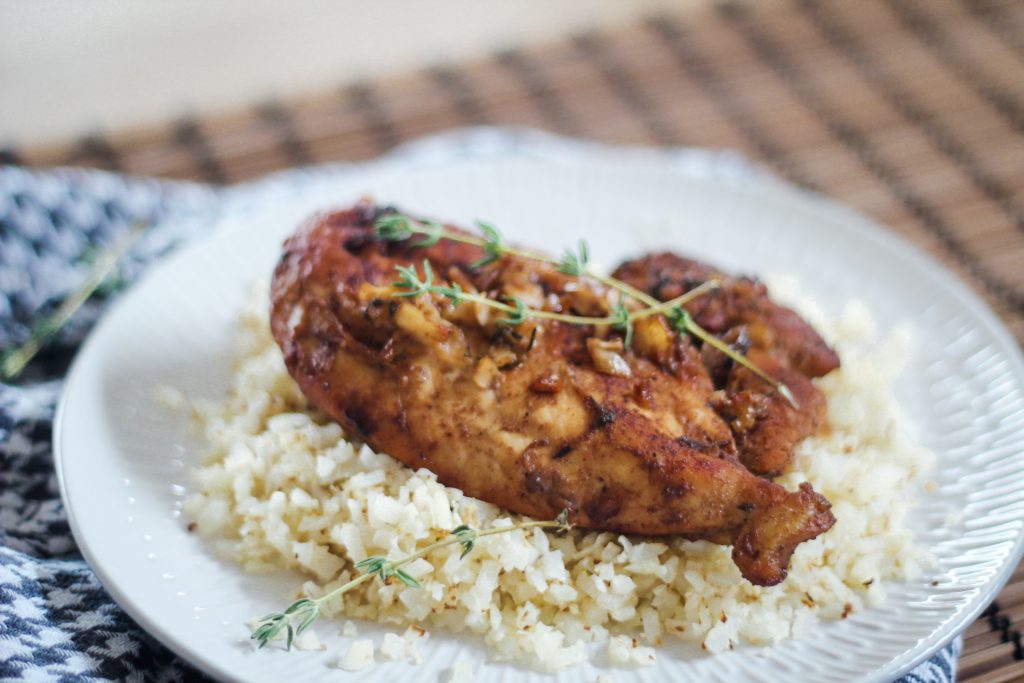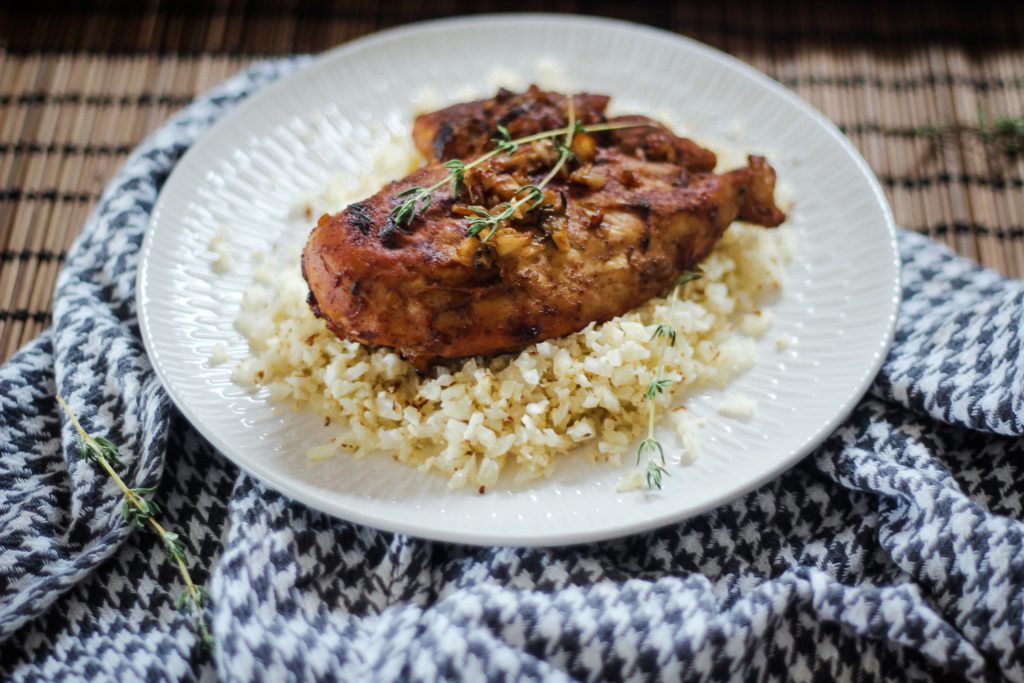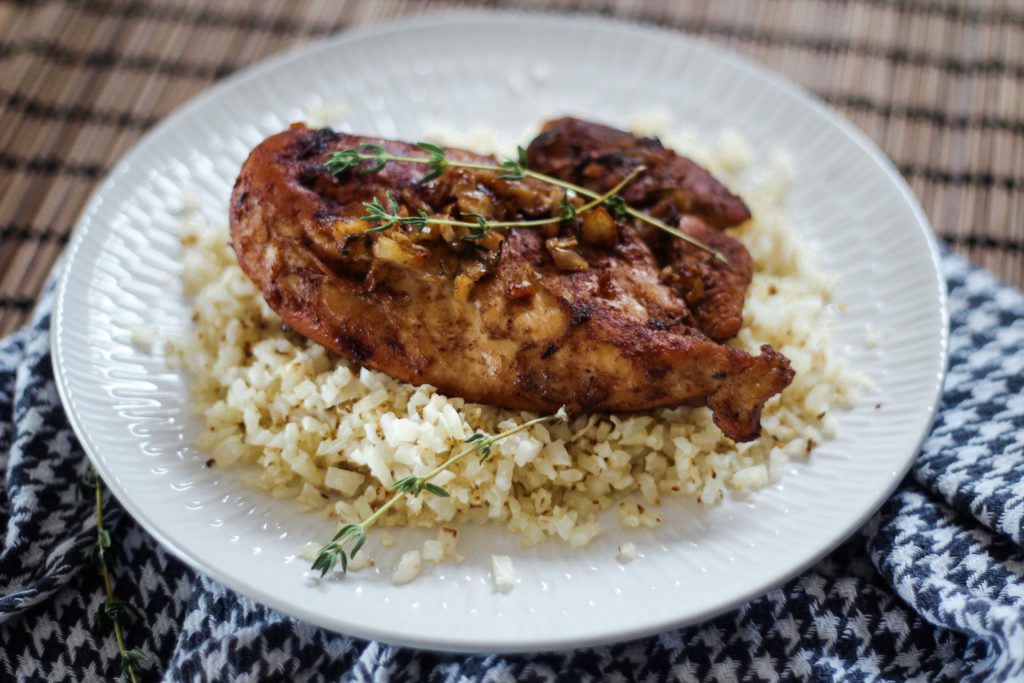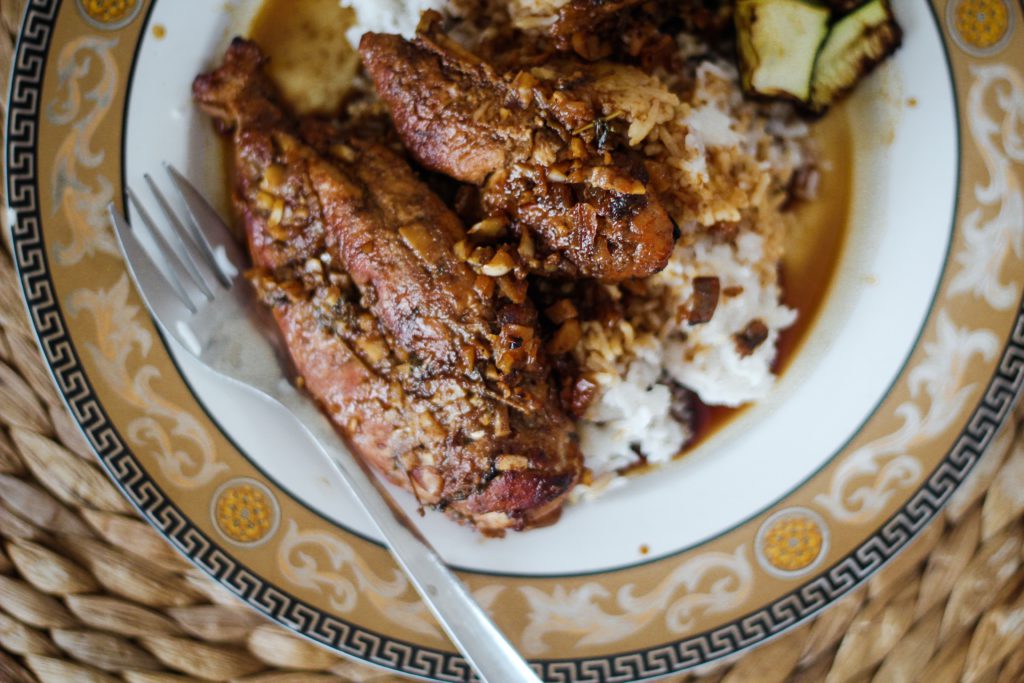 Dit recept heb ik inmiddels 3 keer gemaakt, de derde keer was perfect maar helaas niet op de foto. De tweede keer was al beter en sappiger zoals je hier op de laatste foto ziet. Het is dus 'geperfectioneerd' voor jou als je het recept opvolgt! 😉 Enjoy!