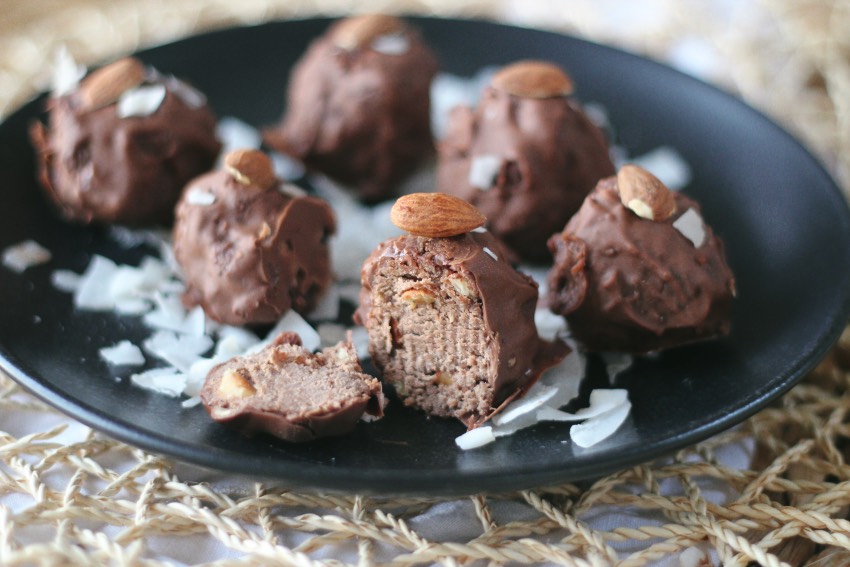 Dit recept was een compleet uitprobeersel en aangezien je hem hier op de site ziet staan, betekent het dat het is gelukt! Je kunt dit recept op twee manieren maken, de ene manier is met gewoon pindakaas en de ander met pindakaaspoeder. Laten we beginnen!
Wat heb je nodig voor zo'n 6 truffels?
60 ml pindakaas of 1/4 cup pindakaaspoeder
3 eetlepels honing / agave / ahornsiroop / etc.
2-3 eetlepels plantaardige melk
1 eetlepel cacaopoeder (meer wanneer je gewone pindakaas hebt gebruikt)
gehakte noten, bijvoorbeeld amandelen
chocolade om te smelten (puur, melk, wit, wat jij wilt)
Nu is de consistentie erg belangrijk en kan het verschillen hoe de consistentie van jouw geheel wordt wanneer je deze ingrediënten met elkaar mengt. Zorg dus zelf dat je wat cacao/pindakaas-poeder of melk toevoegt om de juiste consitentie te krijgen, zoals op de foto's.
Ik heb echt al heel lang pindakaaspoeder in mijn keukenkastjes staan maar elke keer vind ik het echt niet lekker om als 'gewone pindakaas' te eten op een maïswafel. Dus komen ze alleen de kastjes uit wanneer er een ander recept bereid dient te worden, zoals deze! Mocht je dit niet hebben, dan is dat geen enkel probleem. Je kunt er cacao en/of eiwitpoeder voor in de plaats gebruiken.
Doe de poeders, honing en melk bij elkaar in een kom en meng het met een vork tot de consistentie plakkerig genoeg is om aan elkaar te blijven, maar niet te plakkerig dat je er geen ballen van kunt draaien. Hak de noten naar keuze en doe deze bij je mengsel. Op een bord of een bakplaat leg je een velletje bakpapier en draai je ballen van je mengsel. Smelt de chocolade au bain marie en dip vervolgens de truffels één voor één in de chocolade tot ze helemaal bedekt zijn.
Plaats ze vervolgens terug op de bakplaat of het bord. Wanneer alle truffels bedekt zijn met chocolade kan de bakplaat of het bord de koelkast of vriezer in. Als je een ijskoude snack wilt, dan is de vriezer een goede optie. Wil je het niet ijskoud, dan kun je voor de koelkast gaan. Na 2-3 uur kun je de truffels gaan serveren of zelf opeten!
Enjoy!