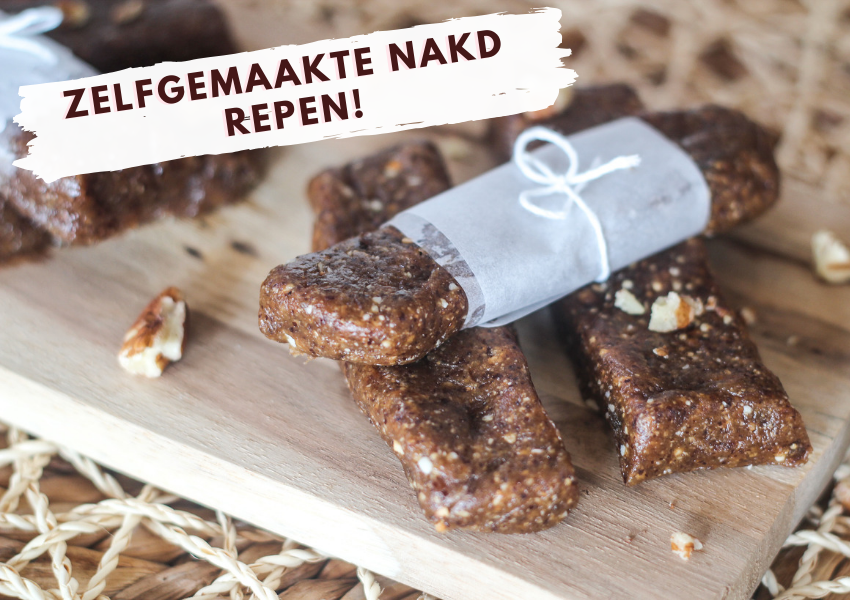 Hoevaak ik wel niet bij het kopen van een Nakd reep heb gedacht
"Ik moet dit toch zelf kunnen maken?"
In plaats van elke keer geld uitgeven aan de kant-en-klare repen. Zoals je misschien weet ben ik best wel fan van de Nakd repen omdat ze enkel pure ingrediënten bevatten, soms slechts 3 ingrediënten! En dat zijn allemaal dingen die ik thuis ook heb liggen, dus waarom zou ik niet eens aan de slag gaan met mijn eigen repen?
Ik besloot dat het vandaag de dag was, dat ik mijn eigen repen ging maken en ze natuurlijk ook met jullie ging delen!
Dus, bespaar wat geld, duik de keuken in en maak zelf je Nakd repen – goedkoop en precies de variant die jij wilt!
Voor dit artikel/recept heb ik twee verschillende varianten gemaakt, de Pecan Pie en de Salted Caramel! Laten we eerst even kijken naar de ingrediënten: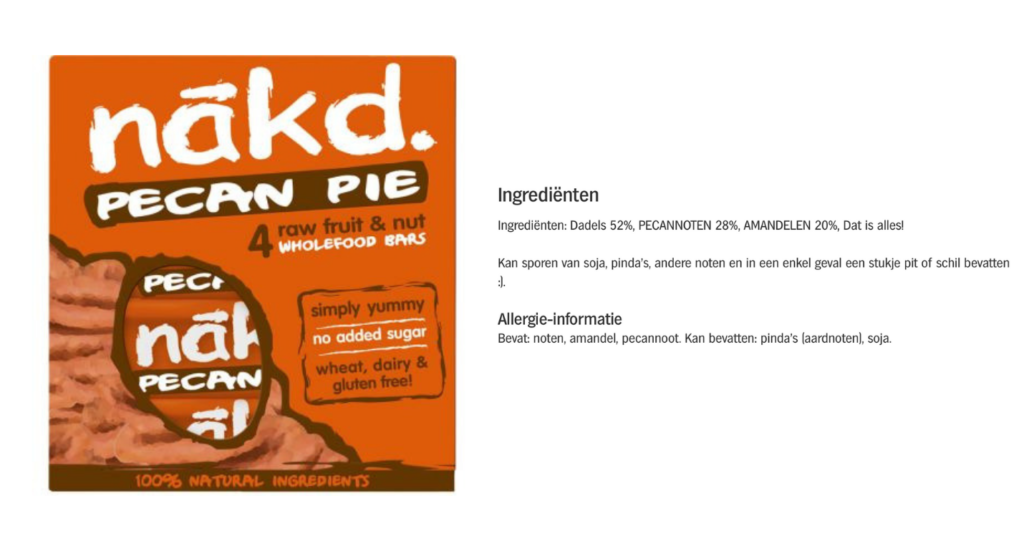 De verpakking zegt het al: Dat is alles! En elke keer wanneer ik dit koop denk ik: Teni, het wordt tijd om deze drie ingrediënten bij elkaar te gooien, je hebt ingewikkeldere recepten gemaakt!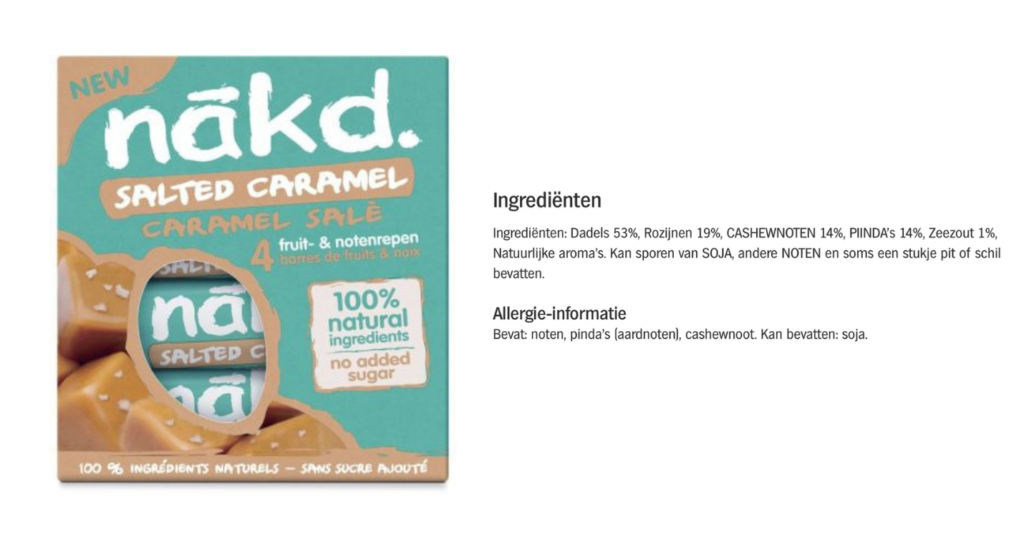 De Salted Caramel heeft iets meer ingrediënten maar waar hebben we het over? 5 ingrediënten die ik allemaal in mijn keukenkastjes heb! Tenminste, dat dacht ik – ik heb de pinda's vervangen door hazelnoten en het is heerlijk geworden!
Dit recept is een beetje gek, want het is eigenlijk geen recept behalve dat ik je vertel om de ingrediënten bij elkaar in een keukenmachine te doen en te blenden – bewaar de bal even in de koelkast zodat je hem daarna makkelijker in een balvorm of een reepvorm kunt krijgen. Tenslotte bewaar je ze in de koelkast (als je ze nog niet op hebt 😉 ).
Je vraagt je misschien af hoeveel je van wat moet gebruiken, het voordeel is dat er percentages staan aangegeven op de verpakkingen. Dus ik heb een bepaalde hoeveelheid dadels gekozen en dit bekroond als de leidraad. Voor 3 repen heb ik gekozen voor 75 gram ontpitte dadels. Dit is hoe:
3 Repen Pecan Pie
75 gram dadels = 52%
40 gram pecannoten = 28%
28 gram amandelen = 20%
Bij elkaar maakt het 100% 🙂
3 Repen Salted Caramel
75 gram dadels = 53%
26 gram rozijnen = 19%
19 gram cashewnoten = 14%
19 gram pinda's (of hazelnoten) = 14%
1,4 gram zout = 1%
En zo kun je natuurlijk elke variant maken die jij lekker vindt! Terwijl ik de foto's voor dit recept bewerk, geniet ik van mijn laatste Salted Caramel reep – ze zijn gevaaaaarlijk lekker!
Tip: bewaar ze in een velletje bakpapier met een elastiekje eromheen of bakpapier met aluminiumfolie eromheen aangezien ze heel vettig en plakkerig kunnen zijn!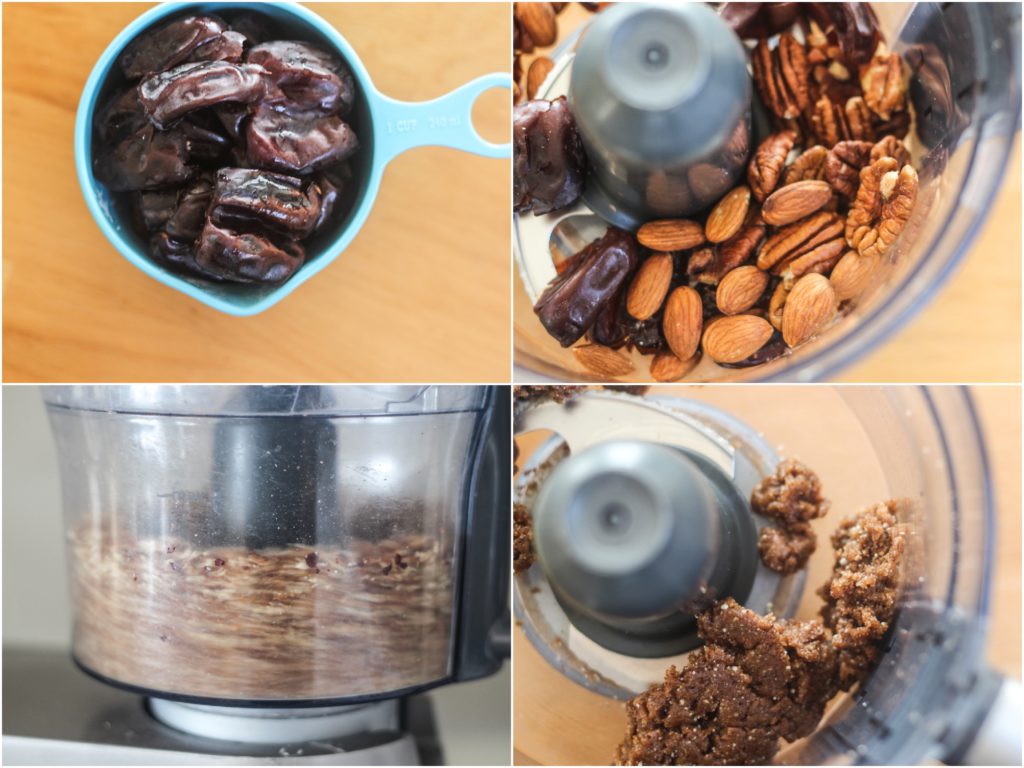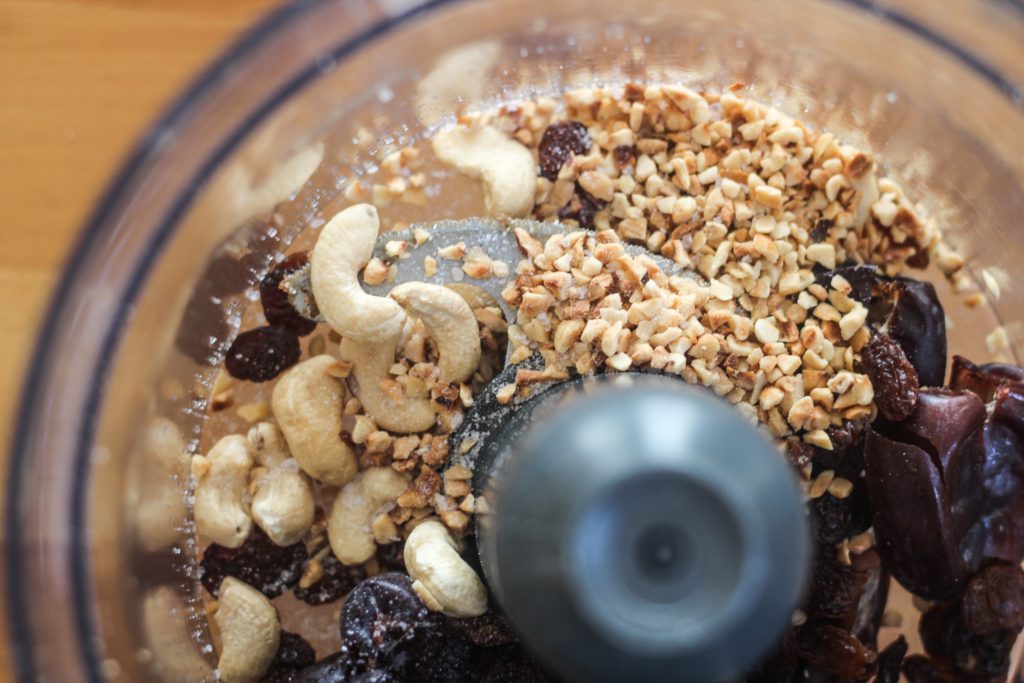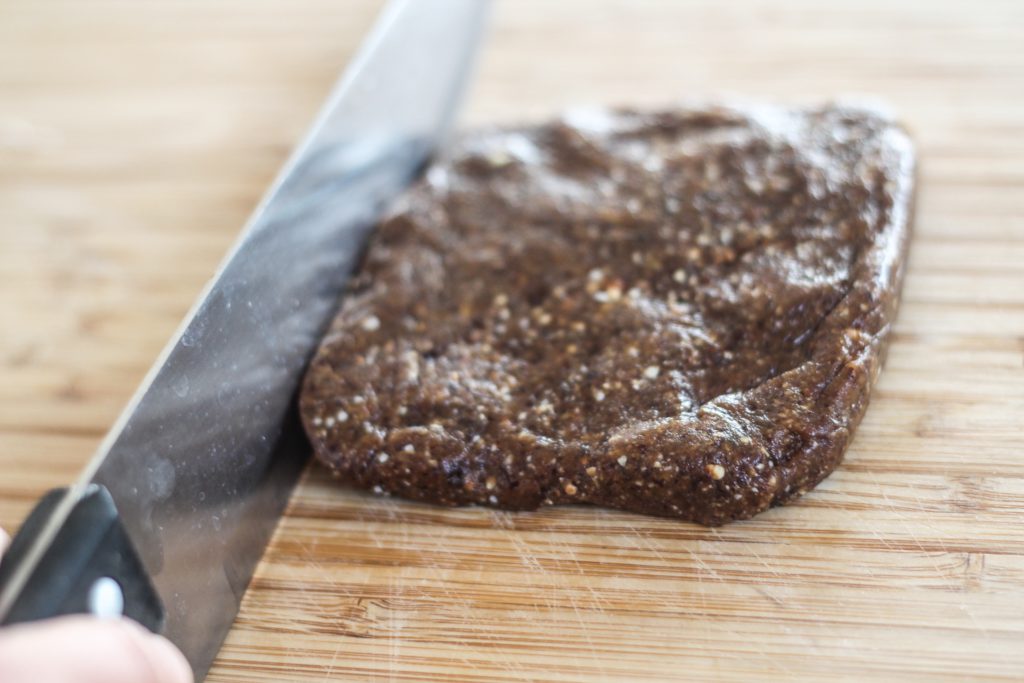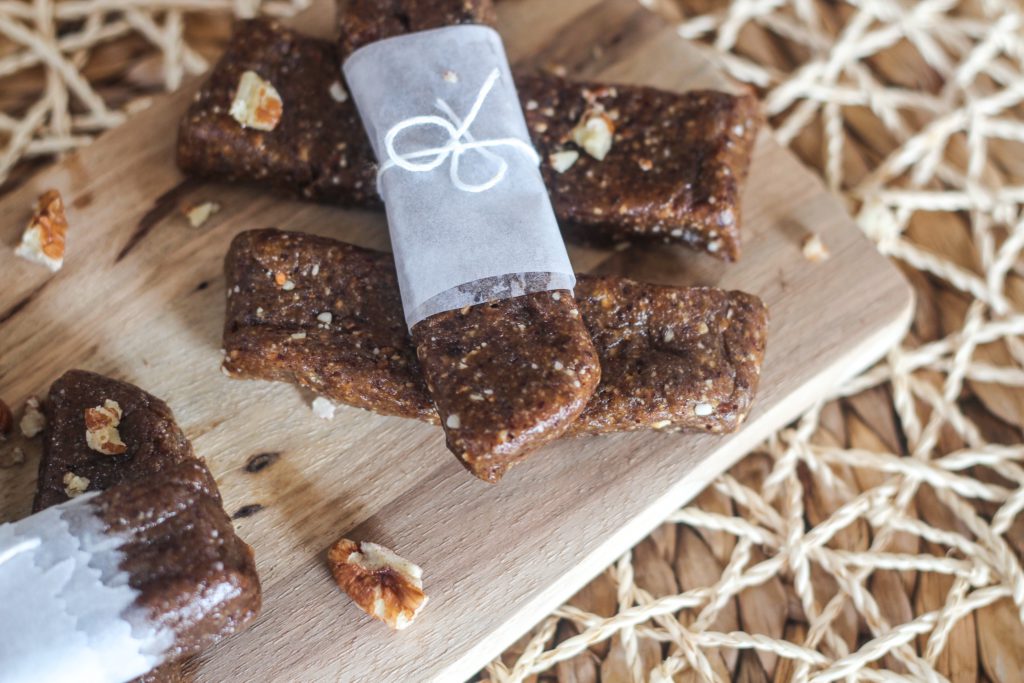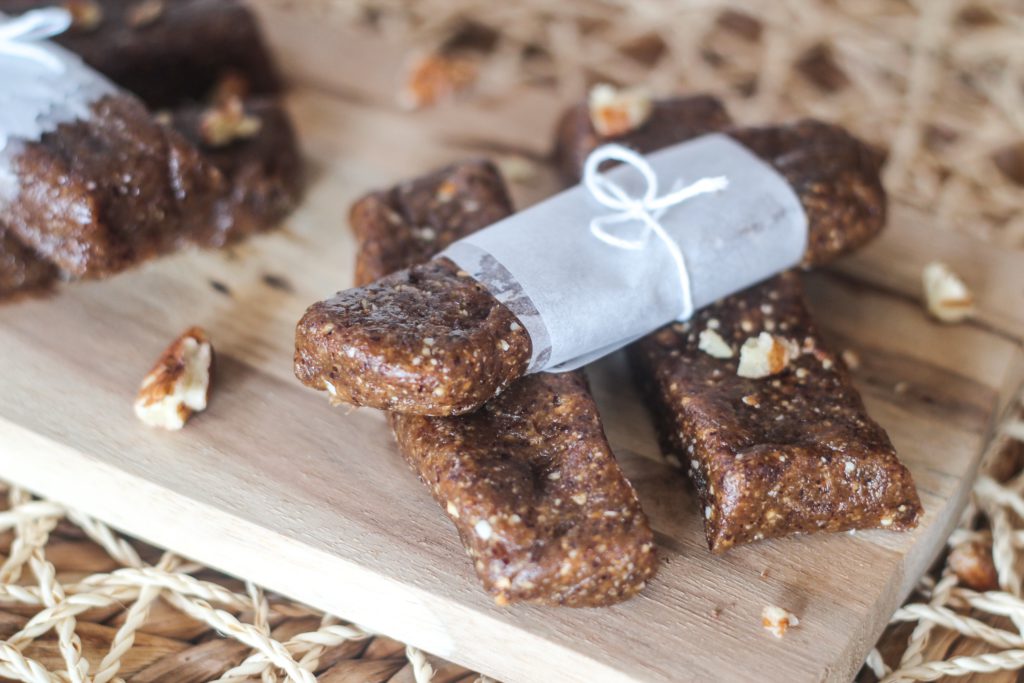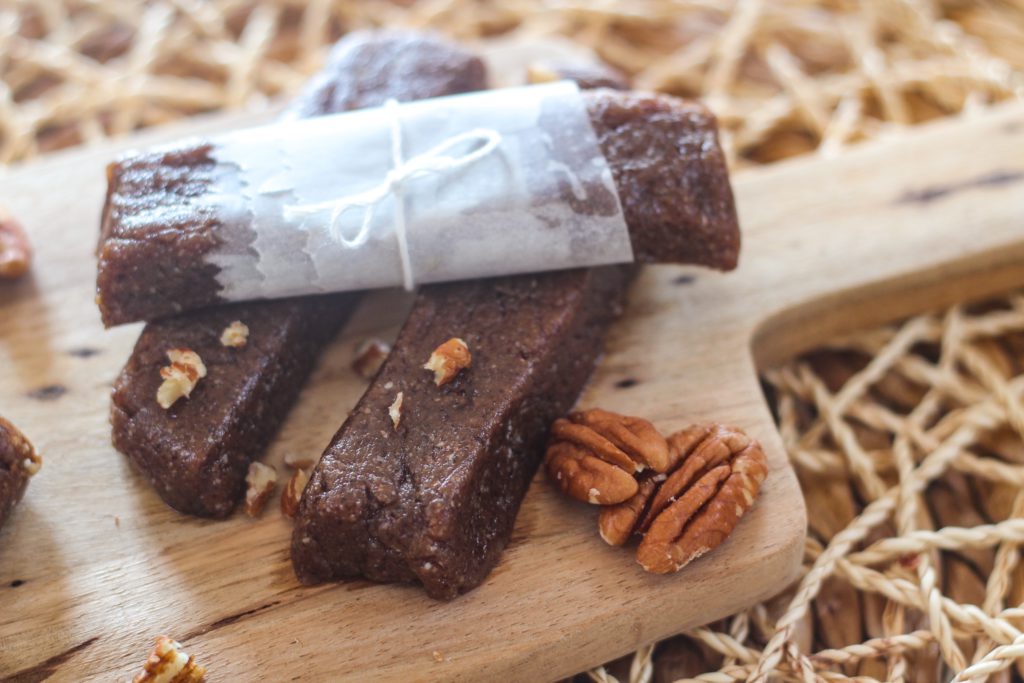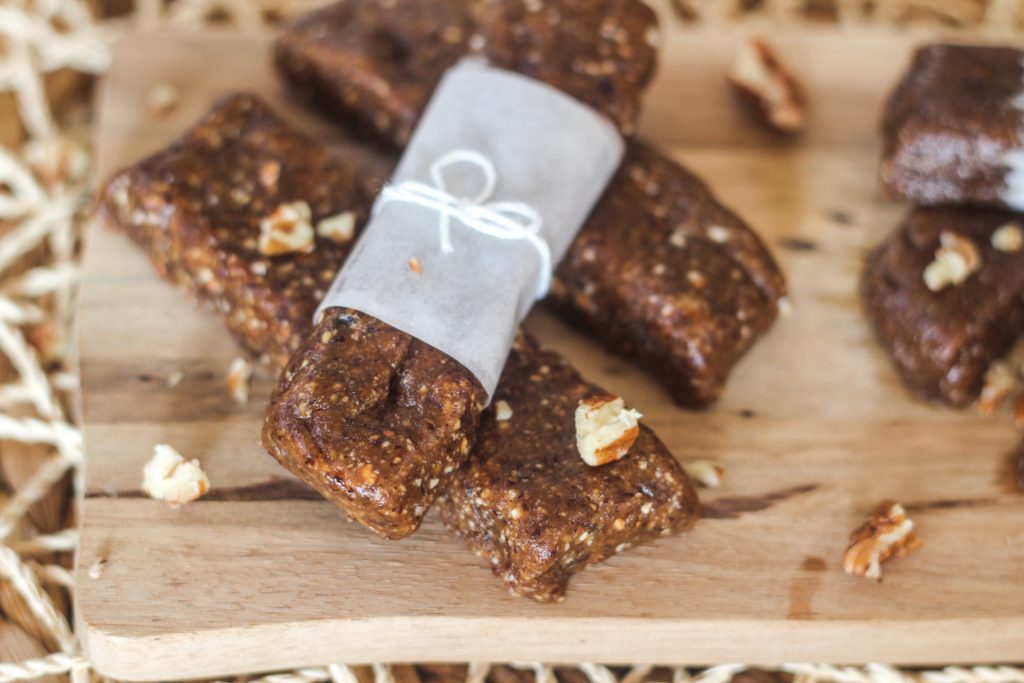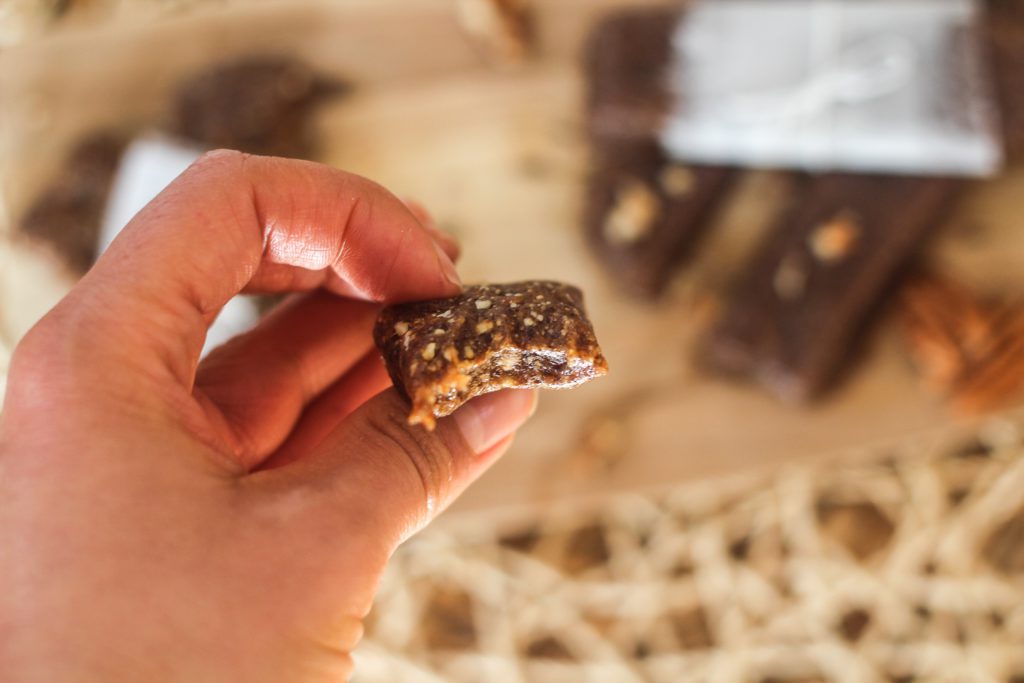 ENJOY!