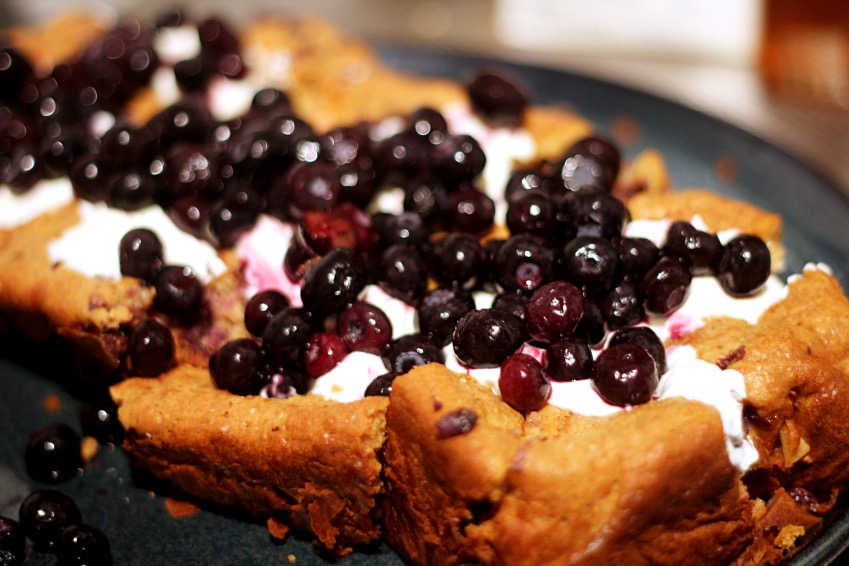 Toen ik dit recept tegenkwam op de site van The Green Kitchen Stories moest ik het gewoon namaken! Het zag er zo waanzinnig goed uit. Dus ik ging aan de slag en de eerste poging slaagde direct! Dit terwijl ik enkele ingrediënten anders heb gebruikt.
In de cake zit geen geraffineerd suiker maar in totaal 125 ml honing! Hij is heerlijk zacht en licht zoet, geen berg aan suiker dus; heerlijk! Precies goed 🙂 
Wat heb je nodig?
90 gram havermout (gemalen in de keukenmachine/blender tot 'meel')
180 gram tarwebloem
1 theelepel bakpoeder
scheutje vanille extract
1/2 theelepel zout
100 gram gesmolten boter
125 ml honing
2 eetlepels citroensap
3 eieren, gescheiden
250 ml Griekse yoghurt + 150 ml als topping
2 x 250 gram (diepvries)bosbessen
Verwarm de oven vast voor op 160 graden Celsius en doe de diepvriesbosbessen in twee aparte schaaltjes (2 x 250 gram). Laat ze ontdooien.
Maal de havermout tot een meel en meng dit met de tarwebloem, bakpoeder en zout in een grote kom. Smelt de boter en meng dit met de honing en citroensap in een aparte kom. Voeg daarna de 3 eigelen, vanille extract en yoghurt toe. Meng dit ook weer tot een gladde massa. Ik heb alles met een vork gemengd, geen machines dus!
Voeg vervolgens het mengsel met de yoghurt toe aan het droge mengsel in de andere kom, meng dit ook weer door met een vork tot het een dikke plakkerige massa is geworden. Doe de eiwitten in een kom en klop deze tot ze lekker luchtig zijn geworden. Ik had echt even geen kracht meer in mijn armen, dus ben ik maar gestopt bij een aantal belletjes..
Doe een beetje tarwebloem in 1 schaaltje bosbessen en meng dit erdoor zodat de bosbessen een dun laagje bloem hebben, zo is de kans kleiner dat ze naar beneden zakken in de oven. Voeg 1 schaaltje diepvriesbosbessen toe aan het eiwit en meng dit even door. Voeg dit vervolgens toe aan je beslag mengsel en 'vouw' het geheel door elkaar zodat de bosbessen gelijkmatig verdeeld worden door het beslag.
Verplaats het beslag naar een cakeblik (rond of rechthoekig, wat jij wilt) bedekt met een velletje bakpapier. Plaats dit in de oven voor minstens 60 minuten. Het kan zelfs 90 minuten duren voor je cake helemaal goed is, dit verschilt echt per oven. Check tussendoor even met een vork of je cake klaar is, prik in de cake en kijk of je vork er 'schoon' uit komt, zo ja? Dan is je cake klaar! Maak je geen zorgen dat je barsten aanbrengt door te prikken, je gaat de cake zo namelijk toch uit elkaar trekken..
Als de cake uit de oven is, laat je hem even afkoelen. Vervolgens verplaats je hem uit het cakeblik naar een schaal en begin je met het 'scheuren' van de cake zodat er barsten in komen. Deze barsten vul je op met yoghurt. Daarna bestrooi je de cake met de inmiddels volledig ontdooide bosbessen uit de tweede schaal. En klaar is je cake! Het ziet er echt waanzinnig uit en is naar mijn mening precies goed: cake structuur, niet te zoet, vol fruit en lekker wat eiwitten door de yoghurt. WIN-WIN-WIN-WIN situatie!
Eetsmakelijk!