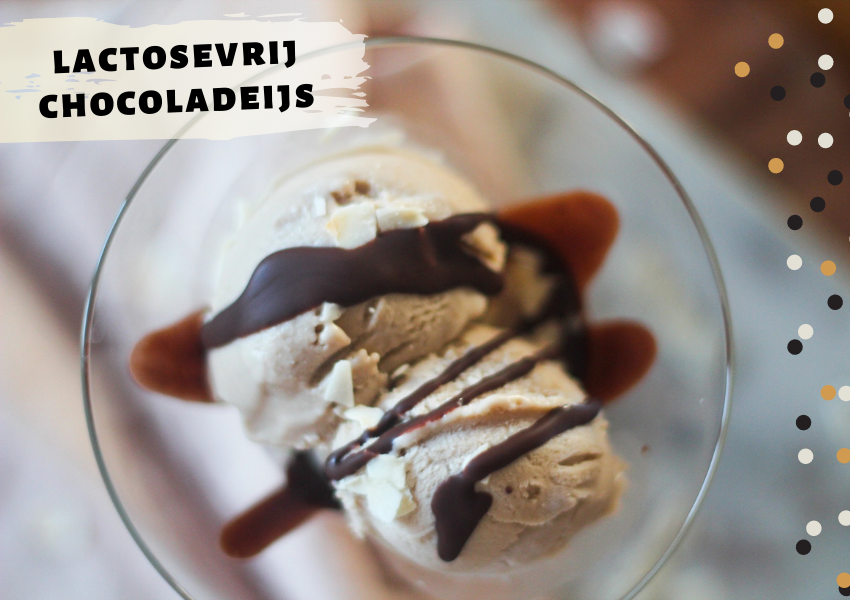 Met deze warme dagen wil ik de hele dag door koude dingen eten – ijsjes zijn daar een onderdeel van. Maar mijn darmen zijn gewoon niet heel blij met grote hoeveelheden koemelk en room dus moest ik een alternatief bedenken om nog wel lekker ijs te kunnen eten zonder buikpijn.
Dit recept creëerde ik na drie keer 'normaal' ijs te maken (met koemelk) en besloot hier wat aanpassingen in te brengen om het "Teni proof" te krijgen. Het is nog gelukt ook!
Je kunt natuurlijk ook "nicecream" maken, dit is een bevroren banaan in de blender of keukenmachine doen en dan heb je romig ijs, hier heb ik ook recepten voor echter gaat dit recept om het 'traditionele' ijs zonder koemelk.
Wat heb je nodig?
2 blikken kokosmelk
200-300 gram honing
4 x geel van een ei
2 eetlepels cacao poeder
1 theelepel vanille extract
Voor dit recept is het het handigst om een ijsmachine te hebben – mocht je deze niet hebben dan is dat ook geen probleem, trek er dan een dag voor uit dat je thuis bent en elk uur, zo'n 6 keer, even het ijs kan 'doorroeren'. Ik heb een ijsmachine van Philips die ik 6 jaar geleden heb gekocht voor minder dan 50 euro – die werkt perfect! Deze is echter niet meer te koop, maar een kleine zoektocht op coolblue of bol.com resulteert in talloze geweldige ijsmachines voor een prikkie! Handig als je net zo'n ijsfanaat bent als ik 😉
1.Doe de kokosmelk in een pannetje, zet dit op een middelhoog vuur. Let erop dat je de kokosmelk niet laat koken, maar enkel heet laat worden. Doe daar na een paar minuten de cacao (misschien met een zeef erboven) en vanille extract bij. Zoals je ziet is mijn ijs niet heel 'chocolade achtig' geworden, doe er meer cacao bij als je een donkere eindkleur wilt hebben!
2. Meng de honing en het eigeel in een apart schaaltje. Doe 2 eetlepel hete kokosmelk bij het eigeel en honing mengsel om deze alvast te laten wennen aan de hitte. Meng dit even door en voeg nog 2 eetlepels hete kokosmelk toe.
3. Voeg vervolgens alles toe aan de pan en meng dit met een vork of garde goed door. Het is de bedoeling dat het geheel wat indikt maar niet kookt – houd het dus goed in de gaten. Dit kan gemakkelijk 20 tot 30 minuten duren. Als je er met een houten lepel even in dipt zou de kokosmelk deels moeten blijven plakken waardoor je er met je vinger een lijntje in kunt maken – dan is de consistentie goed. Zie de foto als voorbeeld.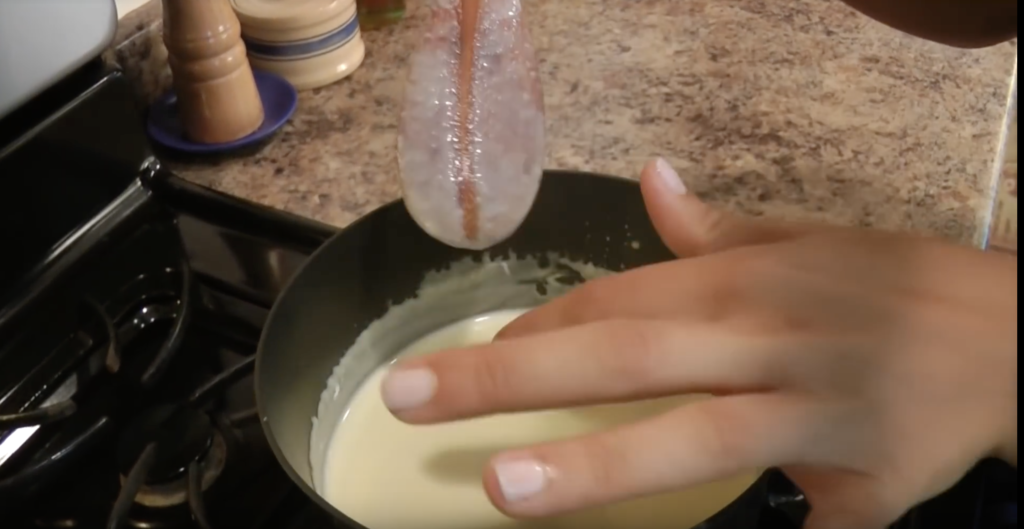 4. Doe een zeef bovenop een grote kom en giet hier het kokosmelk mengsel in, de zeef zorgt ervoor dat er eventuele kleine stukjes achterwege blijven – we willen zacht ijs!
5. Zet dit voor een nachtje in de koelkast.
6. De volgende dag doe je dit mengsel in je ijsmachine en volg je daar de instructies van op. Als je geen ijsmachine hebt, doe het geheel dan in een platte schaal of bak – het liefst met deksel – en zet het in de vriezer. Haal het voor 6 keer elk uur eruit en meng het even door met een vork (je mag stiekem proeven elke keer!). Na de 6e keer zou het ijs goed moeten zijn en mag je het serveren maar ook in de vriezer laten voor een ander moment.
Ik top het lekker met wat kokos en lactosevrije chocoladesaus (EkoPlaza).
Enjoy!