Heb je het idee dat je niet voldoende groente en fruit binnen krijgt? Weet je echt even niet meer hoe je meer kunt toevoegen in je eetpatroon? Hier wat praktische tips! 🙂
Gebruik ze als toppings
Als je eens wist waar je allemaal groente en fruit bovenop kan doen! Op alles eigenlijk, haha.
Doe wat plakjes komkommer en tomaat op je cracker met avocado. Of op je rijstwafel. Fruit door je yoghurt of kwark of door je havermoutpap / mueslipap. Cherry tomaatjes bovenop je couscous maaltijd, alles is mogelijk. Een beetje creatief denken en je komt al een heel eind!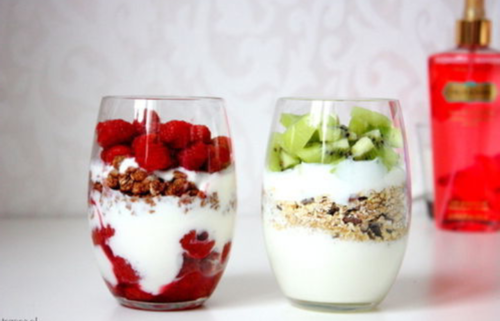 Klaar om te eten
Het kan enorm helpen om sommige groentes alvast te schillen en/of in stukjes te snijden zodat je ernaar kan grijpen als snack of als je trek hebt of als je simpelweg even de koelkast open doet. Denk bijvoorbeeld aan wortels, komkommer (hoeft niet per se in de koelkast), paprika reepjes of cherry tomaatjes (hoef je alleen te wassen). Ook met fruit kan dit helpen, zoals appels en druiven die al gewassen zijn en op het aanrecht staan. Of je kunt ze in bakjes bewaren, maar dan wel in het zicht zodat je er eerder naar grijpt!
Maak smoothies!
Vooral als je hier en daar wat spinazie door je smoothies doet geef je ze niet alleen een perfecte vitamine en mineralen boost, maar zorg je er ook voor dat je suikerspiegel meer in balans blijft doordat je smoothie niet alleen uit fruit bestaat (check dit even voor wat meer info :))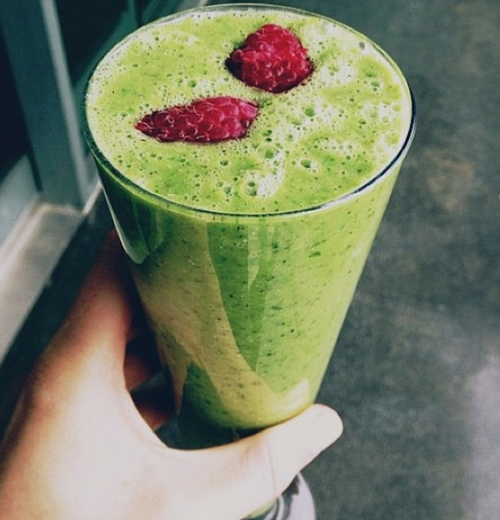 Tips:
Dit zijn handigheidjes die ik vaak gebruik met groente en fruit 🙂
Gebruik avocado plakjes of gepureerd in plaats van boter op een cracker/rijstwafel/broodje etc.
Bloemkool is je vriend! Je kunt er een pizzabodem mee maken, of in plaats van rijst gebruiken of "aardappelpuree" van maken zonder aardappel. Haha.
Gebruik stevige sla bladeren in plaats aan brood bij bijvoorbeeld wraps of een hamburger.
Voeg fruit toe aan allerlei baksels die je maakt. Van havermoutcake tot gezonde gebakjes en muffins.