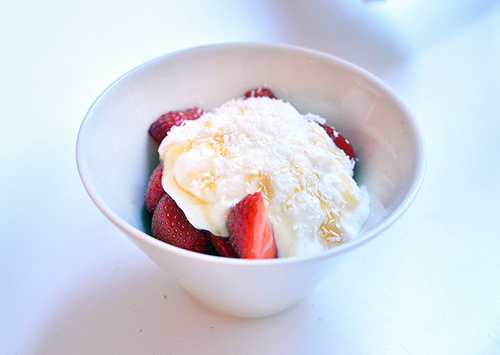 Simpele tips die niet lastig zijn om te onthouden. Kies er vandaag bijvoorbeeld twee uit en focus je de gehele dag op die twee tips. Doe morgen hetzelfde met twee andere tips. Zo bouw je langzamerhand gezonde gewoontes op.
1. Koop je tonijn uit blik? Kies dan voor tonijn op water basis niet op olie basis
2. Krijg je visite en moet je lekkers in huis halen voor hen? Haal dan wat lekkers in huis dat jij niet lust (voor mij zijn dit gevulde koeken of appelflappen, bah!)

4. Investeer in opslagbakjes, zo hoef je nooit alles op te eten als je vol zit. Bewaar de rest gewoon in een bakje in de koelkast, of neem het de volgende dag mee naar je werk als lunch!
5. Mosterd is je vriend! Mayonaise niet echt.
6. Geef je maaltijden smaak met veel kruiden, vers of gedroogd, dit bevordert de spijsvertering
7. Eet niet rechtstreeks uit een doos! Je eten is kostbaar, schep dit eerst op een bord

8. Drink geen (of niet teveel) water na een maaltijd, dit zit je spijsvertering in de weg
9. Eet uit kleinere borden, zo lijkt het alsof je meer op je bord hebt
10. Denk niet de hele tijd over wat je niet mag eten, focus je op alles wat je wél mag eten; noten, fruit, groente, zuivel.

11. Ga niet op dieet
12. Ga niet op dieet, o, zei ik dat al?
13. Doe geen boodschappen wanneer je honger hebt