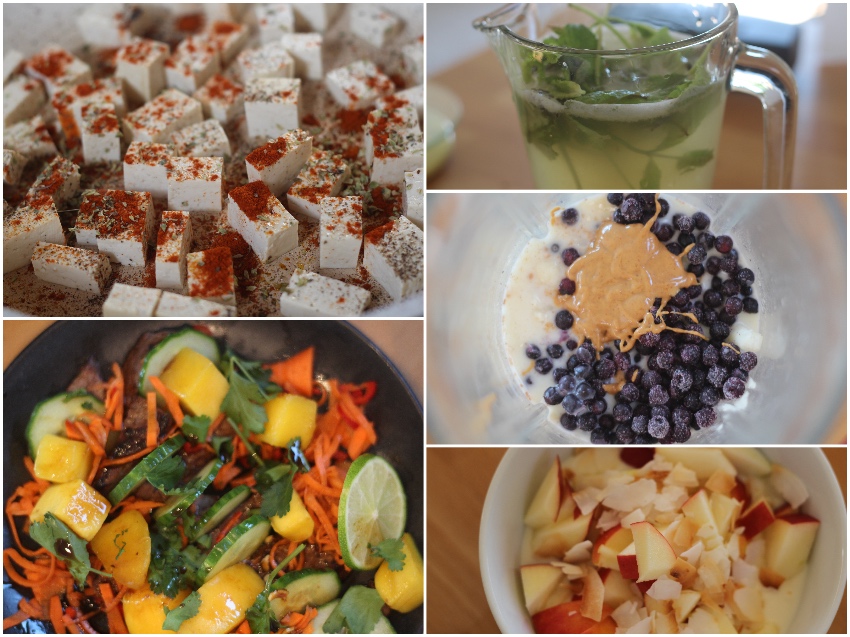 Ik zeg alvast één ding: verwacht een hoop tofu in dit voedingsdagboek! Dat krijg je ervan als je vol goede moed twee (grote) blokken koopt en thuis ineens beseft dat je dat dus ook op moet maken. Heel creatief ben ik er niet mee geweest, maar genoten heb ik absoluut. Oja, er is meer dan alleen tofu 😉 haha.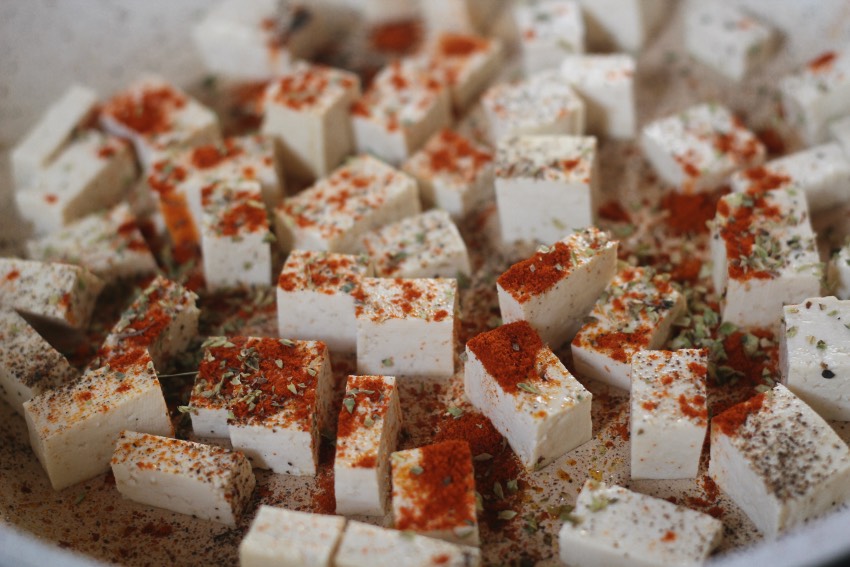 We beginnen direct met een berg kruiden bovenop de tofu die ik in blokjes heb gesneden en met wat olie in de pan heb gedaan. Paprikapoeder, peper, zout en oregano.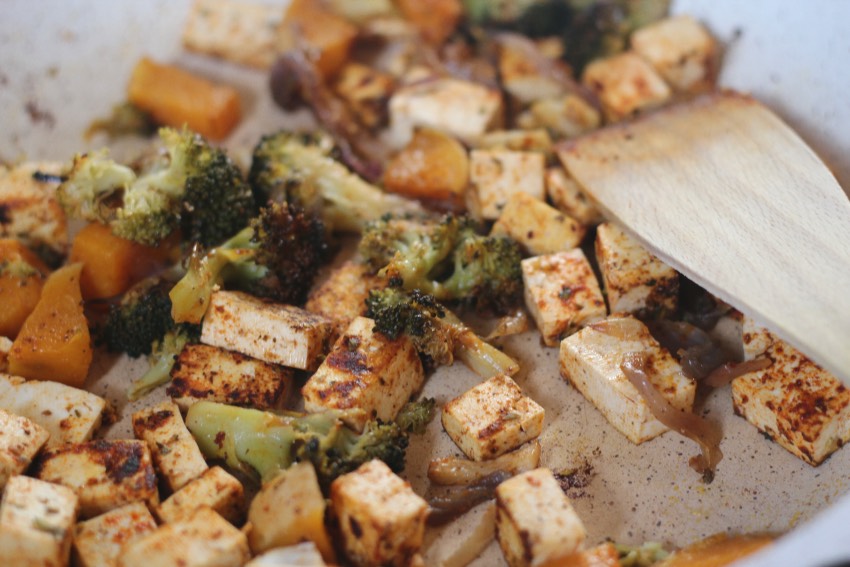 Daar gaat wat pompoen, broccoli en ui bij die ik eerder had bereid in de oven.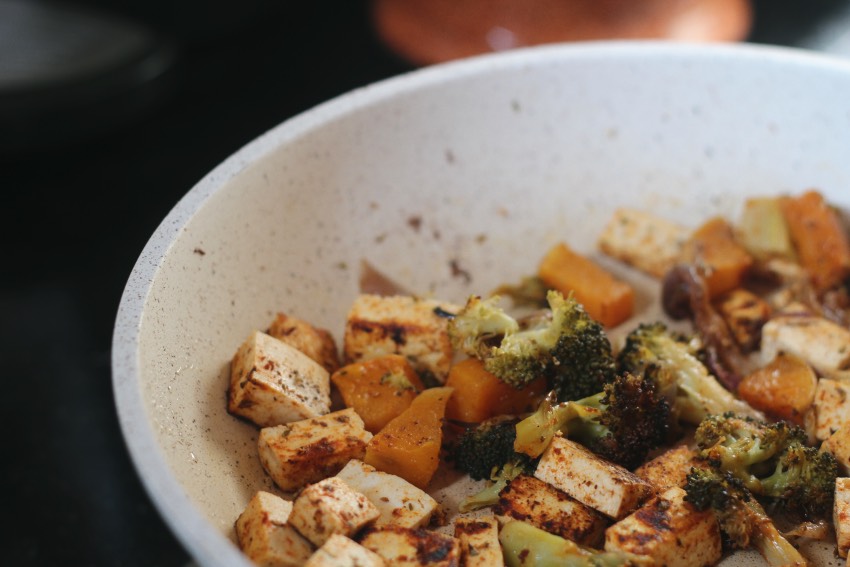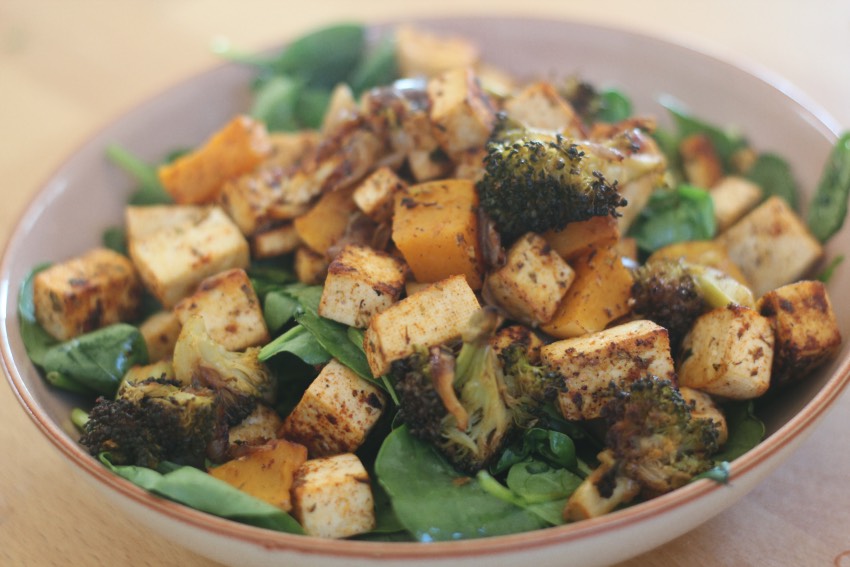 Op een bedje van spinazie en klaar!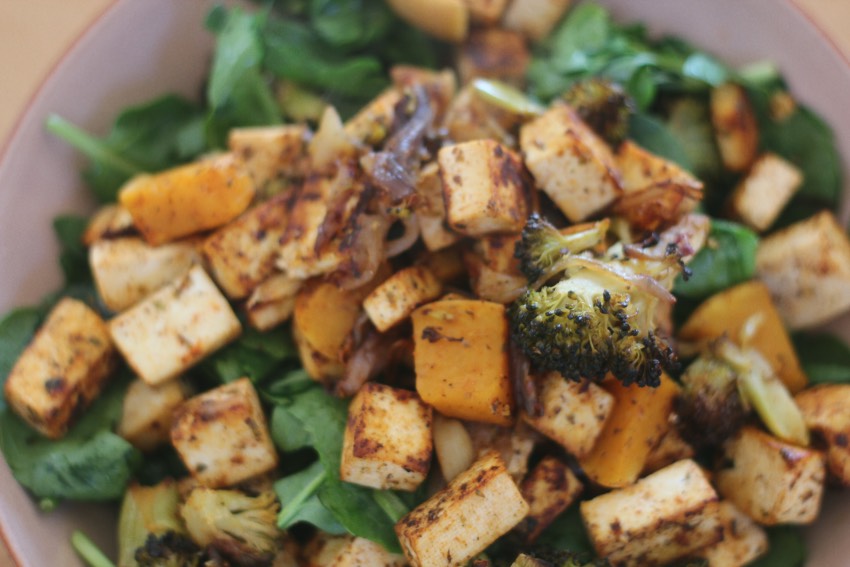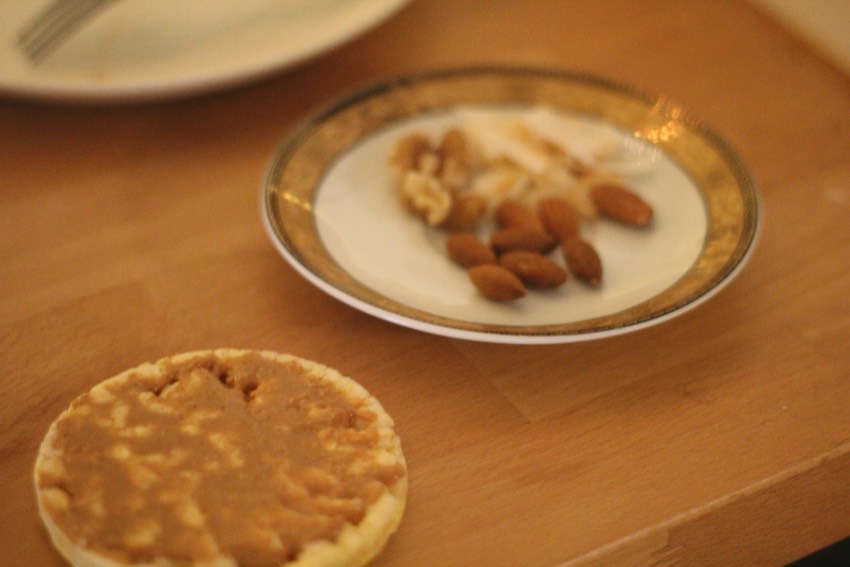 Avond snacks: maïswafel met pindakaas, wat amandelen, walnoten en kokos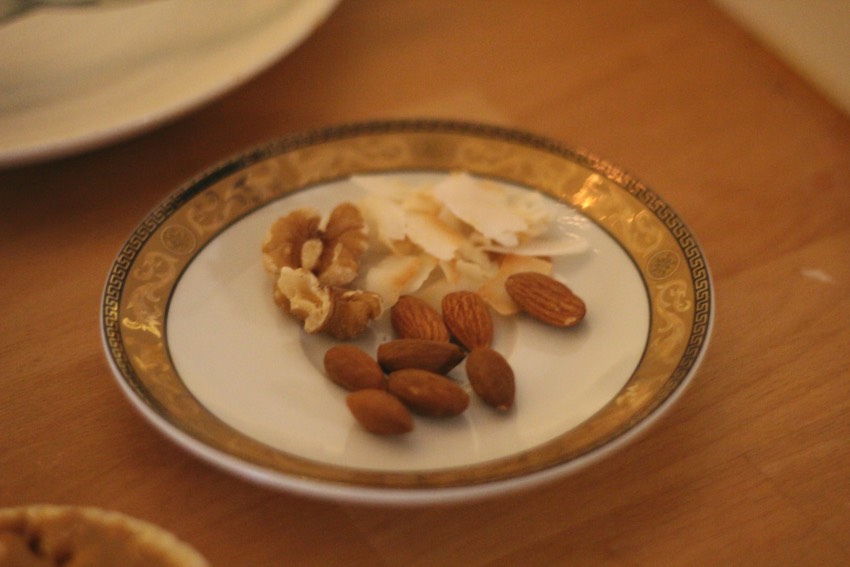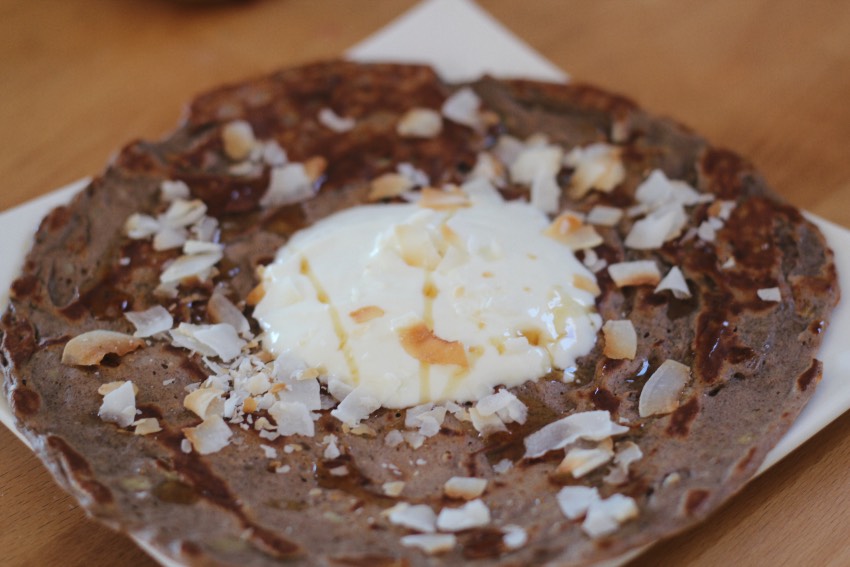 Lievelingsontbijt! Pannenkoeken 🙂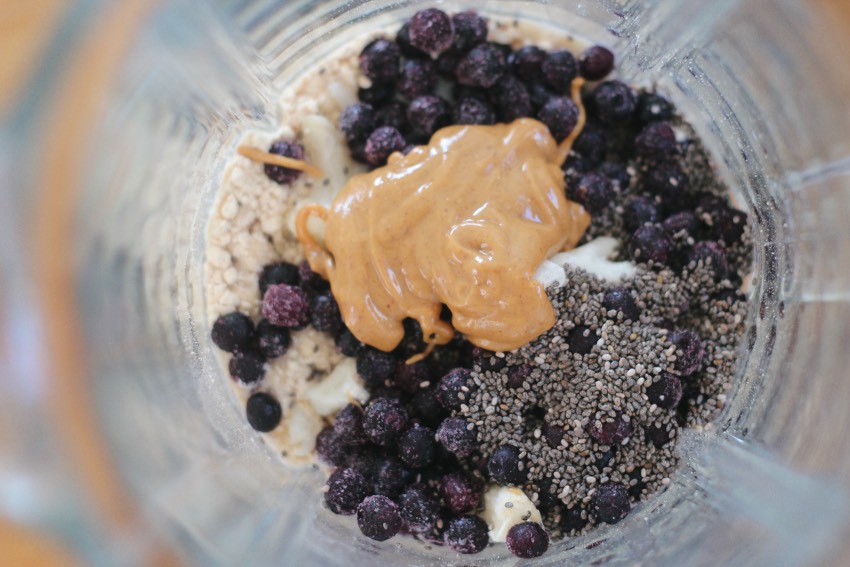 Dit is wel mijn lievelings smoothie van dit moment: vegan vanille eiwitpoeder, diepvriesbloemkool (wat? waarom?), diepvriesbosbessen, pindakaas, amandelmelk en chia.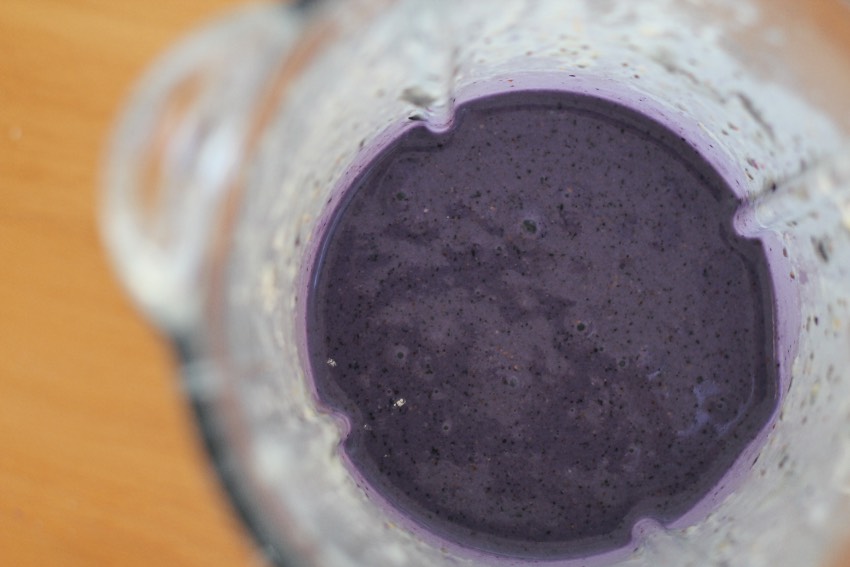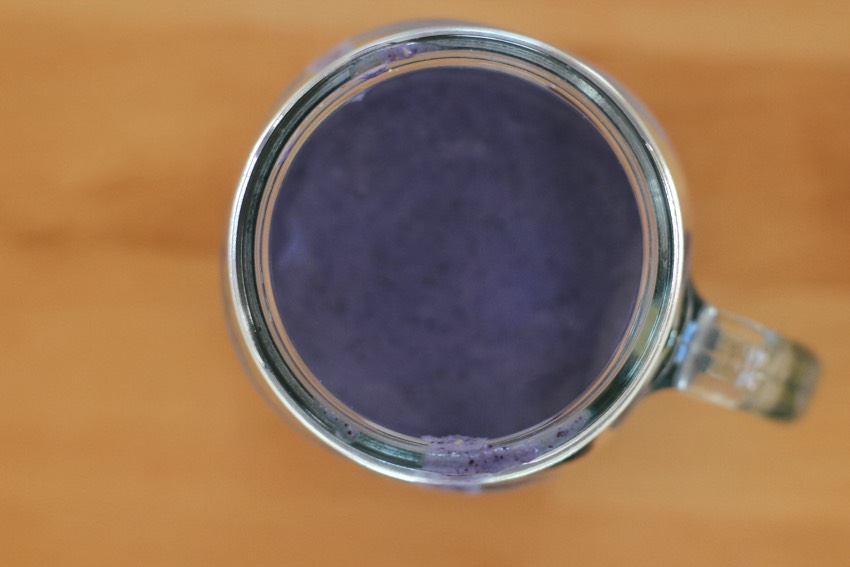 Oeh, die kleur!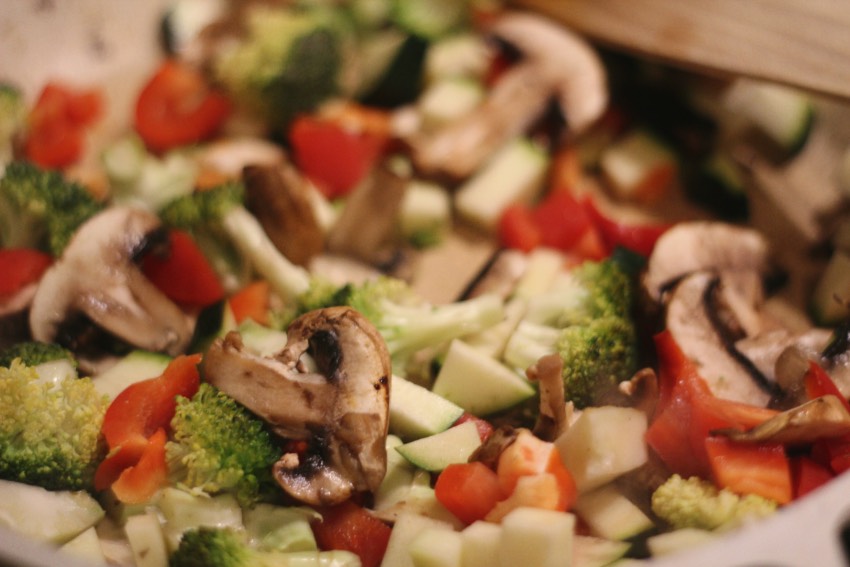 Courgette, paprika en champignons bakken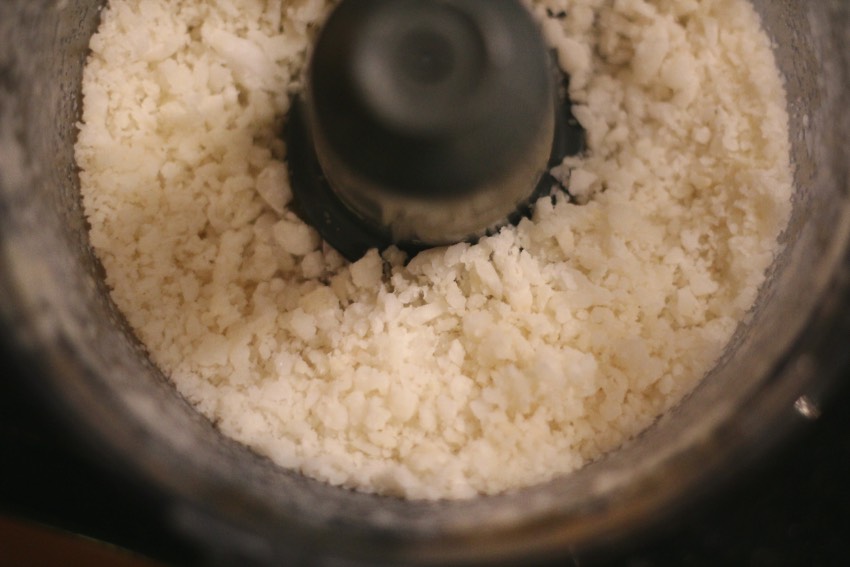 Diepvriesbloemkool even in de keukenmachine en je hebt bloemkoolrijst!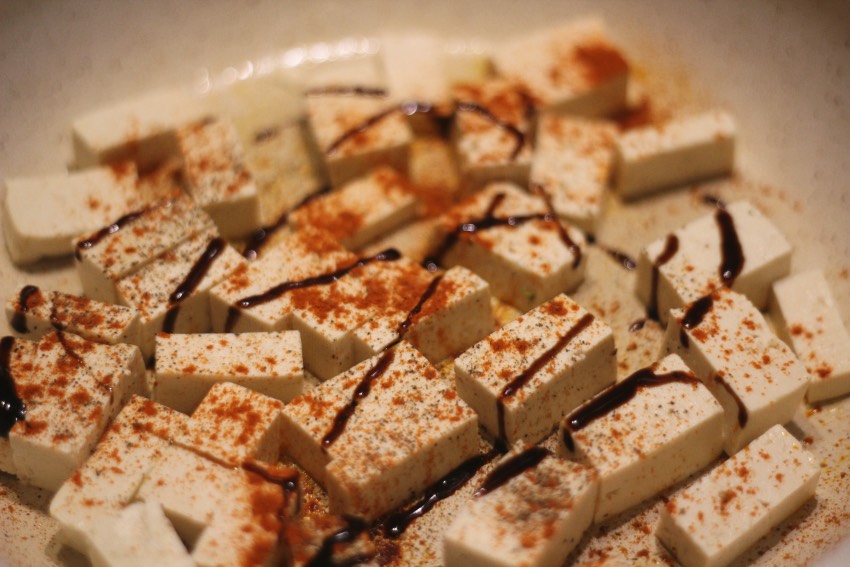 Tofu met paprika poeder, peper en zout en daarbovenop wat balsamico.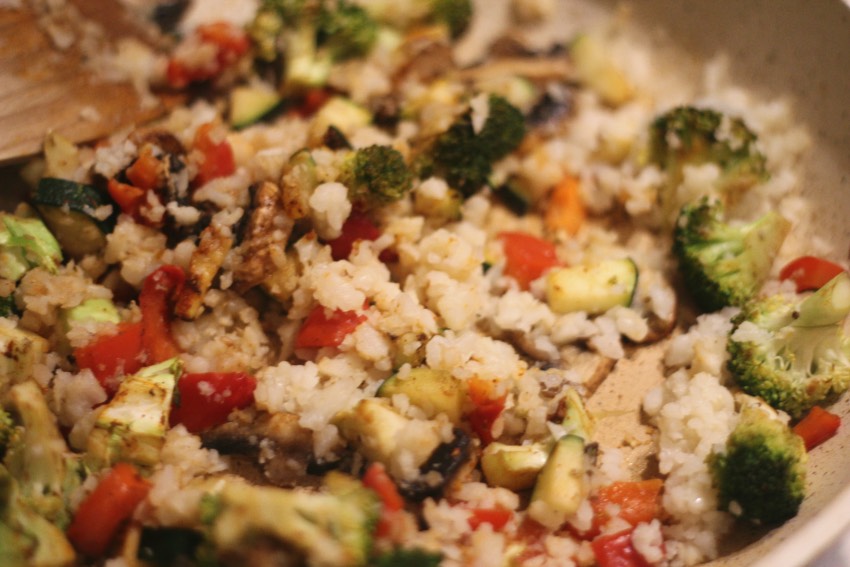 Alles bij elkaar en klaar!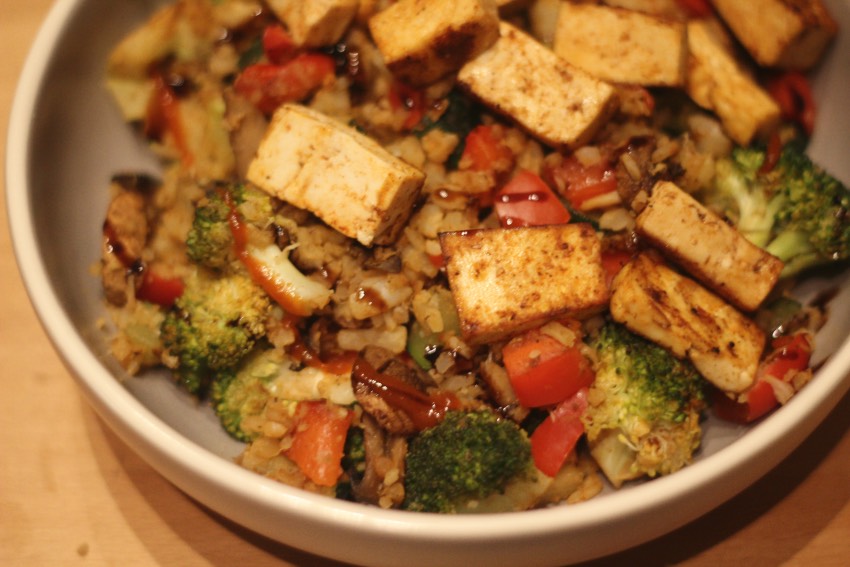 Ik ben gek op Sriracha, dus dat gaat er ook nog overheen.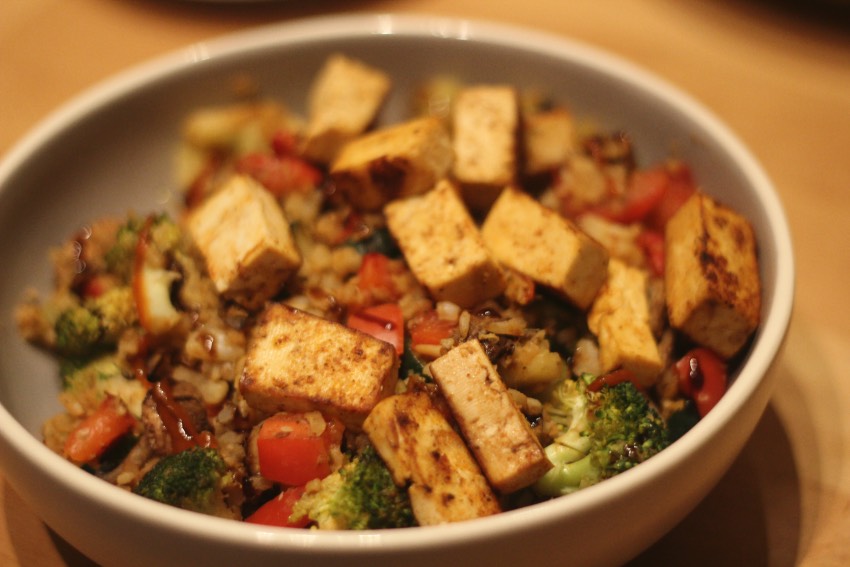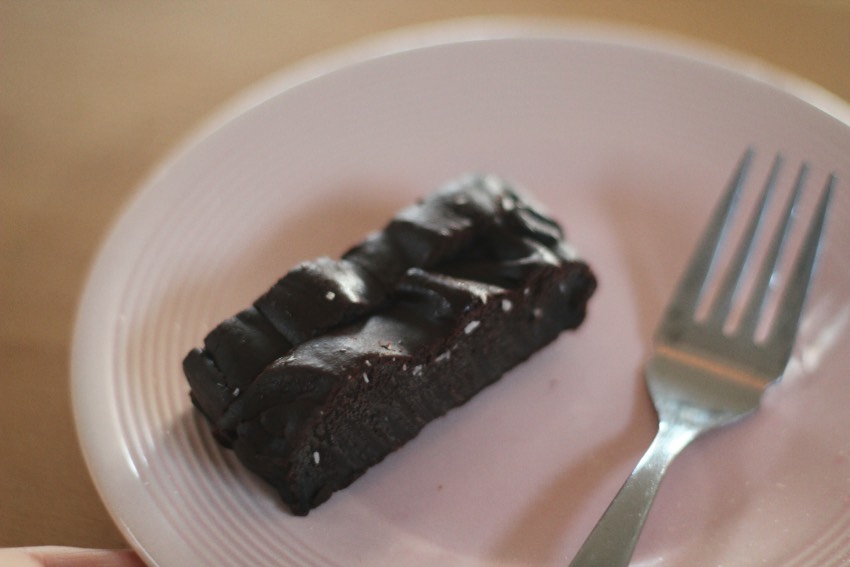 Hmmm romige chocolade cake!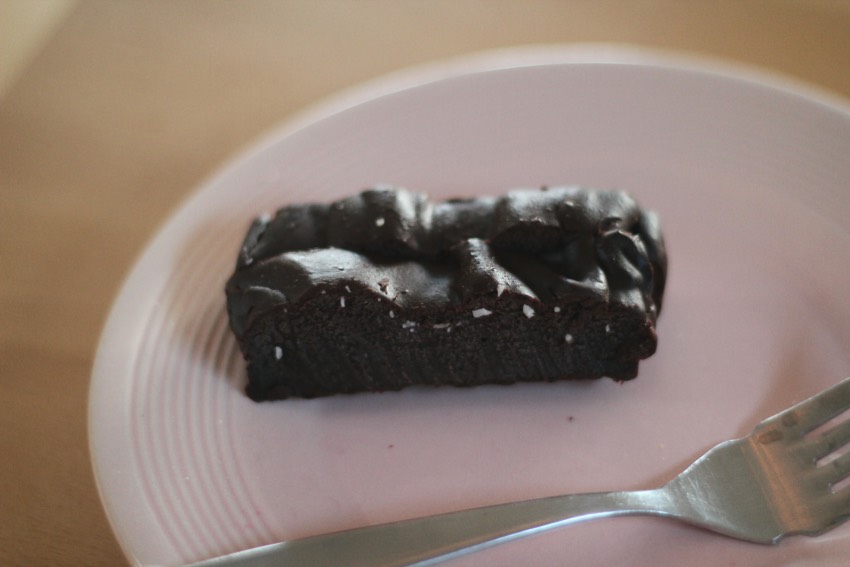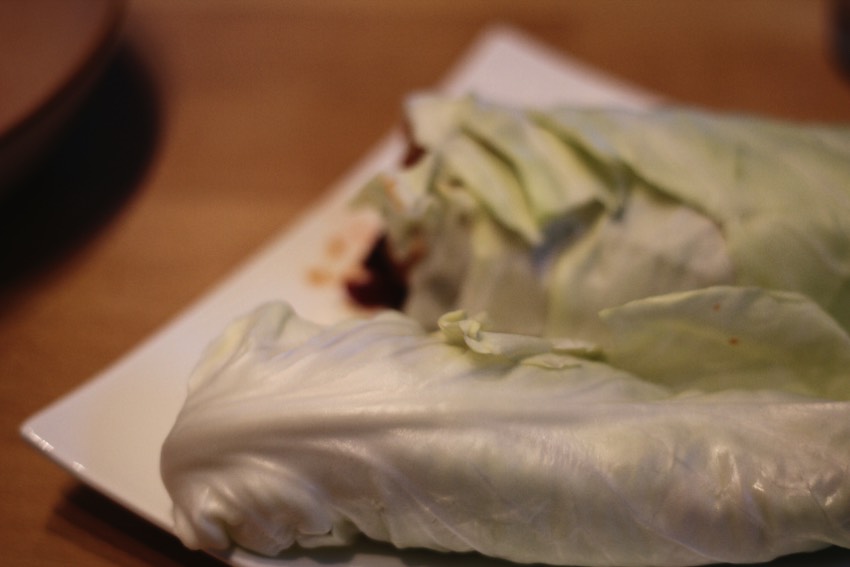 Spitskoolwraps, ik weet even niet meer wat erin zat, maar vast allemaal restjes groente en ehh.. Tofu?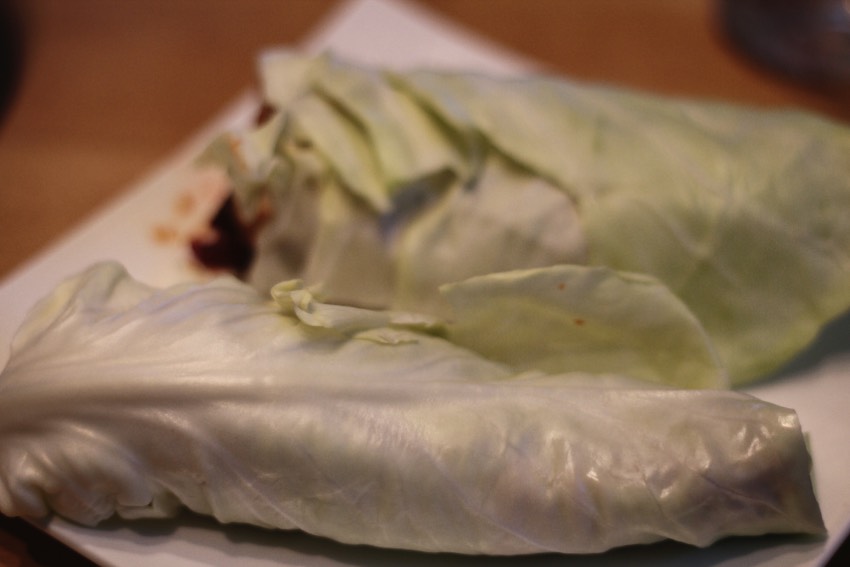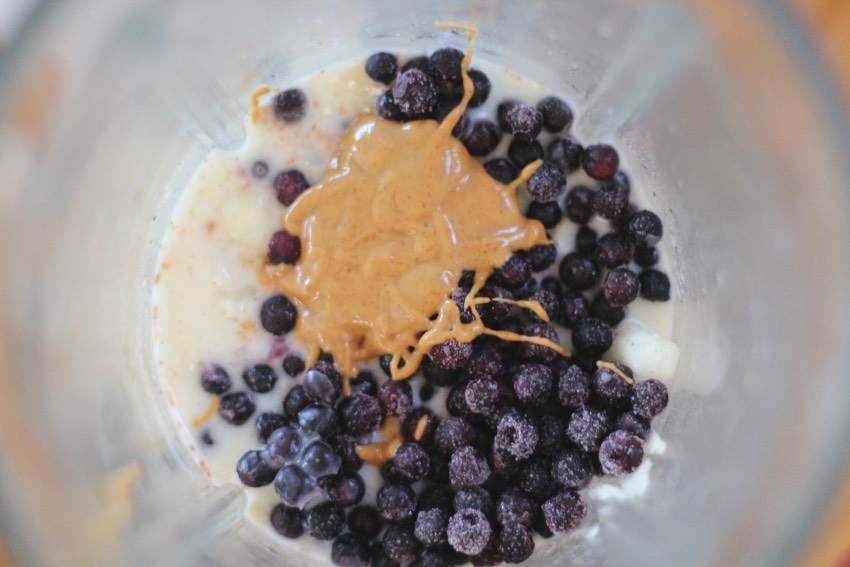 Lievelingssmoothie! Deze keer zonder chia.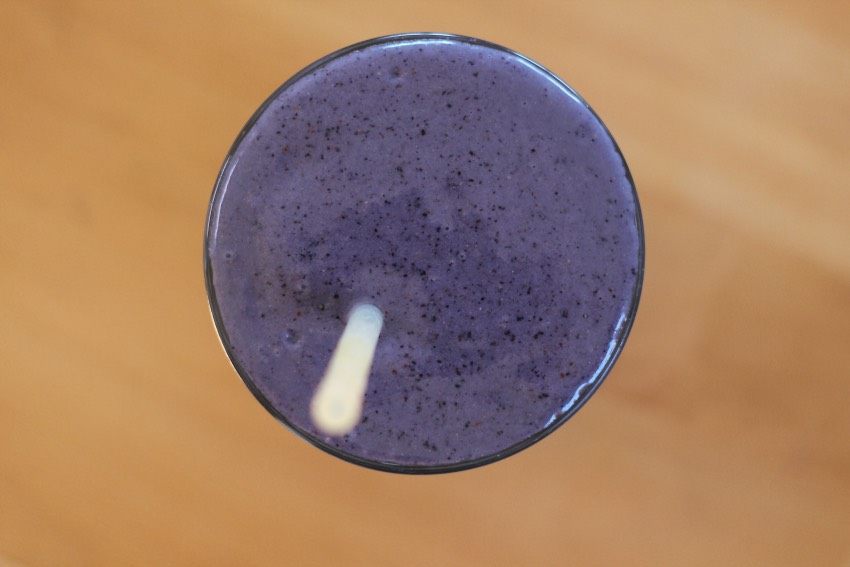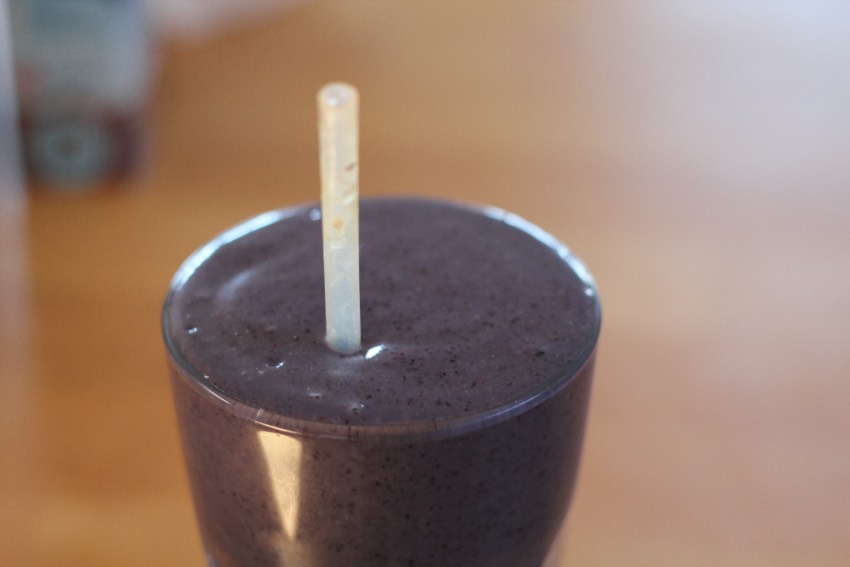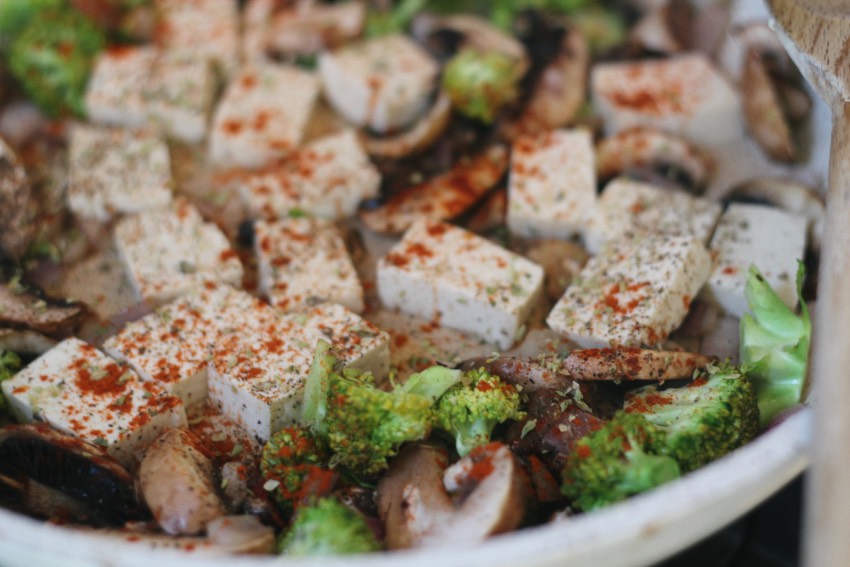 Groente met tofu. Ach, iets minder afwisseling deze keer 😉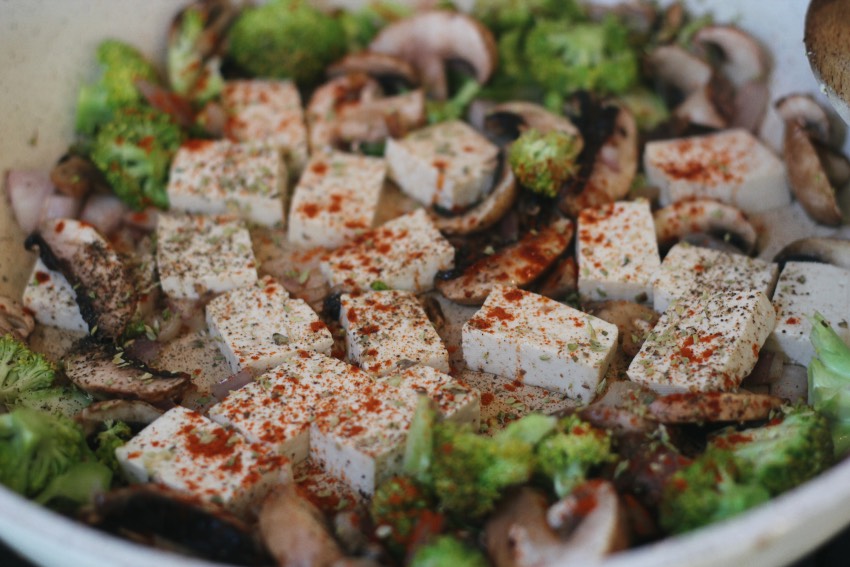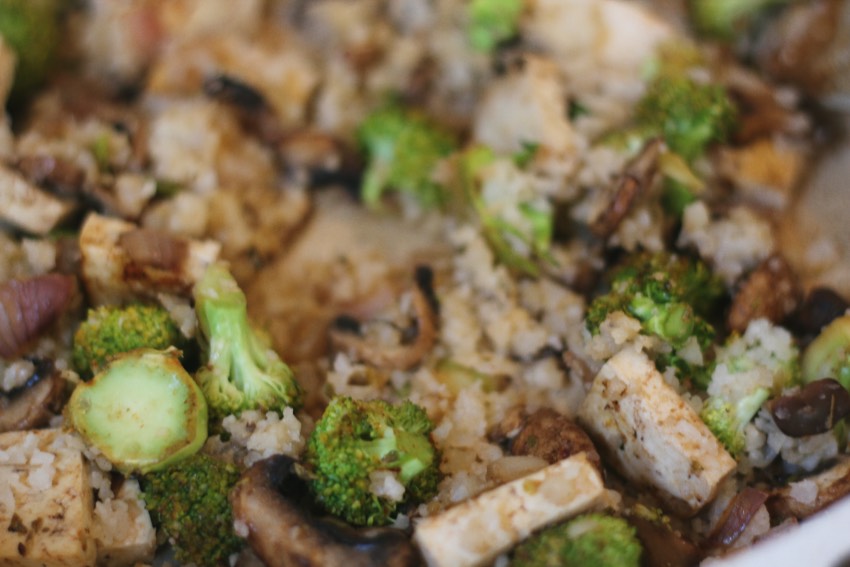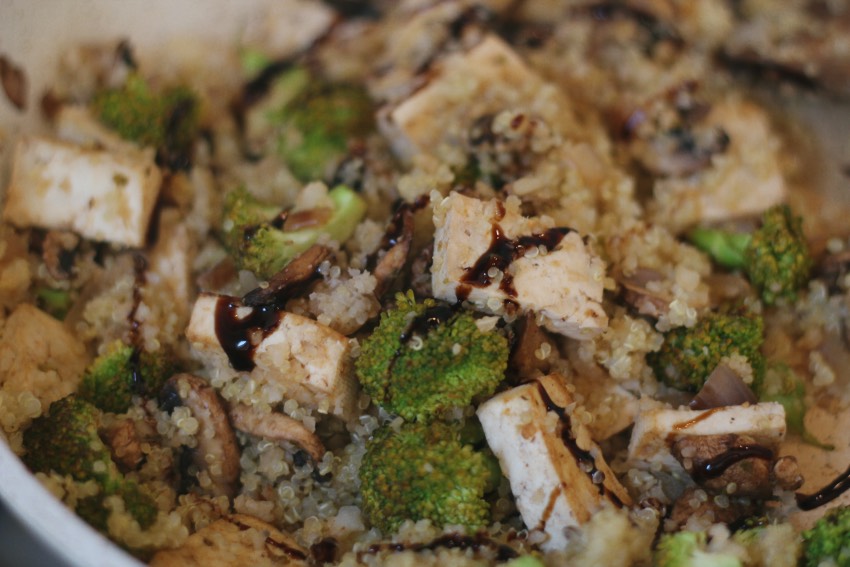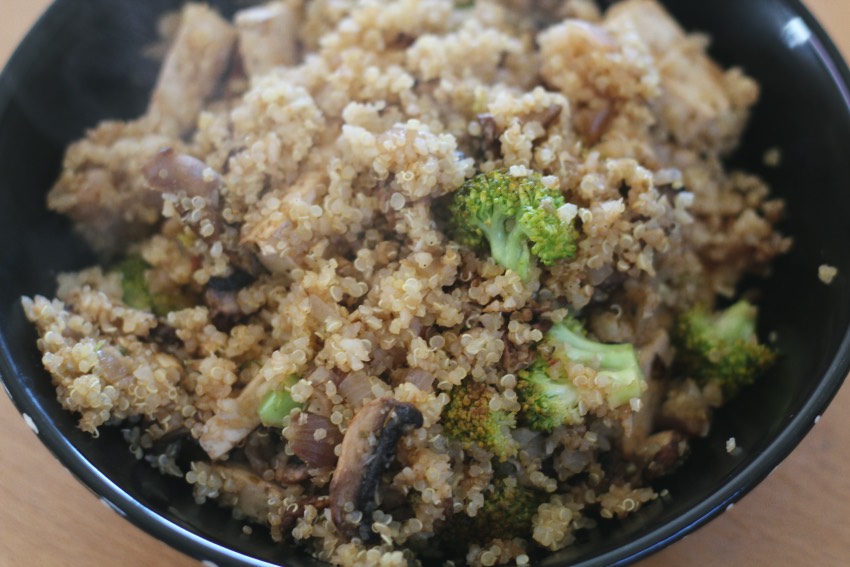 Deze keer met wat quinoa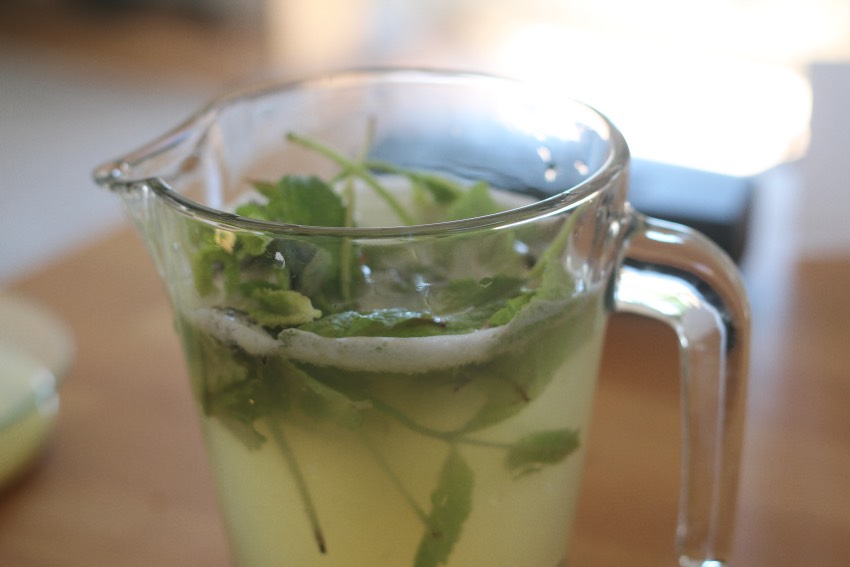 Een drankje voor een lekkere boost! Water met prik, gember (uit de juicer), beetje appelazijn en muntbladeren (die bijna niet meer goed waren, dus ik moest ze gauw ergens voor gebruiken).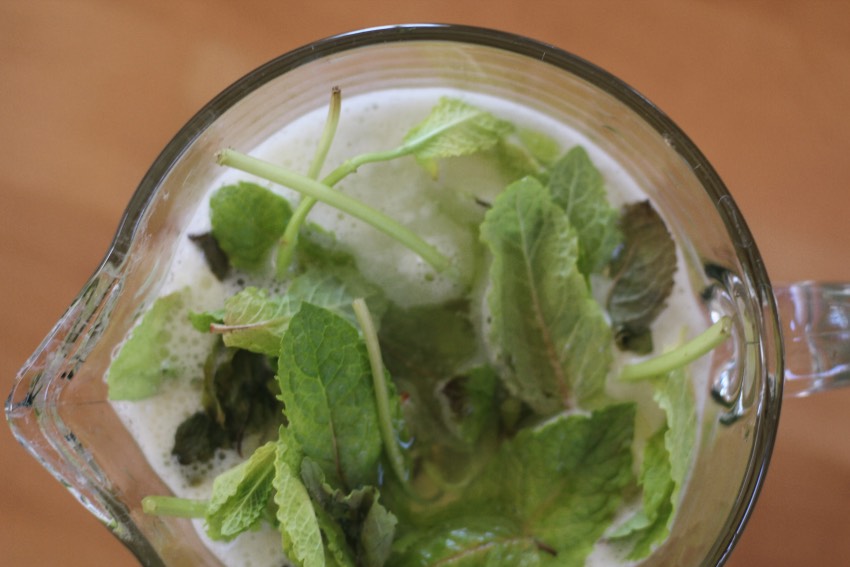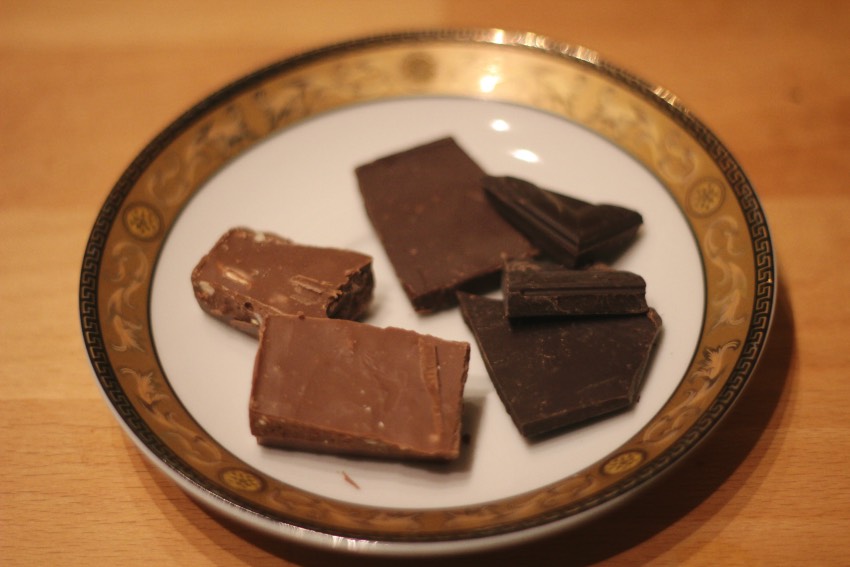 Chocolade met thee in de avond!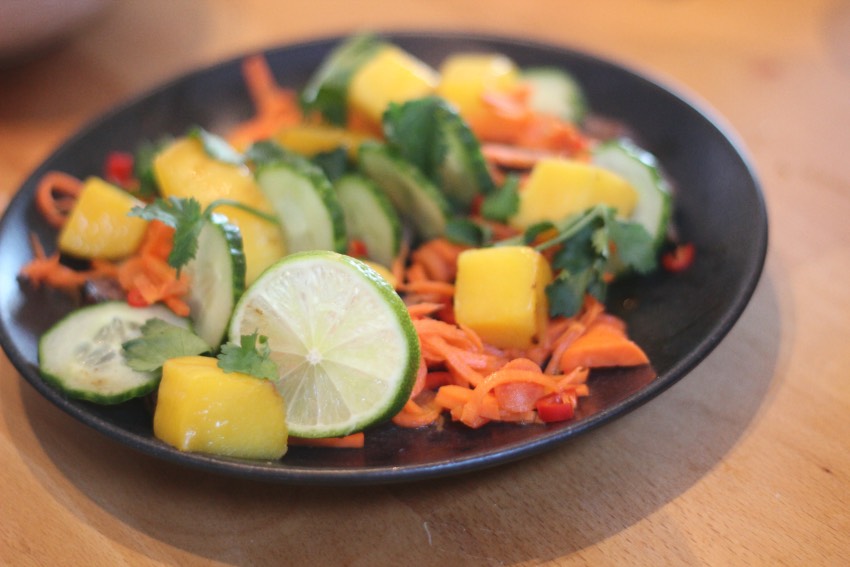 Boy was een avondje verantwoordelijk voor het eten, we aten biefstuk op zijn Aziatisch.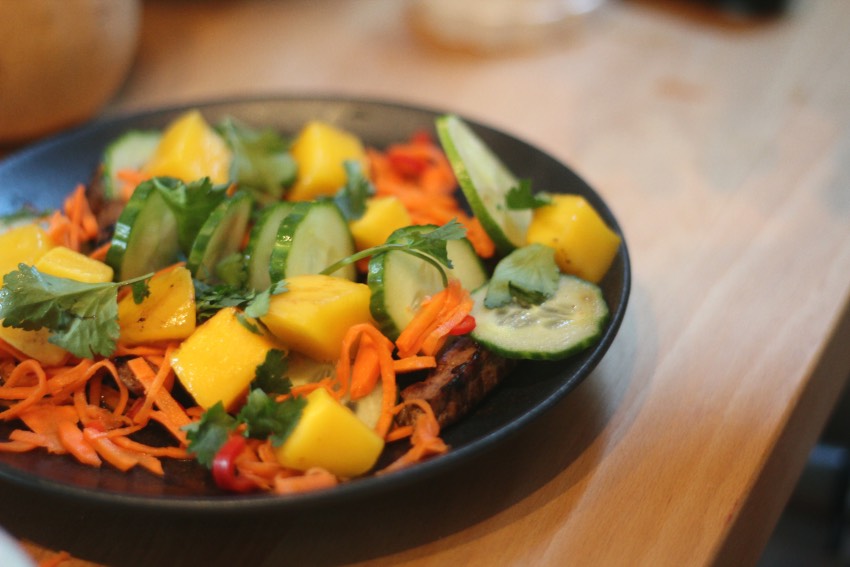 Met rode peper, wortel, mango, komkommer, koriander en een zoetzure dressing.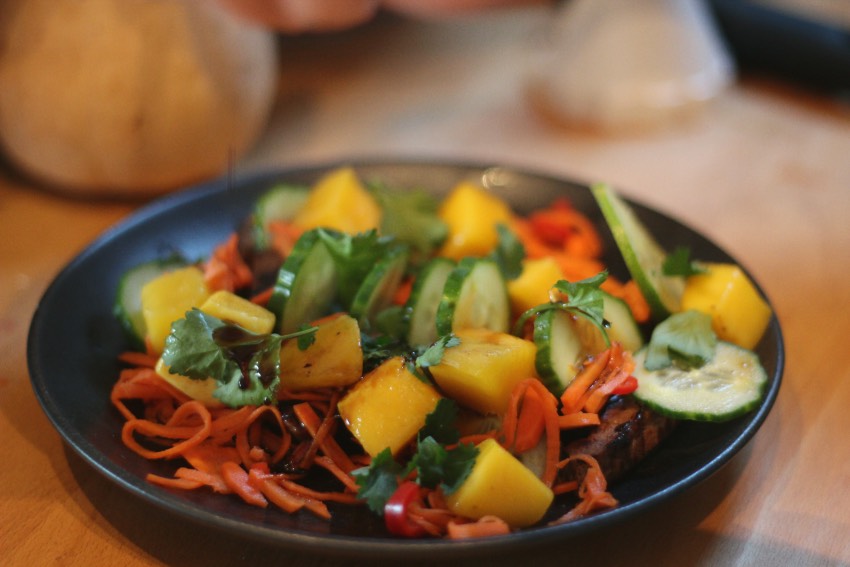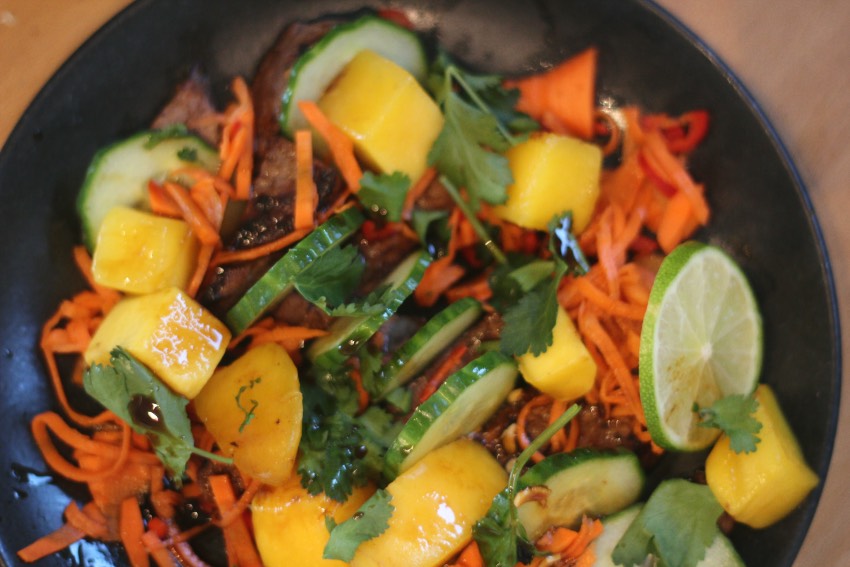 Heerlijk!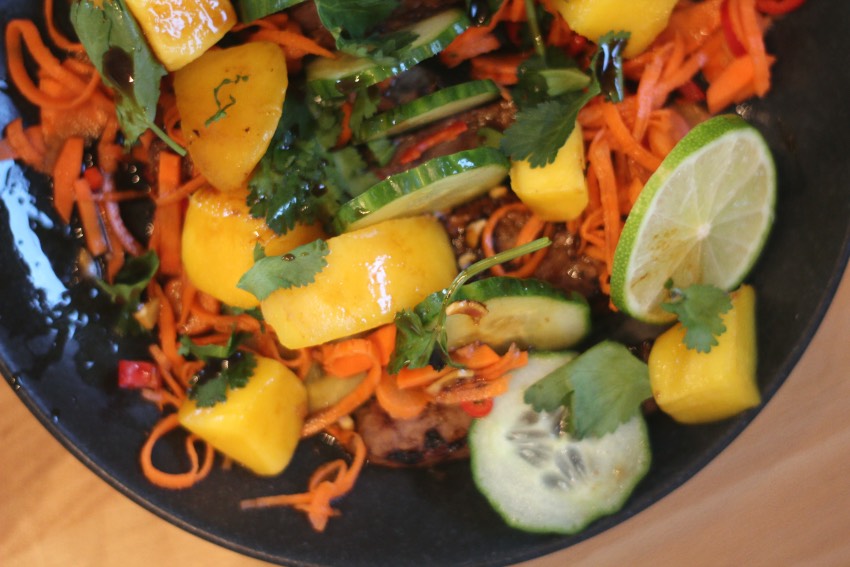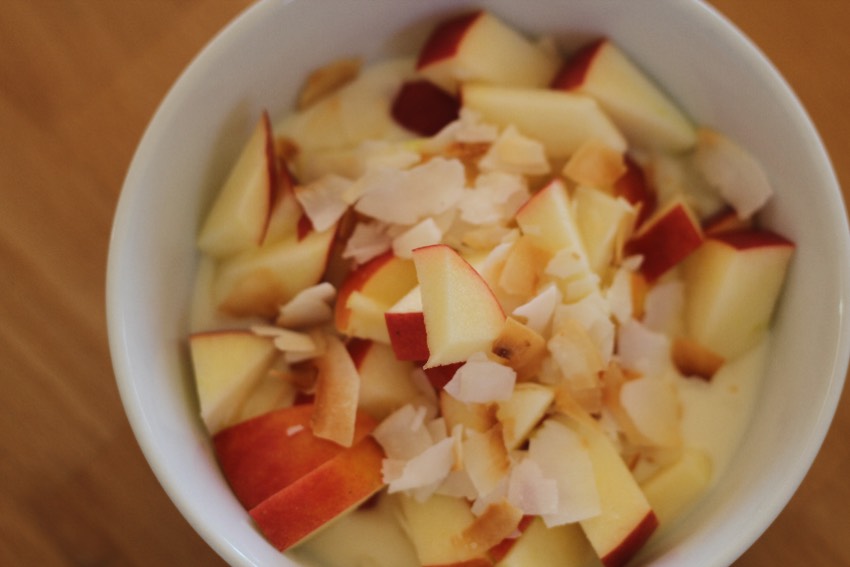 Yoghurt met appel en kokos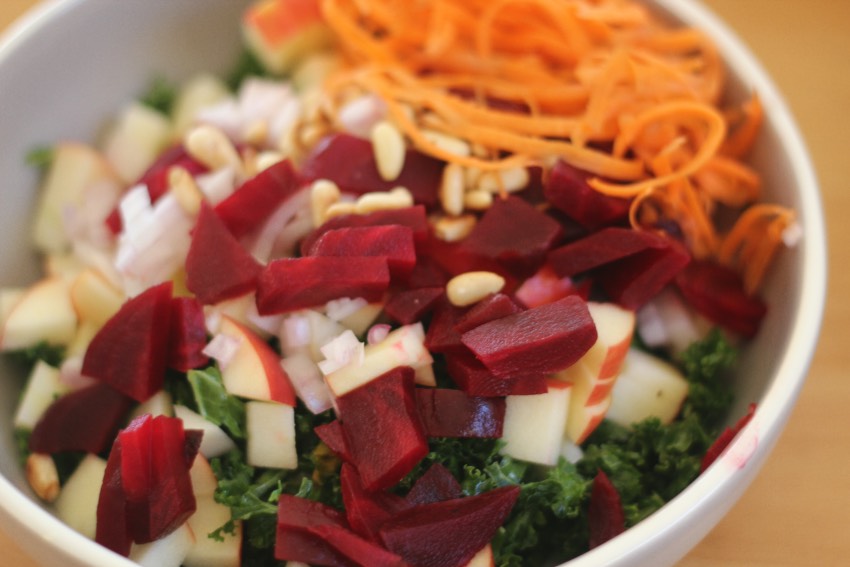 Boerenkool salade met rode bieten, pijnboompitten, rode ui, appel en wortel.
Boerenkool is nu weinig te vinden in de supermarkt (niet in het seizoen), maar als je het echt wilt hebben dan is de kans groot dat alleen de Albert Heijn het verkoopt (iemand vroeg dit laatst).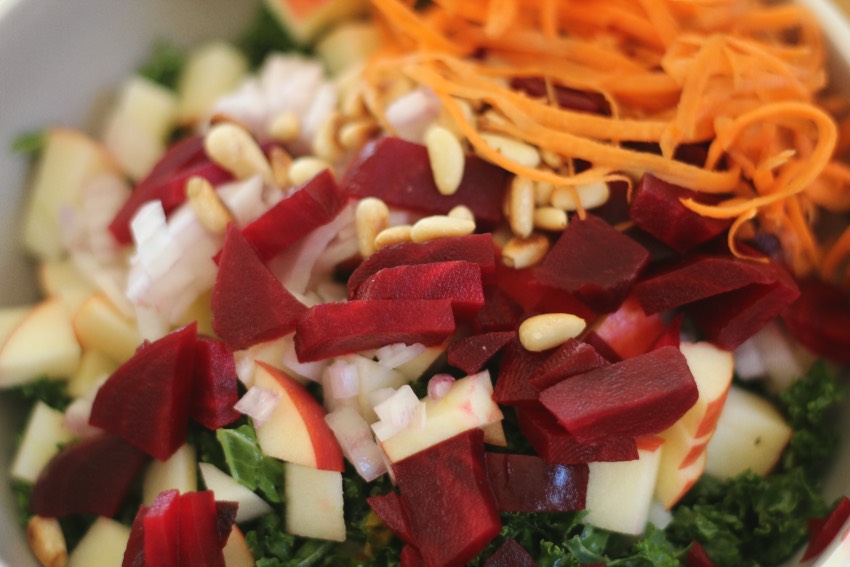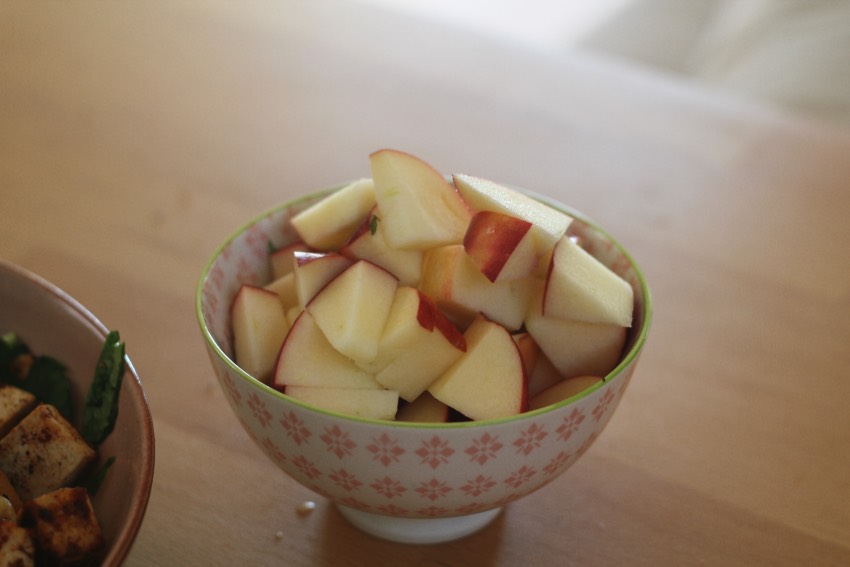 Appeltje 'on the side'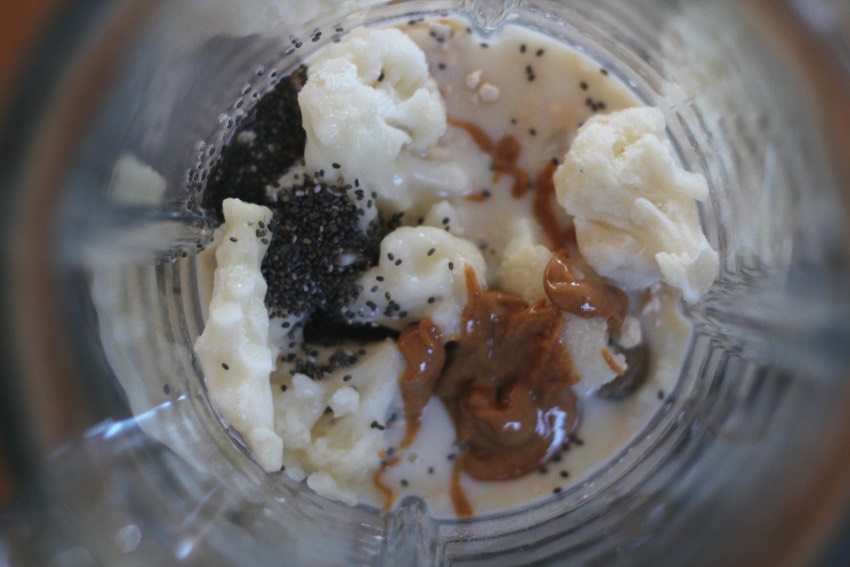 Een iets andere smoothie, bijna hetzelfde alleen deze keer liet ik de bosbessen weg. Je moet toch variëren he 😉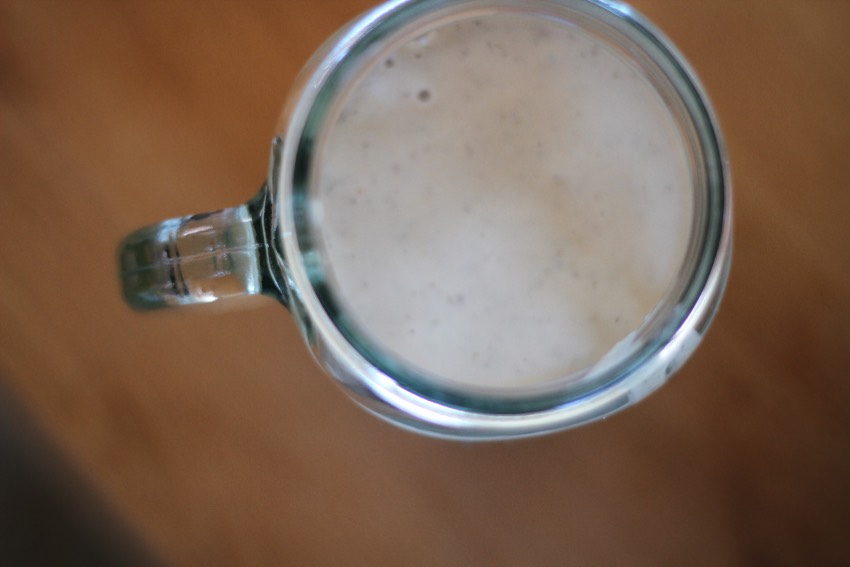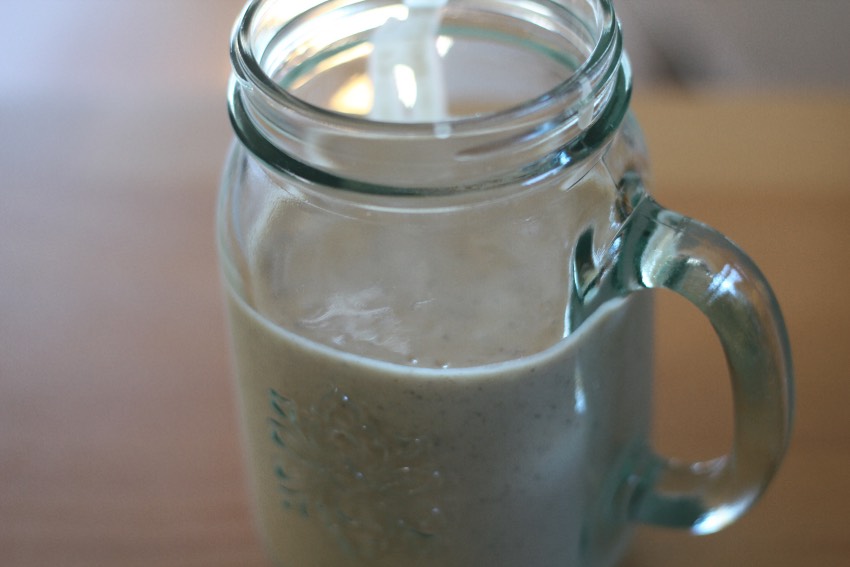 Heerlijk romig!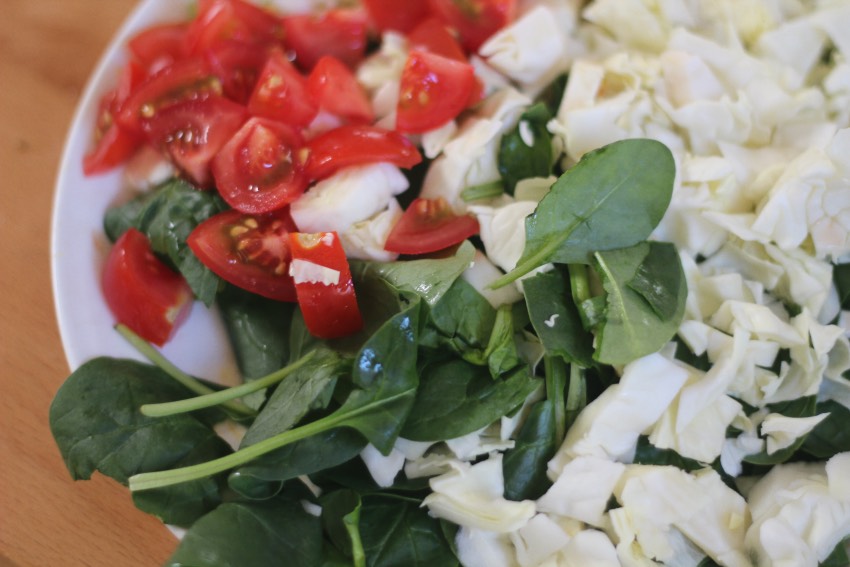 Een bedje met alles wat nog over was; cherry tomaten, spinazie en spitskool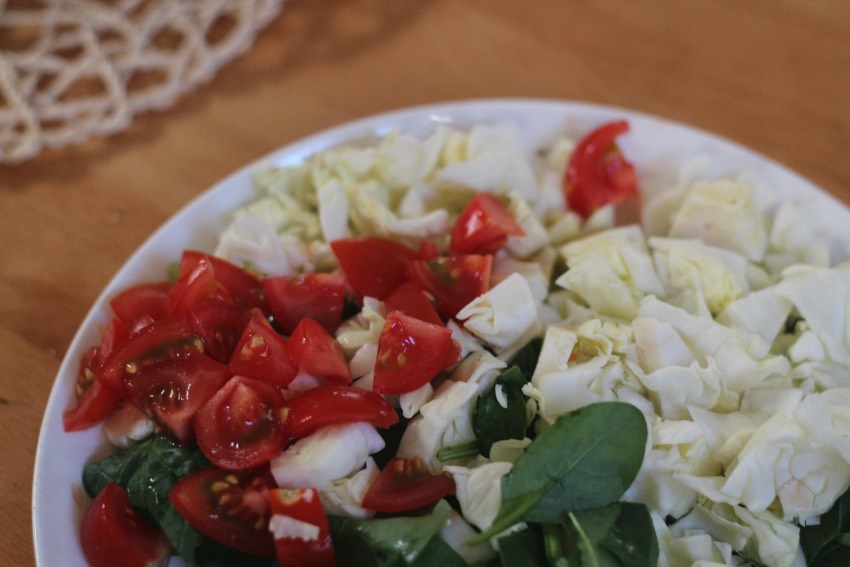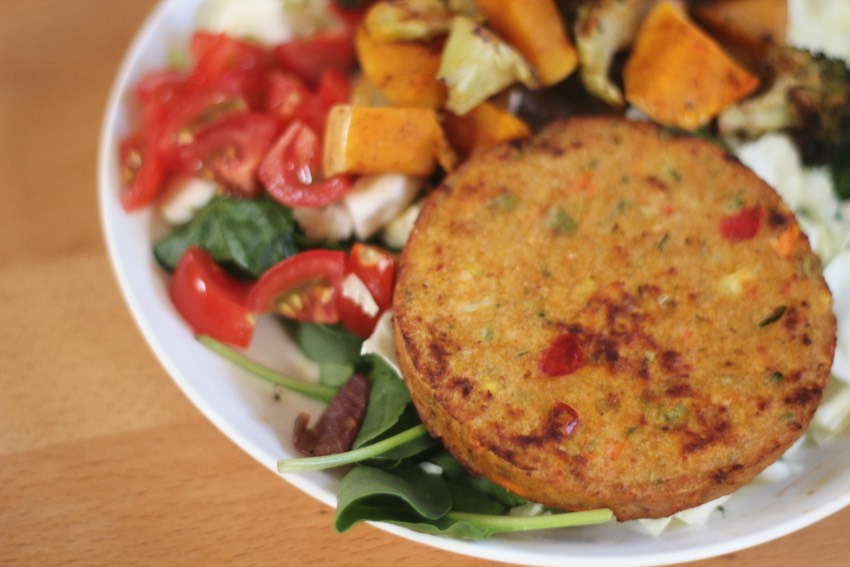 Met een groenteschijf van de Lidl, pompoen en broccoli uit de oven.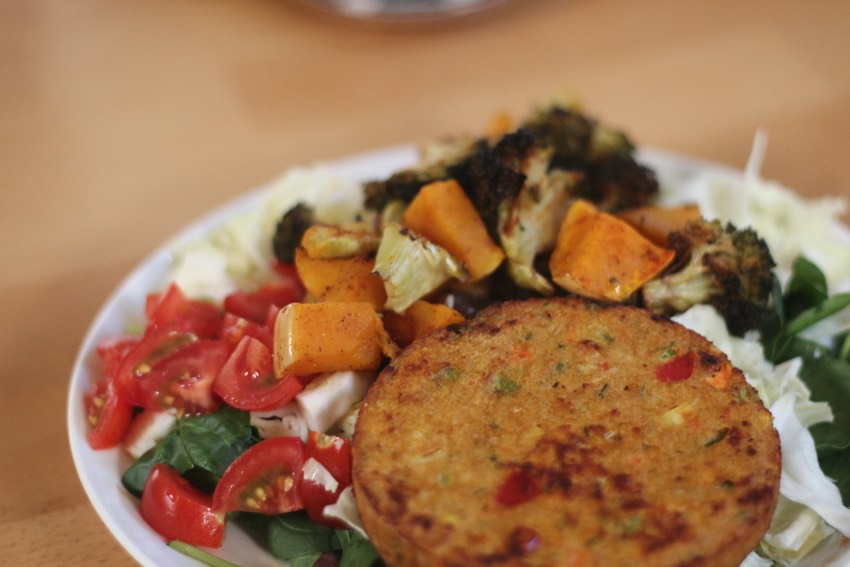 Zo, dat was hem dan alweer voor het voedingsdagboek van vandaag! Veel tofu he? De blokken zijn inmiddels wel op 😉 Ik zit nu met flink wat tempeh in de vriezer, dus hopelijk kan ik daar wat meer variatie in brengen de komende tijd 😉
Mocht je vragen hebben over wat ik eet, hoe ik het eet of waarom ik het eet; laat het gerust achter in de comments!