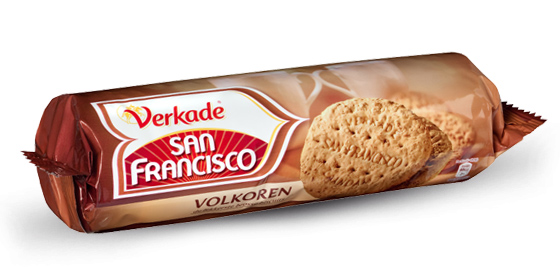 Misschien had je tot op heden geen flauw idee dat er een verschil zat tussen meergranen en volkoren en word je er nu bewust van. Goeiemorgen! 🙂
Nee hoor, het is best een sneaky verschil en ik neem het je niet kwalijk als je geen flauw benul had. 
Er is namelijk wel degelijk een belangrijk verschil tussen volkoren en meergranen;
Volkoren
Met volkoren wordt bedoeld dat het graan dat je eet (of dit nu spelt, rogge, tarwe etc. is) niet is geraffineerd tot een meel of bloem. Dit is wel het geval bij wit brood, witte rijst, "witte" pasta etc. Oftewel, volkoren producten bevatten meer vezels dan niet-volkoren producten en vezels geven je langer een verzadigd gevoel.
Uit dit onderzoek (1) kwam naar voren dat de vrouwen die meer volkoren producten aten, 30% minder kans zouden hebben op een hartaanval of hartziektes. En niet alleen dat, uit dit onderzoek (2) was de kans op het krijgen van diabetes type 2, ook weer 30% lager bij de vrouwen die voornamelijk volkoren producten aten tegenover de vrouwen die nauwelijks volkoren producten aten. Best chill.
Meergranen
Als ik je vraag om eens goed naar het woord te kijken. Wat staat er dan? Ja, nog steeds meergranen. Er staat letterlijk; meerdere granen. Prima, toch? Maar "meer granen" zegt niets over of de granen volkoren zijn of geraffineerd. Je kunt prima meerdere geraffineerde granen zoals wit tarwemeel (meel is al wit, maar oke) en rijstebloem bij elkaar doen en er "meergranen" op zetten. Dan heb je nog steeds geen volkoren product.
En misschien is het je ook opgevallen dat bij de meergranen broden er altijd pitjes en zaadjes bovenop (soms ook doorheen) zitten. Dit is natuurlijk prima, maar het wekt alleen maar de illusie dat het een gezond product is. Nu valt er wat te zeggen over "gezond", maar ik ben wel van mening dat volkoren producten meer voordelen hebben dan geraffineerde (zie bovenstaande onderzoeken).
Volkoren meergranen?
Ik heb deze term nog nooit gezien, maar mocht ik het tegenkomen; SCORE! Meerdere granen en allemaal volkoren? Lijkt me het proberen waard.