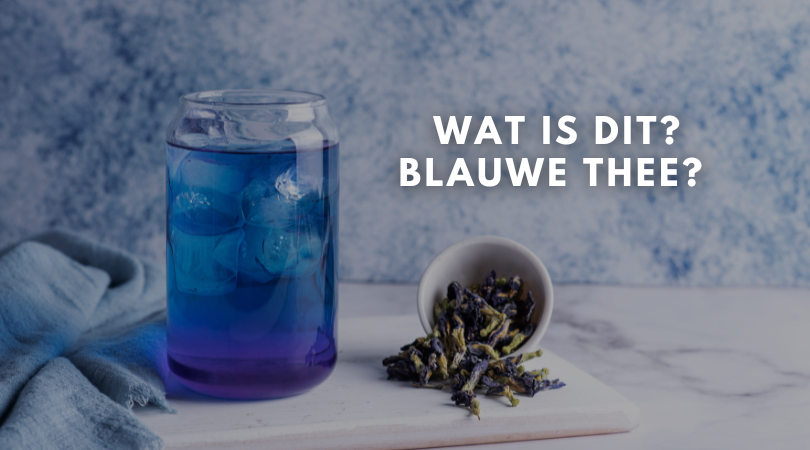 Nee dit is niet een soort chemisch drankje, maar wel degelijk een natuurlijke thee. Blauwe thee, ook wel bekend als butterfly pea tea is een kruidenthee die afkomstig is uit het zuiden van Azië. Het wordt gemaakt door gedroogde bloemblaadjes te gebruiken van de kittelbloem (Clitoria ternatea L) die van zichzelf een blauwe kleur heeft.
Gezonder hart? Hersenen? Anti diabetes? Anti kanker?
Naast dat deze bloem wordt gebruikt als natuurlijk kleurmiddel voor voedsel, wordt het ook gebruikt voor medische redenen in delen van Azië. Zoals voor gezondere hersenen en een gezonder hart maar ook omdat het anti-diabetes (type 2) en anti-kanker effecten kan hebben (1).
Wat is blauwe thee?
Blauwe thee is gemaakt door de bloemblaadjes van de kittelbloem te drogen en vervolgens te weken in heet water als thee. Het wordt vaak ook gemengd met andere ingrediënten zoals munt, gember, citroengras of kaneel. De blauwe kleur komt doordat het een hoge hoeveelheid anthocyanen (antioxidant pigment) bevat. Dit komt ook in andere blauwe en paarse groente en fruit voor.
Eenmaal geweekt in heet water en de thee zal een rode, paarse, groene of blauwe kleur krijgen, afhankelijk van de zuurtegraad. Je kunt dit ook beïnvloeden door er tonic, citroen of limoen aan toe te voegen (2)(3).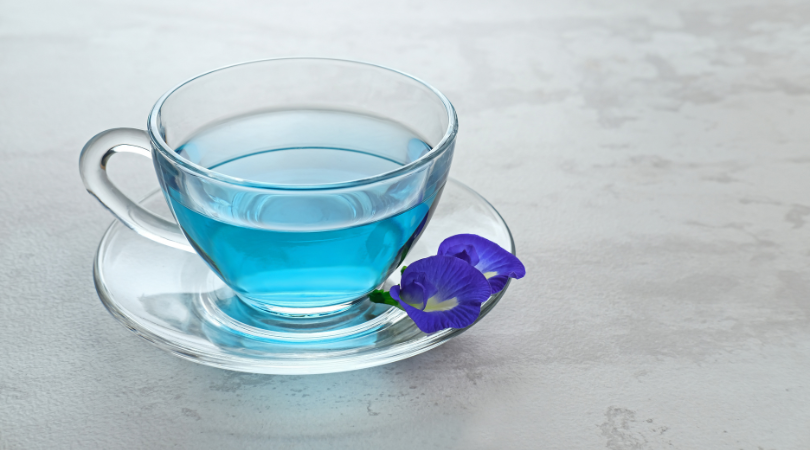 Naast het feit dat deze anthocyanen de thee een blauwe kleur geven hebben ze ook krachtige werkingen op je lichaam (1)(4). Welke krachtige werkingen? Say no more:
Rijk aan antioxidanten
Antioxidanten zijn belangrijke stofjes die ons lichaam nodig heeft om vrije radicalen (giftige stoffen zoals uitlaatgassen die ons lichaam binnen komen) op te vangen en te neutraliseren (lees hier meer over antioxidanten in gewone mensen taal uitgelegd), deze voorkomen verschillende ziektes (3)(5).
Eén van de antioxidanten die voor het grootste gedeelte aanwezig is heet: delphinidin en dit beschermt de celmembranen van lipideperoxidatie. Wat zeg je?
Lipideperoxidatie. Dit is een  kettingreactie van oxidatieve afbraak van lipiden. Het is het proces waarbij vrije radicalen elektronen "stelen" uit de lipiden in celmembranen, wat resulteert in celbeschadiging en de aanmaak van kankerverwekkende stoffen (7)(8).
Anyway, delphindin beschermt je hiertegen.
Goed voor je hart
Doordat blauwe thee je bloeddruk en cholesterol levels kan verbeteren is dit automatisch gelinkt aan een betere hart gezondheid. Nu moeten er wel écht meer onderzoeken gedaan worden om dit helemaal te bevestigen, maar de beginsels zijn er die een link laten zien tussen blauwe thee en een lagere bloeddruk, verwijden van bloedvaten en een betere bloeddoorstroming (7)(9). Daarbovenop voorkomt het de aanmaak van bloedproppen (7).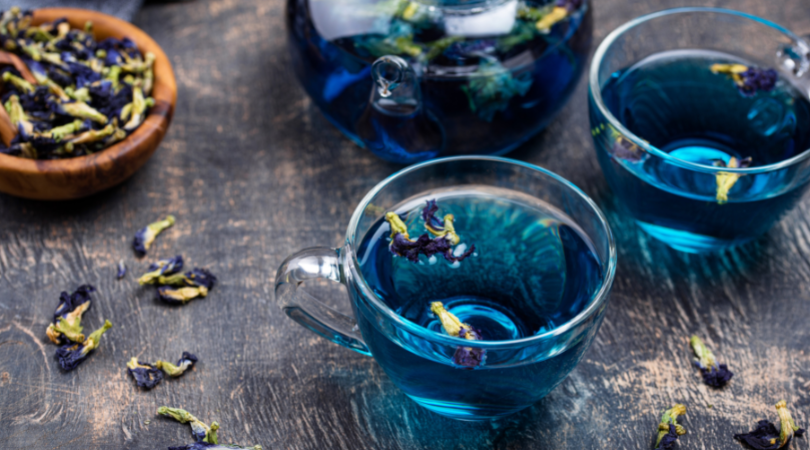 Anti-diabetes
Belangrijk om te vermelden dat het hier gaat om diabetes type 2 (type 1 is aangeboren en het krijgen ervan heeft niks met je leefstijl te maken). Uit een paar onderzoeken blijkt dat blauwe thee de aanmaak van een bepaalde verteringsenzymen kan onderdrukken (1)(3), dit zorgt ervoor dat de vertering wordt vertraagt zowel als de opname van suikers. Wat resulteert in een geleidelijke stijging van je suikerspiegel in plaats van een enorme piek. De enorme pieken in je suikerspiegel zijn een risicofactor voor het ontwikkelen van diabetes type 2.
Andere voordelen
Nog even kort een aantal andere voordelen opgesomd voor je:
Wat nog even belangrijk is om te benoemen is dat de meeste voordelen die uit onderzoek naar boven komen zich focussen op de extracten en antioxidanten van de bloemblaadjes, niet op de thee zelf. Daarnaast moet er nog veel meer onderzoek komen (op mensen) om duidelijke conclusies te kunnen trekken. Maar het ziet er in ieder geval veelbelovend uit zonder nadelige effecten. Dus waarom niet af en toe een glaasje blauwe thee? 😉 Ziet er best cool uit, niet waar?