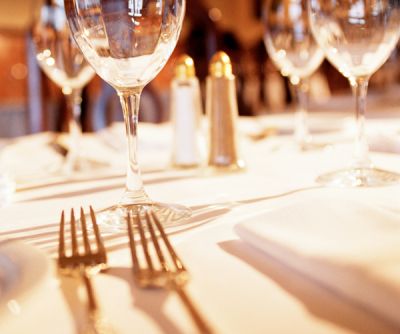 We weten allemaal dat afvallen op een gezonde manier tijd kost. Het gebeurt niet van de ene op de andere dag. En wanneer je dan eenmaal bent afgevallen moet je dit ook nog eens stabiel zien te houden. Maar wat nou als je, net als elk ander normaal mens, wel eens uit eten gaat? Wat kun je dan het beste bestellen om niet een enorme hoeveel calorieën binnen te krijgen?

Om niet af te hoeven zeggen als je uit eten gaat met vrienden, of met een schuldgevoel weer thuis te komen na een etentje; volgen hier wat tips voor het bestellen van je eten!
Wees ten eerste niet bang om te vragen of je een iets andere bestelling mag doen. De meeste restaurants hebben de mogelijkheid om wat flexibel te zijn met de keuzes van de klanten.
De strategie is om te bedenken hoe het eten is klaargemaakt en wat erbij zit. En niet zozeer welk voedsel het precies is. Lees goed de beschrijvingen om een idee te krijgen hoe en met wat het voedsel is bereid.
Blijf uit de buurt van de volgende woorden:
Gefrituurd
Crispy
Crunchy
Beboterd
Creamy
Cheesy
Kies iets in deze richting:
Gekookt
Gebakken
Gegrild
Gestoomd
Au Jus
Florentine (betekent meestal met spinazie)
Primavera (betekent meestal met groente)
Als iets met jus of een zware saus (mayonaise, aioli, romige sauzen) wordt geserveerd, vraag dan of ze de saus weg willen laten. Hetzelfde geldt voor dressings en boter. Of vraag of het apart geserveerd kan worden (dus niet allemaal op jouw bord) zodat je wat meer controle kan hebben over de porties die je eet.
Zie je ergens op het menu fruit of groente staan? Bestel ze! (Zolang ze niet vol met extra vet en suiker zitten)
Dit is een goede manier om vezels, vitaminen en mineralen binnen te krijgen.
Een andere handige tip die ik laatst las in het boek 'waarom franse vrouwen niet dik worden' is het volgende: laat je bestelling alvorens je hem krijgt door de helft splitsen en vraag of je de ene helft als 'doggy bag' mag meenemen en de andere helft in het restaurant opeten. Ja nu weet ik al wat je denkt, dit is echt niet hoe dat in Nederland gaat. Niemand vraagt hier om een 'doggy bag'. Dit doen ze in Engeland en Amerika heel veel en is daar de gewoonste zaak van de wereld. Op de een of andere manier lukt het niet in Nederland. Maar ik zou zeggen, probeer het eens als je durft! Wie weet is dat geen probleem en heb je zo meteen een maaltijd voor de dag erop gescoord!
Wist je dat uit onderzoek is gebleken dat wanneer mensen grotere porties voor hun neus kregen, ze uiteindelijk ook meer aten? Ja, dat klinkt best logisch. Maar een van de onderzoeken wees zelfs op het volgende: vrouwen die twee dagen achter elkaar grotere porties kregen, aten tussen de 335 en 530 calorieën meer op een dag! En mannen tussen de 504 en 812 meer calorieën op een dag!