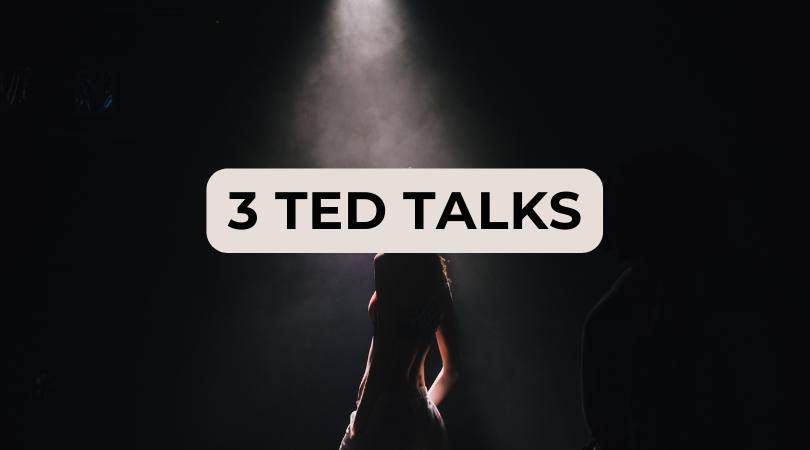 Hoe vaak ik aan jullie denk na het kijken van een Ted Talk. Ik MOET dit delen op mijn blog! Ik MOET dit ergens in verwerken!
Oké, de hoeveelheid Ted Talks die ik kijk resulteert vaker in een teleurstelling dan een aha-moment, maar wanneer dat laatste gebeurt wil ik het met iedereen delen. Ehm, waarom dan niet gewoon in een post geheel toegewijd aan Ted Talks? We beginnen met 3 omdat ik al moeite had met categoriseren. Mocht dit bevallen, dan komen er in de toekomst meer!
De zaterdag leek me ook de ultieme dag om lekker filmpjes te kijken die je een goed gevoel zullen geven, in tegenstelling tot een doordeweekse dag wanneer je niet altijd tijd hebt voor een filmpje en makkelijker een stuk tekst leest. Goed, ben je klaar om van je stoel geblazen te worden?
Succesvoller zijn? Slaap meer!
[embedyt]https://youtu.be/nncY-MA1Iu8[/embedyt]
Of eigenlijk: slaap voldoende. Arianna Huffington vertelt op een interessante en charmante manier wat het met je kan doen  als je niet genoeg hebt geslapen.
"De manier tot een productiever, inspirerender en leuker leven is voldoende slaap krijgen"
Amen to that! Kort maar krachtig en hoewel ze het niet heeft over wetenschappelijke informatie of wat dan ook, maakt ze absoluut een punt. Google haar naam en je zult talloze onderzoeken vinden die haar korte TED talk ondersteunen.
Maar, is het nodig? We voelen allemaal dat ze een punt heeft toch?
Emotie is de drijfveer voor WAAROM je doet wat je doet
[embedyt]https://youtu.be/Cpc-t-Uwv1I[/embedyt]
De vroege dagen van Tony Robbins op het internet! Bijzonder om te zien hoe ver hij is gekomen na dit filmpje uit 2007 – waar hij al waanzinnige seminars gaf. Maar dit laat wel zien welke potentie hij heeft – hij laat je nadenken.
Het interessante in het begin is dat hij het heeft over motivatie – iets waar hij niet mee bezig is. Hij probeert je niet te motiveren, hij vraagt zich af waarom je doet wat je doet. En wanneer je jezelf dit ook gaat afvragen, dan kom je een heel eind met achterhalen hoe je jouw dromen en doelen kunt behalen. Dat laatste wordt dan weer gezien als motivatie, maar dat is niet waar het begint. Ik vond dit echt een geweldige TED talk die altijd relevant blijft, ook al zijn we inmiddels 12 jaar verder!
Kijk eens naar de mensen om je heen. | "Happiness comes before success"
[embedyt]https://youtu.be/yZRCFK1n-NM[/embedyt]
Deze Ted Talk begint.. en je denkt: Wat? Wat een onzin! Maar hoe langer je kijkt en luistert, hoe logischer het wordt. Hoe bijzonder haar blik op het leven is en de 5 mensen die zij beweerd nodig te hebben – die iedereen volgens haar nodig heeft – om je doelen te behalen. Ik zou niet teveel in paniek raken als je je realiseert dat jij niet alle 5 van deze mensen hebt (heb ik ook niet), maar meer naar het algemene plaatje proberen te kijken. Het kan ook zijn dat je een kwaliteit vindt in een online persoon die je nog nooit hebt ontmoet maar waar je naar op kijkt. Daar zou je ook van kunnen leren, dat zou ook een 'mentor' kunnen zijn (lees hier over mij online mentoren).
Waarom ik dit deel, eerlijk.
Als dromen en doelen niet zoveel voor je betekenen en je het hartstikke prima hebt in het leven, hoeven deze Ted Talks je niets te zeggen natuurlijk. Maar als je wel graag een motivatie boost of wat extra inspiratie nodig hebt van tijd tot tijd zijn ze misschien nét wat je nodig hebt om dat telefoontje te plegen, die e-mail te schrijven, dat risico met werk te nemen en ga zo maar door. Alle kleine keuzes dragen bij aan het grotere plaatje en de keuzes worden gemaakt, deels door je eigen invloed en deels door de invloeden van buitenaf. Als je de invloeden van buitenaf zoveel mogelijk positief probeert te houden/krijgen door af en toe een goed boek, een inspirerend filmpje of een goed gesprek – dan ontwikkel je je en voed je dat vuurtje dat brandt van binnen. Zo zie ik het. Als je de invloeden van buitenaf op zijn eigen loop laat gaan kan het zomaar zijn dat je verstrengeld raakt in gesprekken met mensen die nergens echt voor zijn gegaan in het leven en alles maar een beetje uitzitten (even een extreem voorbeeld natuurlijk). Daarom 'voed' ik mezelf graag met deze dingen en hopelijk helpt het voeden van mezelf ook met het voeden van jullie vuurtje door dit soort artikelen te delen!