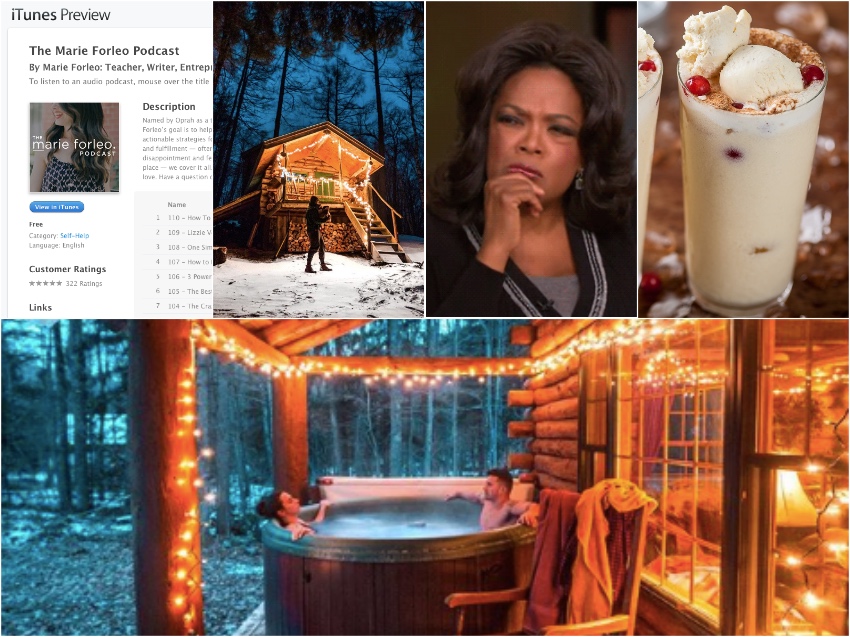 Hallo maandag en dan ook nog eens "Blue Monday". De zogenaamd meest deprimerende dag van het jaar. Als een dag zo'n stempel krijgt, dan wíl ik er niet eens aan toegeven. Ik weiger. Ik ben rebels. Ha.
Daarom heb ik 5 inspirerende dingen voor je verzameld om er een heerlijke dag van te maken! 
1. Zes minuten video om je dag met een KNALLER te starten
Laten we beginnen met 6 minuten pure motivatie om je ochtend mee te starten (als je dit in de ochtend leest). Verschillende sprekers, met een inspirerende muziek en prachtige beeld bij elkaar gemonteerd waarna je dit krijgt. Dit filmpje. Ik ben er gék op omdat elke keer, voordat ik er één aanklik denk:
Jaja, ik weet heus wel wat er allemaal gezegd gaat worden. Ik snap het. Ik heb er gewoon even geen zin in.
Dan klik er toch één aan, ik zie en hoor het filmpje en op de één of andere manier gaat mijn hart weer sneller kloppen. Ook al had ik er 6 minuten geleden geen zin in, ineens zie ik weer waarom ik doe wat ik doe.
2. Quote van Oprah Winfrey
Als er iemand is waar ik quotes van lees om perspectief te krijgen in het leven, dan is het wel Oprah Winfrey. Wat deze vrouw toch allemaal heeft gezegd (en gedaan en bereikt en gegeven en.. ) is ongelooflijk! Als ik je één quote kon meegeven vandaag, dan was het de volgende:
"If friends disappoint you over and over, that's in large part your own fault. Once someone has shown a tendency to be self-centered, you need to recognize that and take care of yourself; people aren't going to change simply because you want them to."
― Oprah Winfrey
Oh wat vind ik deze toch mooi en krachtig tegelijk. Het besef dat we mensen niet kunnen veranderen kan zoveel verspilde energie terugbrengen in je lijf. Energie die je jaren hebt verspild aan het willen veranderen van je vrienden, relatie of wat dan ook. Erken hoe de ander is en begrijp vervolgens of je dit wel of niet erbij wilt in jouw leven. Zo simpel is het verwoord, en kan het soms ook zijn.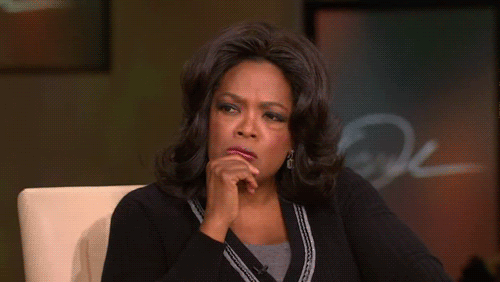 Je kunt ook mensen wat meer op een afstand houden als ze nou eenmaal 'bij je leven horen' (denk aan familie bijv.), dan hoef je er geen energie aan te besteden om er steeds mee in discussie te gaan, maar laat je ze er gewoon zijn.
3. Het Instagram account van Kylefinndempsey
ON-GE-LOOF-LIJK. Dit zijn allemaal huisjes die helemaal voor mij gemaakt zijn: veel hout, overal lampjes en één en al een gezellige warme sfeer. Deze jongen maakt en schrijft muziek. Dat doet hij niet zomaar, hij reist allerlei 'cottages' of 'cabins' af in Amerika en Canada om daar lekker geïnspireerd te raken en muziek te schrijven.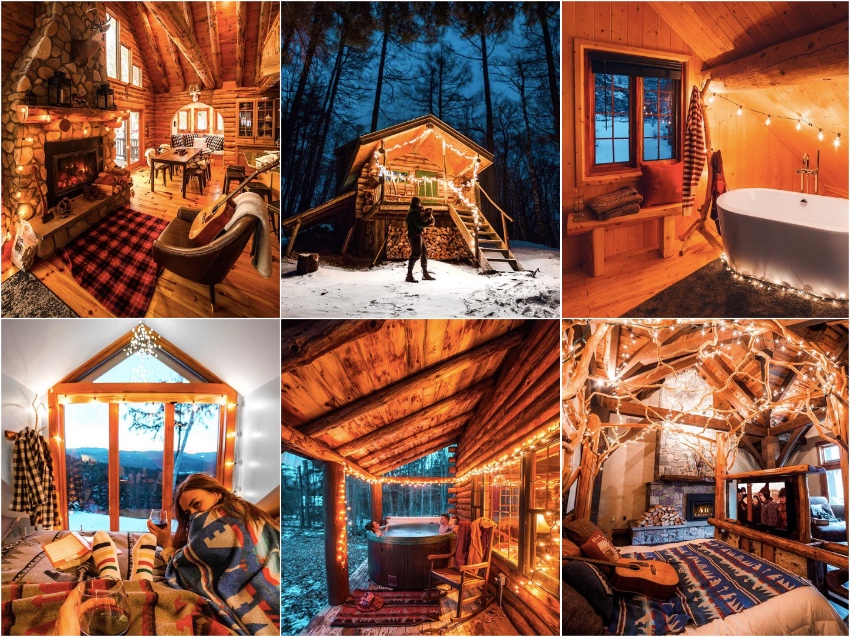 VEEG. ME. OP.
Ik wil dit dus ook! Alleen al als je deze huisjes ziet word je verliefd op de sfeer. Ik wil hier gewoon twee weken naartoe met Boy. Echt.
Volg hem hier en droom even lekker weg naar deze 'hutjes', wat een heerlijkheid.
4. Alcoholvrije cocktails
JOH, waarom niet. Gun jezelf een cocktail. En ik zou in dit geval een alcoholvrije adviseren omdat ik geen adviezen wil geven om je te vergrijpen aan de alcohol wanneer je je slecht voelt, met het doel je beter te voelen. Daar is alcohol naar mijn mening niet voor. Vandaar de alcoholvrije cocktails 😉 Even wat inspiratie nodig? Zie hier (klik op de foto om naar het recept te gaan, externe sites):
Snowball Mocktail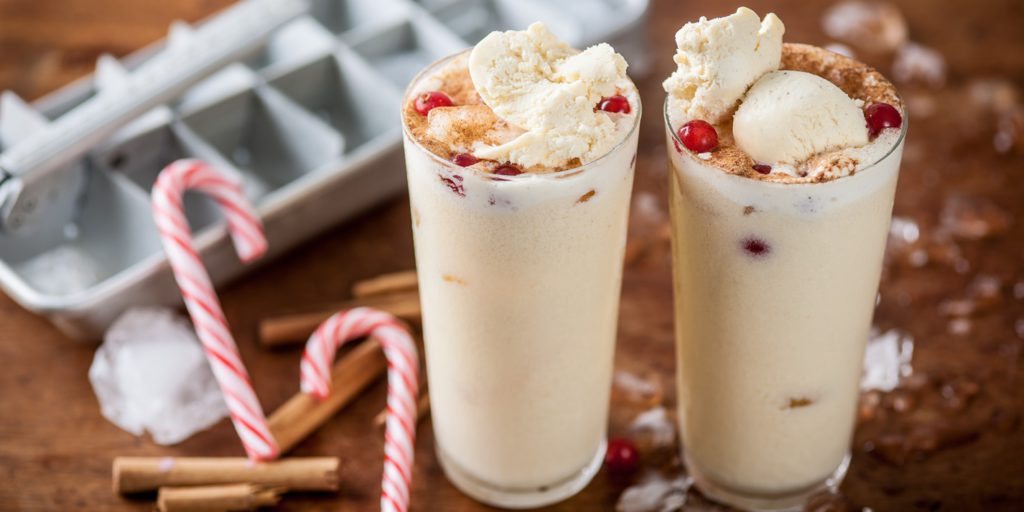 Breng gewoon heel even wat feestelijkheid terug op deze dag waar je dat jezelf mag gunnen. Genieten met deze cocktail, zie je de roomijs? Hmmm..!
Grapefruit & Rozemarijn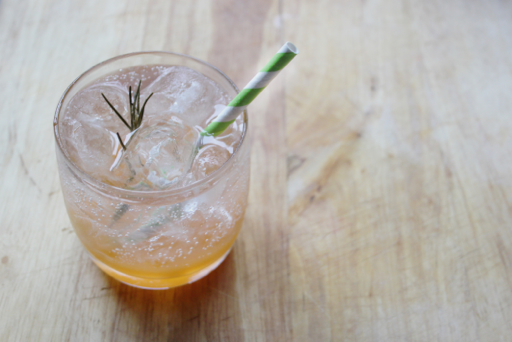 Wat frisser, wat meer voor de januarimaand als je het mij vraagt door de grapefruit. De rozemarijn geef het wat kruidigs (jep, deze heb ik al eens gehad!).
Kombucha Mocktail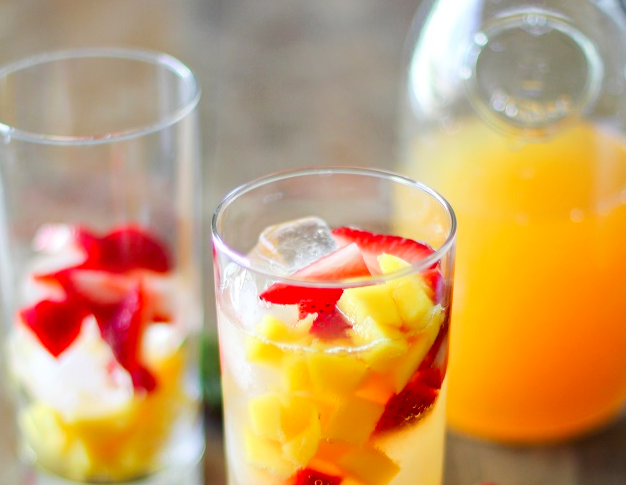 Ik ben een enorme fan van kombucha, dus een mocktail met kombucha is voor mij dubbele verwennerij! Graag op deze dag! Mocht je geen idee hebben wat kombucha is, klik hieronder op het artikel waar ik eerder schreef over dit goedje:
5. Luister een Podcast van Marie Forleo
Deze vrouw heb ik in mijn hart gesloten. Het is alsof alles wat ze zegt gewoon mijn waarheid is en anders wel mijn waarheid wordt. Ze weet precies hoe ze dingen moet verwoorden en heeft op de moeilijkste vragen een duidelijk en goed antwoord. Vragen omtrent: het opbouwen van een bedrijf, het leven van een rijk leven, gelukkig zijn, gestressed zijn, willen presteren, creatief zijn maar geen werk hebben, en ga zo maar door.
Elke YouTube aflevering van haar, wordt ook omgevormd tot een podcast. Erg handig als je bijvoorbeeld in de auto of trein zit of zelfs op de fiets! Even onderweg luisteren en een boost krijgen.
Gewoon te vinden via Itunes of je Podcast app die standaard op een Apple telefoon staat.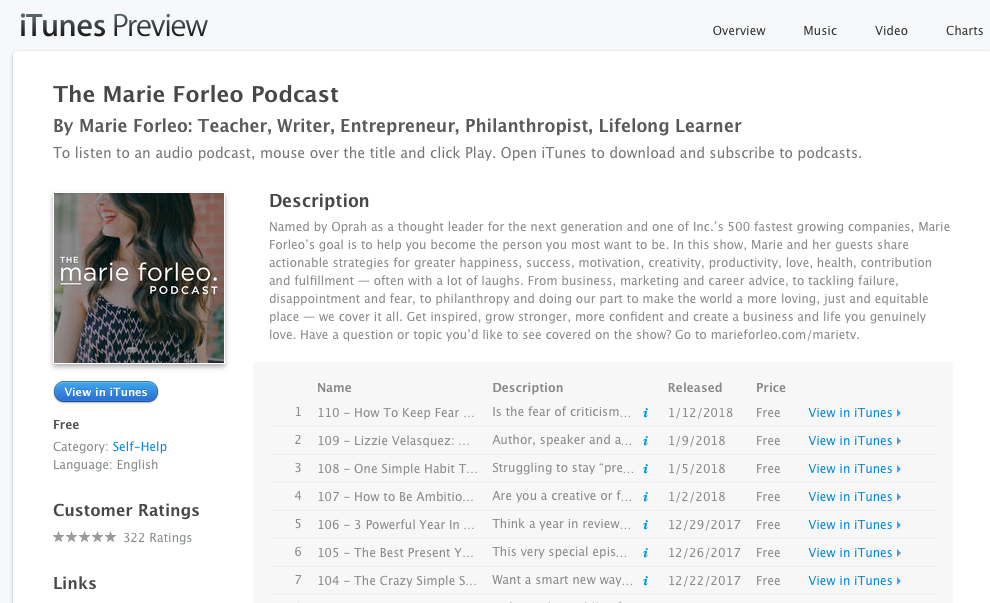 Welke ik op dit moment erg goed vind?
Dat is er één die in lijn valt met waar dit artikel over gaat: je goed voelen op deze dag! Met de titel "This Happiness-Boosting Method Might Even Beat Gratitude" , nou dat beloofd wat!
Hierin geeft ze mooie voorbeelden en tips hoe je de band kunt versterken met elkaar. En dat lijkt me een mooie om mee af te sluiten waarmee je de dag in gaat!
BewarenBewarenBewarenBewarenBewarenBewaren
BewarenBewarenBewarenBewaren