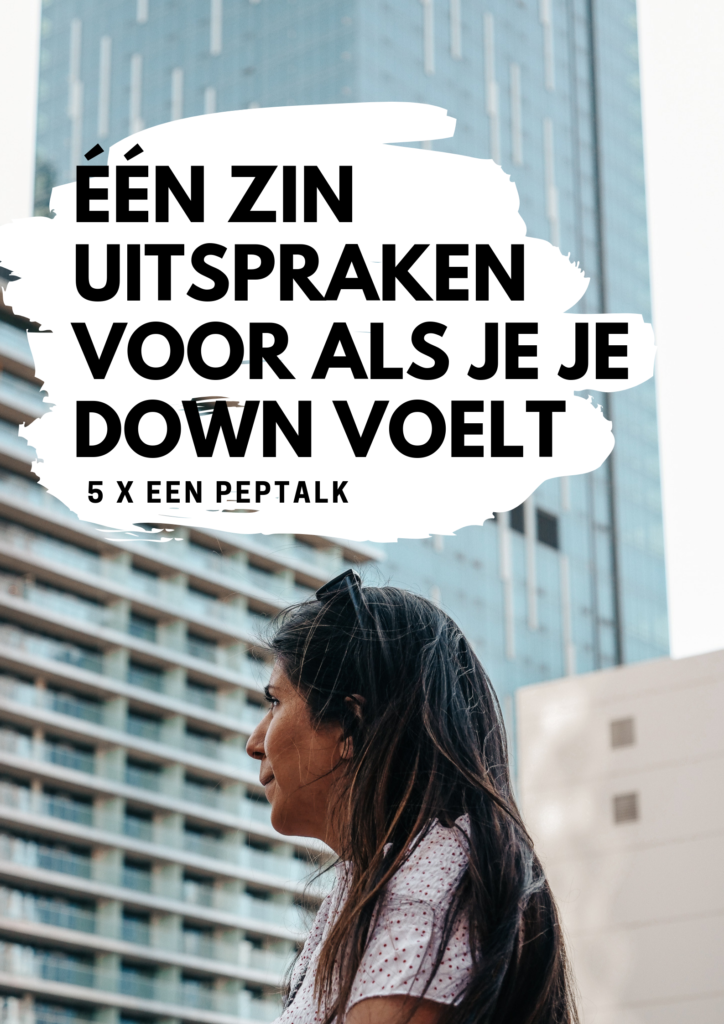 Als we elk probleem, elke angst en elke afwijzing zouden kunnen omdraaien naar een uitdaging, iets positiefs of een leerproces – hoeveel lichter zou het leven dan aanvoelen? Dat is één van mijn doelen en de keren dat ik mezelf op tijd tot dat inzicht weet te brengen, voelt hetgeen waar ik zo bang voor ben of rot over voel ineens positief. HOE GEK IS DAT!
Deze één-zin uitspraken zijn daar precies het voorbeeld van en wie weet kun je er vandaag wel een paar van gebruiken!
1. Ik ben liever iemand die iets doet dan iemand die anderen vertelt wat ze niet moeten doen.
Je gaat er tenminste op uit, je probeert, je doet, je faalt. Dat is hoe dan ook beter dan iemand die niets doet maar alleen maar anderen vertelt wat ze niet moeten doen. Zeurkousen, noem ik ze.
2. Dit is niet de eerste keer in mijn leven dat ik bang ben geweest en ik weet dat het niet eeuwig duurt.
Dus je kunt net zo goed doorgaan met het leven, uur voor uur, dag voor dag – zelfs tijdens een angstige periode. De angst gaat de situatie niet veranderen.
Ik weet dat het heel simpel gezegd is en ik weet dat er hele ernstige situaties zijn die je laten verstijven van angst en verdriet – ik ken ze maar al te goed. Dit advies zou ik eerder bedoelen bij alles wat niet zó verstijvend eng is, denk aan werksituaties bijvoorbeeld – niet een kwestie van leven/dood/gezondheid. 
3. Spijt om iets niet te doen is altijd erger dan vrees of onzekerheid van iets dat eng is om te doen
Ik zie het zo: het komt er uiteindelijk op neer welke informatie je tot je hebt genomen en of het je rust geeft. Spijt om iets niet te doen kan je eeuwig achtervolgen omdat je geen rust kunt vinden in iets wat nooit is gedaan. Als je het wél hebt gedaan heb je de informatie: was het verstandig? Of wat heb ik ervan geleerd?
Je kunt ook rust vinden in de beslissing om iets niet te doen. Je hoeft niet altijd alles te doen zodat je geen spijt krijgt – spijt komt naar mijn idee om de hoek kijken wanneer je iets wel wilde doen maar niet durfde.
4. In bed blijven en je verstoppen voor de wereld zal heel even helpen
Het is uitstelgedrag. Hoewel je jezelf absoluut even tijd mag geven om niet de confrontatie (met wat dan ook) direct aan te gaan zul je uiteindelijk je bed uit moeten komen. Geef jezelf even, verzamel wat moed, sta op, kleed je aan en ga ervoor.
5. Iedereen is gefocust op zijn/haar eigen leven
Dit is een voordeel. Als jij je schaamt voor een faal-actie van jezelf omdat je denkt 'wat zullen anderen denken' maak je jezelf veel belangrijker dan je eigenlijk bent in andermans gedachtes. De mensen die jou echt heel belangrijk vinden zullen de mensen zijn die het meeste van je houden – en zij zullen juist van je houden en supporten door moeilijke tijden.
De rest doet er niet toe. De rest is bezig met zijn/haar eigen problemen die voor hen weer als de grootste problemen ter wereld voelen. Maak je dus niet zo druk, iedereen is toch wel bezig met zichzelf. Jij denkt toch ook niet elke dag aan dat ene specifieke faal-moment van die persoon die je niet wekelijks ziet of spreekt?