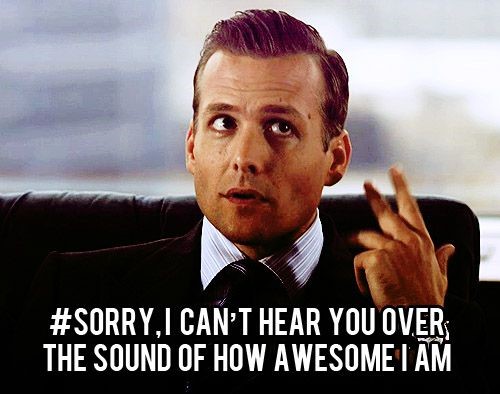 Wie houdt niet van hem. Tenminste, als je überhaupt weet over wie ik het heb. Harvey Specter, één van de hoofdrollen uit de serie Suits. Zijn karakter is zo waanzinnig goed gemaakt en ook goed tot leven gebracht dat hij is uitgegroeid tot een soort inspirerende zakenman die écht de mooiste dingen weet te zeggen. Van die mooie dingen heb ik er 10 voor je verzameld in dit artikel, dit wordt genieten! 
Whoever is trying to bring you down is already below you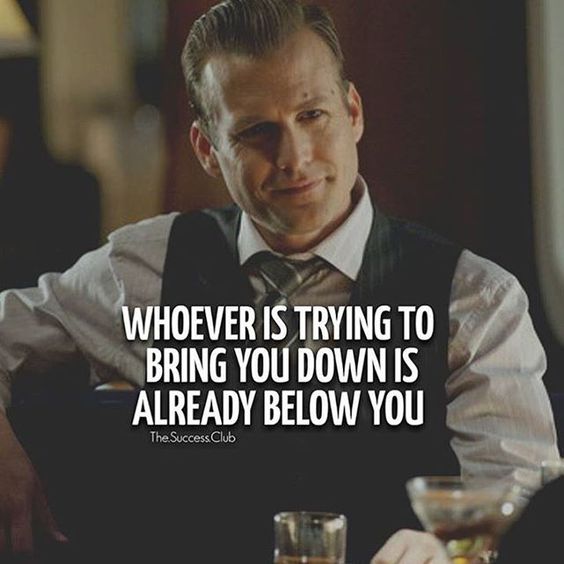 Als je deze quote in gedachte houdt wanneer er over je 'geroddeld' wordt of wanneer mensen stomme dingen zeggen over je, dan hoop ik dat je het makkelijker van je af kunt zetten. Voor mij in ieder geval een goede reminder!
Don't raise your voice, improve your argument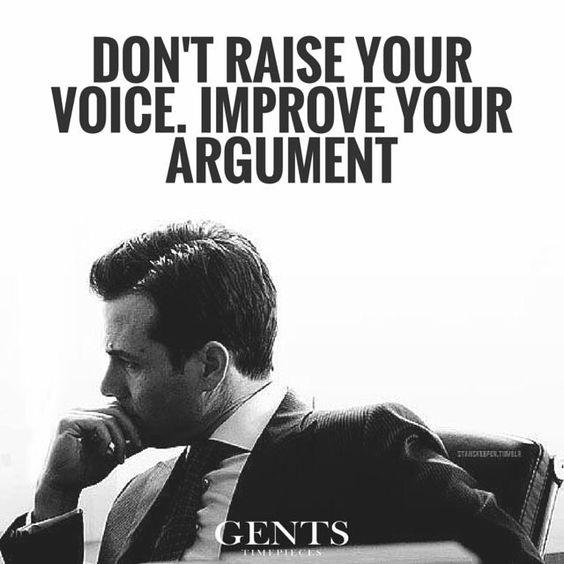 Een hele mooie om aan te duiden dat het verheffen van je stem niet ineens betekent dat je gelijk hebt of een beter argument hebt. Blijkbaar overtuig je de ander niet en wil je, hetgeen dat je hebt gezegd, herhalen maar dan met een verheven stem. Het is natuurlijk niet altijd nodig om de ander te overtuigen, soms is het goed om dingen te laten. Maar deze quote geeft een nieuw perspectief aan een heftige discussie.
Ever loved someone so much, you would do anything for them? Yeah, well, make that someone yourself en do whatever the hell you want.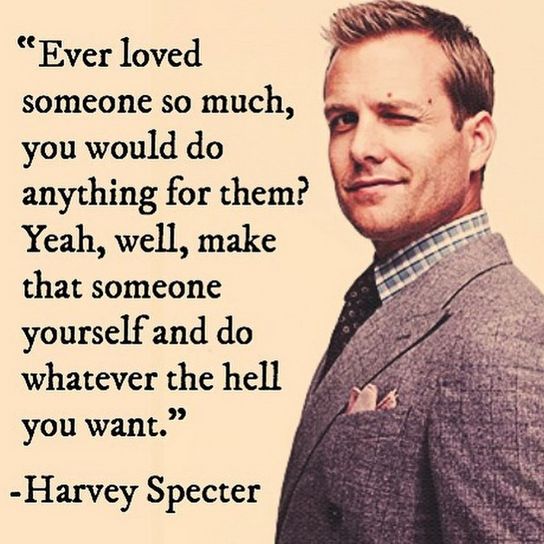 Zelfliefde to the max! Ik houd van deze gedachte. Natuurlijk valt er altijd nuance aan te brengen door te zeggen dat je niet over lijken moet gaan. Maar deze quote kan in ieder geval duidelijk maken dat er maar één persoon is waar je de rest van je leven mee moet leven: jijzelf. En als je er niet zoveel van houdt als maar kan, is het tijd om dat wél te doen en in werking te zetten. Dat is makkelijker gezegd dan gedaan, misschien kan ik je op weg helpen met de onderstaande artikelen:
If you're the smartest person in the room, you're in the wrong room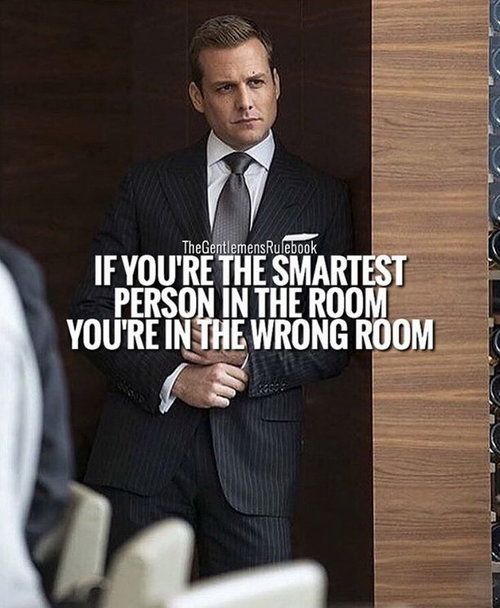 Het idee hierachter is dat je altijd probeert te groeien en te leren. Niet dat je op een gegeven moment zo comfortabel bent dat iedereen 'onder jou' staat en altijd alles aan jou moet vragen omdat jij het weet. Omring jezelf dus met mensen waar je van kunt leren zodat je blijft ontwikkelen.
3 Types of people to stay away from: 1. UNINSPIRED 2. UNEXCITED 3. UNGRATEFUL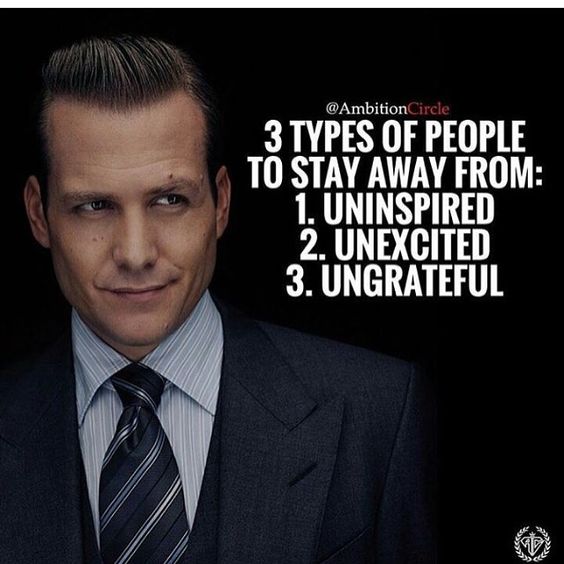 Bedenk je even wat voor mensen het moeten zijn als ze alle drie deze kenmerken beschikken. Mensen die geen fut (niet geïnspireerd) meer hebben voor het leven maar tegelijkertijd ook verbitterd zijn (ondankbaar) en nergens echt heel blij van worden (unexcited). Hoe vermoeiend moet dat zijn? Dat vreet energie inderdaad.
When achieving your goal is more important than partying. Welcome to the 1% club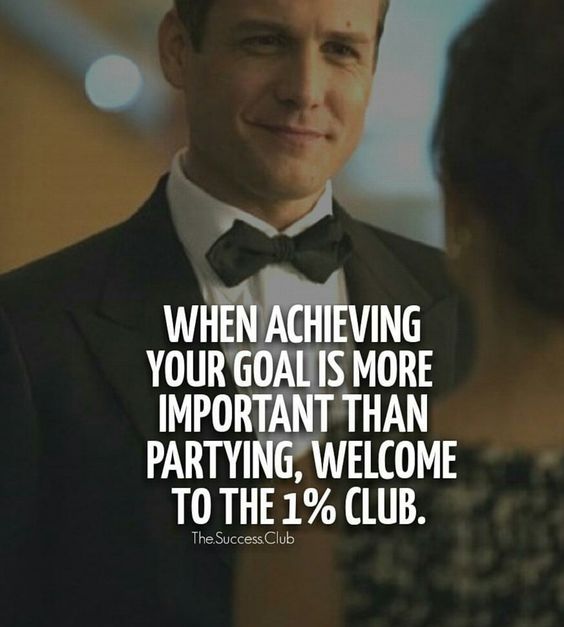 Dit is echt zo. Dat wil niet zeggen dat je nooit mag feesten of het leuk mag hebben. Ik geloof in een balans tussen kort termijn geluk en lang termijn geluk. Als je alleen maar de dingen doet voor je kort termijn geluk (feestjes, lekker eten etc.), dan kan het zijn dat je op lang termijn kijkt naar je leven en denkt; waar ben ik mee bezig? Hoe ben ik hier beland?
Dus geloof ik in af en toe het een, af en toe het ander. Als je een passie of een doel hebt dat een vuurtje van binnen veroorzaakt, is het vaak niet eens zo heel lastig om niet te gaan stappen omdat je andere dingen wilt doen/afkrijgen. Het is dus absoluut de moeite waard om te zoeken naar waar JIJ een drive van krijgt. Dit geeft betekenis aan je leven.
Don't waste your time with explanations. People only hear what they want to hear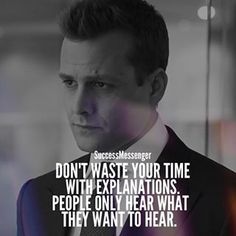 Oh deze is zó sterk en verhelderend. Je kunt hem op veel verschillende manieren toepassen. Bijvoorbeeld waarom je even dat stuk taart afslaat, waarom je niet mee gaat stappen, waarom je wilt doen waar jij blij van wordt, van alles! Ik heb jarenlang geprobeerd aan mensen uit te leggen waarom ik wil doen wat ik wil doen en keer op keer kwamen er opmerkingen als
"Maar je ziet er toch al goed uit?"
"Waarom ben je niet gewoon tevreden met je huidige leven?"
"Waarom wil je toch steeds meer?"
etc.
Mensen reageren vaak vanuit hoe het onderwerp in hun eigen leven staat en hun eigen gevoel erover. NIET objectief luisterend naar jouw verhaal. Dit gebeurt vaak. Niet altijd. Maar vaak. Dus laat het gaan en focus je op wat jou gelukkig maakt.
Stay away from negative people. They have a problem for every solution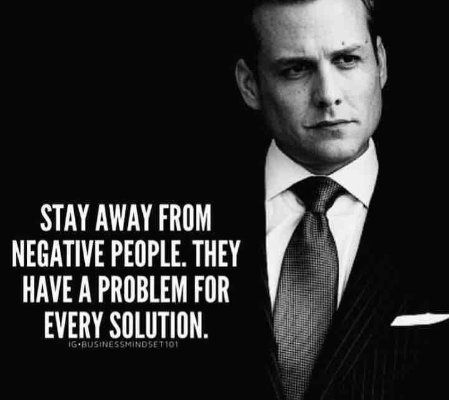 Niets meer aan toe te voegen!
The Question isn't: "Who is going to let me" It's: "Who is going to stop me?"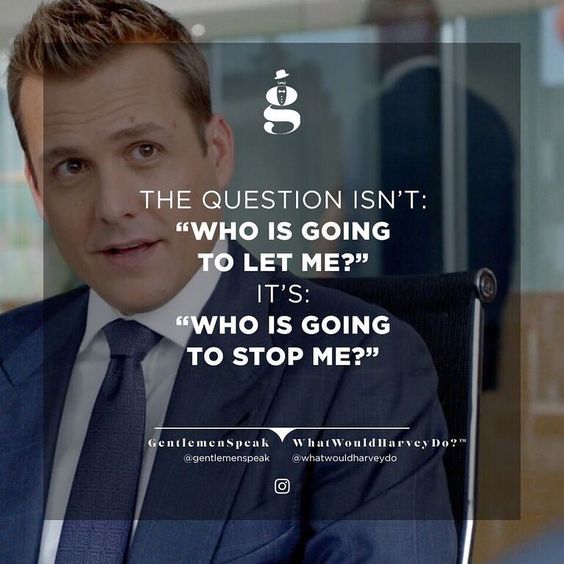 Een mooie quote over verantwoordelijkheid nemen, actie ondernemen en niet altijd maar wachten tot je toestemming krijgt of dat iemand je vertelt dat je mag. Je gaat gewoon en hoort vanzelf wel hoe/wat/waar!
I'm not going to tell you what you can or can't do. It's what you want to do that matters.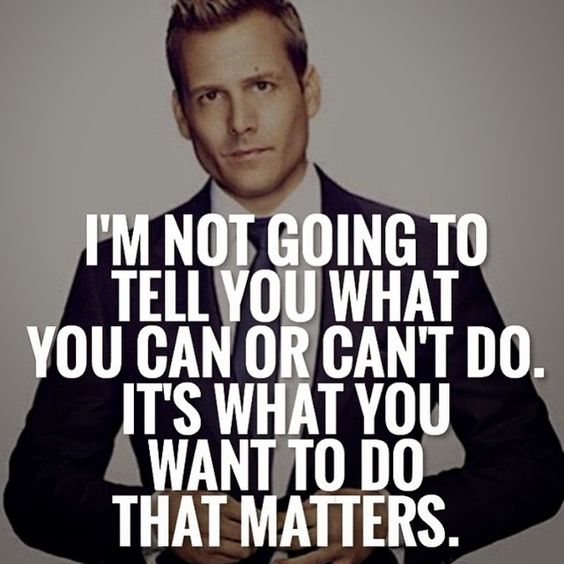 Laat alle mooie Instagram foto's even links liggen. Alle dromen en doelen die iedereen lijkt te hebben. En kijk even binnen jezelf wat je WILT doen. Wat je WILT in het leven. Dat creëert een drive. En dat heeft niets te maken met wat de wereld je wijsmaakt over het leven dat je dient te hebben om gelukkig te zijn.
Alleen jij bepaalt dat!