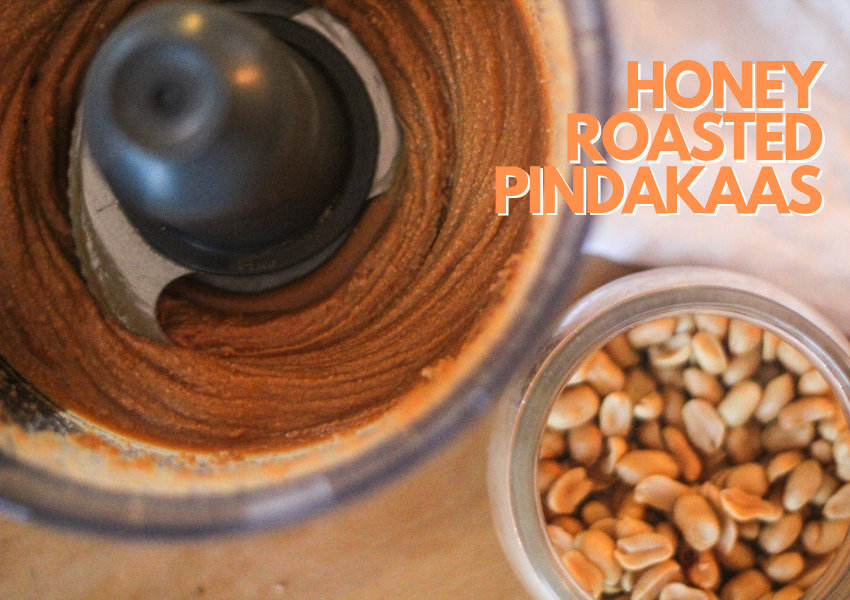 Als je pindakaas op zichzelf even zat bent (wat ik me eigenlijk niet kan voorstellen, maar oké), dan is dit een waanzinnige variatie om je liefde voor pindakaas te herontdekken. Het was liefde op het eerste gezicht voor Boy vooral, toen we in Amerika bij de Whole Foods zelf deze honey roasted peanut butter mochten tappen. "Jammer dat er geen Whole Foods in Nederland is he?".
Dat maakt in dit geval niet uit, want ik had hem beloofd om het thuis na te maken en bij dezen! Toen het vorige week op Instastory verscheen kreeg ik zoveel vragen naar een receptje, dat ik hier natuurlijk een plekje voor moest maken op mijn site!
Wat heb je nodig voor een half potje?
400 gram pinda's (ik heb gezouten en geroosterd gebruikt – dit hoeft niet)
3-4 eetlepels vloeibare honing
eventueel 1 theelepel zout, als je ongezouten pinda's hebt
Verwarm de oven voor op 175 graden Celsius, leg een velletje bakpapier op de bakplaat en verspreid hier de pinda's op. Druppel de honing over het geheel, zoveel mogelijk verspreid. Je gaat er namelijk niet meer doorheen met je handen of een lepel aangezien het dan een plakboel gaat worden. Zet de ovenplaat in de oven voor zo'n 10-20 minuten. Check ondertussen of de pinda's niet verbranden. Wanneer ze goudbruin zijn (zie foto's) kunnen ze eruit! Mochten ze na 20 minuten nog steeds niet goudbruin zijn, laat ze dan nog zo'n 5 tot 10 minuten in de oven staan. Let wel, het bruinen kan op een gegeven moment héél snel gaan, dus wees op tijd.
Wanneer de pinda's de oven uit zijn dien je ze helemaal af te laten koelen. Dit kan een half uurtje duren. Daarna is het tijd om te blenden in de keukenmachine! Ga geduldig met dit proces om – het kan zijn dat je de keukenmachine een paar keer moet stoppen om de zijkanten schoon te schrapen (en stiekem alvast te proeven), maar blijf volhouden – uiteindelijk vormt zich een pindakaas. Proef of je hem zoet en zout genoeg vindt en voeg waar nodig nog een beetje zout of honing toe.
Haal met een pannenlikker alle pindakaas vervolgens uit de keukenmachine en verplaats dit naar een glazen pot met deksel en je honey roasted pindakaas is klaar! Geniet ervan!