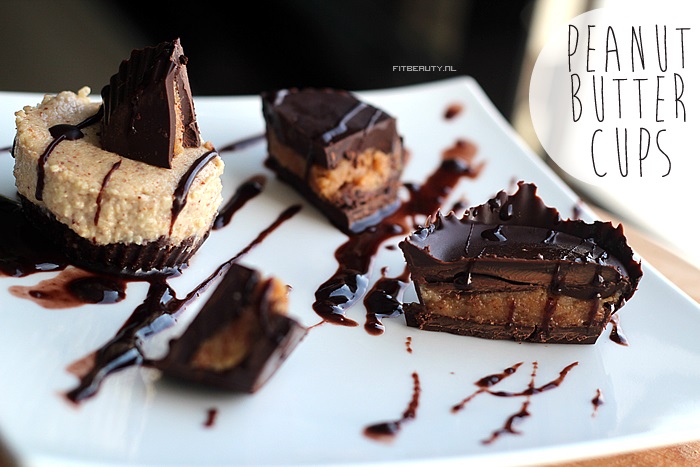 Het water loopt me in de mond als ik de foto's weer zie, en goed nieuws voor mij: ik heb er nog een paar in de vriezer staan voor als ik zoete trek heb! De peanutbutter cups! In Amerika zijn ze heel bekend en kun je ze in de supermarkt kopen: pindakaas omhuld met chocolade in kleine "cup" vormpjes. Je kunt eigenlijk de vulling aanpassen met wat je maar wilt, lekker gevarieerd! 
Wat heb je nodig voor 8 tot 10 peanutbutter cups in het formaat van een muffin
200 gram pure chocolade
3 eetlepels pindakaas of amandelpasta
1/2 eetlepel kokosvet, gesmolten
1/2 tot 1 eetlepel honing/agave siroop/ maple syrup
muffin bakplaat
siliconen muffinvormpjes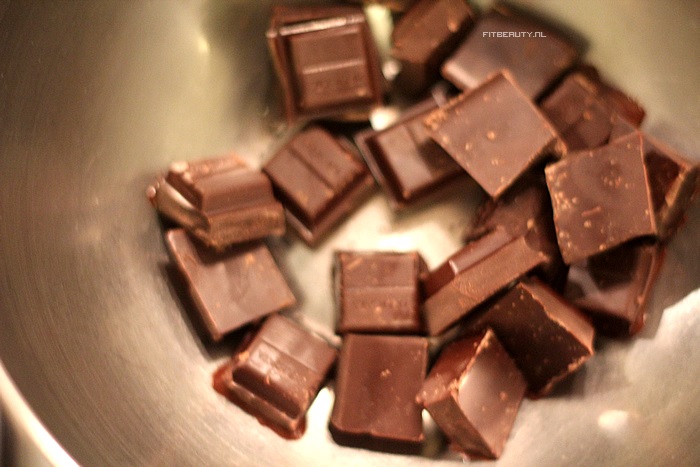 Smelt de chocolade au bain-marie.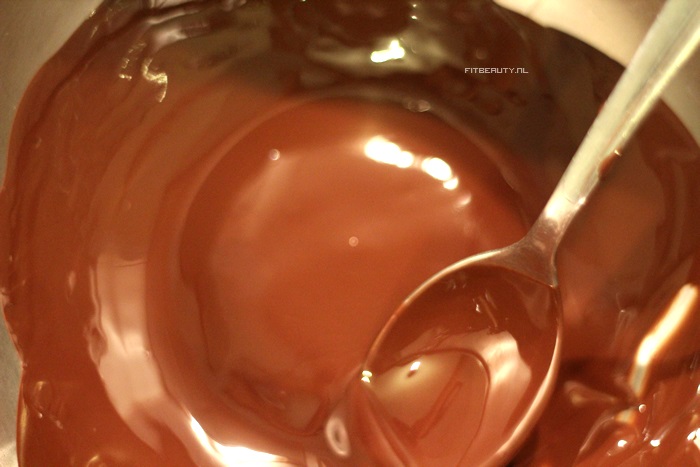 Doe de muffinvormpjes in de bakplaat en bedek de bodem en de randen met chocolade. Je hoeft niet heel hoog te gaan met de randjes. Hoe hoger je gaat (mijn fout), hoe meer chocolade er onder en boven moet zitten om hem "vol" te krijgen, en de chocolade wordt straks mega hard. Je wilt dat er onder en boven een lekker dun laagje chocolade zit zodat je er makkelijk doorheen kunt bijten! Zet dit in de vriezer terwijl je de vulling gaat maken.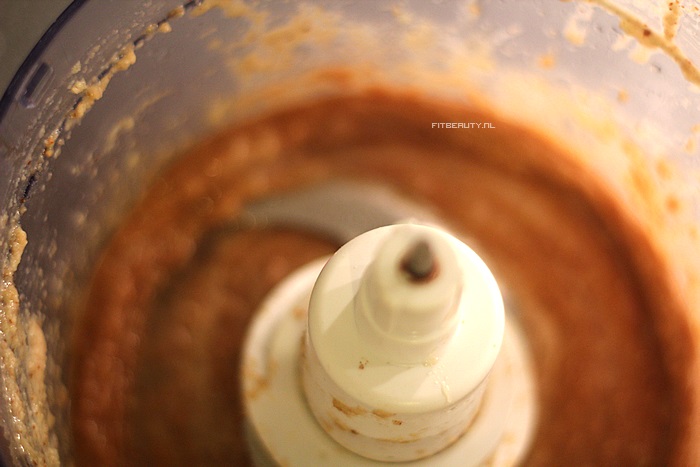 Je kunt lekker makkelijk doen en voor de vulling alleen pindakaas of amandelpasta gebruiken, waarschijnlijk ook super lekker! Als je dit recept volgt, doe dan de ingrediënten voor de vulling (pindakaas/amandelpasta, kokosvet en honing) in een keukenmachine of in een bakje waar je het met een vork door elkaar kunt mengen.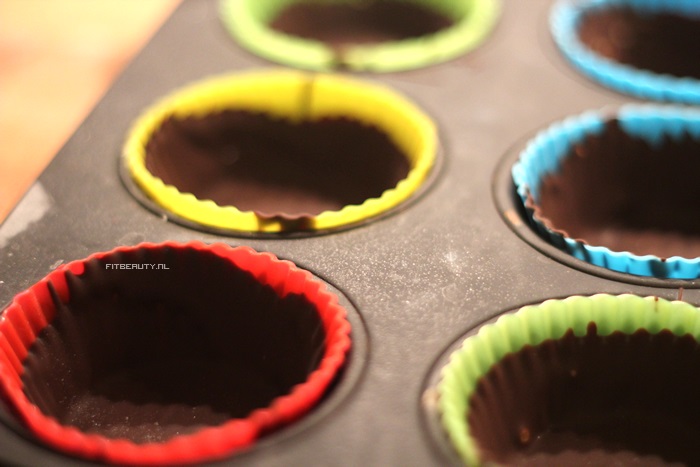 Na minimaal 10 minuten kun je je muffinvormpjes uit de vriezer halen en gaan vullen met de vulling.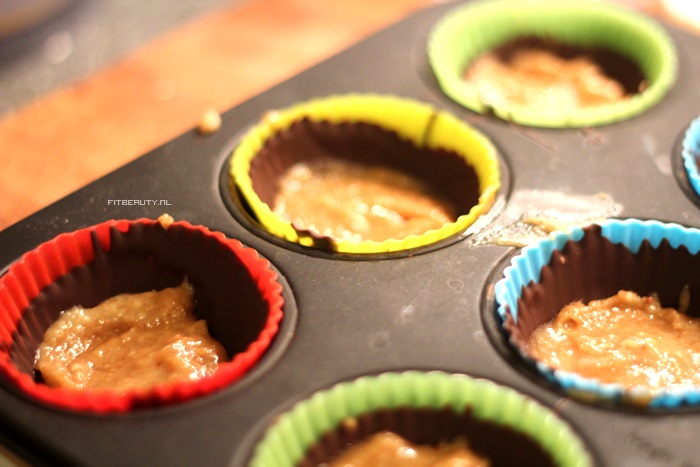 Hmmmm 🙂 Dit gaat weer de vriezer in voor minimaal 10 minuten.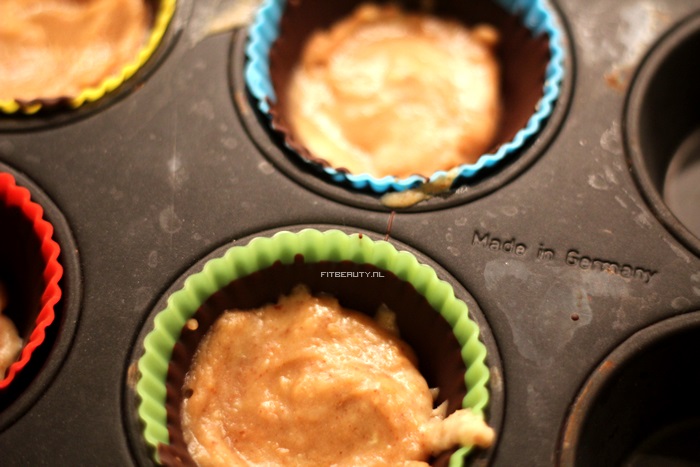 Ik wil het nu al opeten! Maar nog een allerlaatste keer: chocolade bovenop en de vriezer in. Let dus op dat je hier niet mijn fout maakt met heeeel veel chocolade (omdat het op moest), maar een klein dun laagje dat net alles bedekt. Je zult me dankbaar zijn als je er straks in bijt!
Het kan zijn dat je nu de chocolade eventjes opnieuw moet laten smelten, no problem.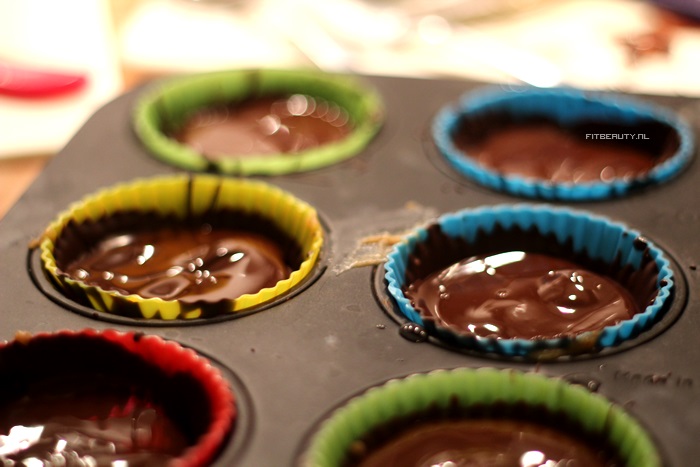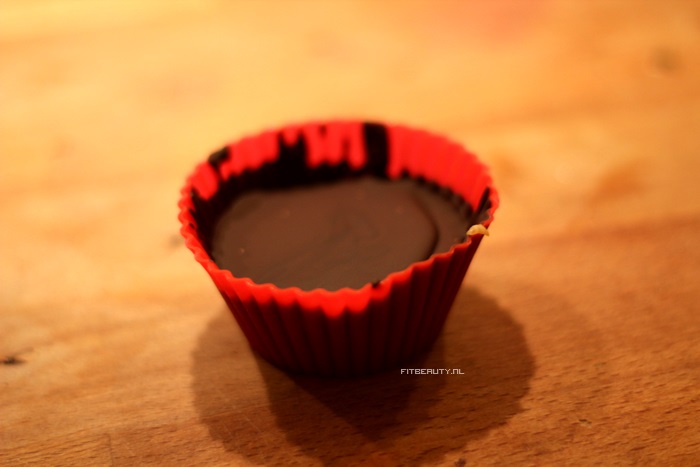 Na weer minimaal 10 minuten (als je echt niet iets langer kunt wachten) kun je ze uit de vriezer halen en de siliconen vorm er voorzichtig vanaf halen.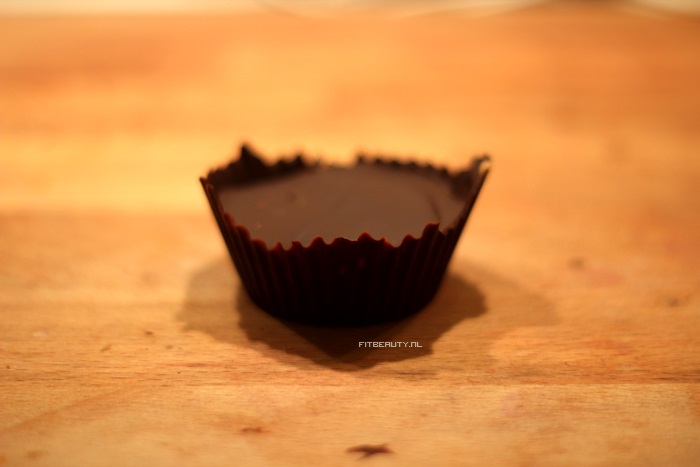 Tadaa!!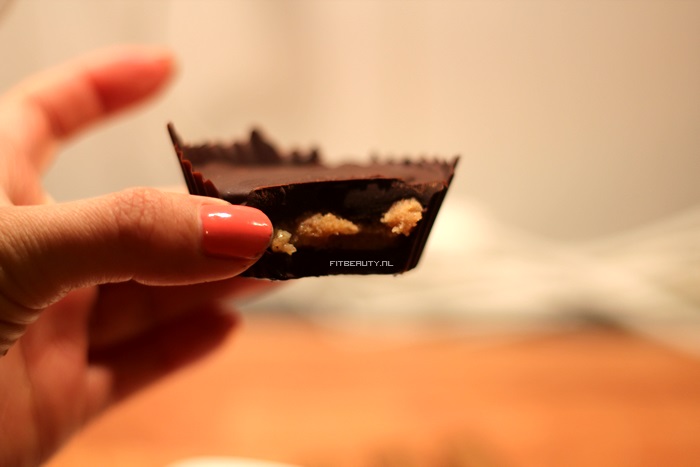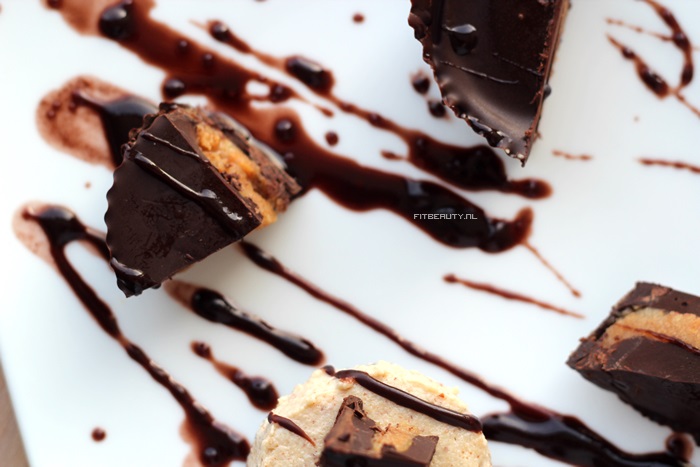 Het ziet er natuurlijk super "fancy" uit op een bord met wat chocolade saus en een ander toetje, bijvoorbeeld de cheesecake. Ik denk dat we een hoop "niet zo gezond etende mensen" met dit bord wel kunnen overtuigen hoe lekker gezond eten kan zijn, toch?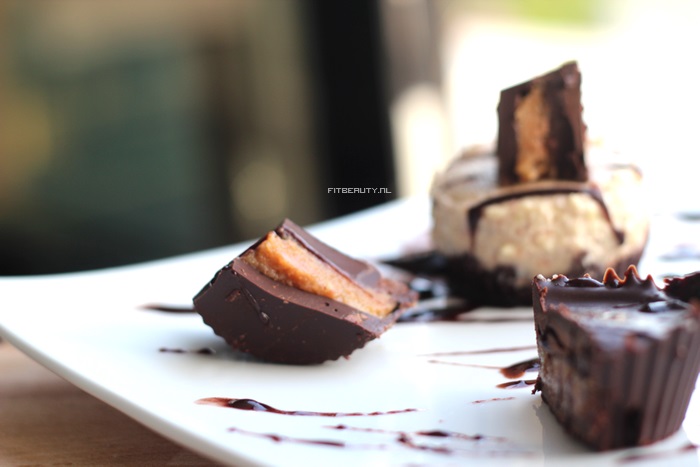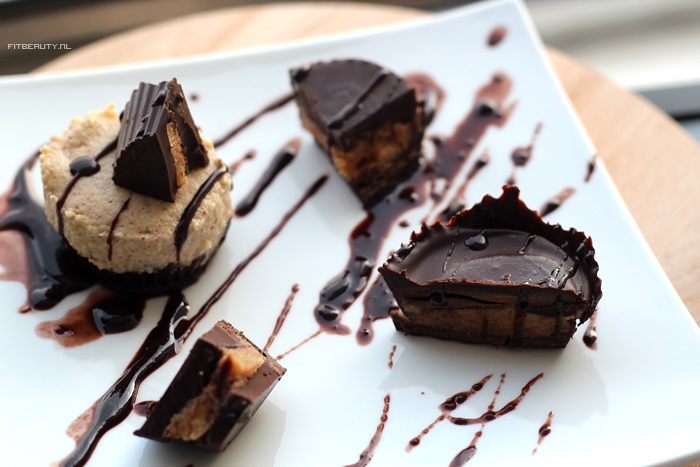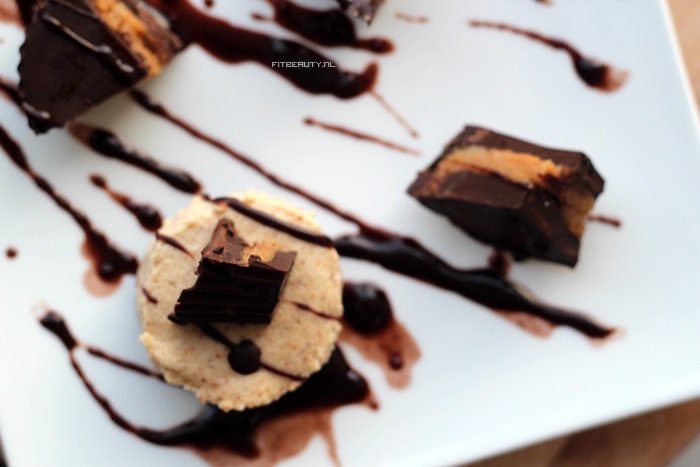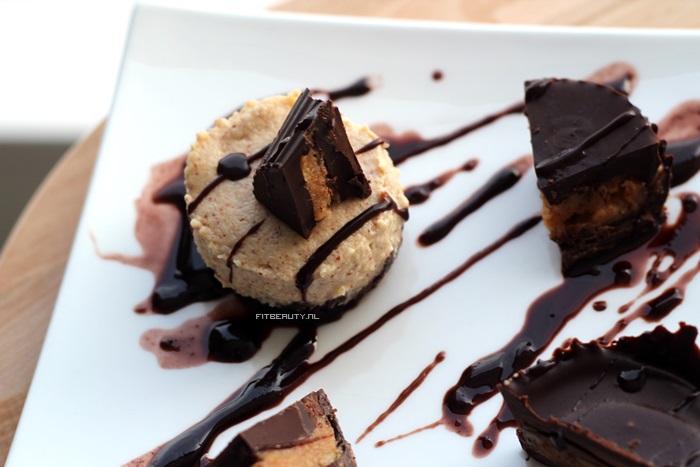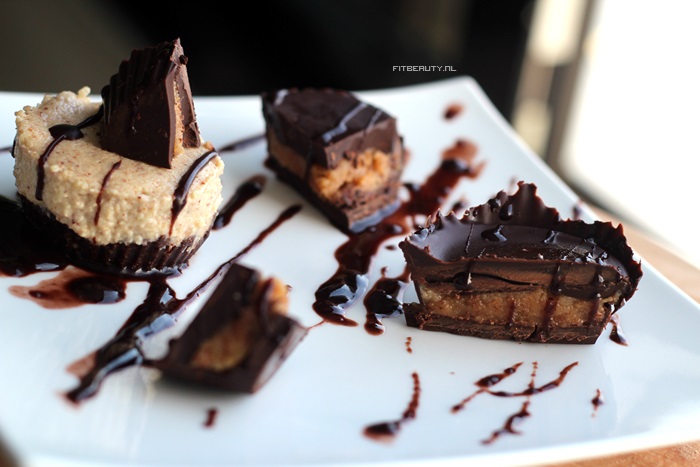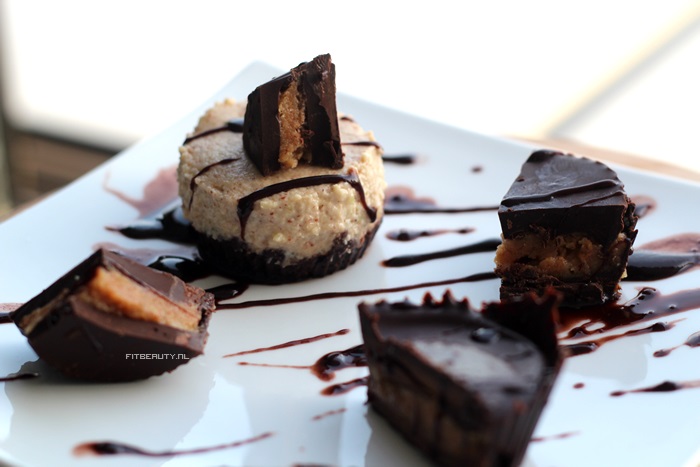 Ik ben helemaal los gegaan met de chocoladesaus haha. Je kunt het natuurlijk zo bescheiden houden als je zelf wilt 😉