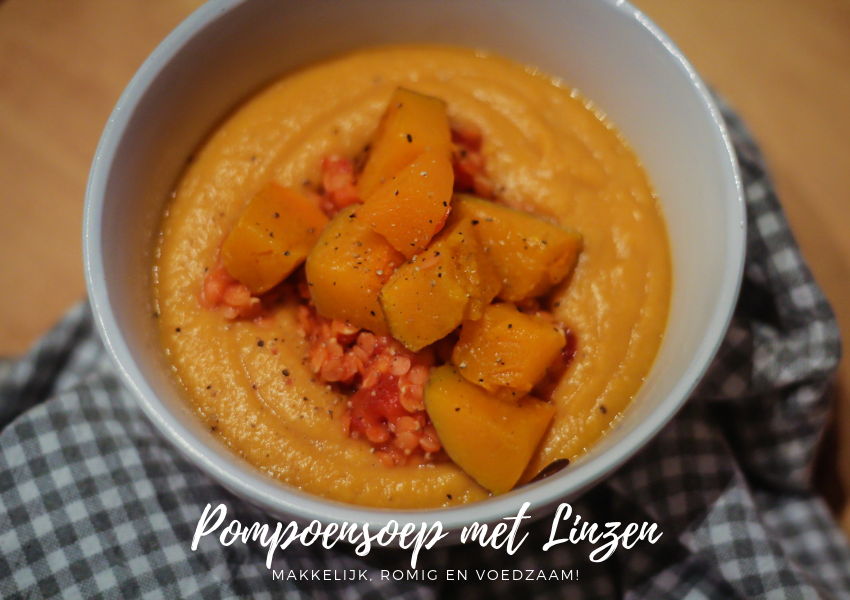 Hoe donkerder de dagen worden, hoe warmer ik wil eten. Ook in de middag. Dan komt een soepje wel écht goed uit. Hoewel ik meestal niet zo'n fan ben van soepen, houd ik er wél van als er een beetje 'bite' bij zit. Daarom maakte ik dit recept: Pompoensoep met linzen maar dan ook met stukjes linzen en stukjes pompoen bij de romige soep zelf!
We hebben gesmuld en nu is het aan jou om te smullen!
Wat heb je nodig voor 4 personen? Je mag de hoeveelheden absoluut aanpassen naar smaak!
1 flespompoen
100 gram linzen, ongekookt
1 ui, in stukjes gesneden
3 teentjes knoflook, geplet
1/2 blik tomaten uit blik
1 blokje bouillon
verse gember, een 'duimpje' (2-4 cm), geraspt
1/2 theelepel pumpkin spice, of kaneel
1/2 theelepel paprika poeder
peper en zout
olie om in te bakken
Verwarm de oven voor op 200 graden Celsius. Snijd de pompoen in stukken en plaats ze op de ovenschaal, besprenkel ze met wat olie, peper, zout en paprika poeder doe als laatste nog de geplette teentjes knoflook bij. Plaats dit in de oven voor zo'n 20-30 minuten (afhankelijk van je oven) tot ze zacht genoeg zijn om te blenden voor een soep.
In de tussentijd verwarm je wat olie in een pan en bak je daar de uitjes tot ze glazig zijn. Doe vervolgens de verse gember, pumpkin spice of kaneel erbij – na even mengen kan zo'n 75 gram* van de linzen erbij – vul de pan vervolgens met wat water tot de linzen kopje onder zijn. Voeg hier 3/4 van het blokje bouillon en 1/2 blik tomaten uit blik toe, bewaar alleen even 2 eetlepels van de tomaten uit blik voor het volgende:
In een andere (koekepan) doe je de overige 25 gram linzen, de rest van het blokje bouillon en dat beetje tomaten uit blik bij elkaar met wat water om het aan de kook te brengen. Blijf af en toe even roeren en eventueel water toevoegen als dat nodig is (zie de foto's om een idee te krijgen). Als de pompoen zacht is geworden kan deze uit de oven en zo'n 3/4 ervan mag in de grote pan. Voeg hier nog wat extra water aan toe zodat het geheel samen aan de kook wordt gebracht. Wanneer dat zover is kun je het geheel gaan mixen of blenden tot een soep! Ik gebruik zelf een blender, dat vind ik het fijnst werken.
Schenk een kommetje vol met soep en top deze met de linzen uit de koekenpan, de pompoen van de ovenschaal en wat peper en zout. Klaar is je maaltijd! Heerlijke romige soep maar ook met wat om op te kauwen! Eetsmakelijk!
*Houd de hoeveelheden echt niet precies aan! Wees losjes en doe wat jij lekker vindt!