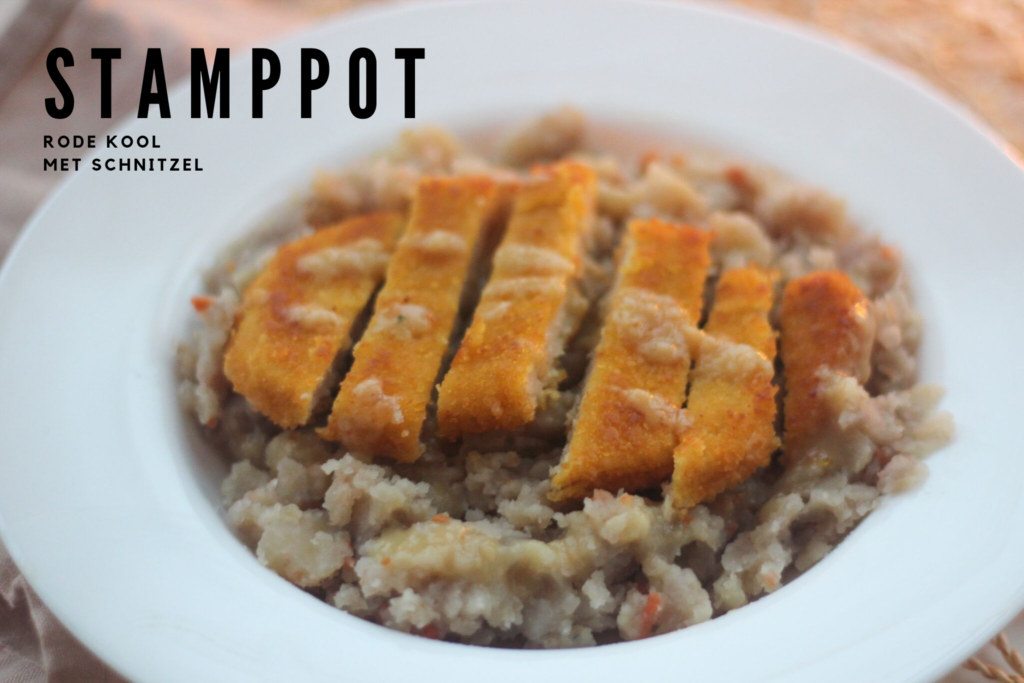 Als het buiten regent en de temperaturen zakken, dan is een heerlijke warme stamppot toch iets waar je hart warm van wordt? Bij mij in ieder geval wel! En hoe kunnen we ervoor zorgen dat we het zo vaak mogelijk kunnen eten zonder dat het saai wordt? Door lekker te variëren!
Zoals vandaag, met rode kool en schnitzel!
Wat heb je nodig voor 2 grote eters?
5-7 middelgrote aardappelen, geschild en in blokjes gesneden
1 zakje 250 gram gesneden rode kool (of een mix van gewone kool, rode kool en wortel)
1 blokje bouillon
1 ui, gesnipperd
2 teentjes knoflook, gesnipperd
2 theelepels kokosvet of olijfolie of boter (om im te bakken)
2-4 eetlepels (plantaardige)melk
1 eetlepel boter of kokosvet (voor door de stamppot)
2 (vegetarische) schnitzels
zakje jus (hoort niet bij dit recept, maak jouw favoriete jus bij deze stamppot)
Doe wat olie in een pan en zet dit op een middelhoog vuur. Doe hier de ui en knoflook in en bak het een paar minuten tot ze glazig zijn geworden.
Leeg het zakje met rode kool (of mix) in de pan en bak dit even 4 minuten mee.
Vul de pan met water, voeg een blokje bouillon en de aardappelen toe. Breng dit aan de kook op een hoog vuur. Als het water kookt en de bouillon opgelost is (even goed roeren), zet je het vuur laag en laat je het lekker 45 minuten pruttelen tot de aardappelen zacht zijn geworden.
Giet het geheel af, doe het terug in de pan en prak het geheel (met een stamper) met wat (plantaardige) melk en kokosvet of boter. Voeg eventueel wat zout toe als je wilt, maar vergeet niet dat de jus ook altijd erg zout is die het geheel extra smaak zal geven.
Laat de stamppot op een laag vuurtje staan tot alles bereid is. Roer het af en toe even door.
Maak de jus volgens de verpakking of een ander favoriet recept.
Bak de schnitzels met wat olie in een koekenpan.
Voeg alles aan elkaar toe en je hartverwarmende maaltijd is klaar!
Genieten maar!