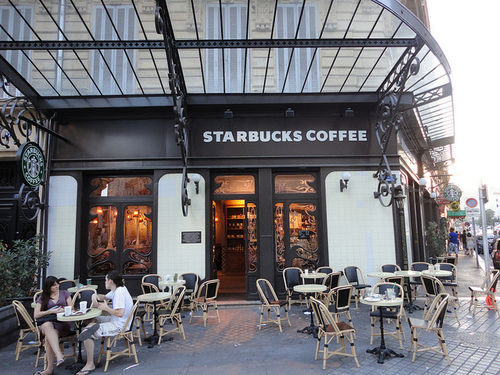 Ik kan altijd meteen de "nieuwelingen" spotten in de Starbucks. En in mijn hoofd, heb ik ze in twee groepen verdeeld:
groep 1: de-ik-wil-gewoon-koffie-en-dit-is-een-koffie-tent
groep 2: de-ik-zie-alle-bekende-mensen-met-Starbucks-dus-ik-wil-ook-zo'n-beker-met-Starbucks-en-heel-veel-slagroom
Ze kijken minutenlang naar het bord en zodra ze aan de beurt zijn… :

Groep 1:
Ze bestellen gewoon een koffie – dan krijgen ze de vraag welke soort zwarte koffie, welke maat ze willen, of het décaf moet zijn, of ze het willen meenemen of hier willen opdrinken, of ze er nog wat te eten bij willen, nee daar dien je apart voor te betalen, zit niet bij de koffie inbegrepen.
Uiteindelijk zie je deze groep niet gauw meer terug in Starbucks. Keuzes, keuzes, ze willen gewoon koffie.
Groep 2:
Ze zouden graag plaatjes willen zien bij de koffie's zodat ze weten welke er het mooiste uitziet om mee door de stad te lopen. Ze vragen aan de kassa om 'zo eentje met slagroom enzo, maar die niet te sterk naar koffie smaakt'. Ze krijgen de vraag welke maat, waarop ze antwoorden met: medium. : )
Bij de starbucks heb je 4 maten bekers:
Shot 236 ml (8oz.)

Tall 355 ml (12 oz.)
Grande 473 ml (16 oz.)
Venti 591 ml (20 oz.)
Wanneer je dus een "grote kop" bestelt, krijg je de Venti met meer dan een halve liter. Dat je het maar even weet!
Hieronder de hoeveelheid calorieën per drank (Grande). Als je op de naam klikt, kom je op de officiële pagina van Starbucks waar je een foto ziet van de drank. Handig!
Wil je er slagroom bij? Reken er dan +/- 80 kcal bij.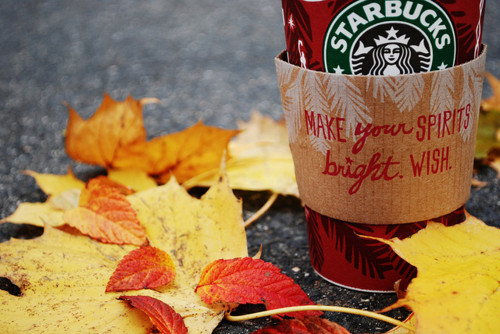 Gerelateerde artikelen: