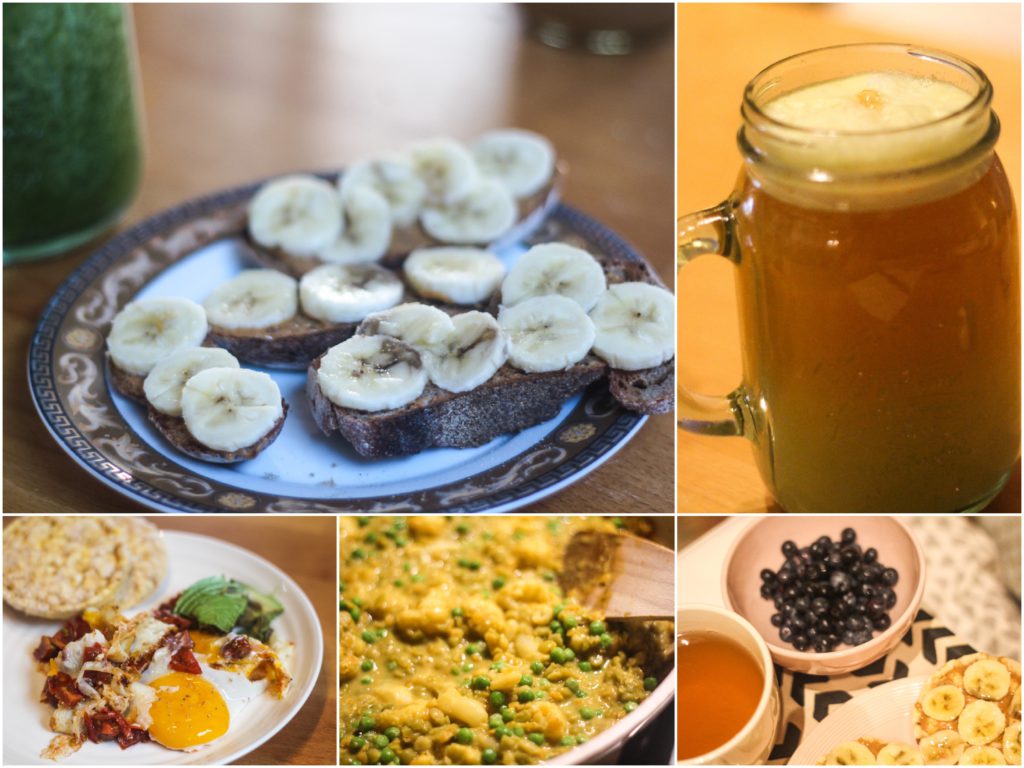 Er mogen weer foto's gedeeld worden van wat ik heb gegeten! Ik moet je zeggen dat het maken van deze artikelen me best wel een zen gevoel geven. Heerlijk kijken naar foto's van eten, selecteren en ze vervolgens aan jullie voorleggen. Ik krijg er elke keer lekkere en vooral gezonde trek van, hopelijk jullie ook!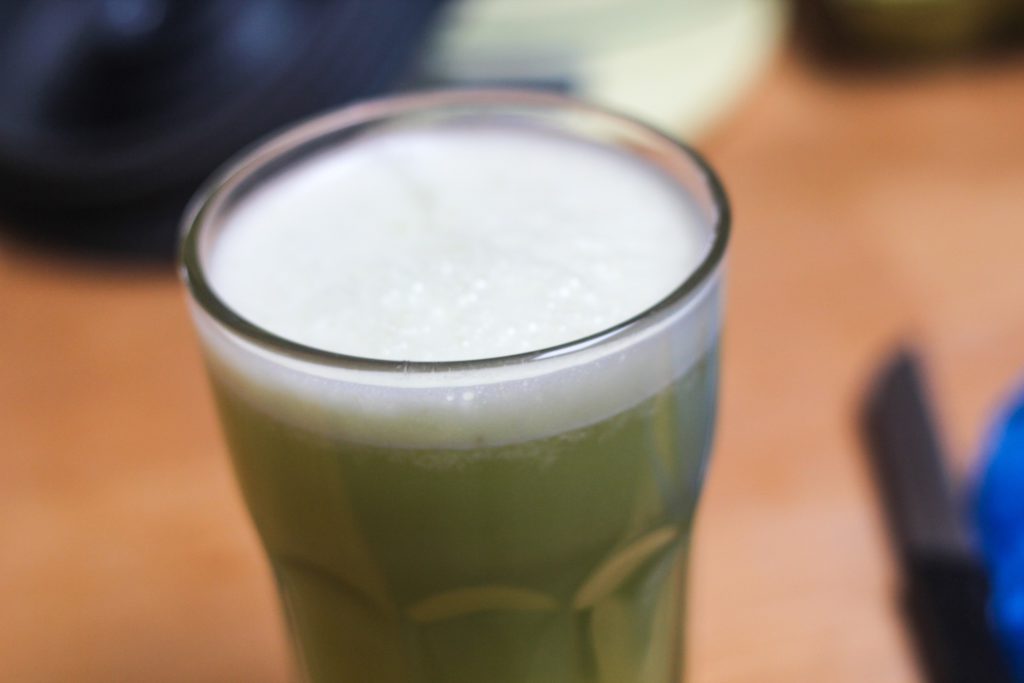 Ik begin bijna elke ochtend met pure selderijsap uit de juicer of ik meng het met andere ingrediënten uit een smoothie. Er gaat flink wat selderij doorheen de laatste tijd – het is een experiment 😉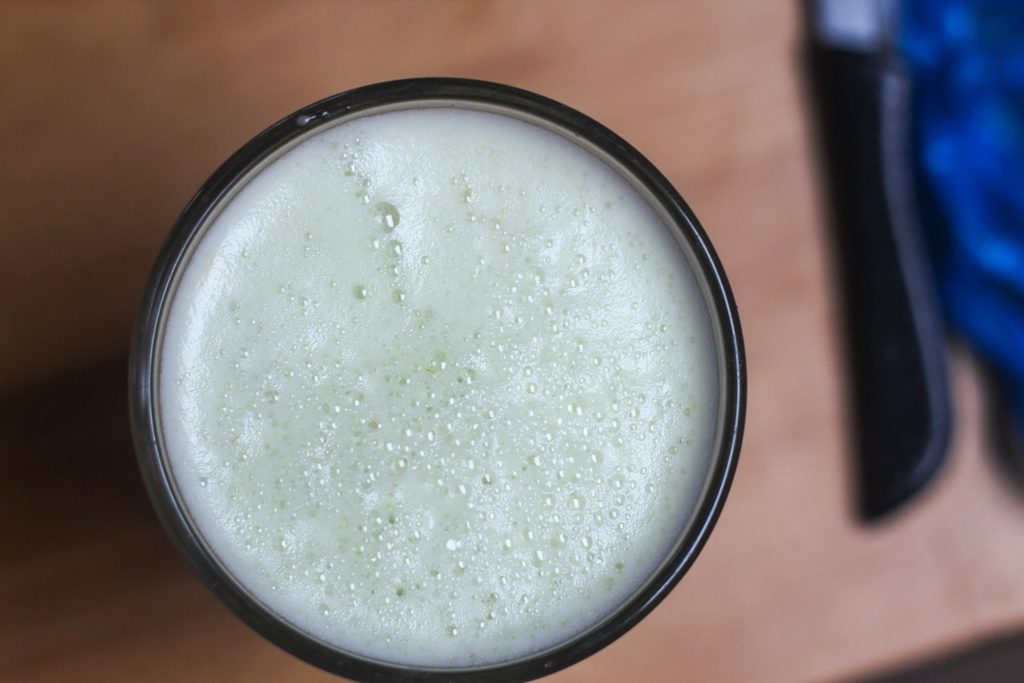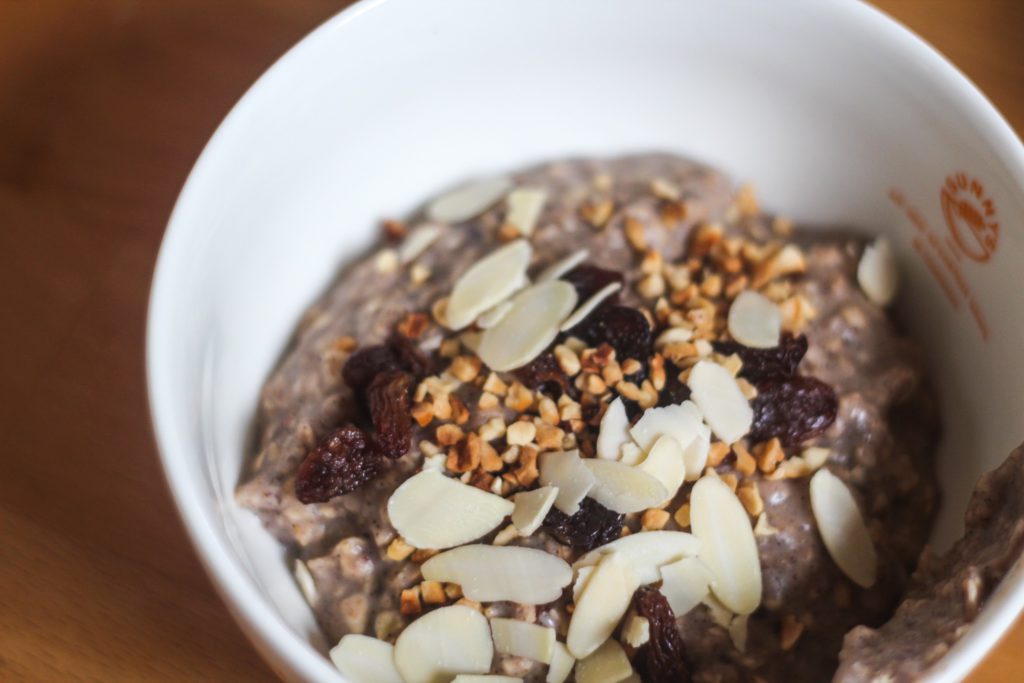 Maar ook een heerlijk havermout ontbijtje. Ik kocht gehakte hazelnoten bij de Lidl en dit voelt zo 'luxe' door mijn havermout! LOVE IT!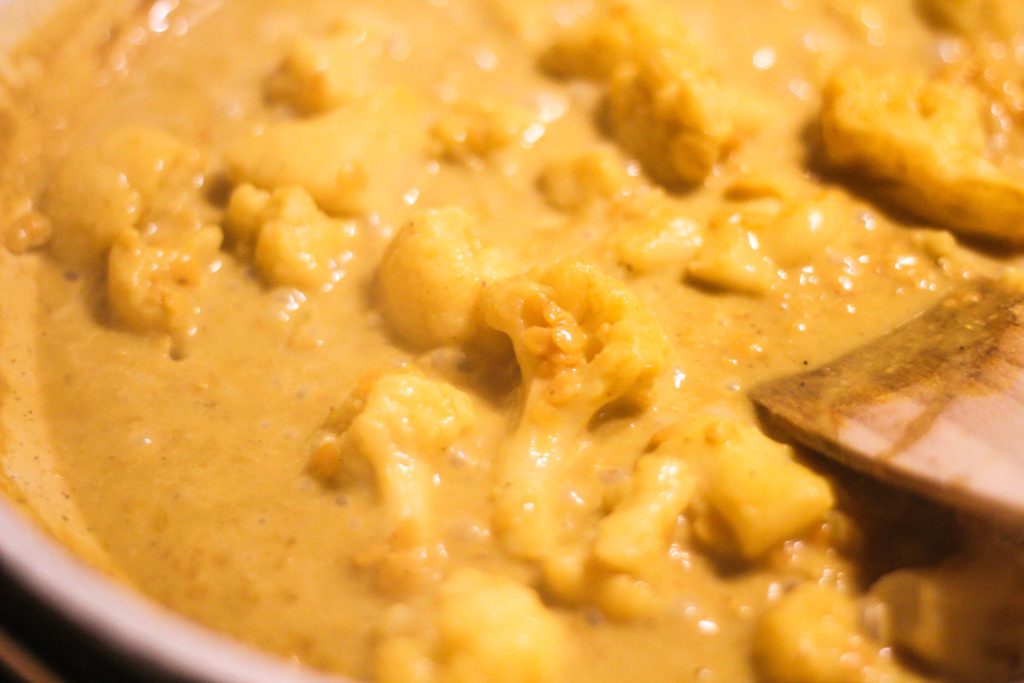 Snelle curry in the making. Diepvriesbloemkool, kurkuma, komijn, kerrie, peper, zout en kokosmelk.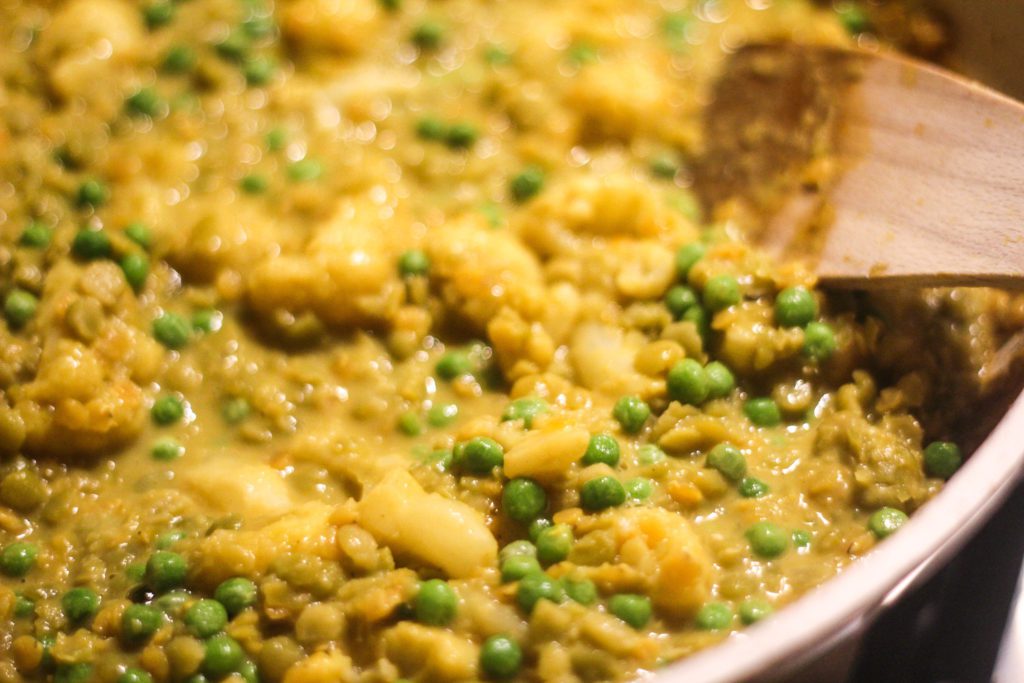 Doperwten, rode linzen en groene linzen (al geweekt en gekookt de dag ervoor) erbij waardoor het een dik geheel wordt.
Als laatste nog de kikkererwten en klaar!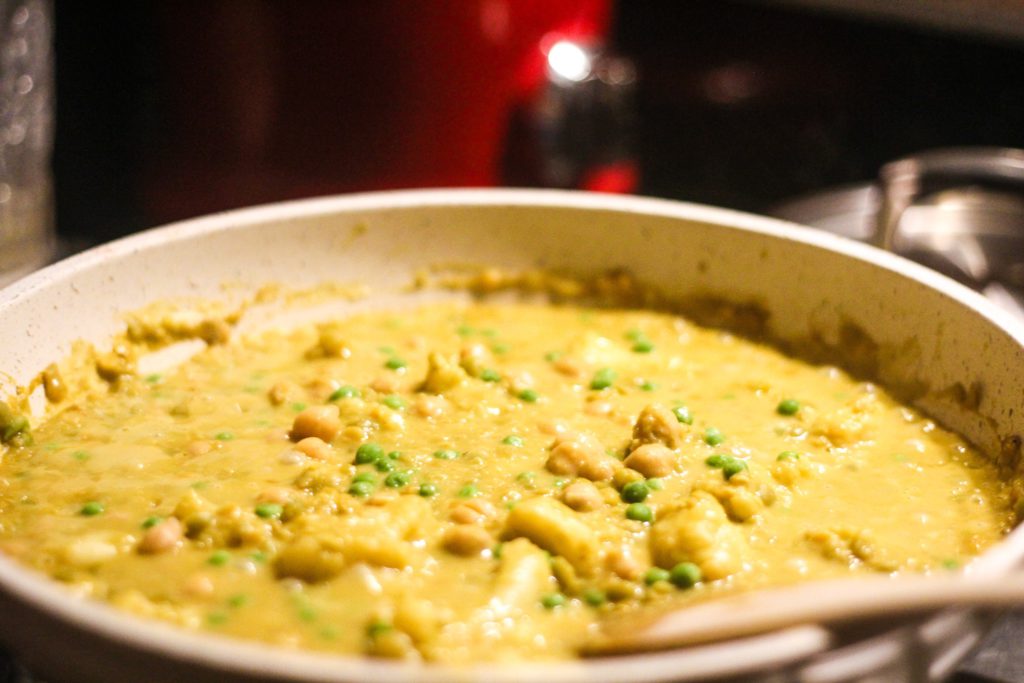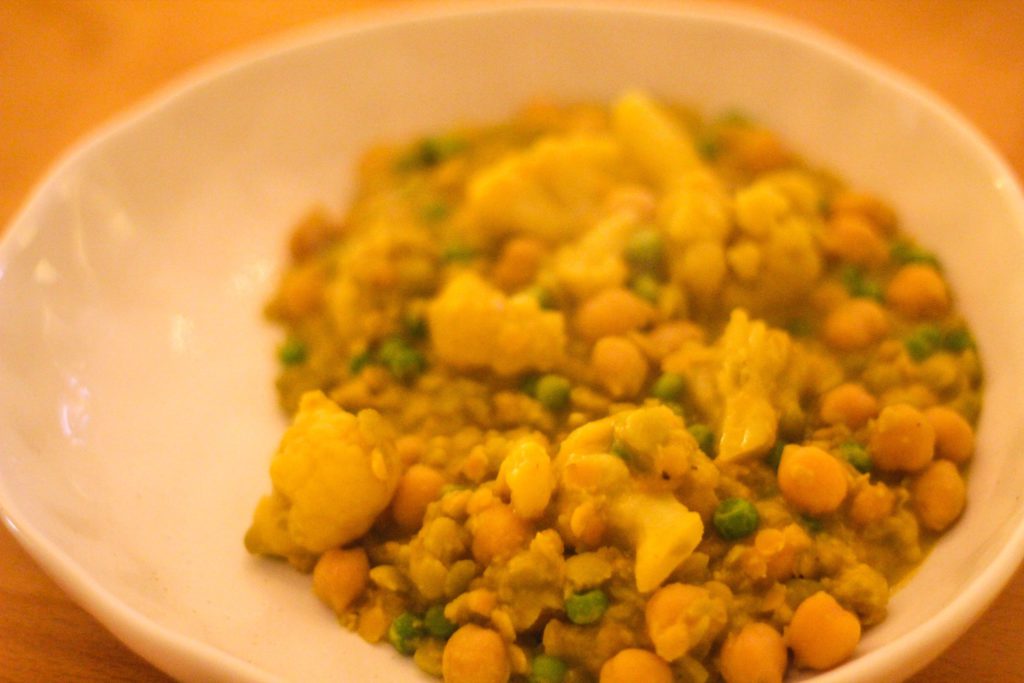 Ohh wat was dit heerlijk zeg!!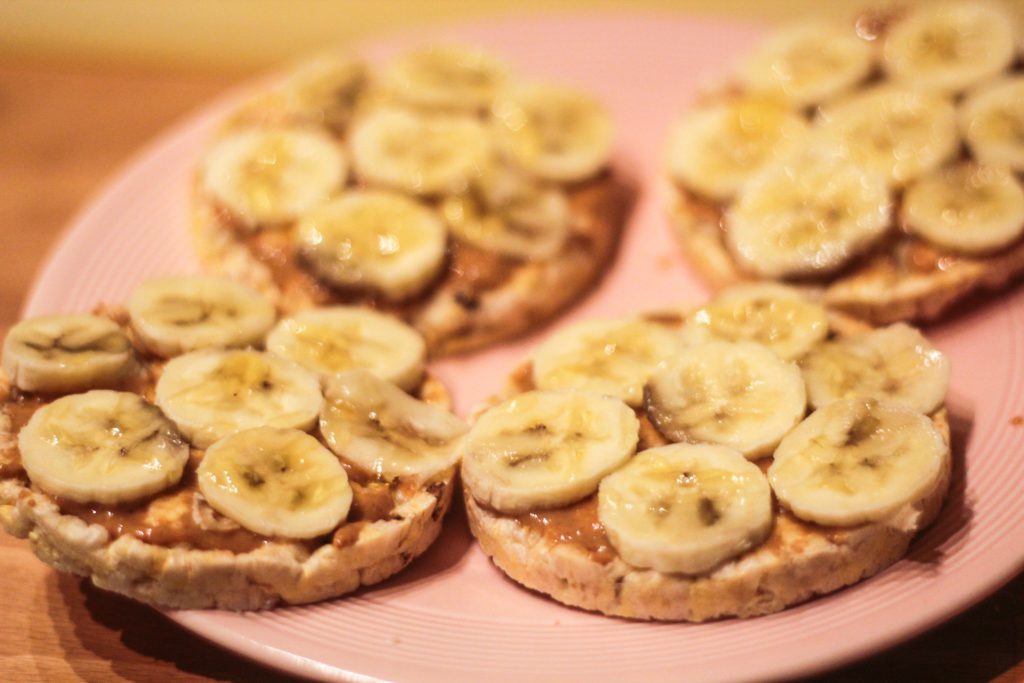 Maïswafels een upgrade gegeven met pindakaas, banaan en honing.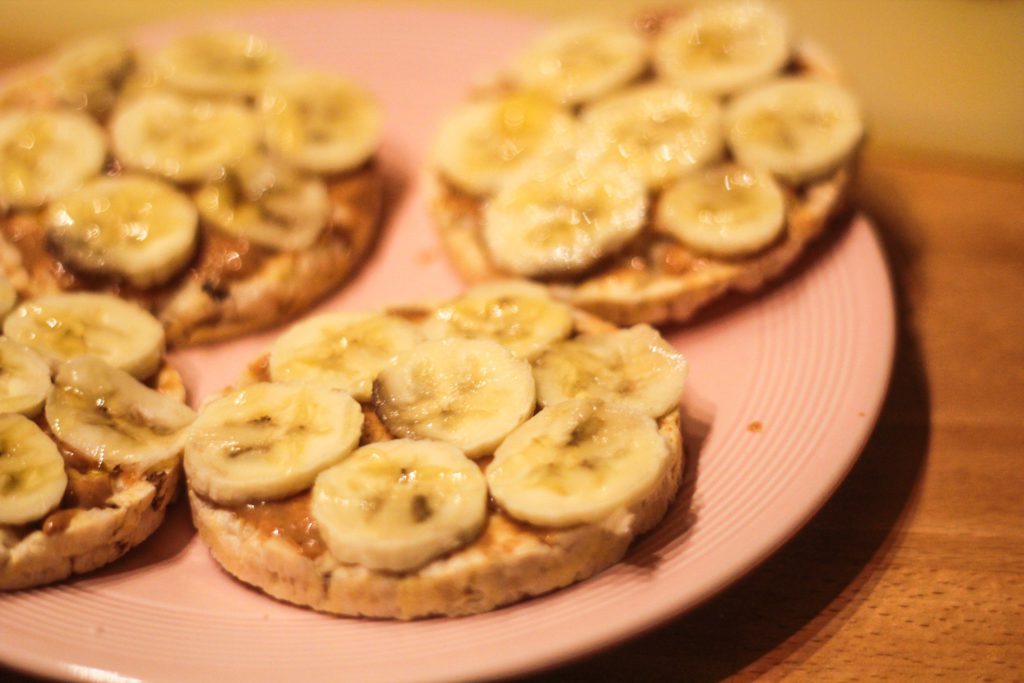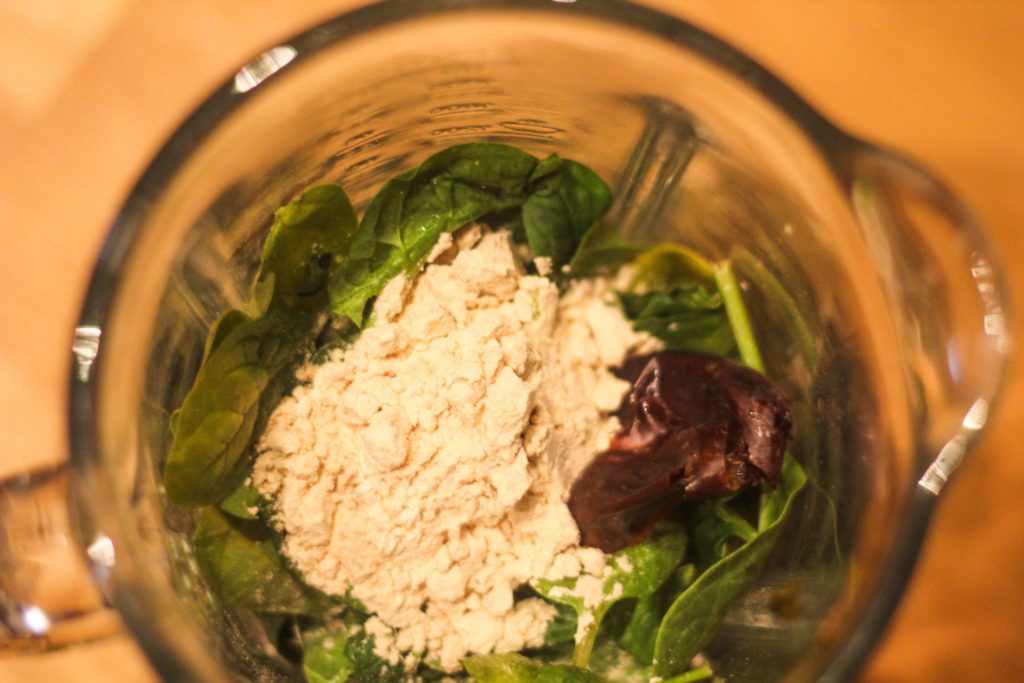 Groene smoothie met vegan vanille eiwit, spinazie, selderijsap, een dadel en een halve bevroren banaan.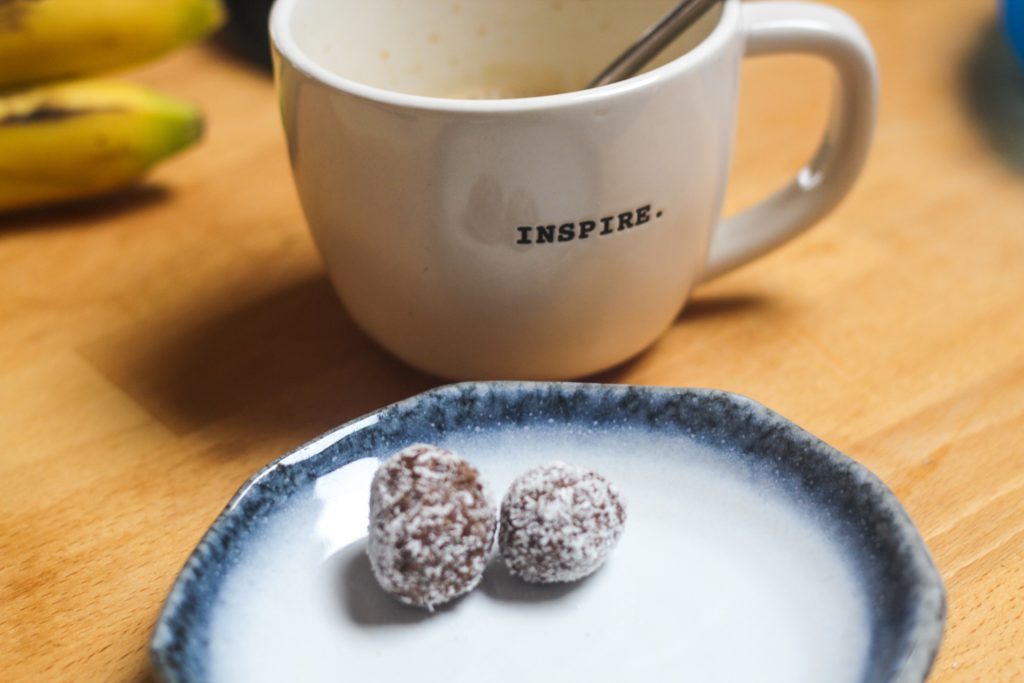 Tussendoortje – twee dadel en noten ballen + koffie. Zo heerijk! Boy vind deze ballen naar M&Ms ruiken, haha. Hieronder vind je het recept: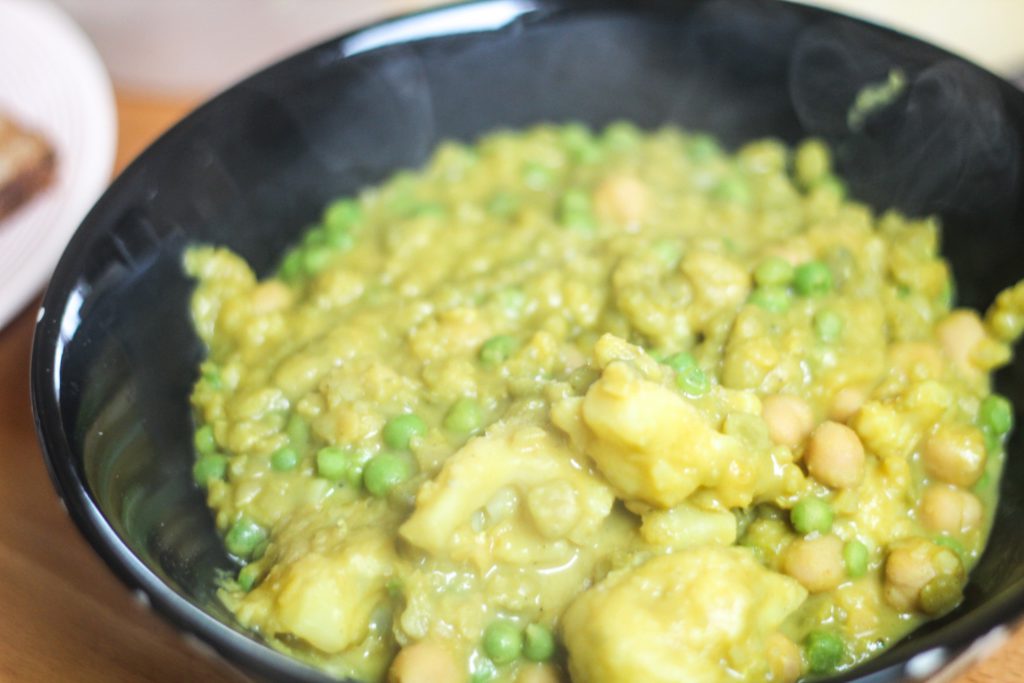 Hmm, de volgende dag weer curry eten! Het voordeel als je veel eten bereid.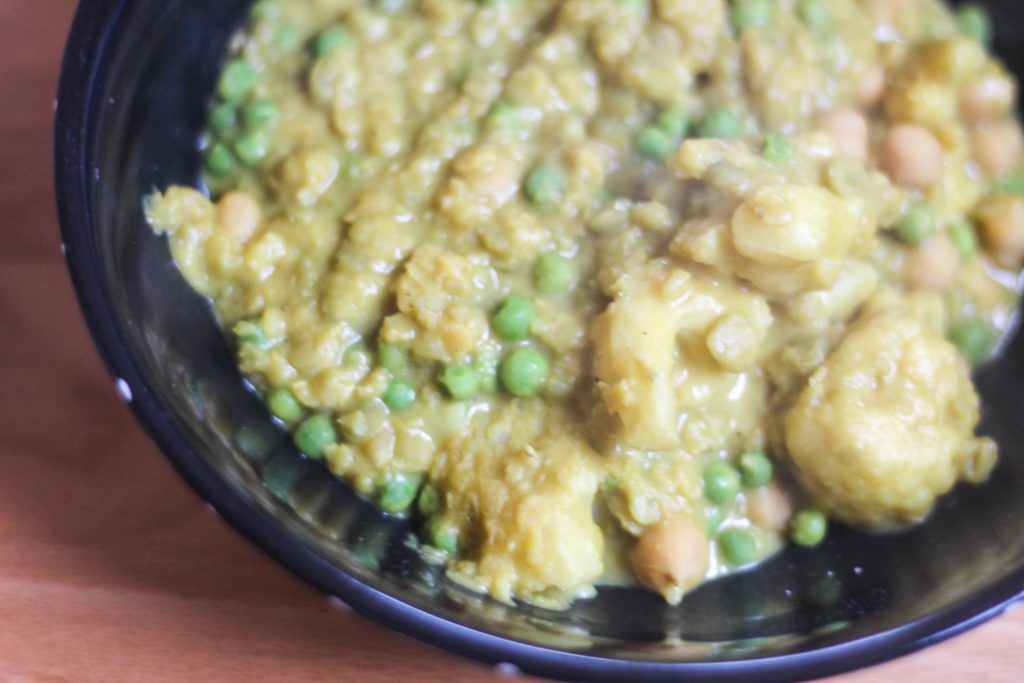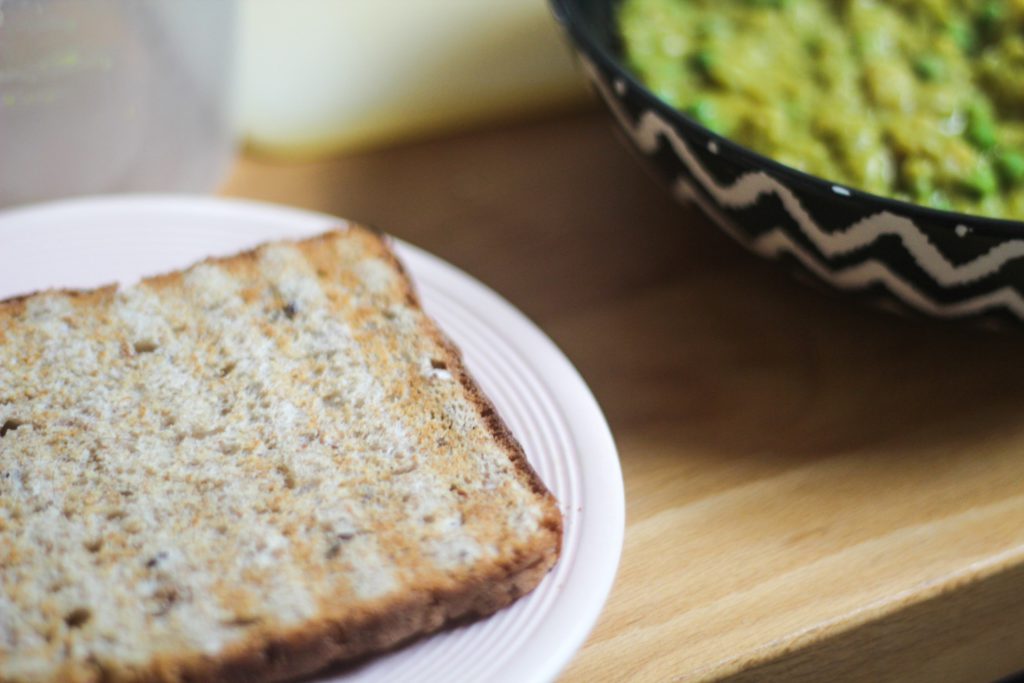 Met een geroosterd broodje erbij.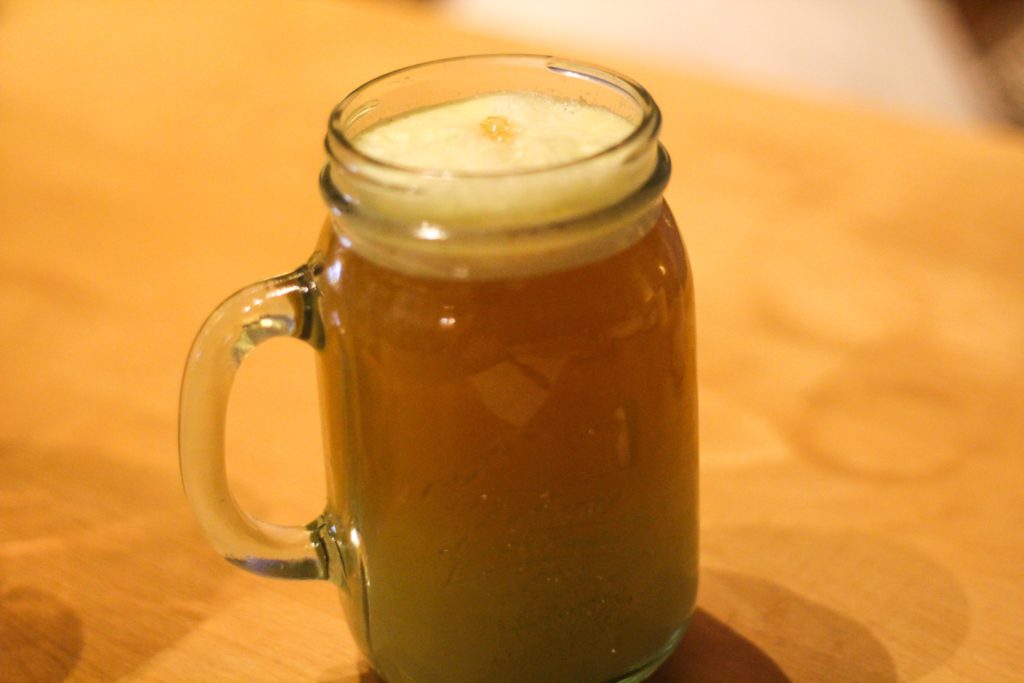 Een selderijsapje met wat wortel erdoor.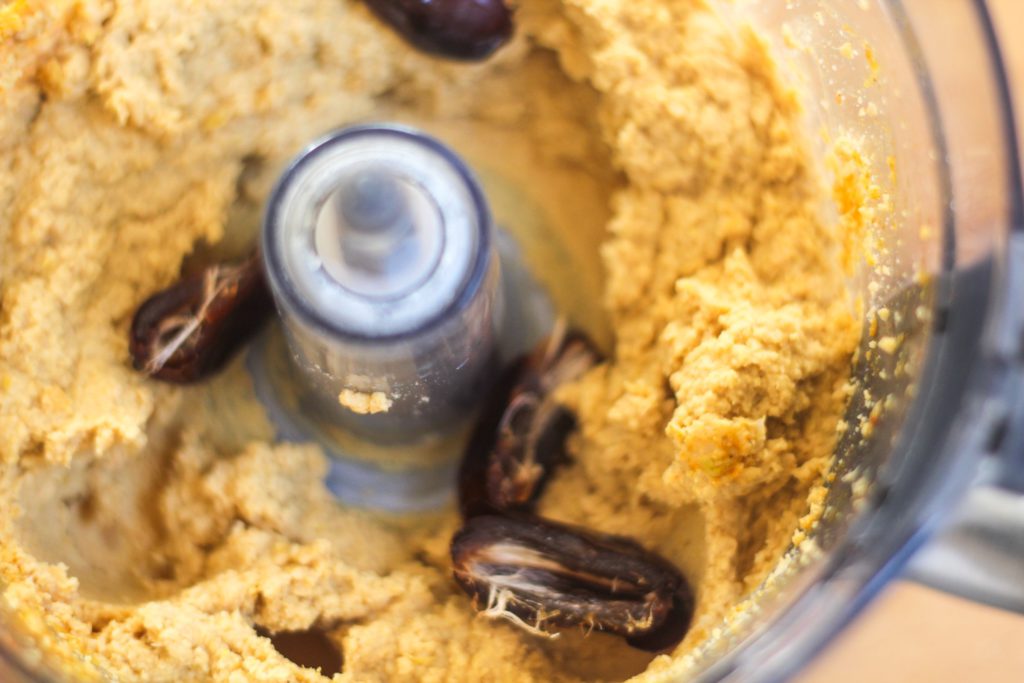 Zelf hummus gemaakt die ik iets zoeter wilde. De oplossing? Twee dadels toevoegen.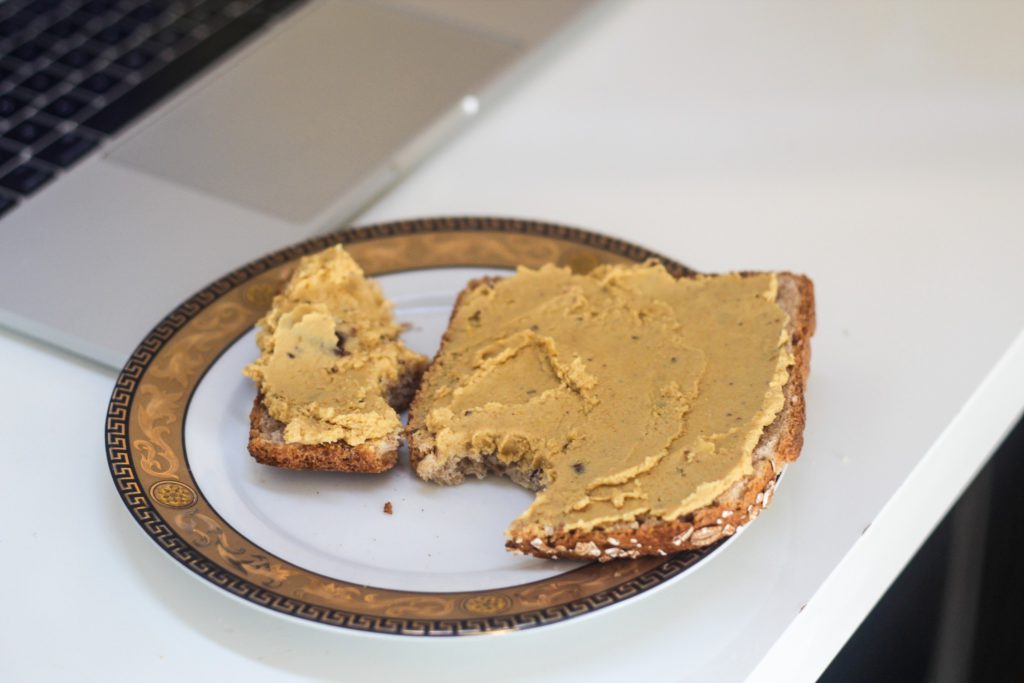 Jum!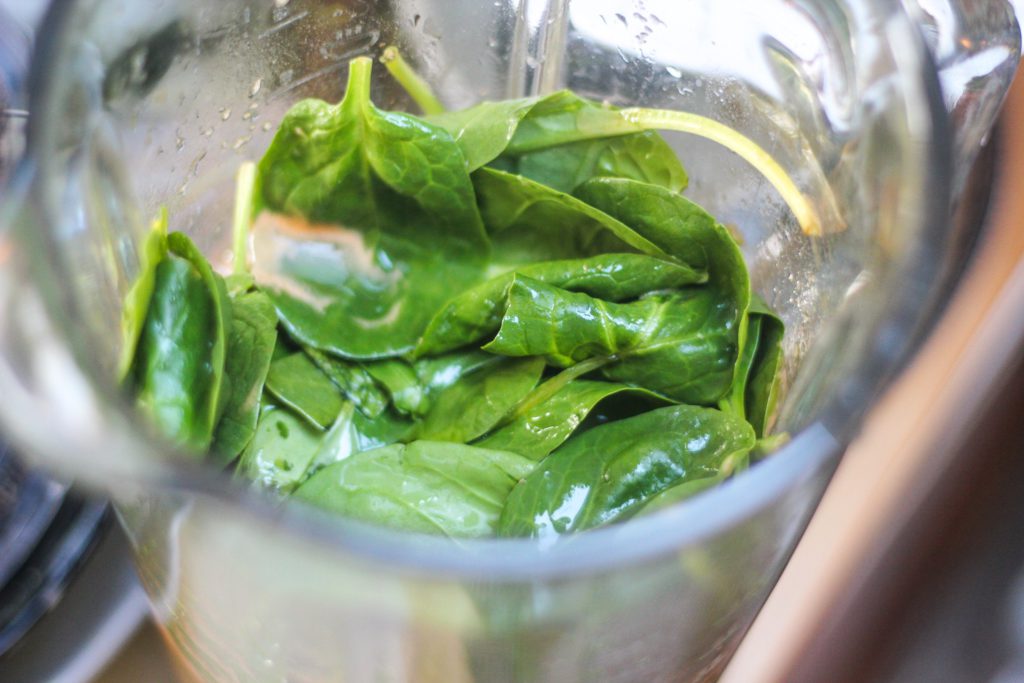 Veeeeel groene smoothies de afgelopen dagen. Ik had flink wat spinazie om op te maken namelijk.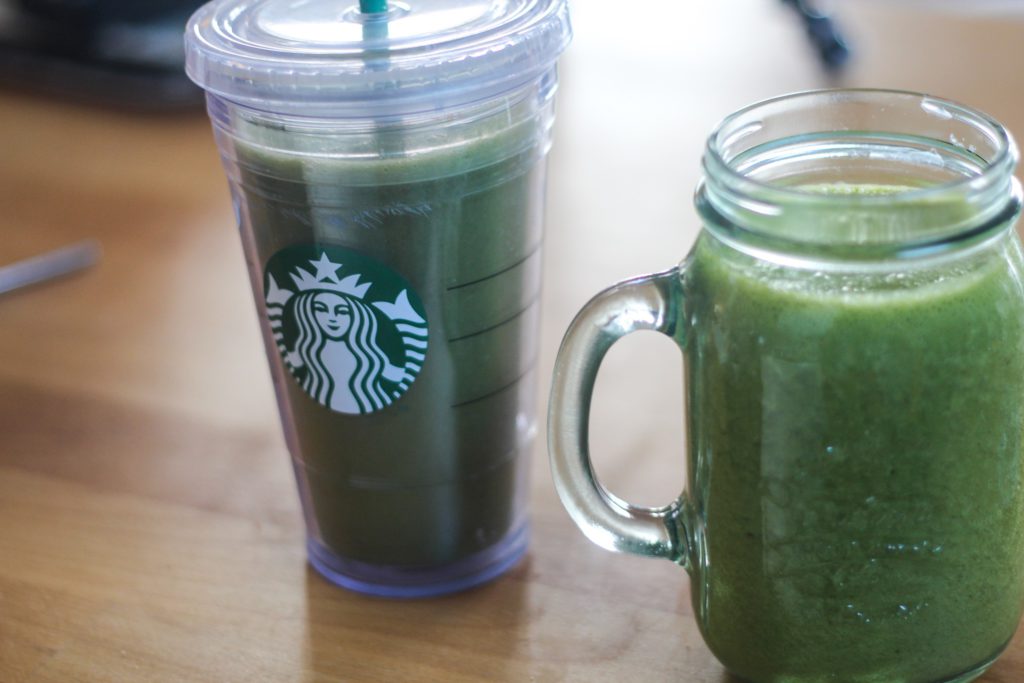 Een smoothie to go en de andere voor thuis.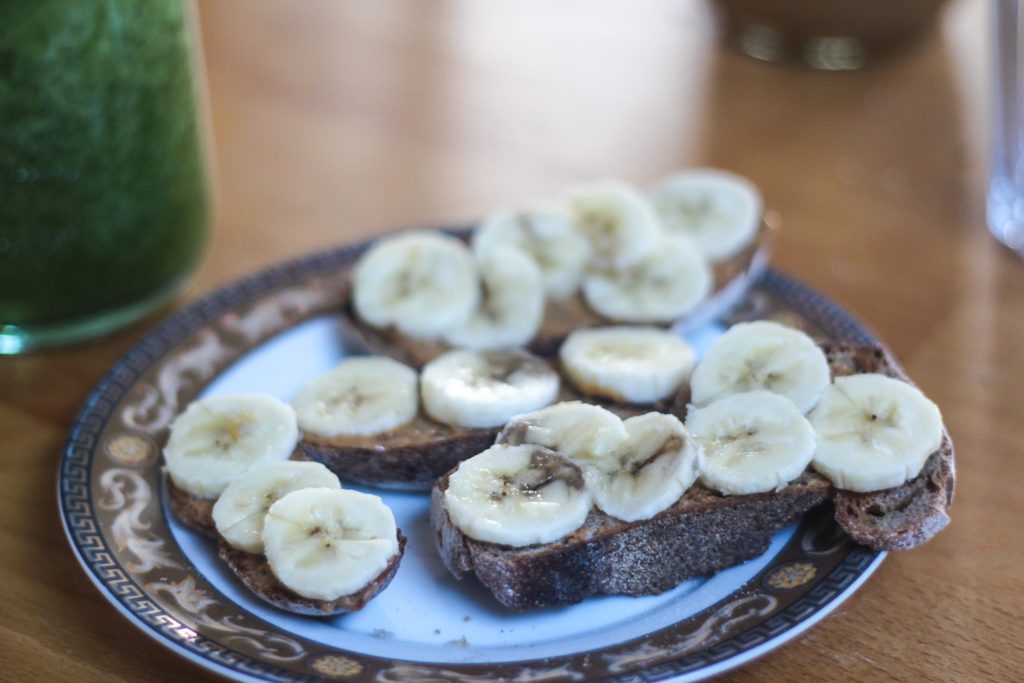 Brood, pindakaas, banaan en eventueel nog wat honing. Hmmm!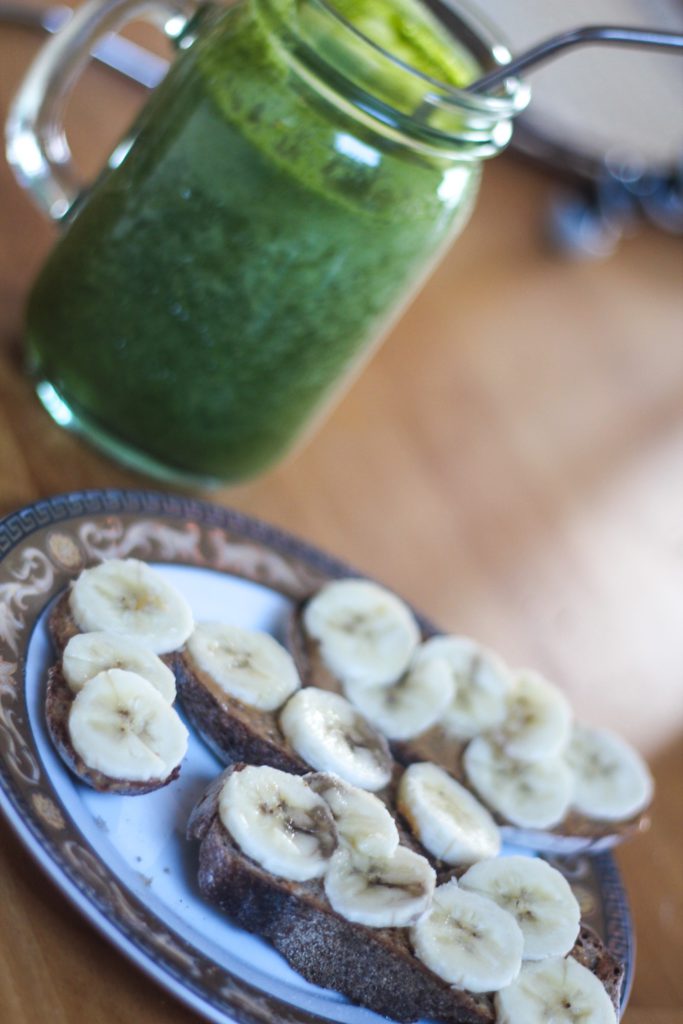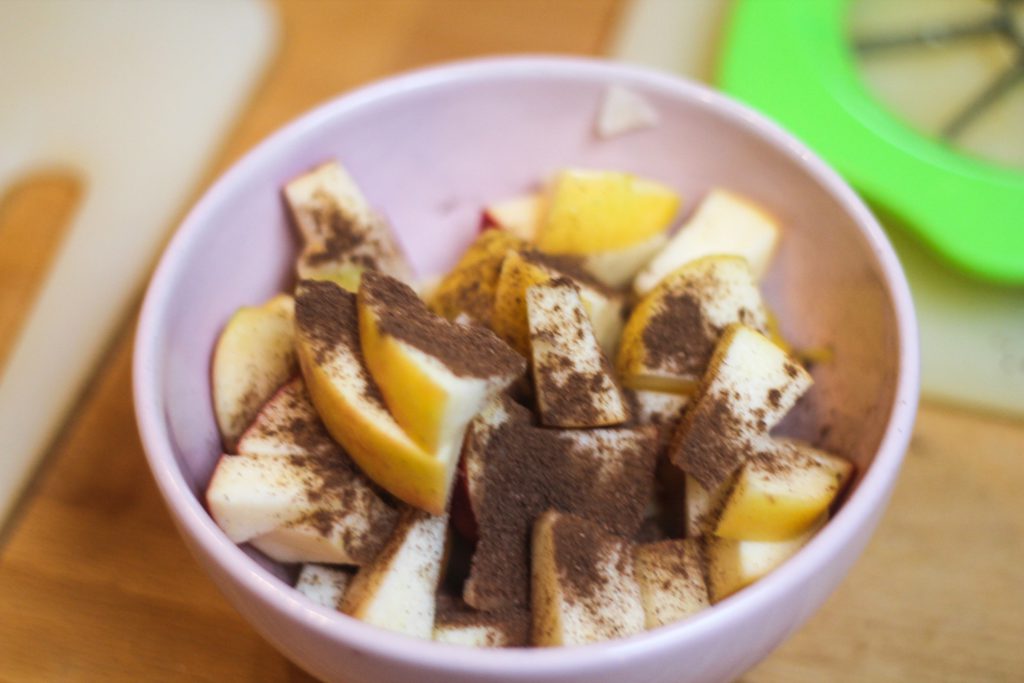 Appel met kaneel als tussendoortje.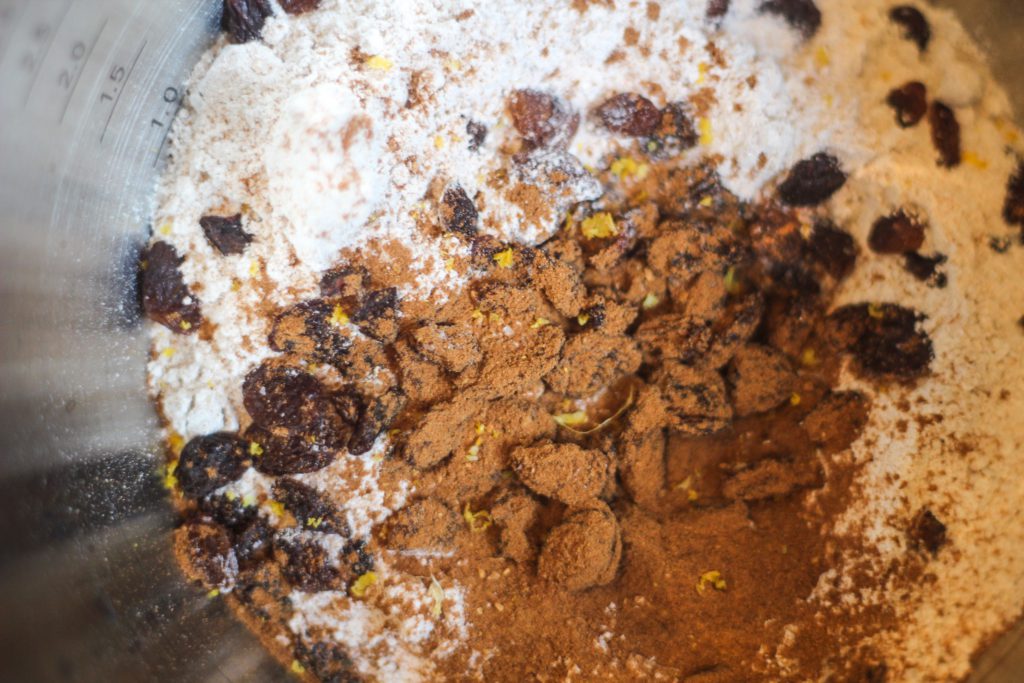 Kun jij raden wat ik weer aan het maken ben? Ik kreeg een foto van een van mijn lezeressen op Instagram met de spelt krentenbollen die ze had gemaakt en ik kreeg er zelf weer helemaal zin in! Het recept vind je hieronder: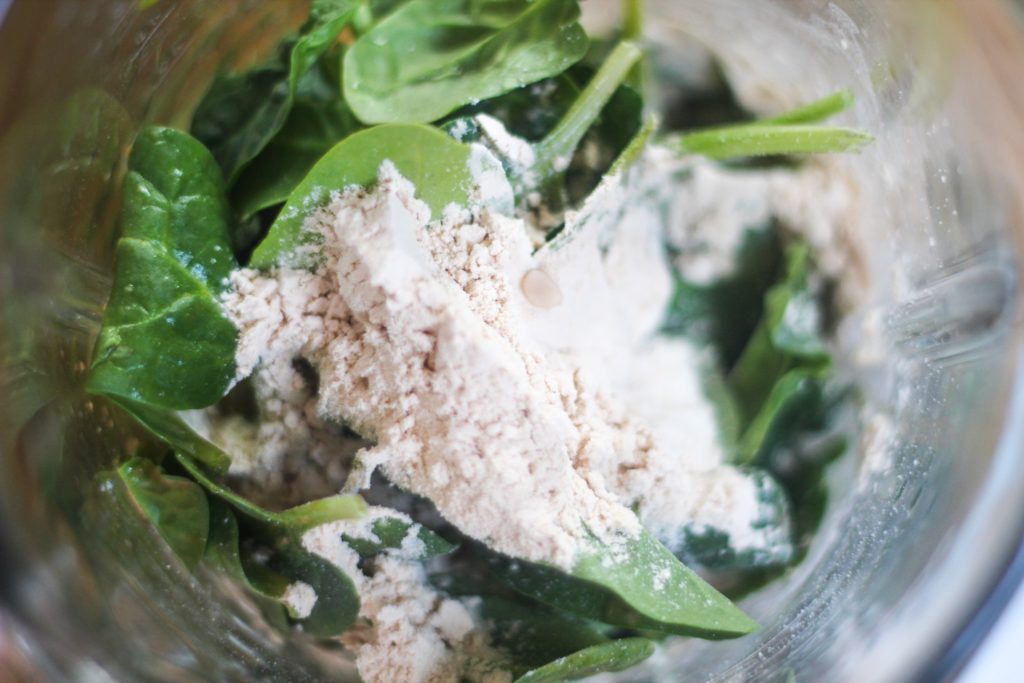 Gaan we weer!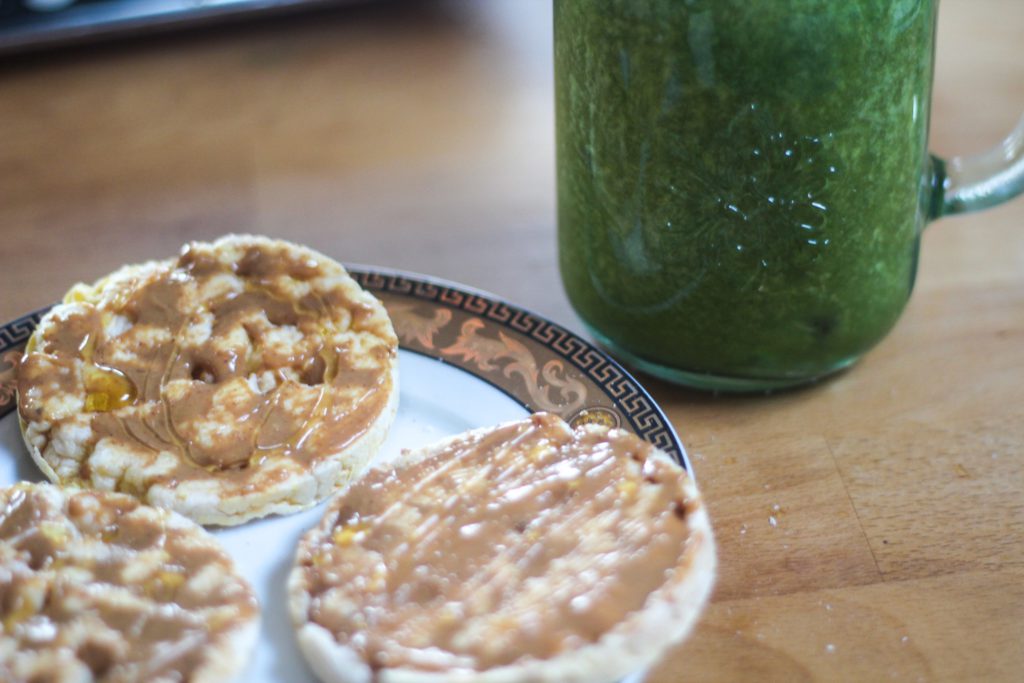 Ik had geen bananen meer.. Dus dan maar pindakaas met honing.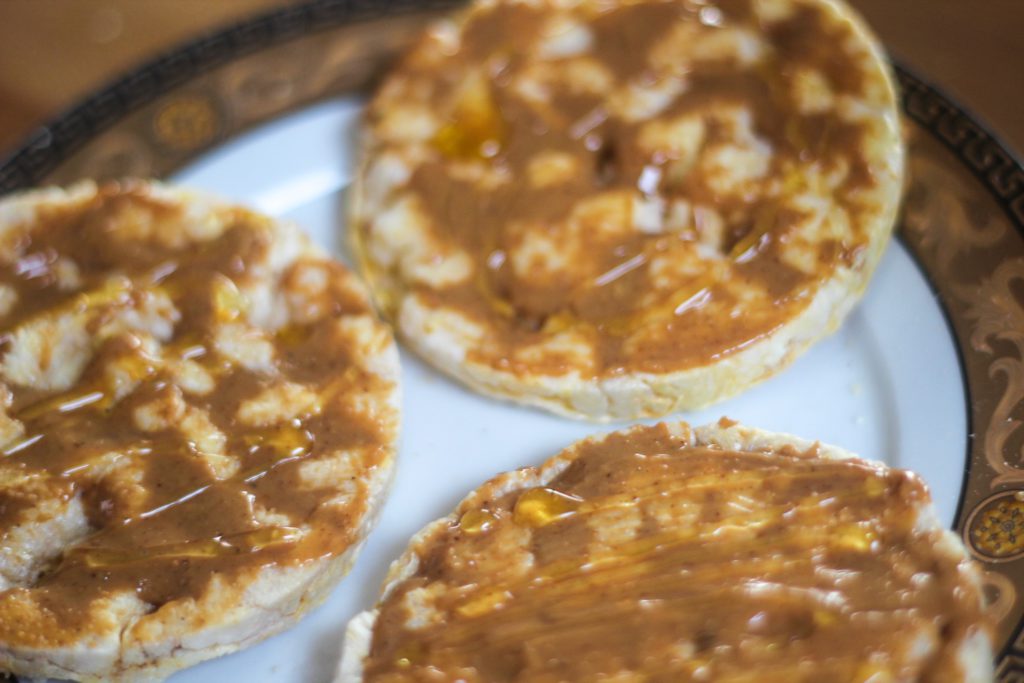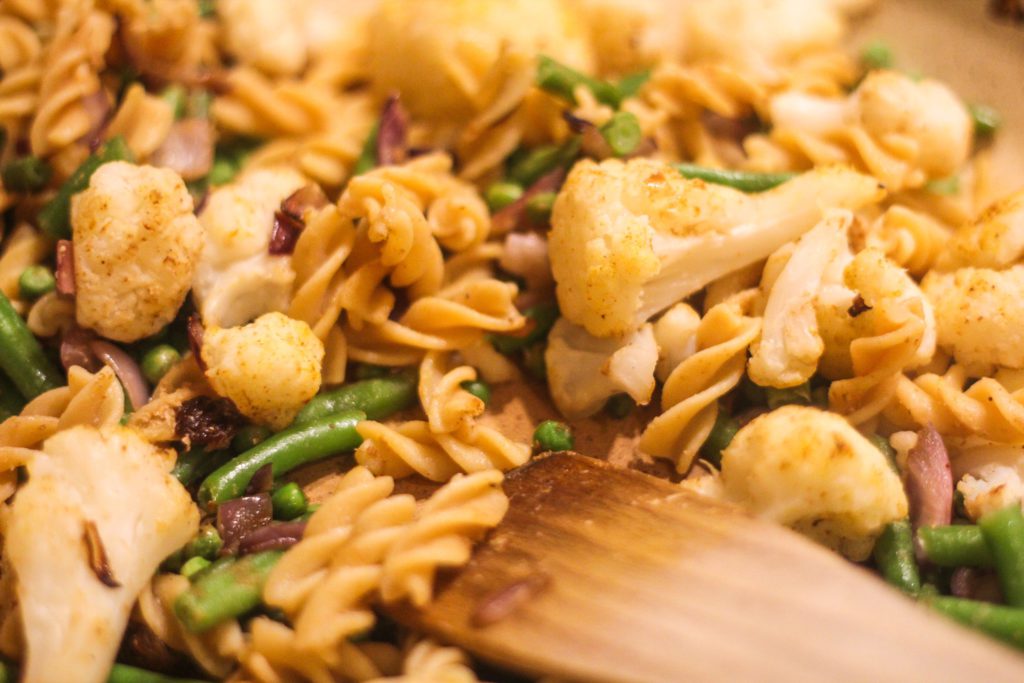 Kikkererwten pasta met rode ui, doperwten, sperziebonen en bloemkool uit de oven.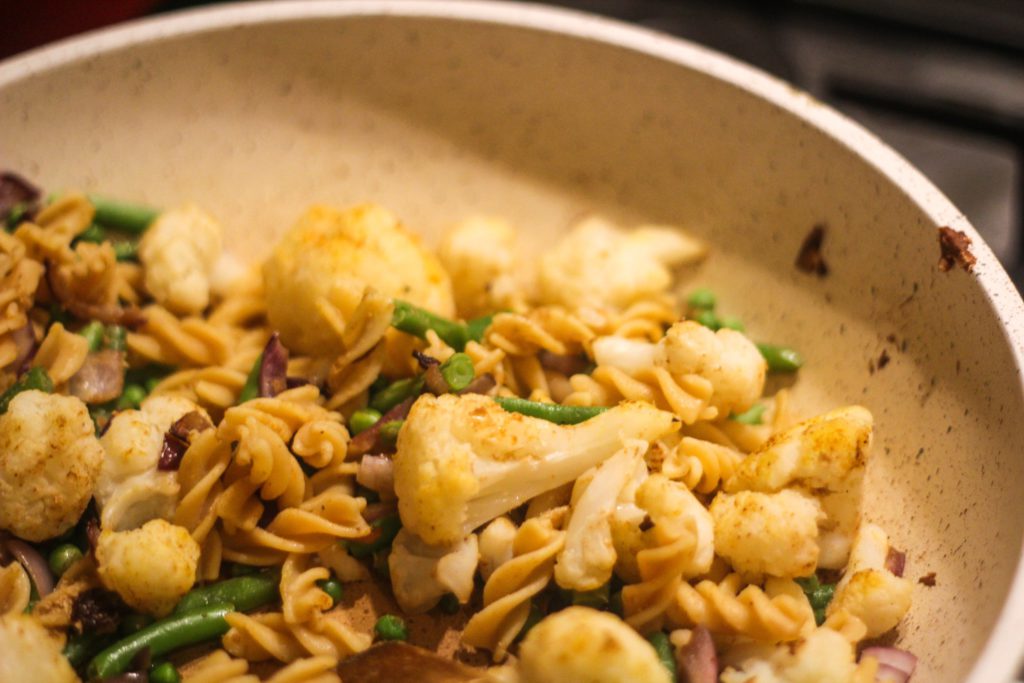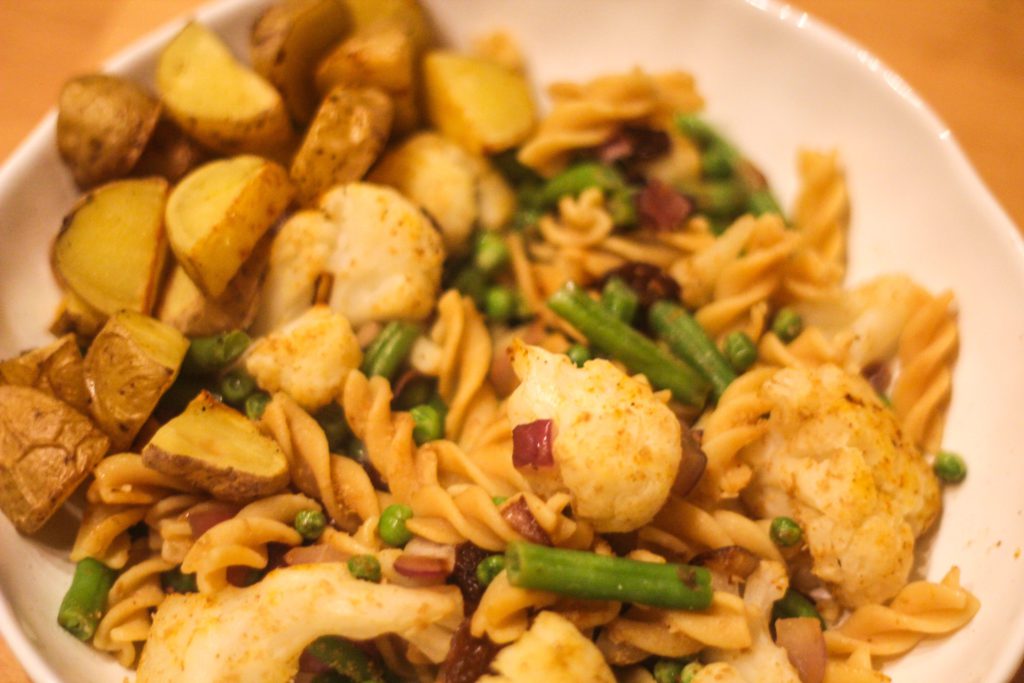 Daarnaast wat aardappelen uit de oven en klaar!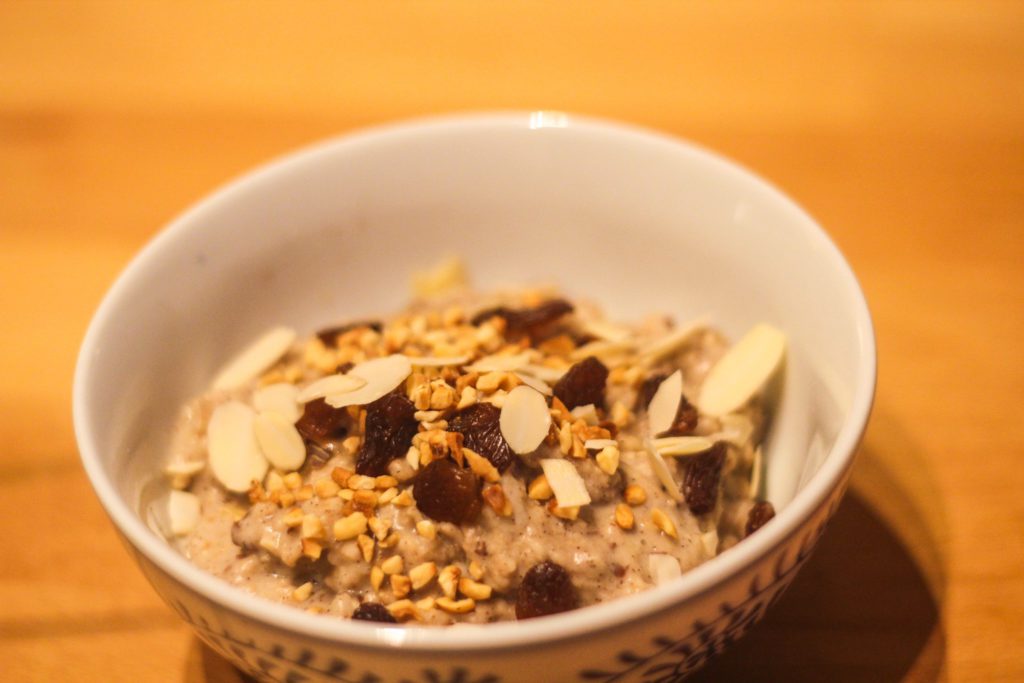 Heerlijk havermout ontbijt met rozijnen, gehakte hazelnoten en amandelen.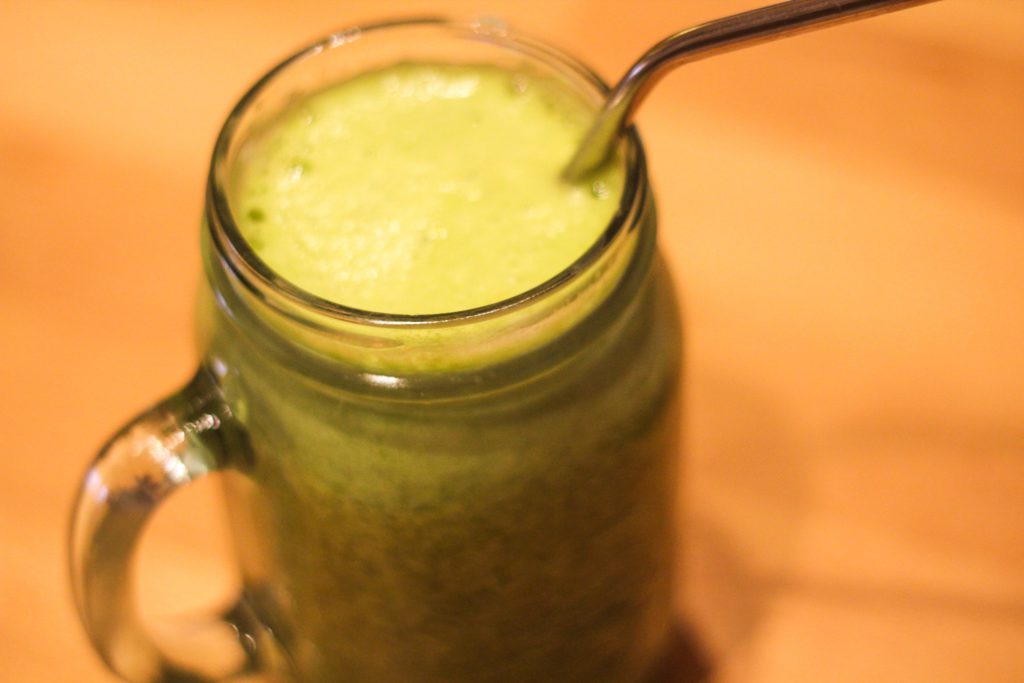 + een flinke dosis aan vitamines en mineralen.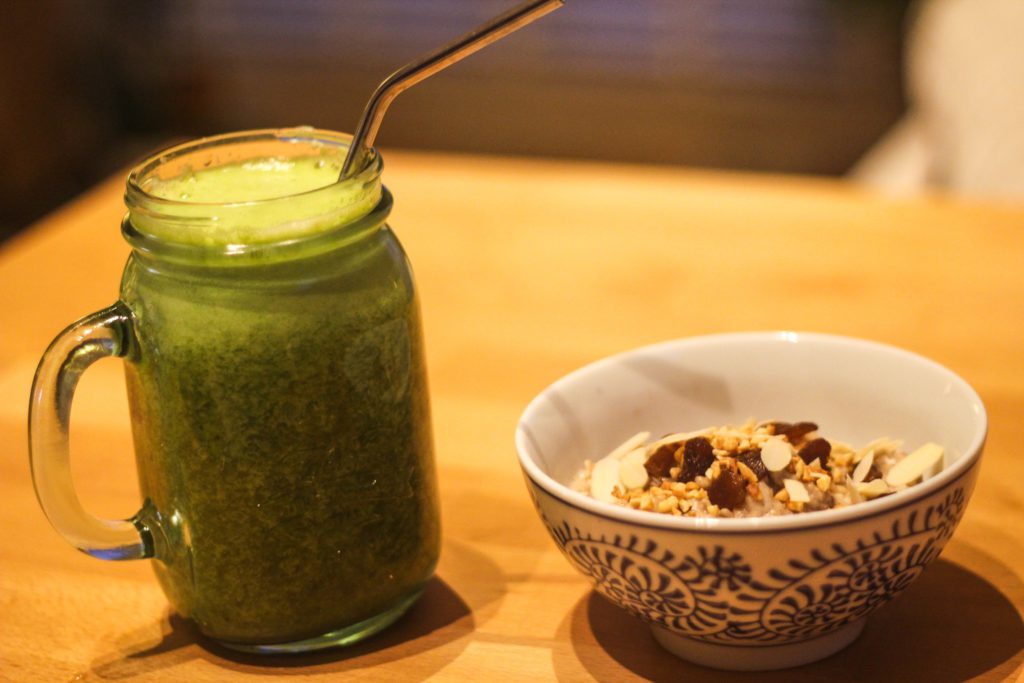 Heerlijk ontbijtje zo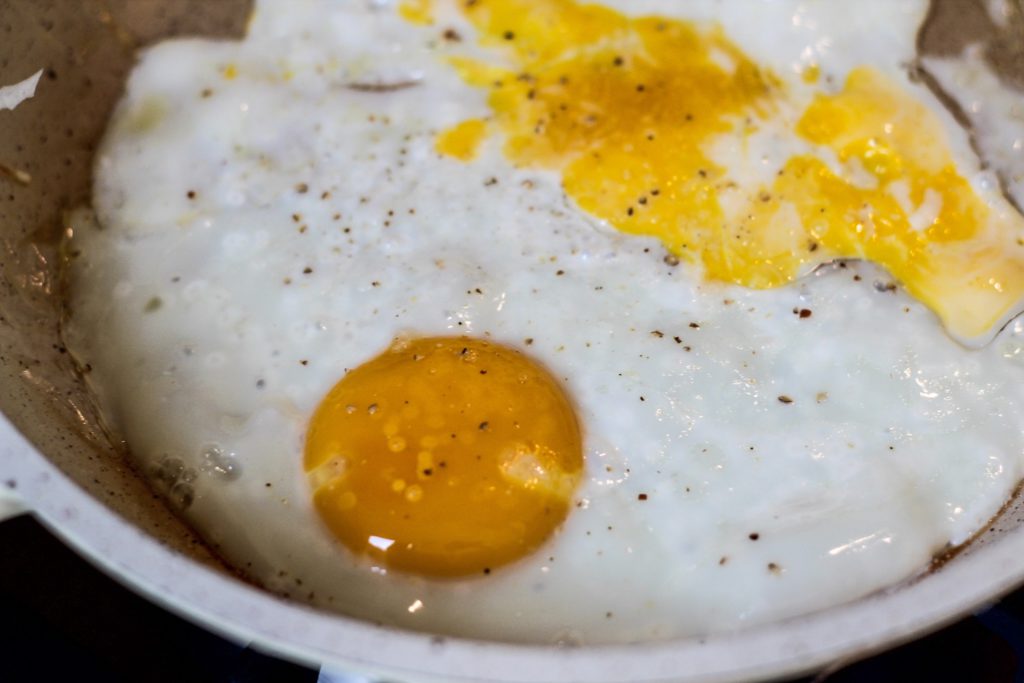 Gebakken eieren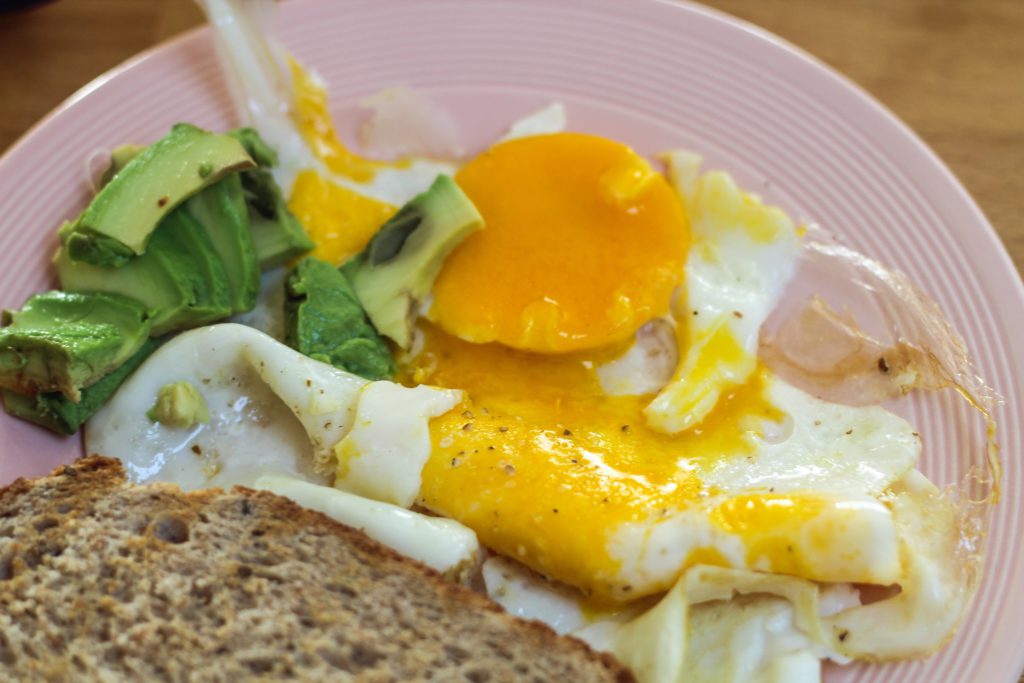 Met toast en avocado.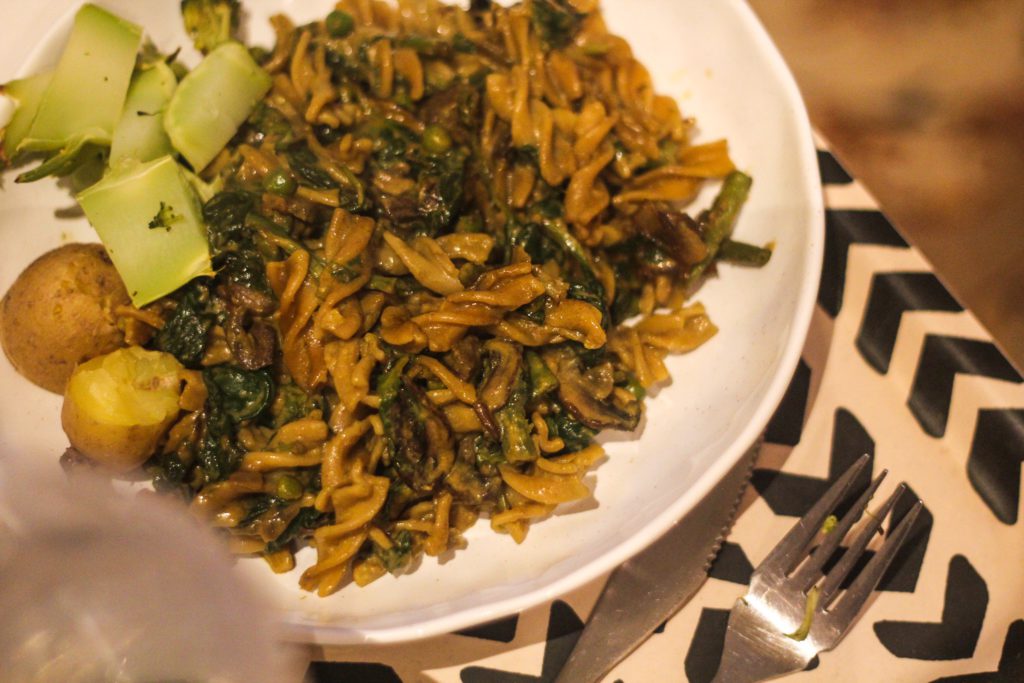 Kikkererwten pasta met champignons, spinazie en kokosmelk. Daarnaast nog wat broccoli en aardappelen uit de oven die over waren.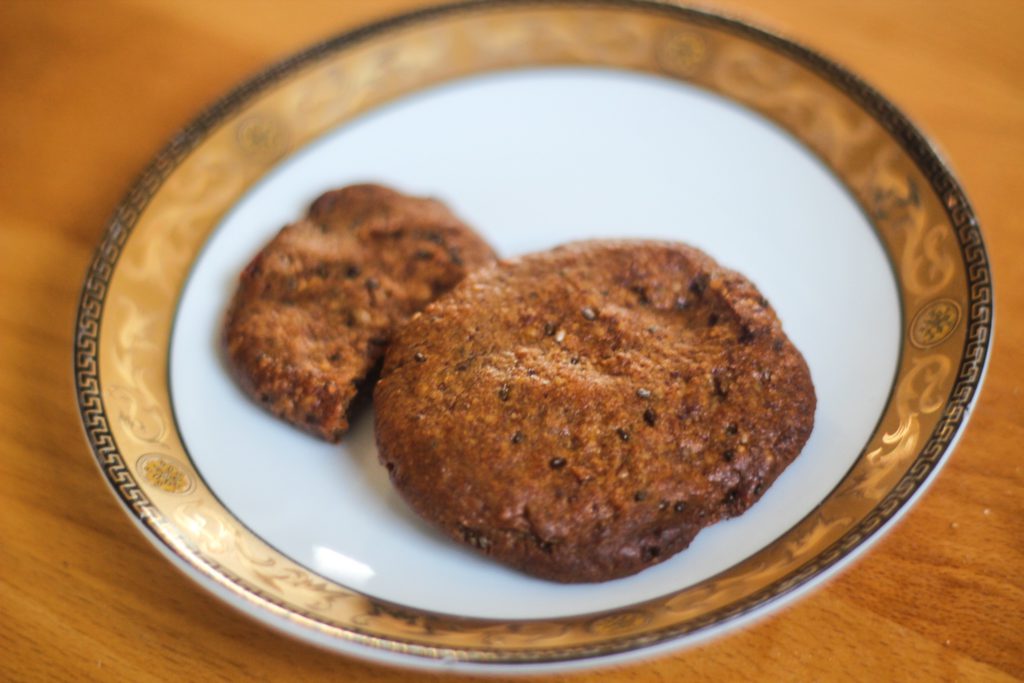 Jummmmm deze koekjes waren onverwacht ZO lekker! Ze hebben maar 4 ingrediënten en zijn helemaal vegan. Het recept vind je hier: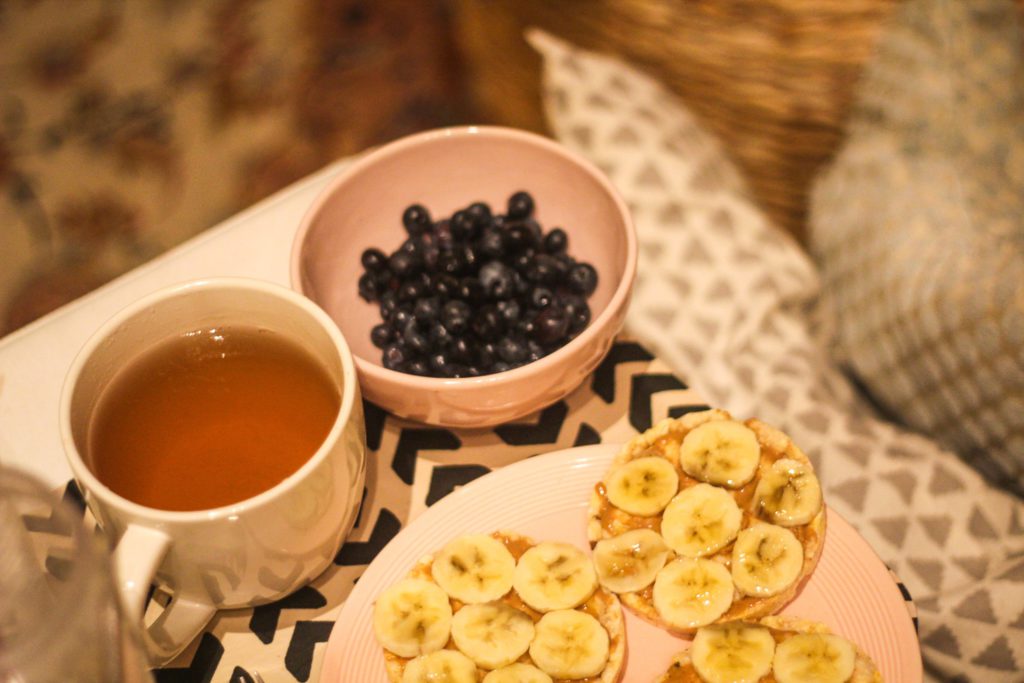 Vroege ochtenden met thee, blauwe bessen en maïswafels 2.0  – pindakaas, banaan en honing.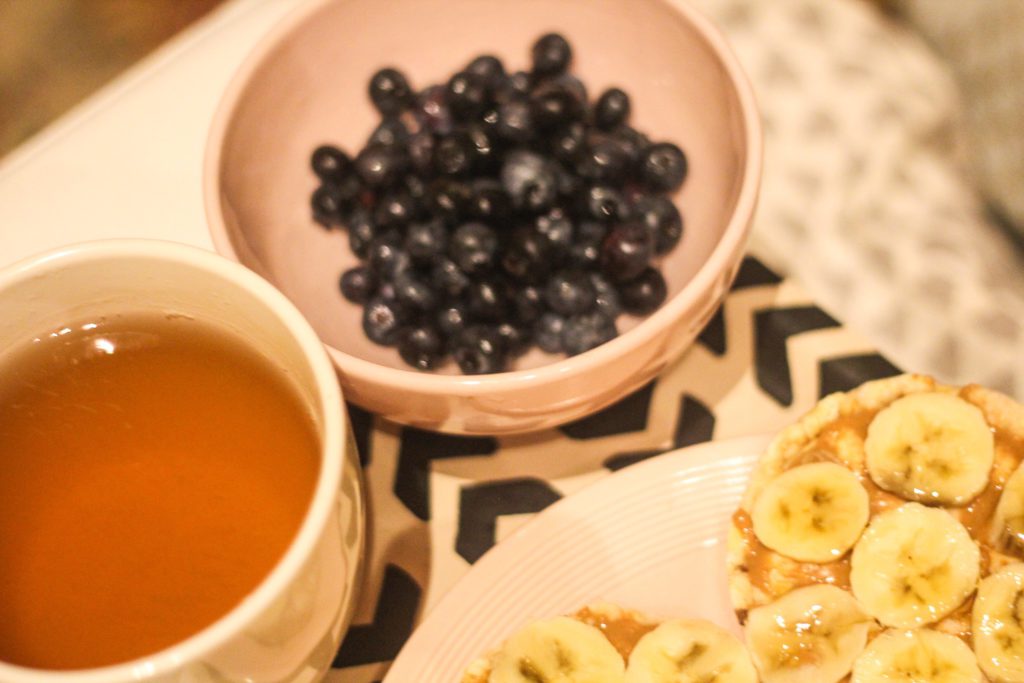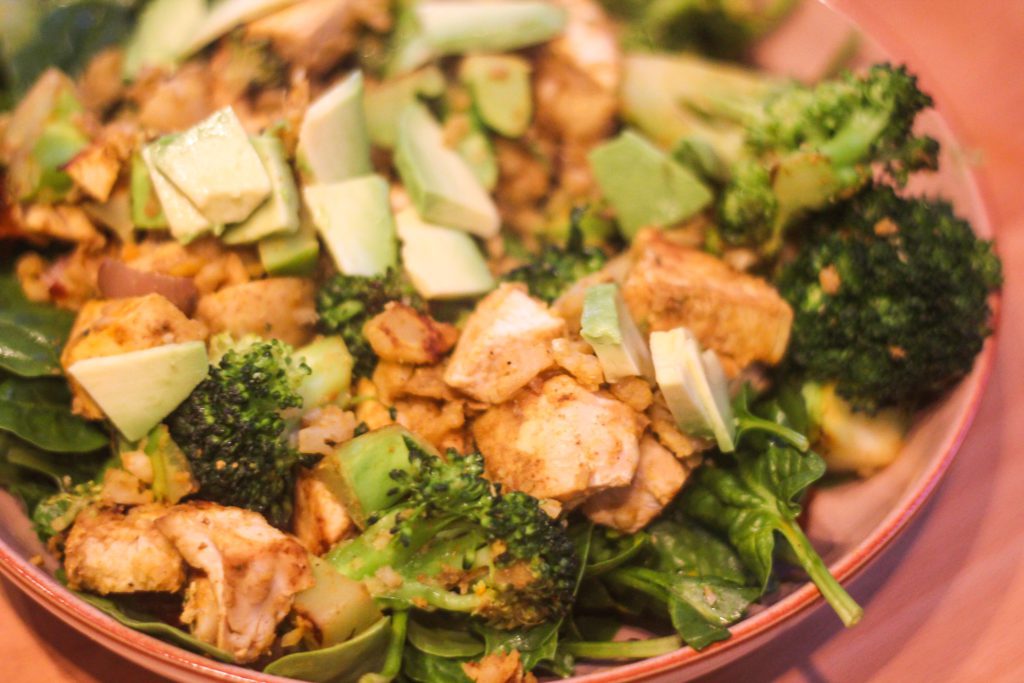 Salade van spinazie, kip uit de oven, broccoli en avocado.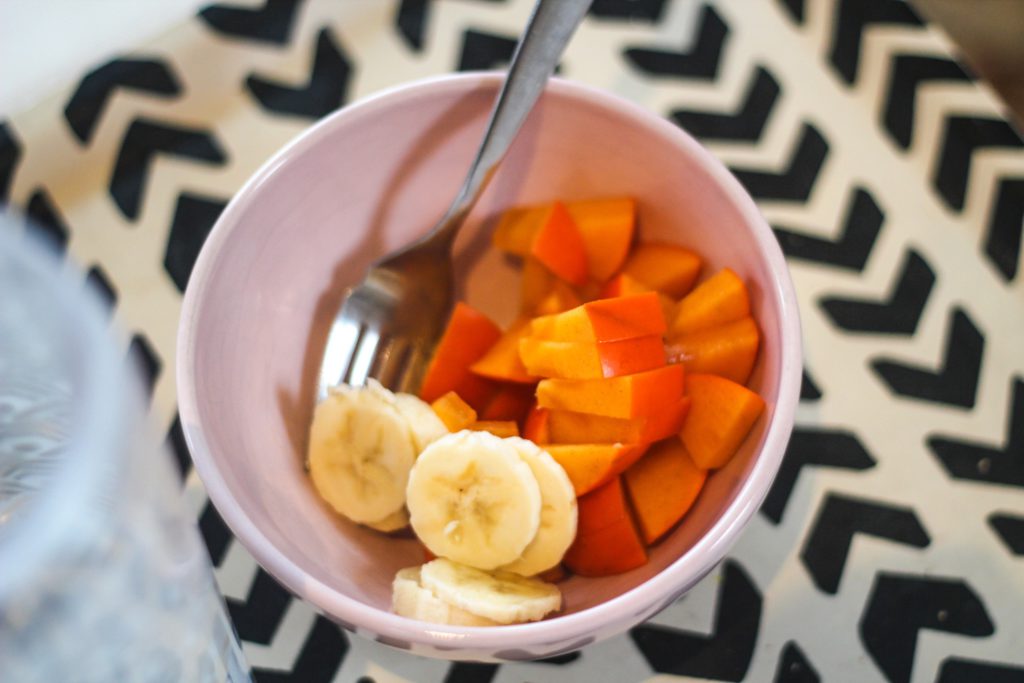 Kaki en wat banaan als tussendoortje.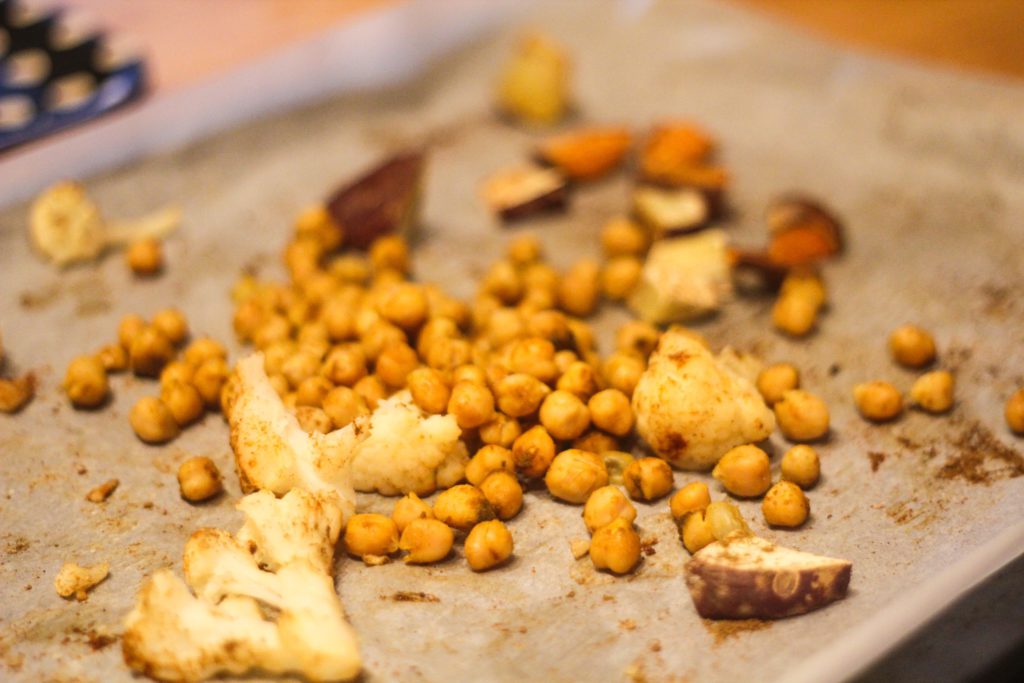 Kikkererwten, bloemkool en zoete aardappel uit de oven (dit is de ovenplaat nadat Boy en ik ervan hebben gegeten).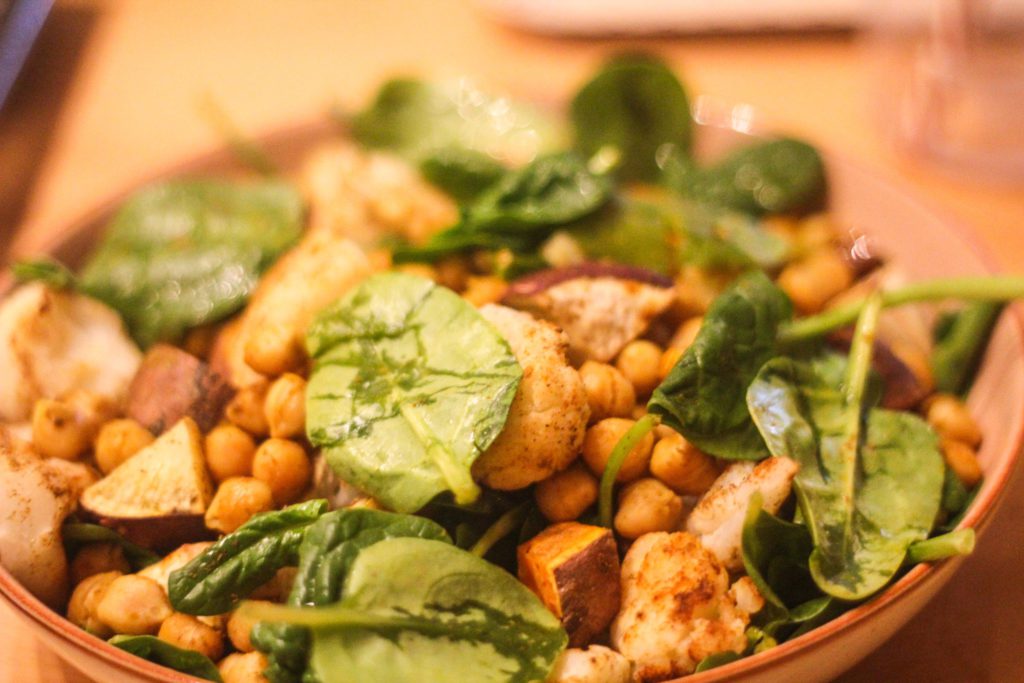 Ik at het in een salade met spinazie.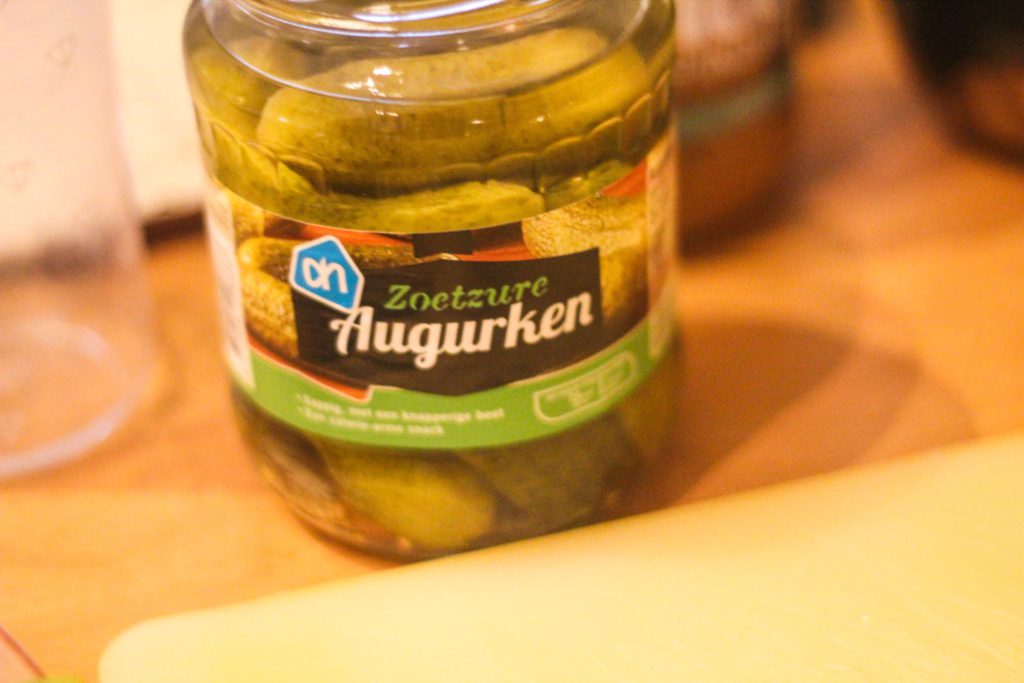 Tussendoor snacken op augurken, ik vergeet wel eens hoe lekker ik dit vind!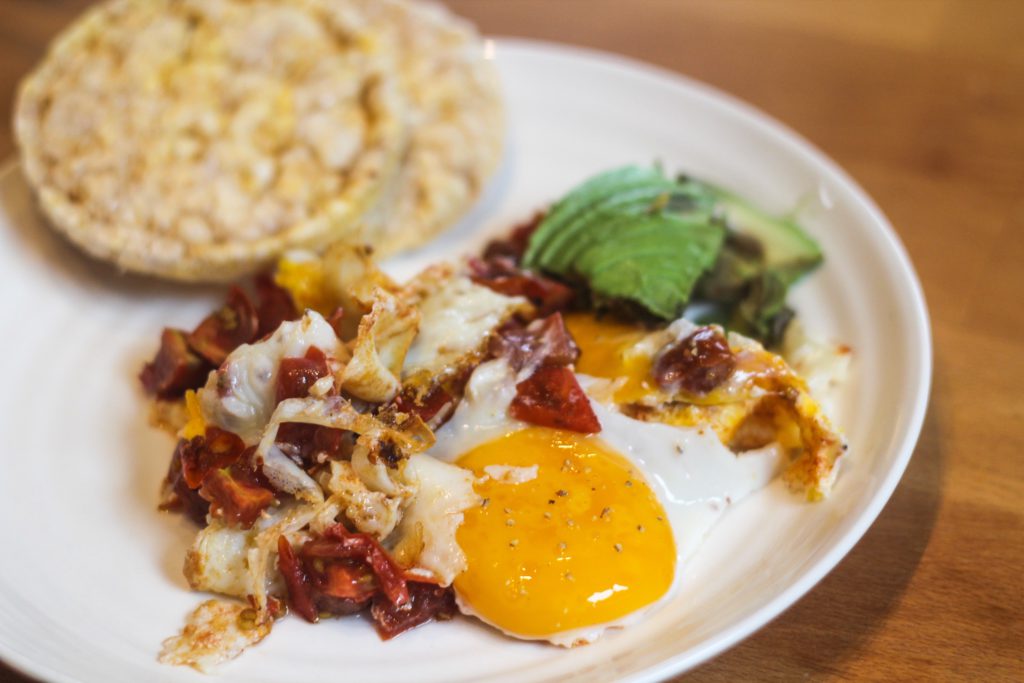 Gebakken ei met cherry tomaten, avocado en omdat ik geen brood meer had heb ik het met maïswafels gegeten.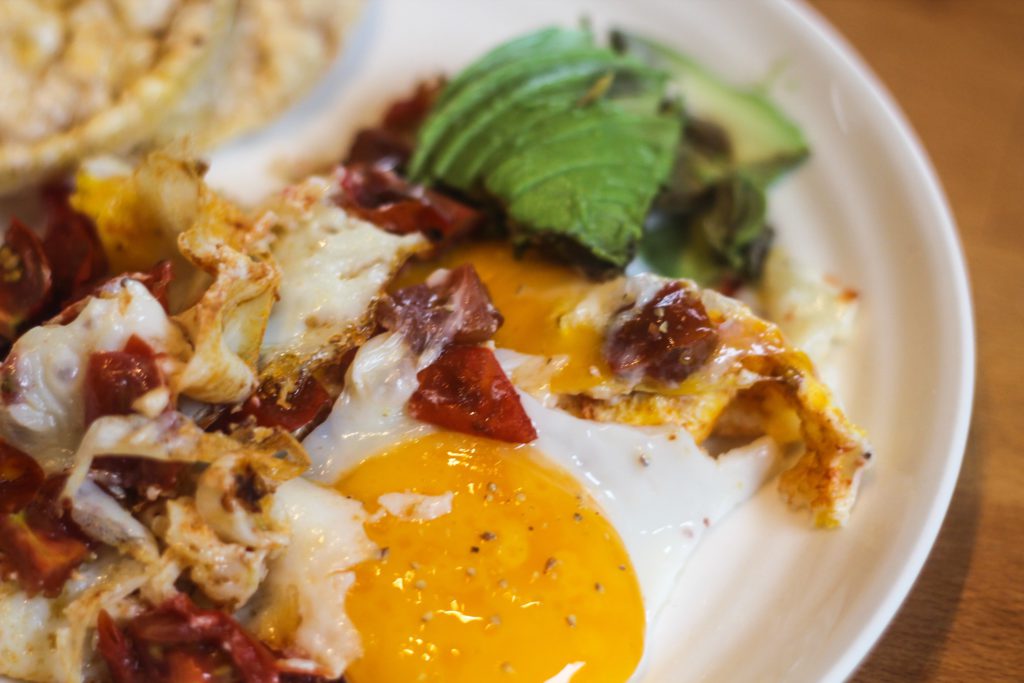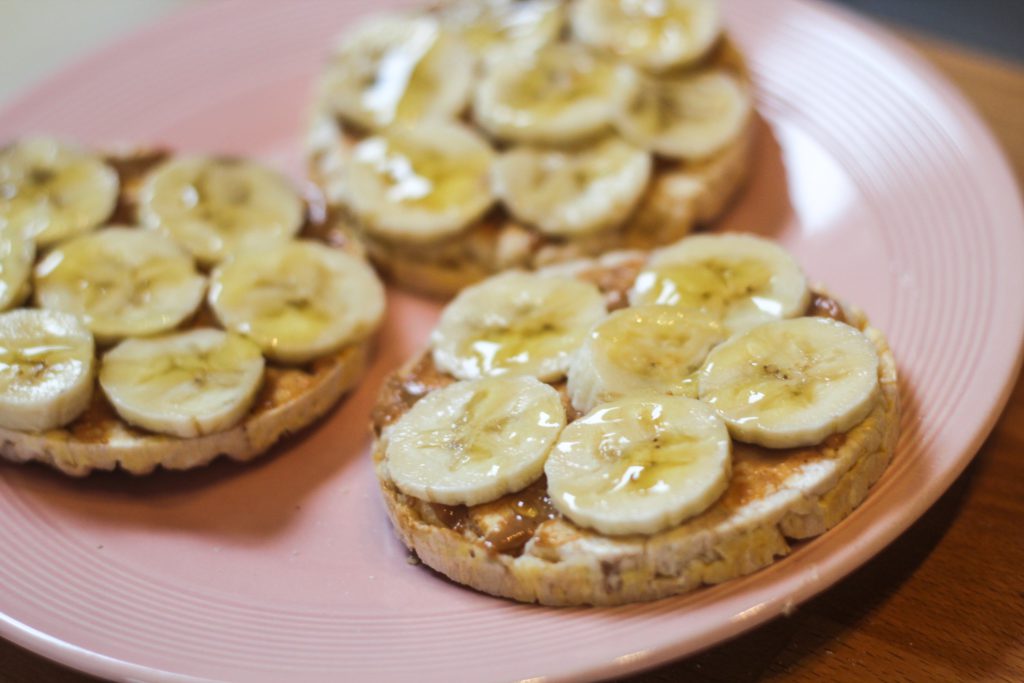 En we sluiten af met de maïswafels 2.0!
Wat heb jij van de week gegeten wat je NU direct nog een keer zou willen?
Voor mij was het Indiaas eten (besteld) bij mijn moeder – ook al heb ik daar geen voedingsdagboekfoto van. Ik moet watertanden als ik er weer aan denk..