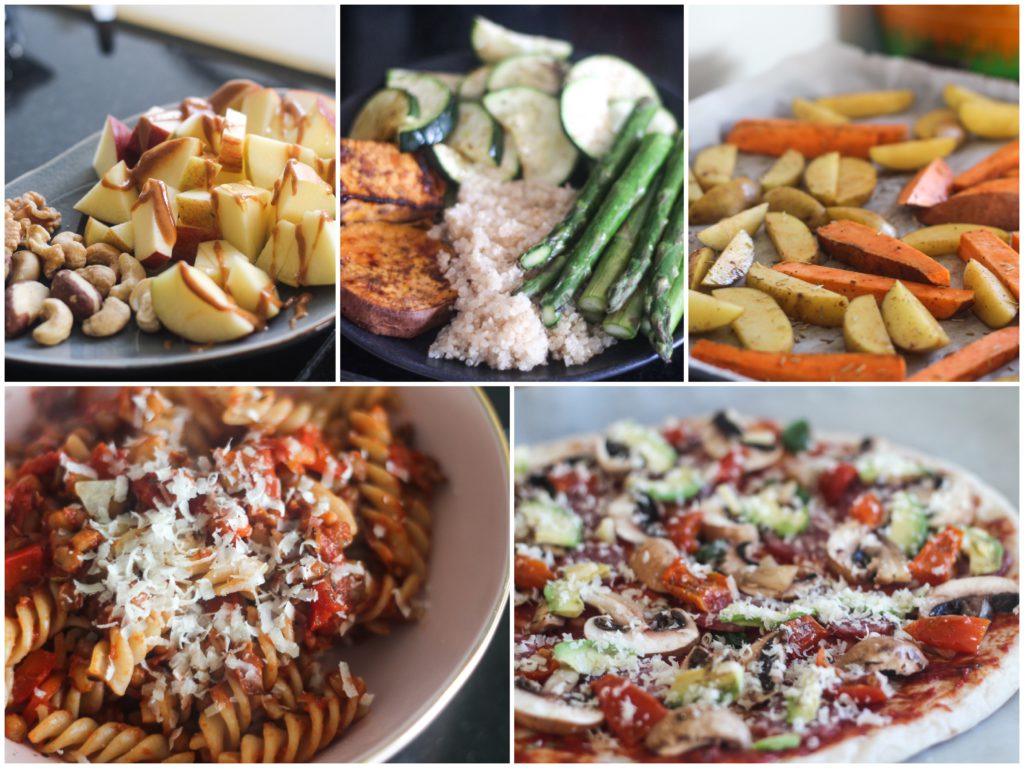 Er is weer een week voorbij bomvol heerlijk eten – al zeg ik het zelf. Zoals gewoonlijk weer erg kleurrijk, veel groente en fruit maar ook de iets minder gezonde dingen waar ik van geniet. Ik verbied mezelf niets, ik zie alles als 'opties' en probeer ze met intentie te eten. Daarmee bedoel ik dat ik niet zomaar wat naar binnen schuif omdat het er toevallig is of omdat ik me emotioneel voel. Alles met de intentie om mijn lichaam en/of geest te voeden. Ik geniet van wat lekkers in plaats van het te eten om me beter te voelen op een rotdag. Het is een proces en ik hoor vaak mensen zeggen dat ze een 'emotionele eter' zijn en dat dát hun probleem is – ik geloof daar niet zo in (lees hier waarom) en ik vind ook niet dat je je daarmee moet identificeren als je verandering wilt.
Hoe dan ook, dit is een voedingsdagboek en geen diepzinnig artikel 😉 Laten we kijken naar wat foto's van eten met intentie! Dan weet je in ieder geval mijn gedachte erachter 😉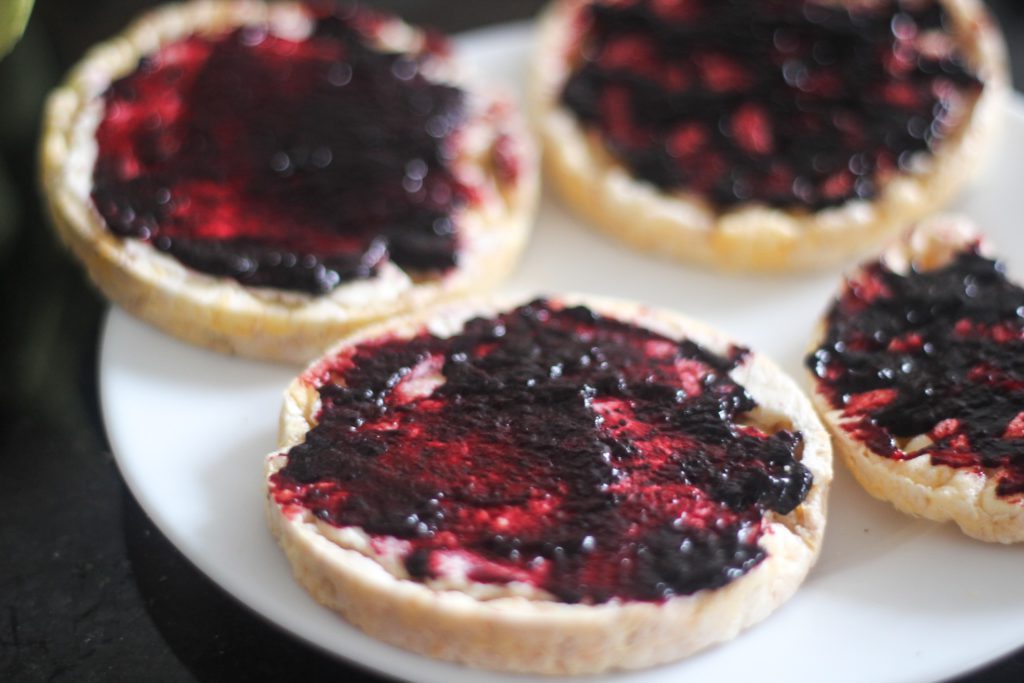 Ik had sinds vorige week ineens zóveel zin in jam en kaas – dat geeft me altijd een vakantie gevoel. Dus besloot ik een heerlijke bosbessenjam te halen bij de Marqt en een biologische zuivelspread. Deze twee gecombineerd op een maïswafel – hmm!! Of ja, maak er 4 maïswafels van 😉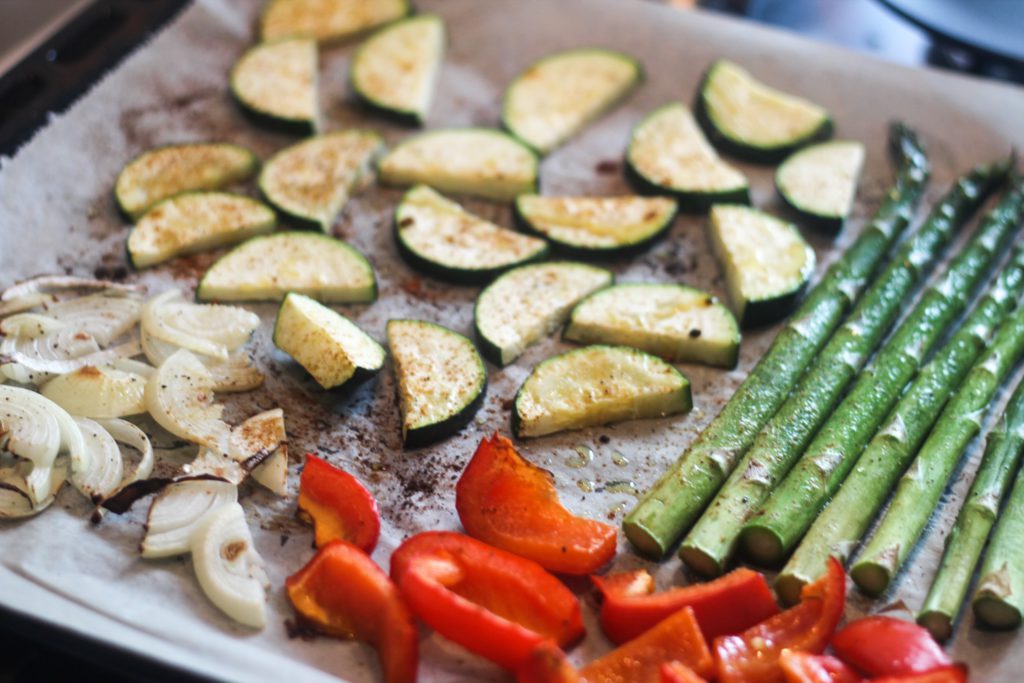 Groente uit de oven is misschien wel mijn favoriete en simpelste manier om gezond te eten. Asperges, paprika, courgette en wat ui.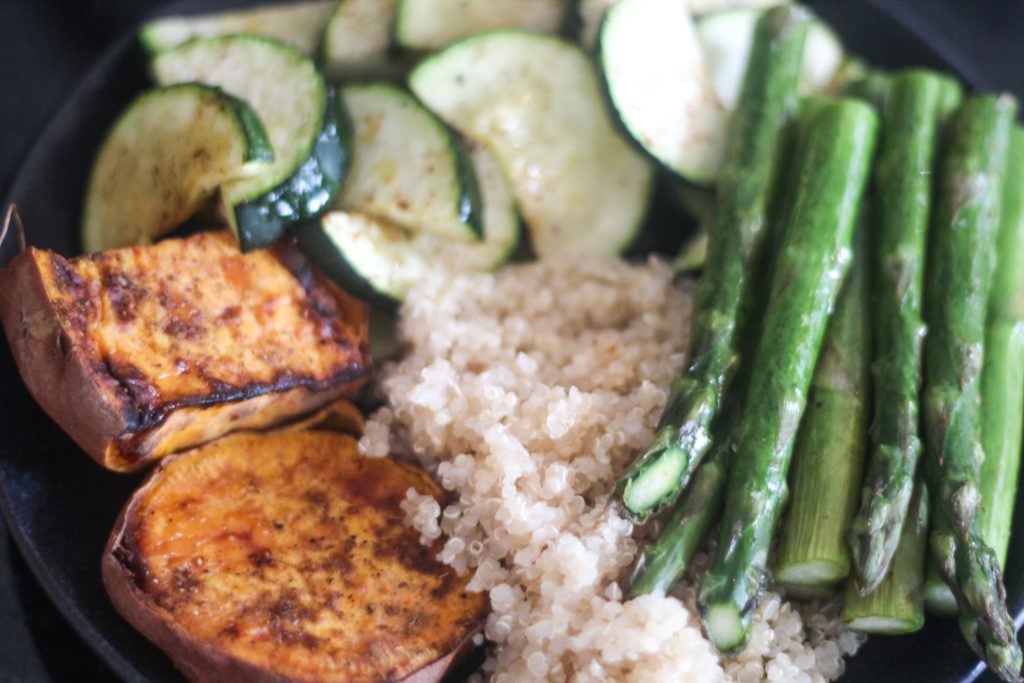 Dit at ik met zoete aardappel en quinoa dat ik eerder had klaargemaakt.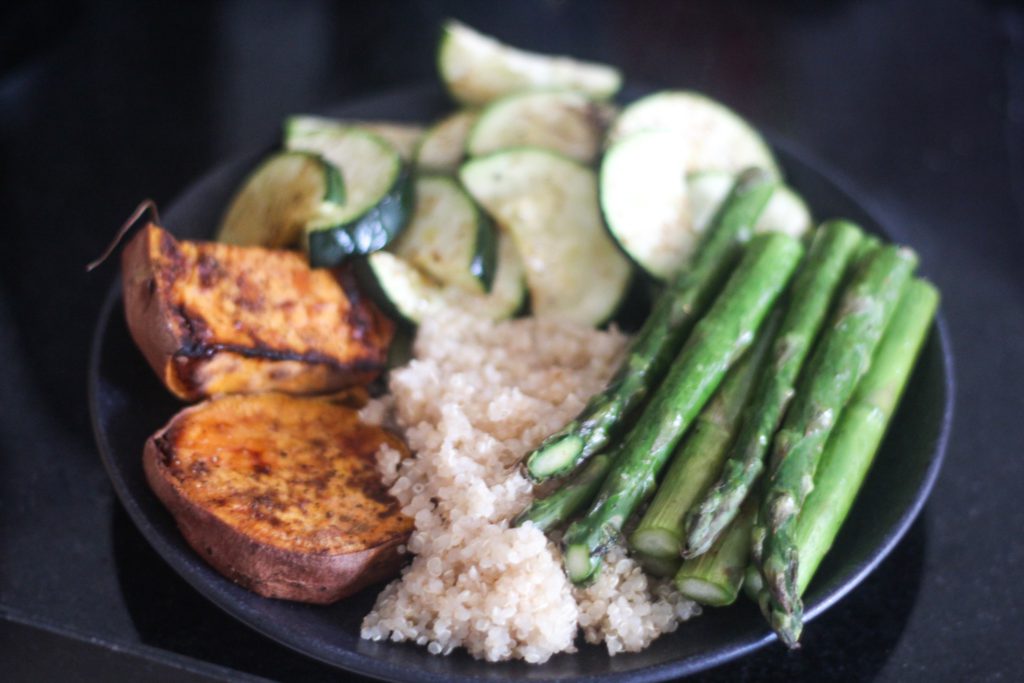 Mag ik weer even in deze foto duiken en dit eten?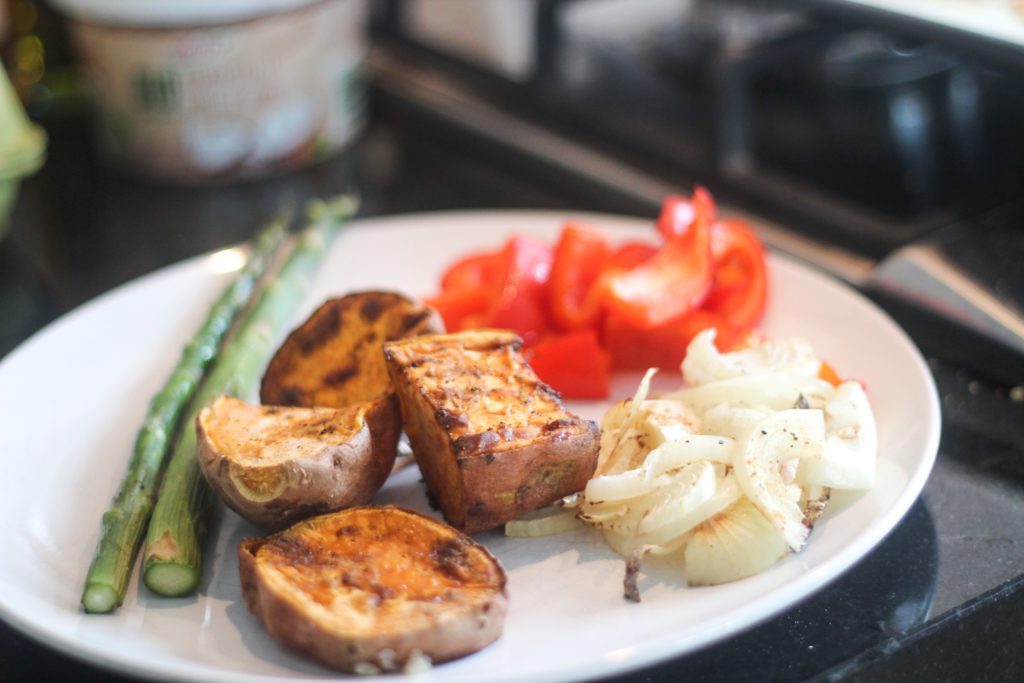 Dit was Boy zn bord (er kwam nog vlees bij), haha check de twee asperges 😉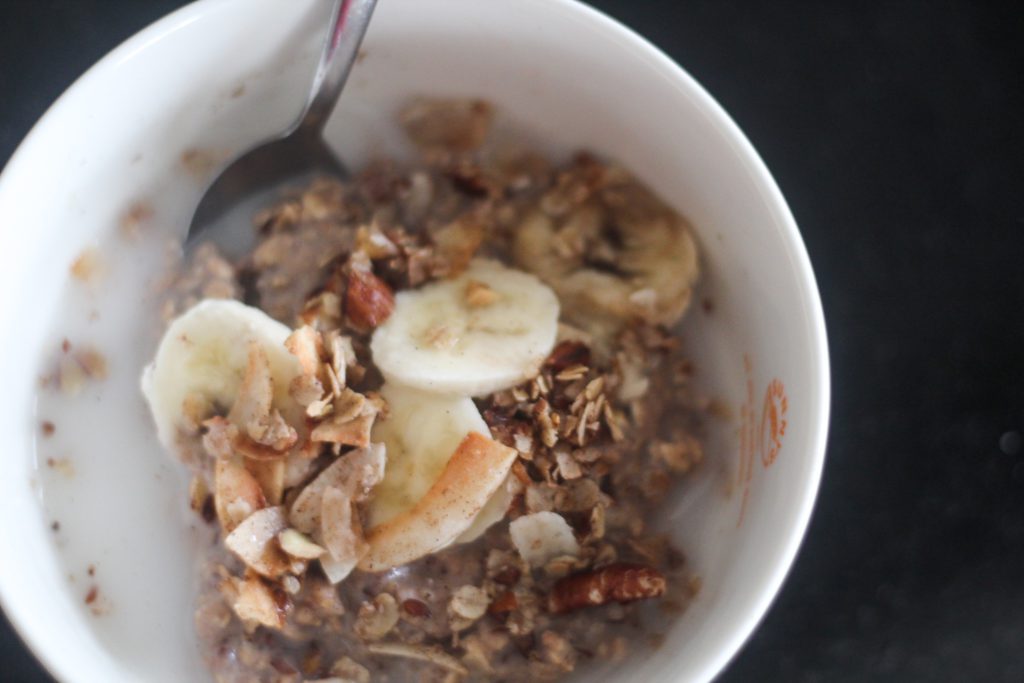 Warme havermout met wat koude amandelmelk erbovenop (ik vind dat smeuïge heel lekker) getopt met banaan, pecannoten en kokos.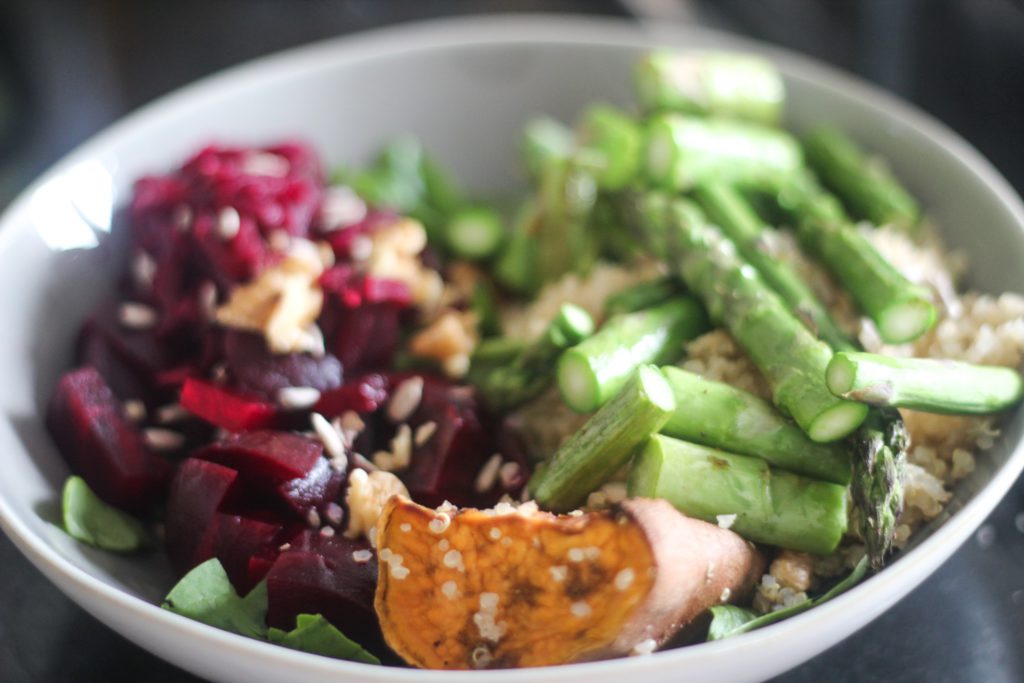 Quinoa, asperges, zoete aardappel, rucola, rode biet en een soort gefermenteerde rode biet met goji bessen (van de EkoPlaza) getopt met zonnebloempitten.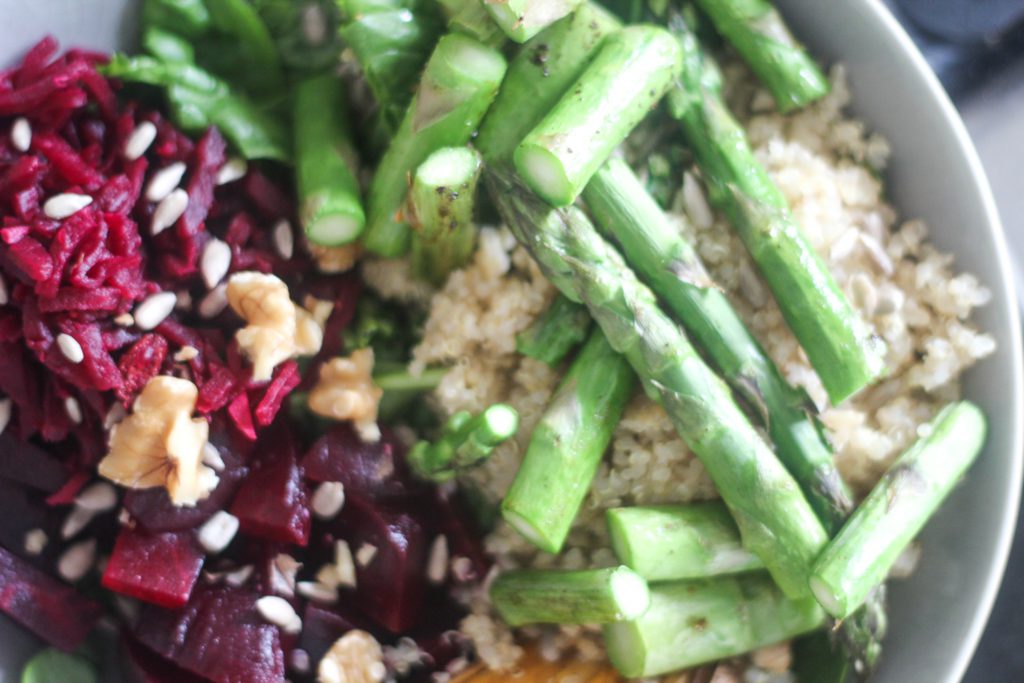 En blijkbaar had ik er ook wat walnoten overheen gedaan 😉 Super voedend en lekker!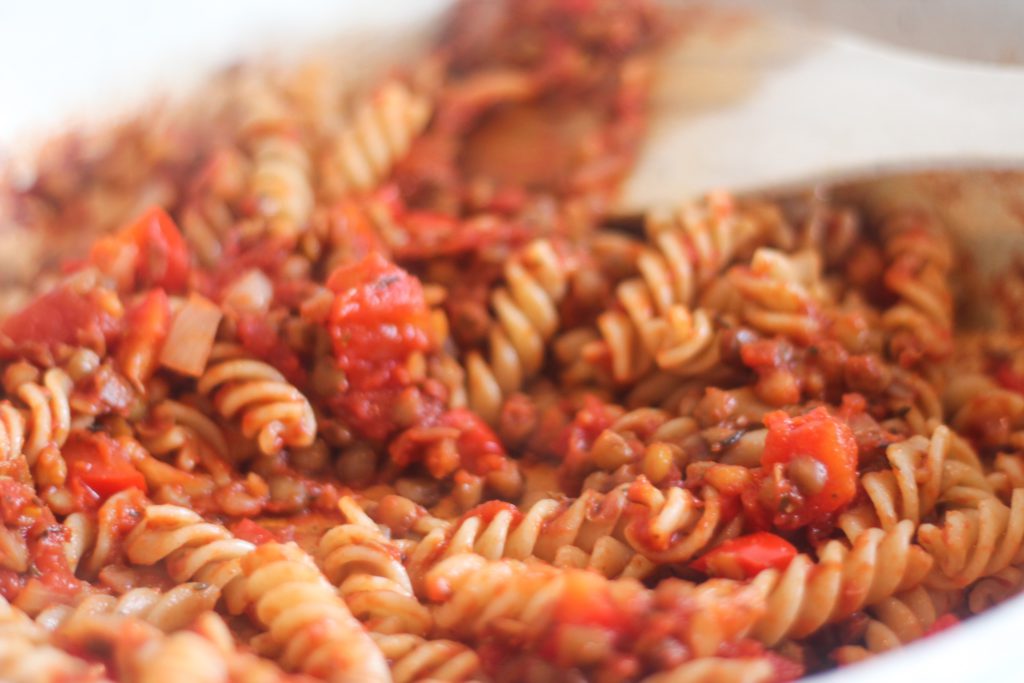 Linzenpasta met linzen (hallo eiwitbom!) in een saus van tomaat, rode paprika, tomatenpuree, ui en Italiaanse kruiden.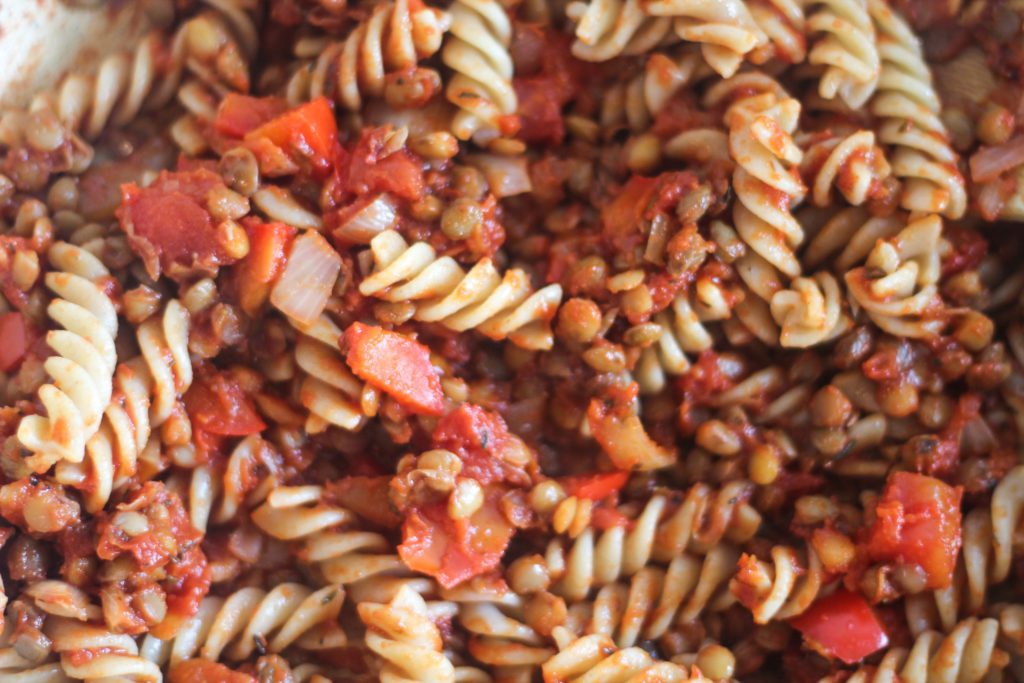 Een heerlijke hartverwarmende maaltijd noem ik dit.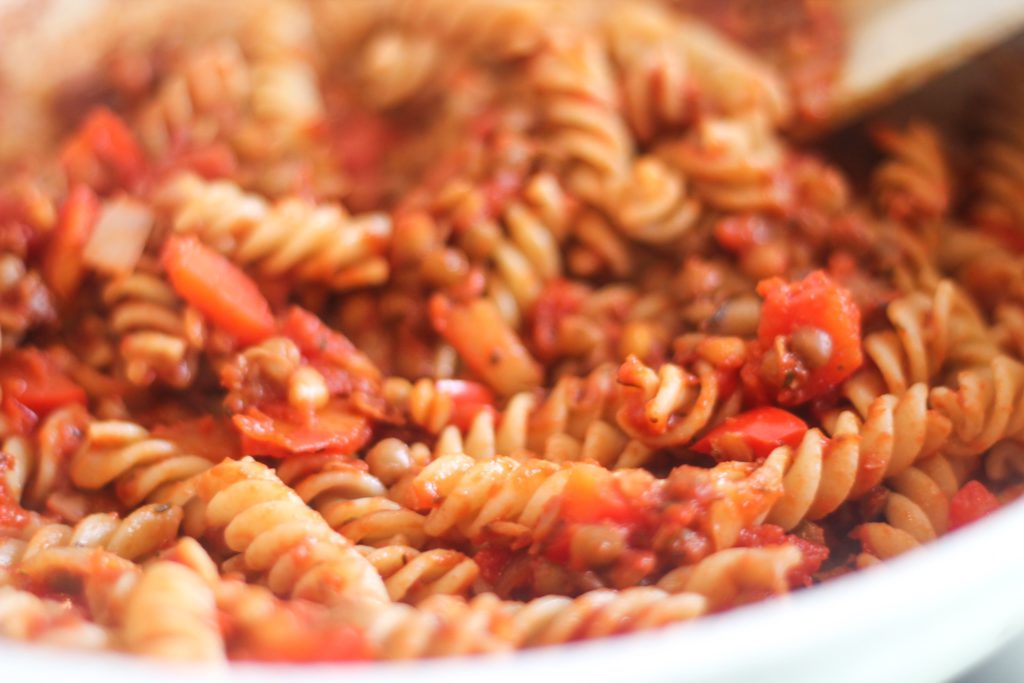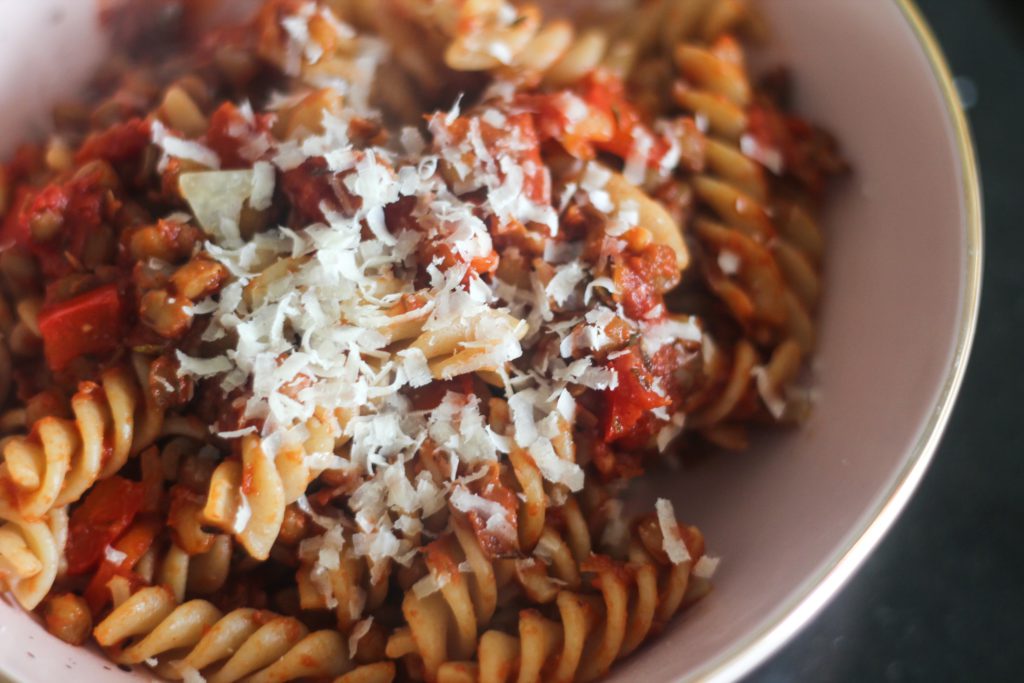 Getopt met parmezaanse kaas van de Marqt. Ik houd ervan om zoveel mogelijk biologisch te kopen, maar dat lukt niet altijd qua budget en ik voel me er ook niet schuldig over. Zuivel probeer ik de laatste tijd alleen maar biologisch te kopen.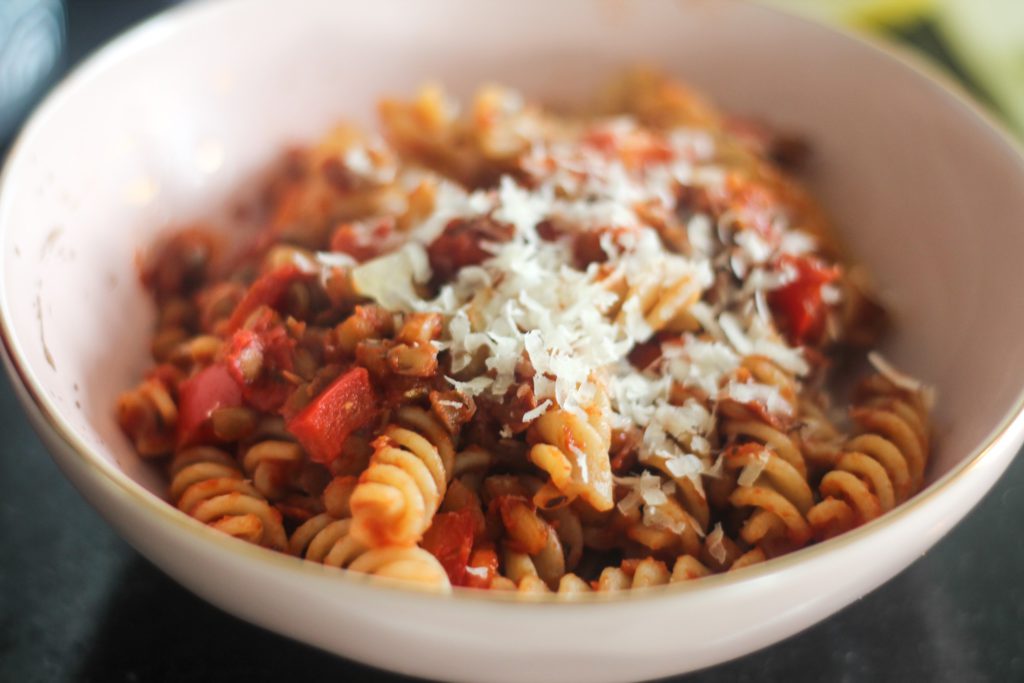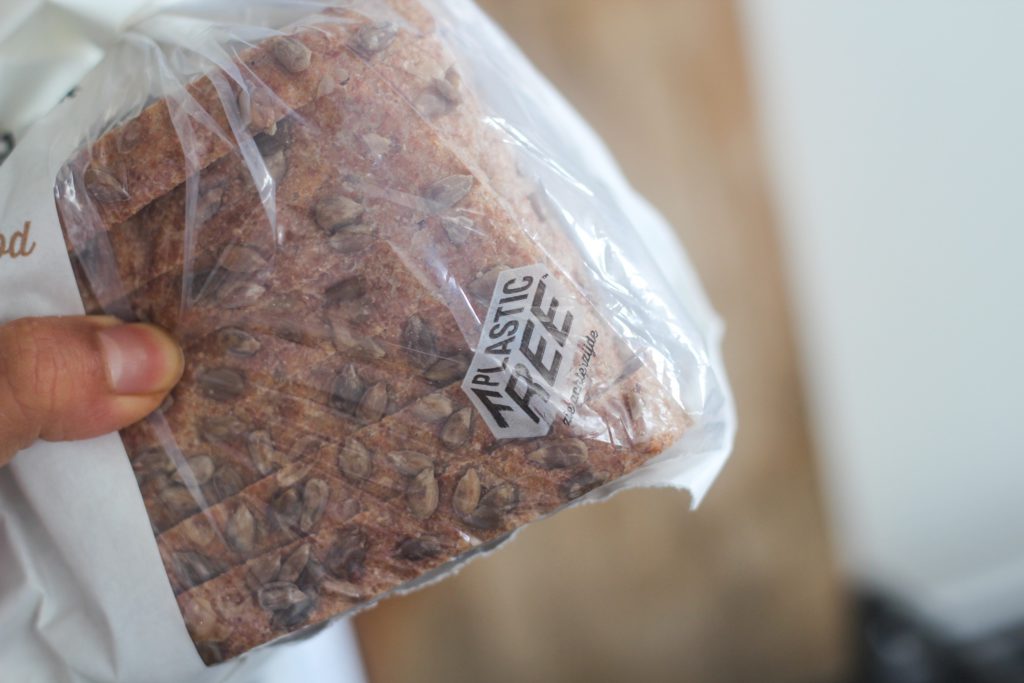 Het voordeel van biologische supermarkten waar de producten vaak met zorg op de markt zijn gebracht, waaronder dit brood dat plasticvrij is ingepakt.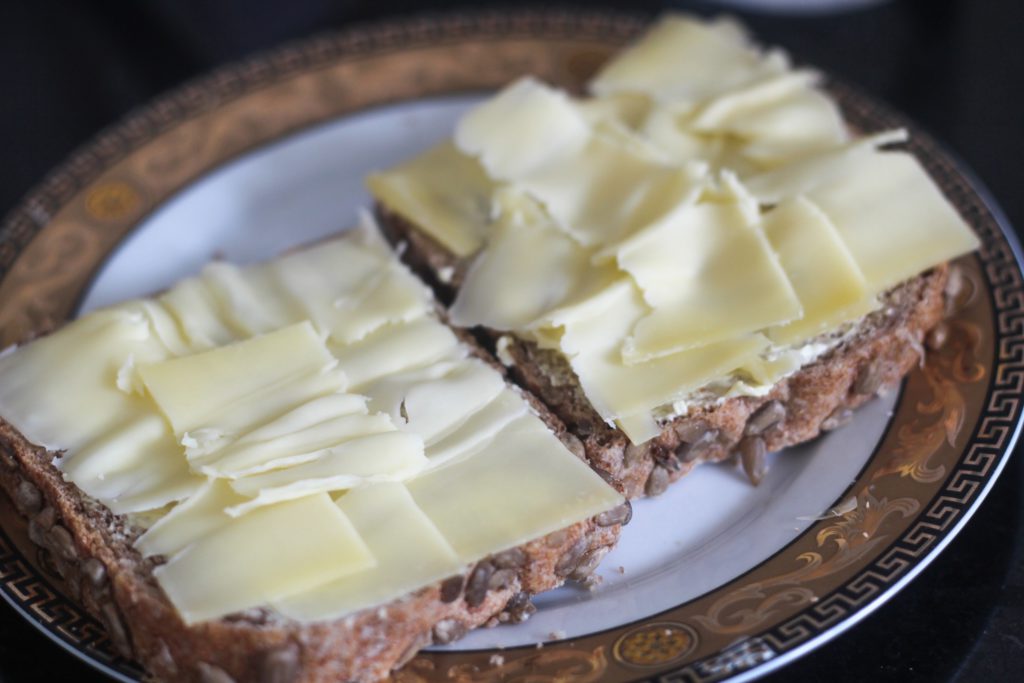 Heerlijk getopt met kaas. De kaasschaaf zat nog ergens in een verhuisdoos dus heb ik het met een aardappelschiller moeten 'schaven' haha.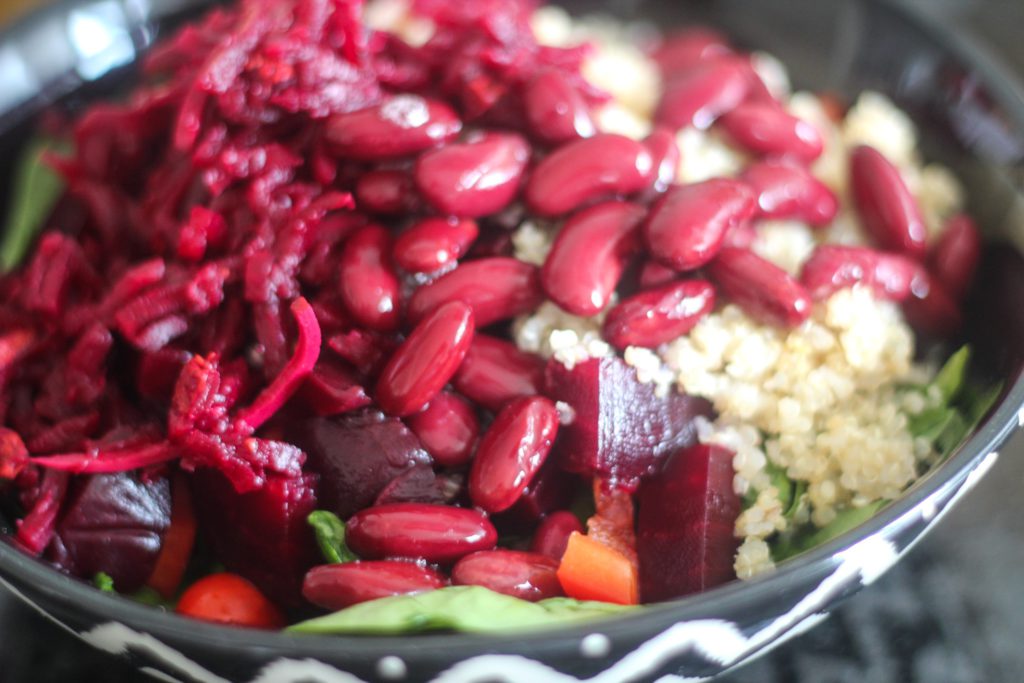 Salade van spinazie, quinoa, kidney bonen, paprika, rode biet en die gefermenteerde rode biet met goji bessen – heerlijke bite!
Gemengde noten met een appel + pindakaas. Heerlijk voedende en vullende snack.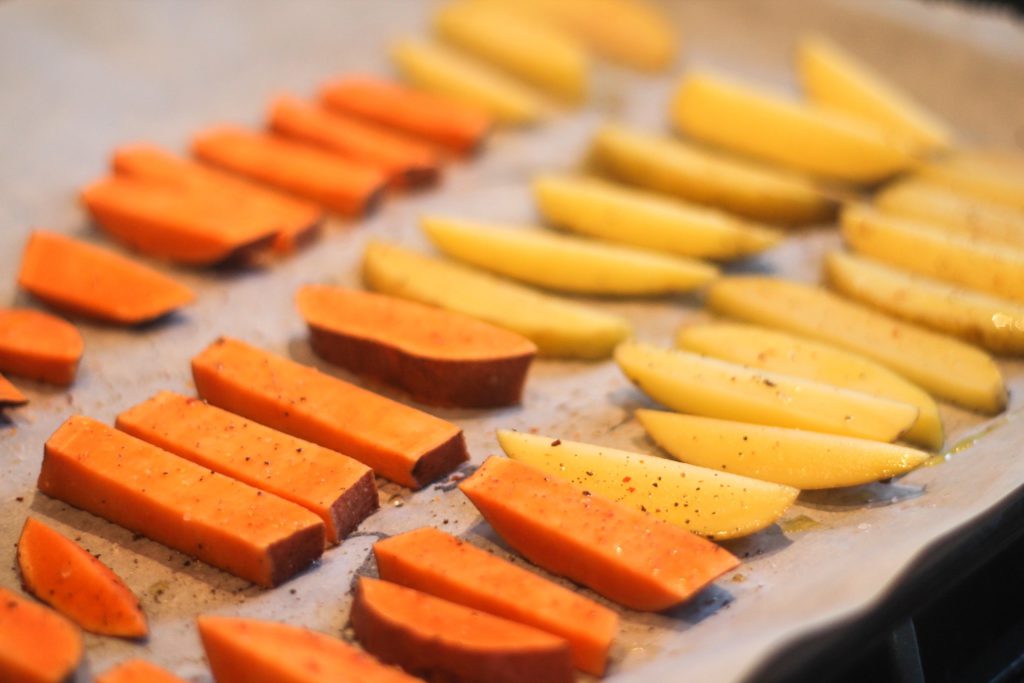 Aardappelen uit de oven zijn ECHT mijn ding de laatste tijd. Ik geniet er enorm van. Hier gemarineerd met kokosolie, peper, zout en wat chilivlokken.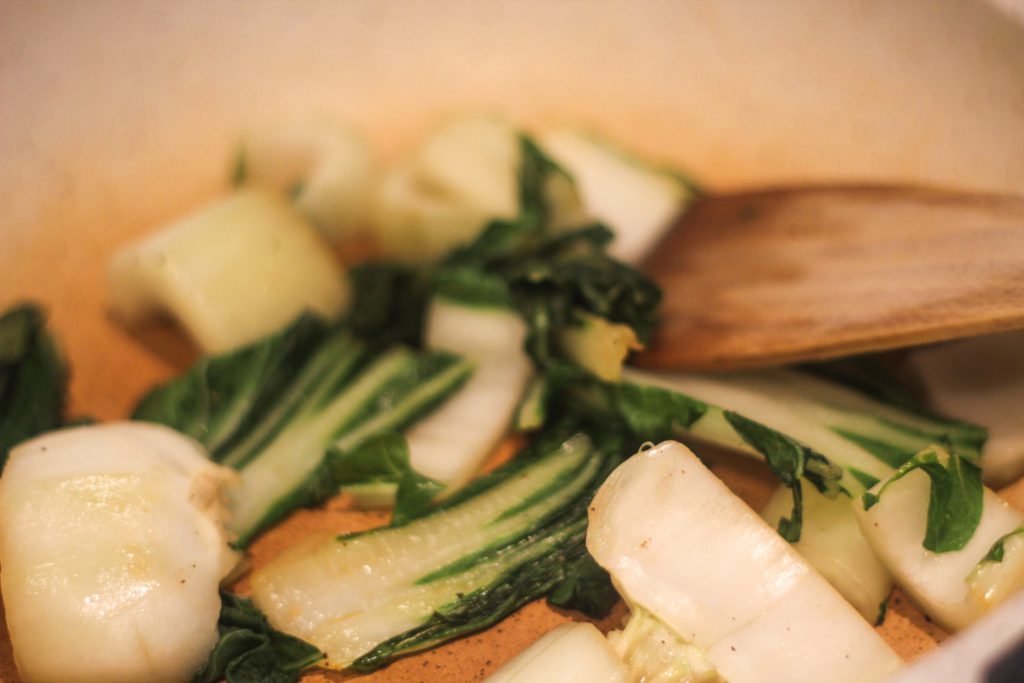 Gebakken paksoi
Dit bij elkaar met wat restjes asperges en klaar is een simpele maaltijd. Niet heel 'volwaardig' als in, waar zijn de gezonde vetten? en eiwitten? Maar ik had hier gewoon zin in – ik maak het mezelf niet te moeilijk.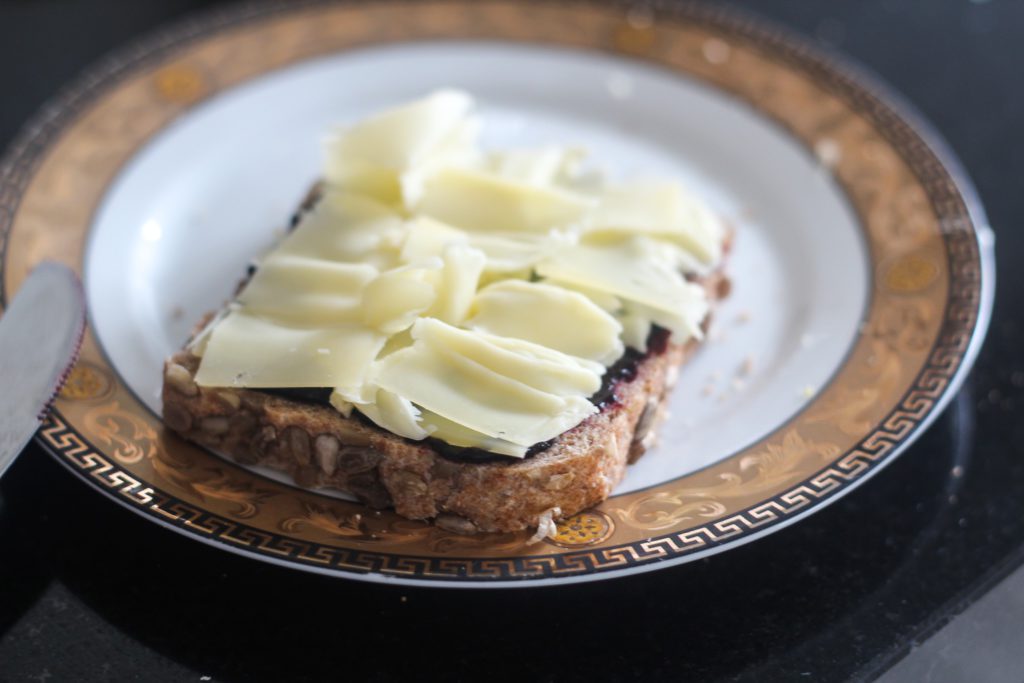 Daar is het vakantiegevoel weer, brood met jam en kaas.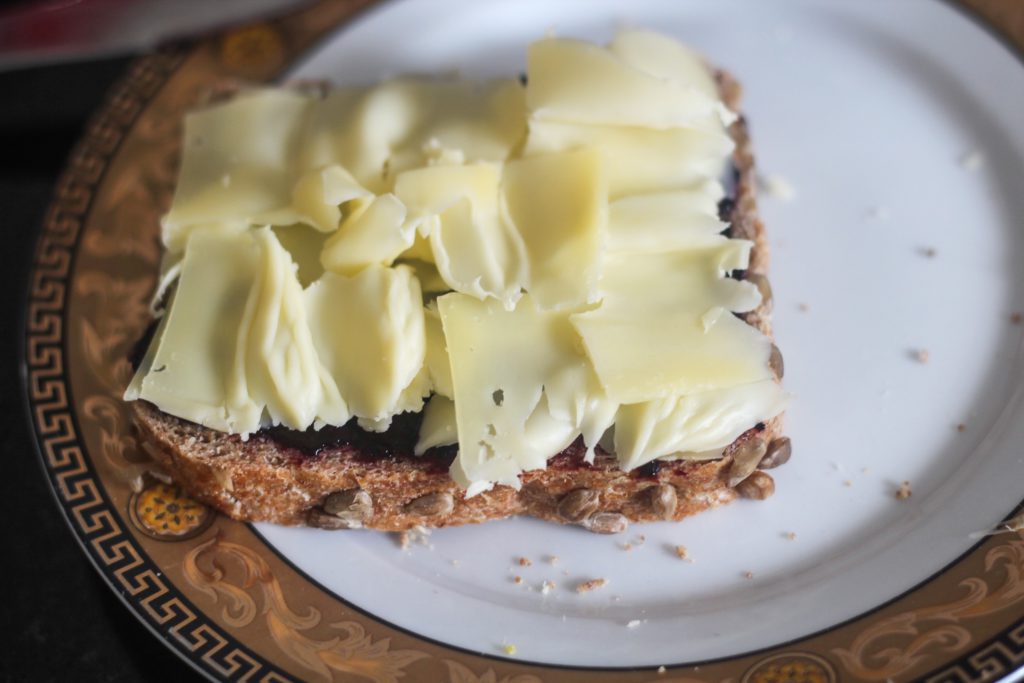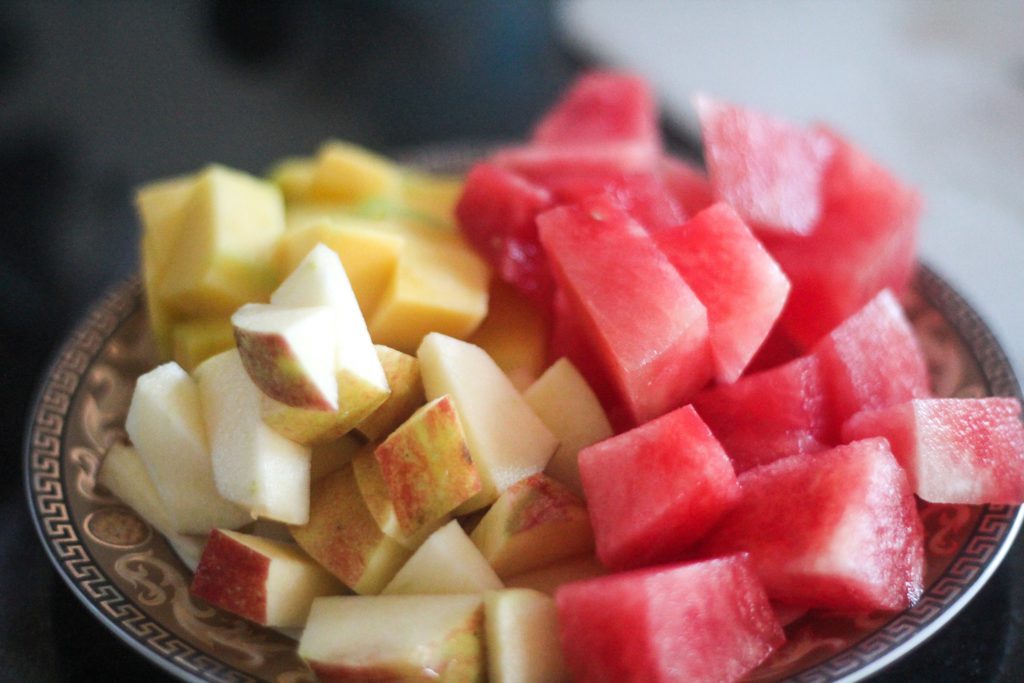 Snacken op fruit en een flinke hoeveelheid ook! appel, mango en watermeloen.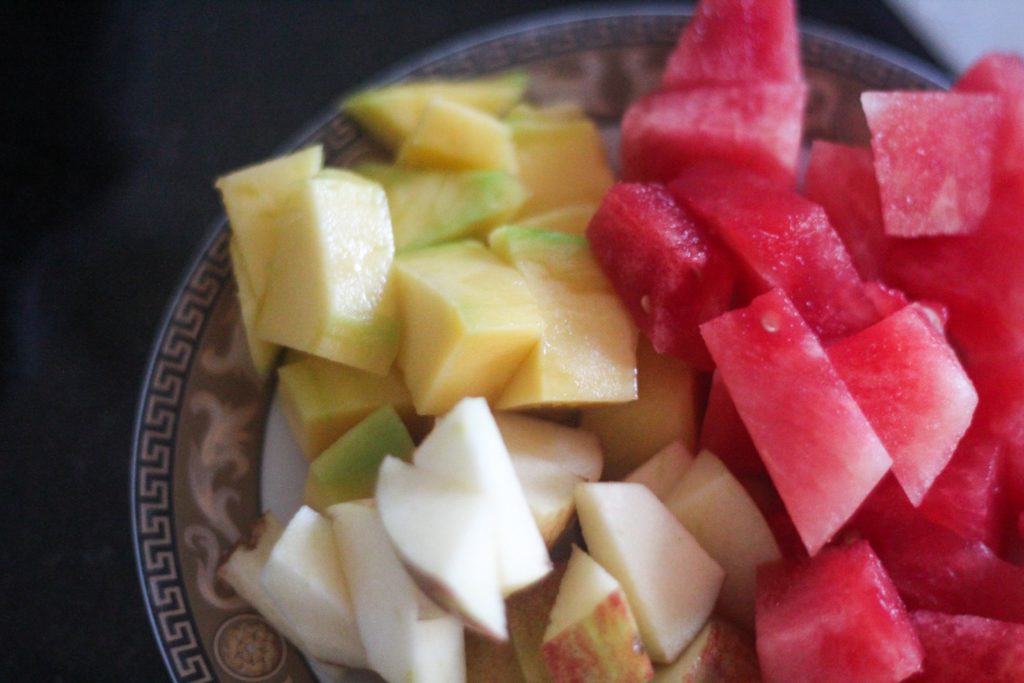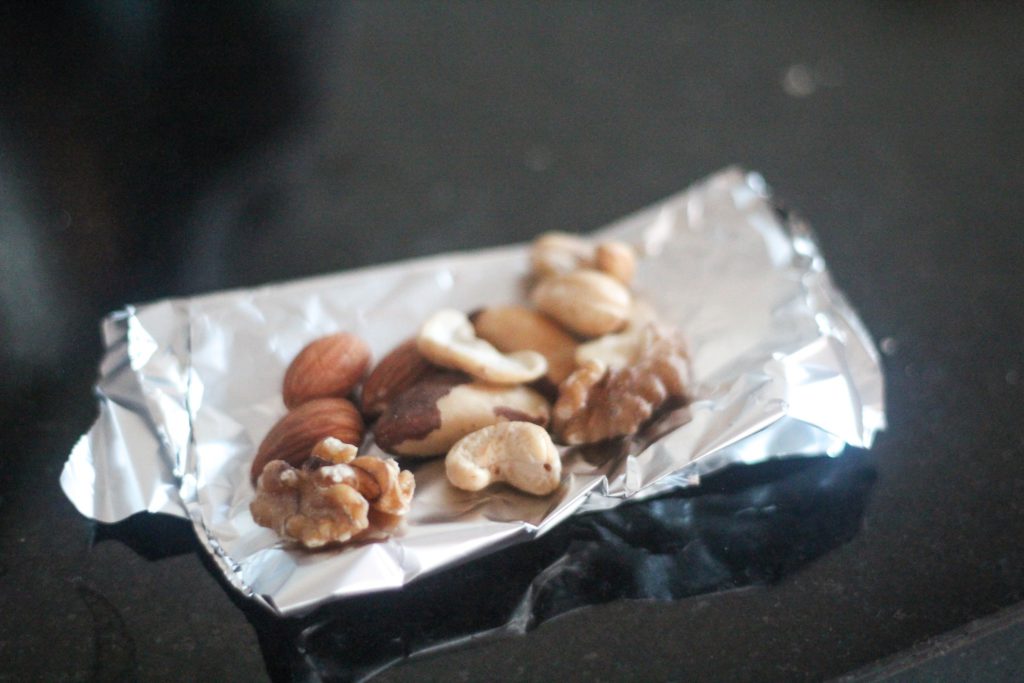 Met wat gemengde noten om me langer vol te voelen – en omdat ze heel lekker zijn natuurlijk.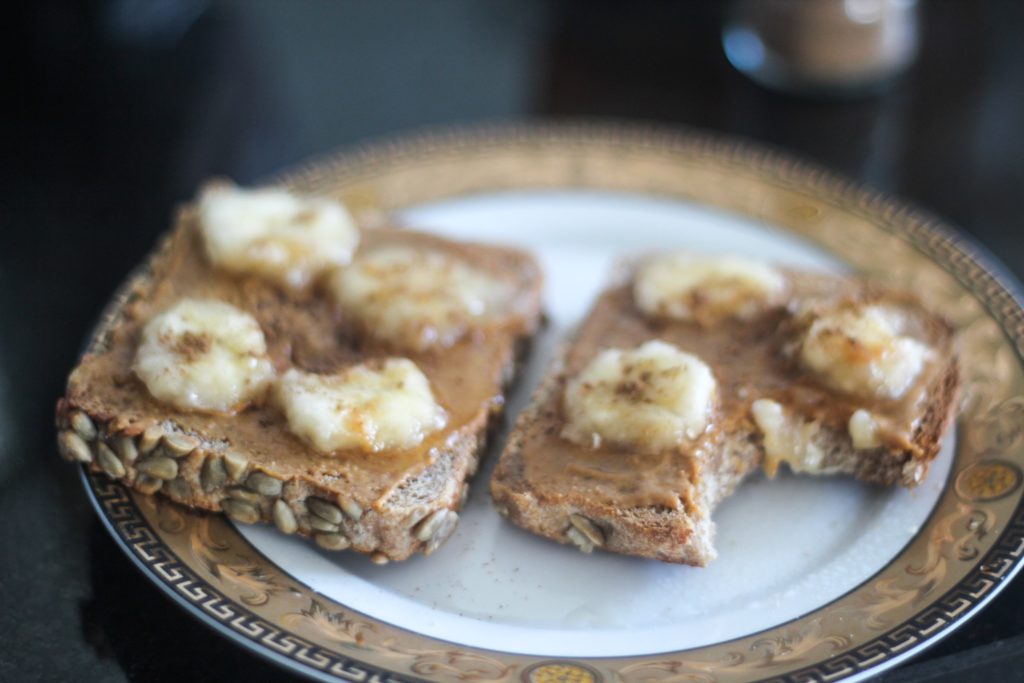 Oeps, een hap is al weg voor de foto werd gemaakt. Brood met pindakaas, banaan en kaneelpoeder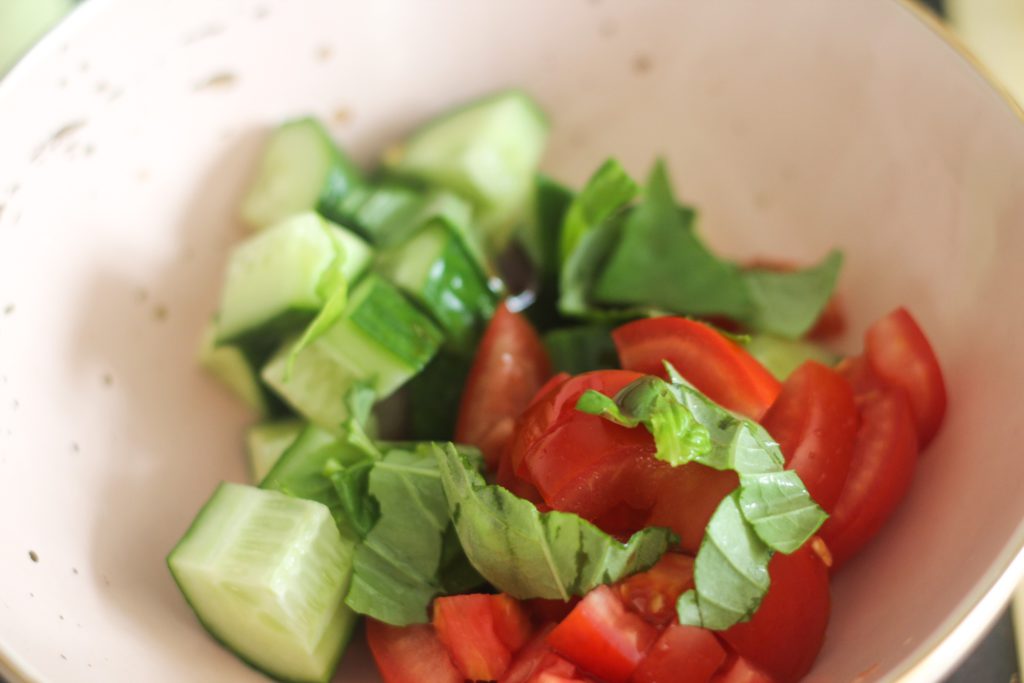 Mini tussendoortje: tomaat, komkommer en basilicum.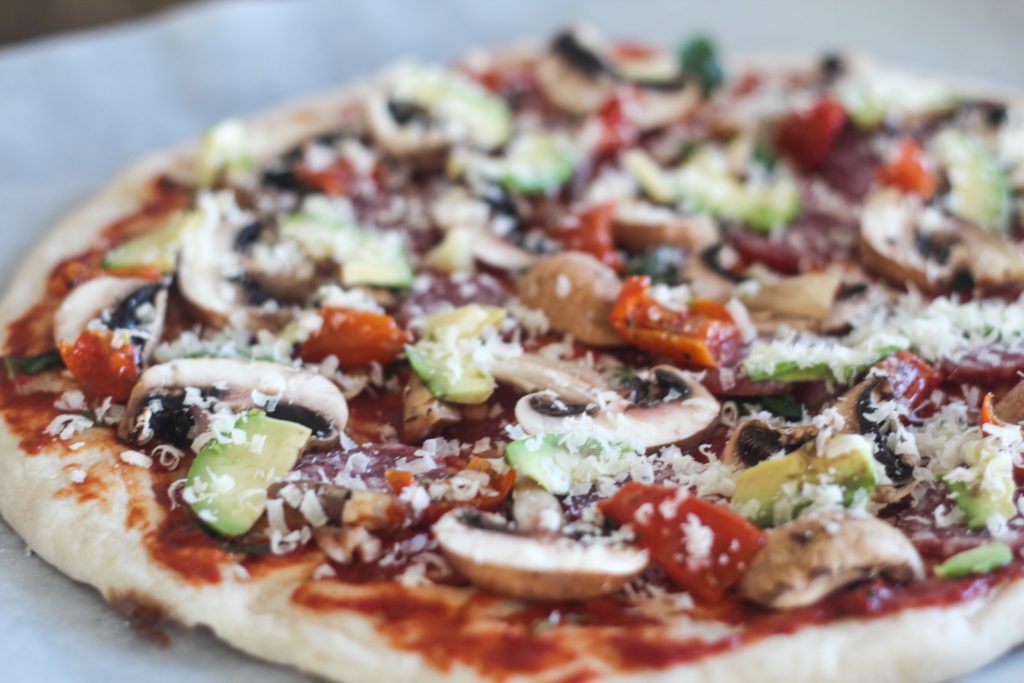 Bloemkoolbodempizza van de Lidl met wat tomatenpuree gemixt met ketchup (jep, zo'n type ben ik) als saus + champignons, zongedroogde tomaat, avocado, plakjes chorizo en geraspte parmezaanse kaas.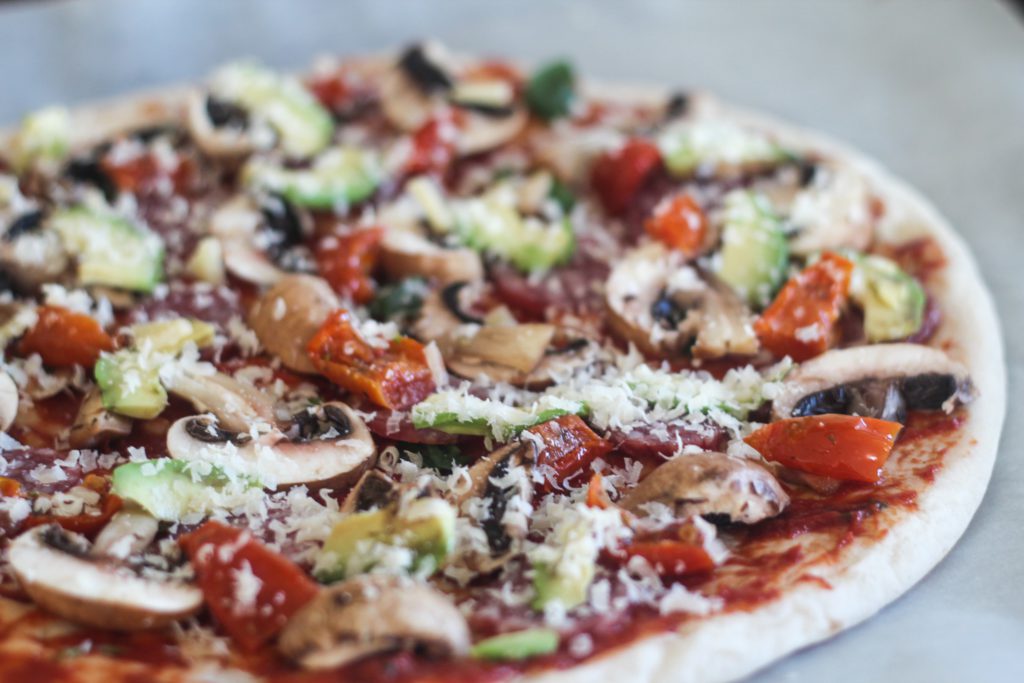 Dit was ZO heerlijk! Ik heb de helft opgegeten en de andere helft in de koelkast bewaard voor de volgende dag als lunch. De pizza is namelijk goed groot en zoveel honger had ik niet.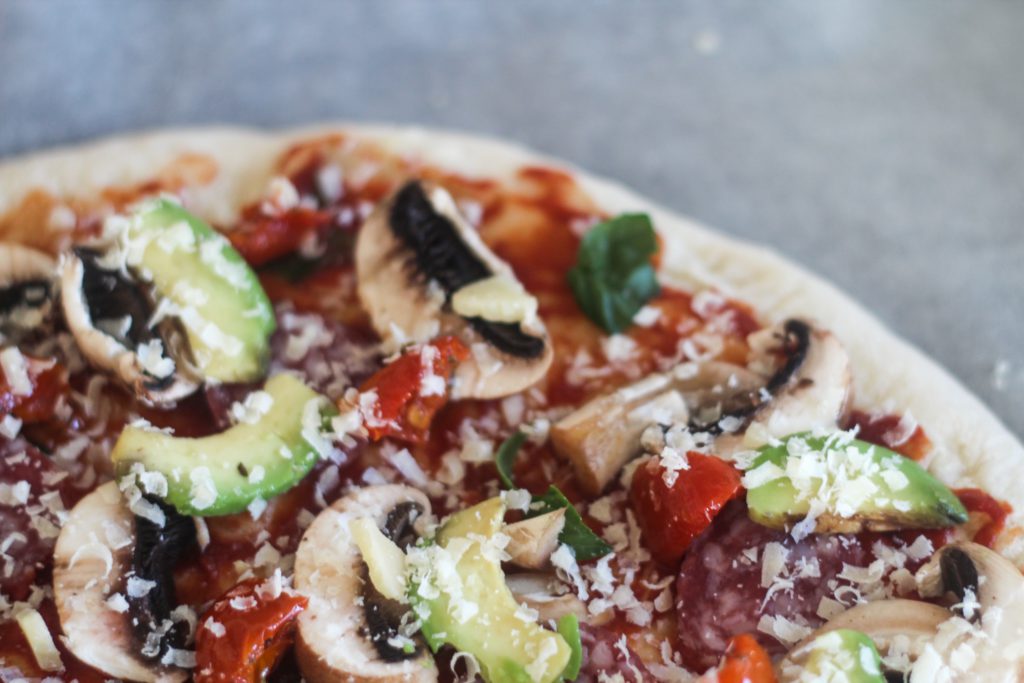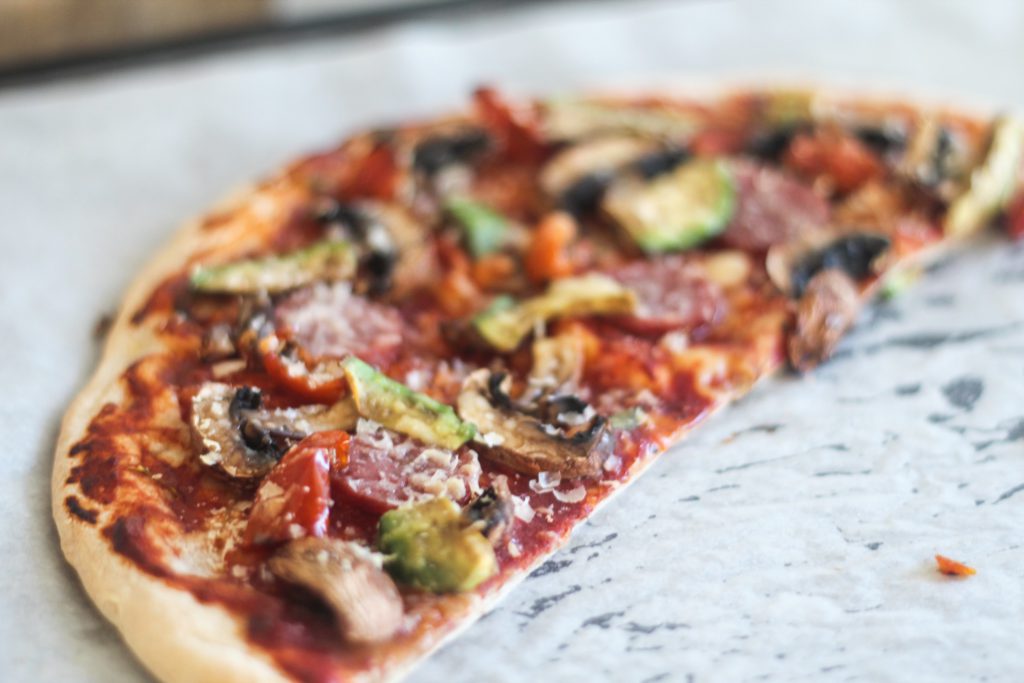 Het resultaat! Nouja, de helft dan 😉
De romige avocado en zongedroogde tomaat gaan zó goed samen – altijd een topcombinatie als je het mij vraagt.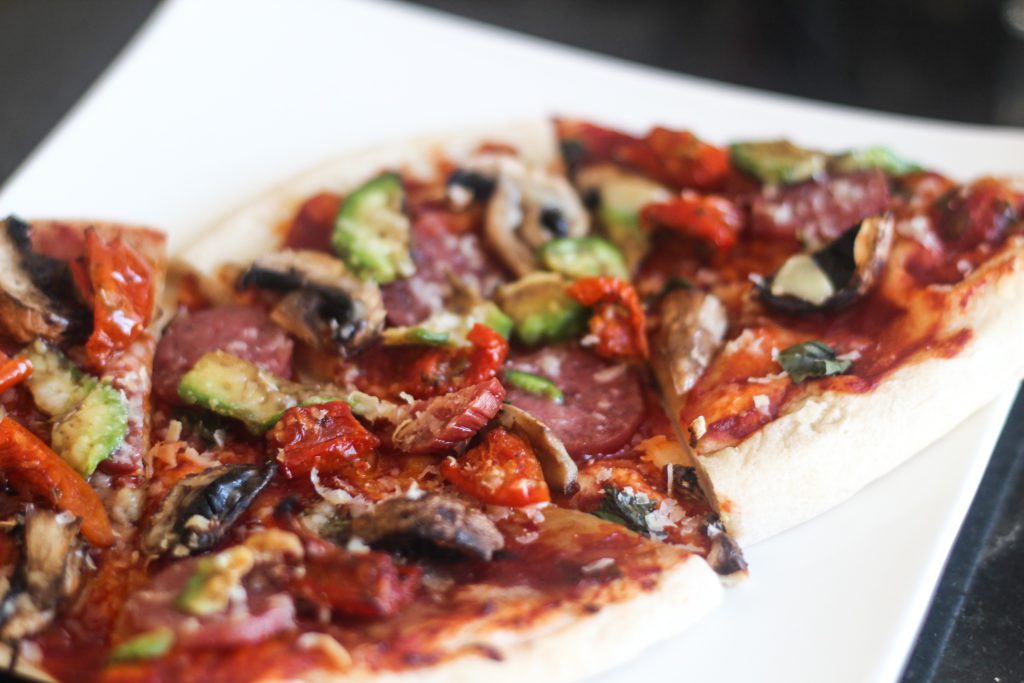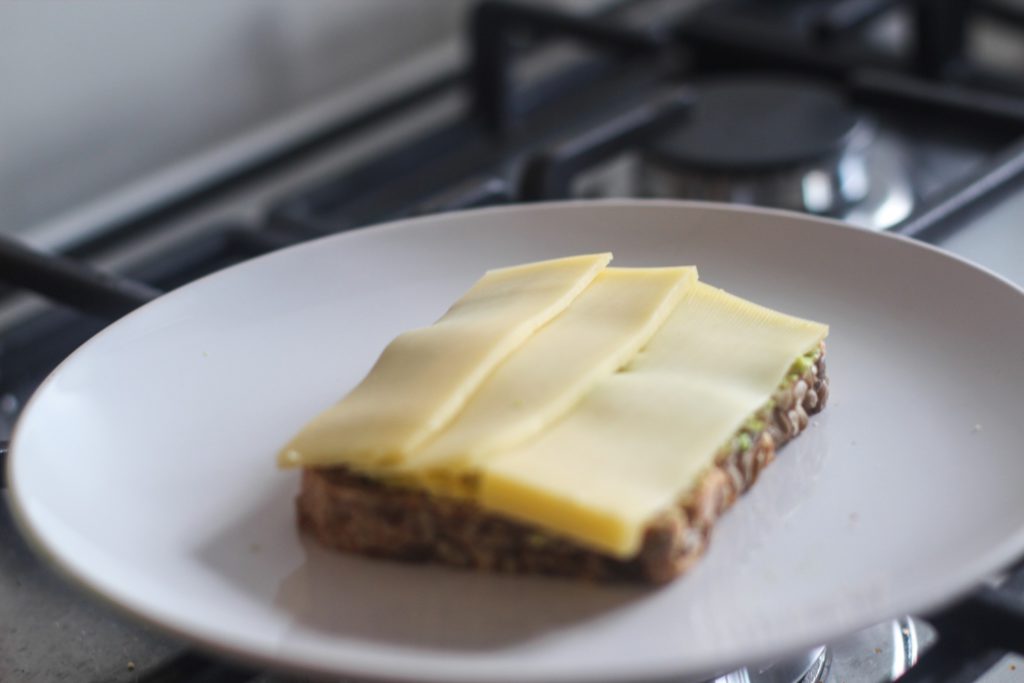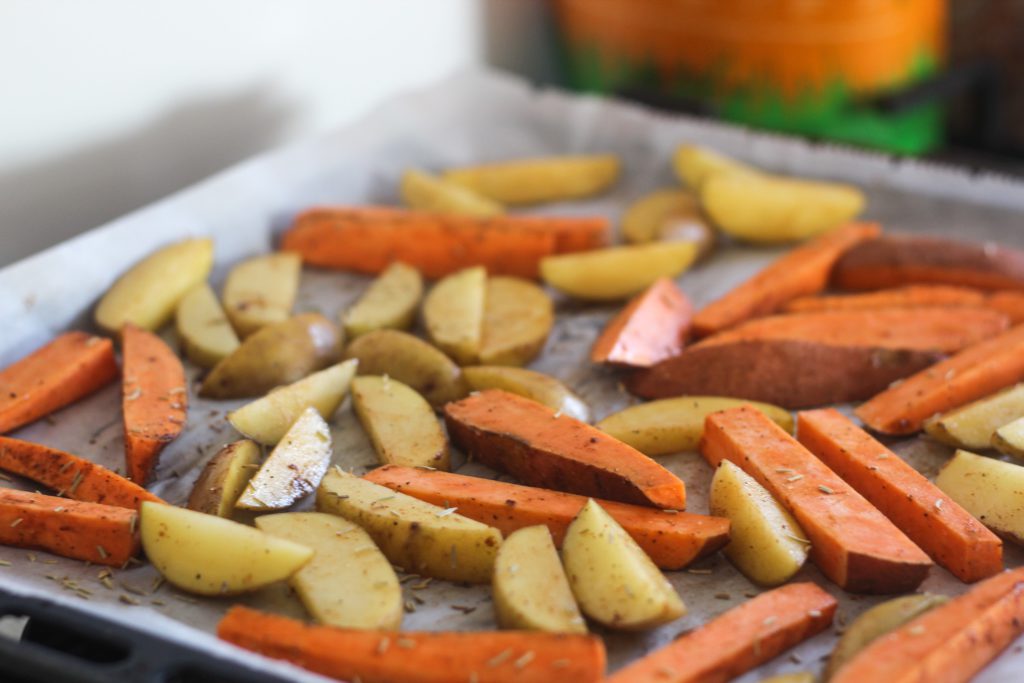 Daar gaan we weer, een heerlijke batch met gewone aardappel en zoete aardappel uit de oven. Met wat olijfolie, peper, zout en gedroogde tijm.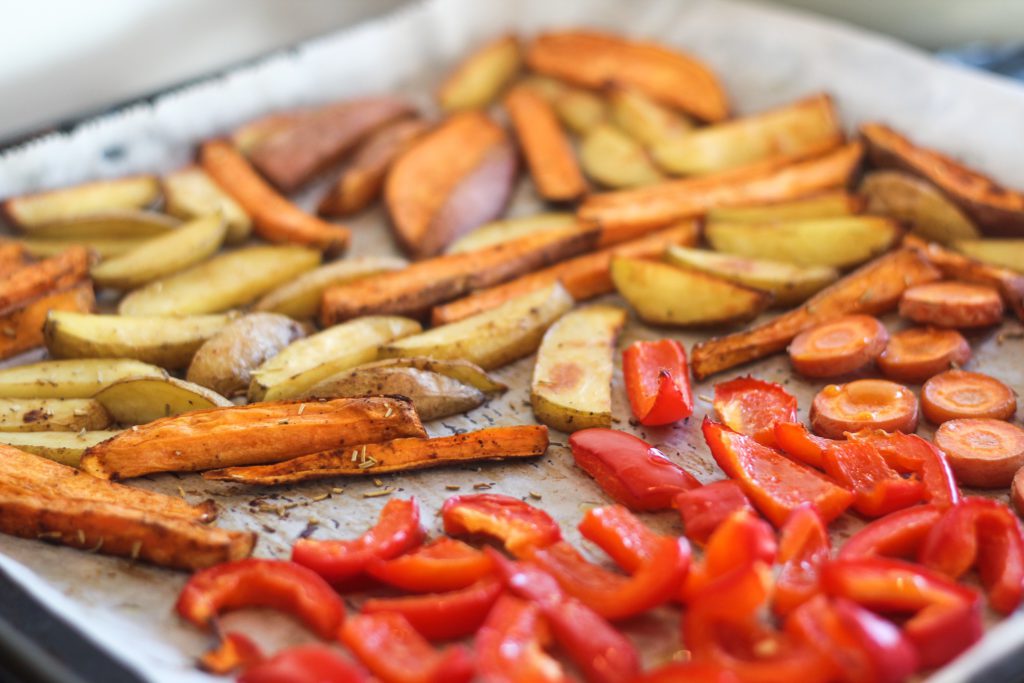 Daarbij had ik nog wat wortel en paprika toegevoegd. Hmmm, mag ik weer in deze foto duiken?
Hoop dat je hebt genoten van het voedingsdagboek van vandaag, laat het me gerust weten als er nog vragen zijn!
Geniet van deze zaterdag lieve mensen! <3