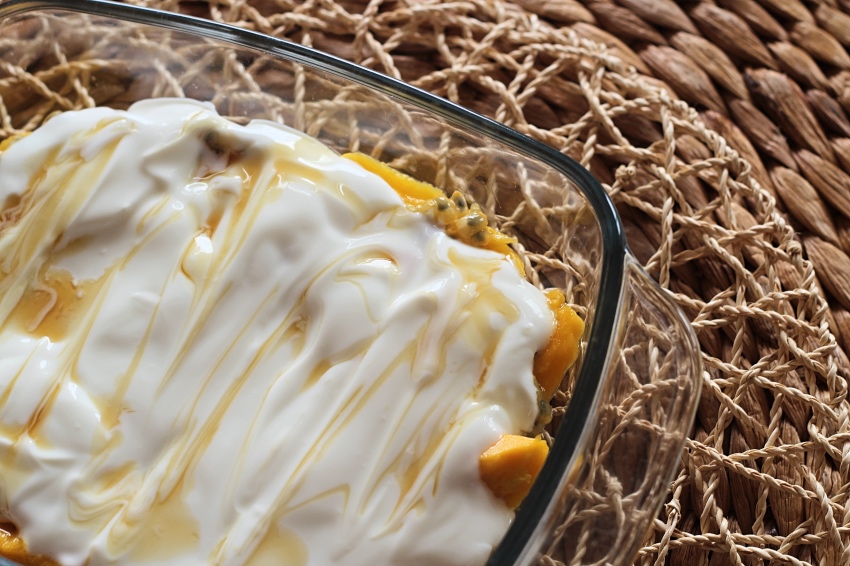 Als de zomer in volle gang is, dan is dit absoluut een heerlijk dessert (of een extravagant ontbijt) om alvast klaar te maken, in de koelkast te plaatsen en eruit te halen wanneer het tijd is voor het toetje. Bijvoorbeeld als je een barbecue dag hebt met vrienden in de tuin, of als je op visite gaat en wat mee moet nemen, of gewoon.. helemaal voor jezelf!
Het is simpel (geloof me, te simpel voor woorden), bomvol zomerse smaken en snel te bereiden! 
Wat heb je nodig voor 2 grote eters (verdubbel het als je voor 4 maakt bijvoorbeeld):
1 rijpe mango
2 passievruchten
Griekse yoghurt / Griekse stijl yoghurt
Honing en/of maple syrup
Suiker (bijvoorbeeld basterdsuiker of kokosbloesem, anders gewoon wit geraffineerd)*
*Optioneel, je mag het extra suiker weglaten als je dat wilt.
Nu begint het simpelste recept ooit; schil de mango en snijd hem in stukken/plakken. Leg deze onderin een ovenschaal. Verspreid de pulp uit de passievrucht over de mango laag en doe daar vervolgens de yoghurt overheen.
Als laatste bestrooi je het geheel met wat suiker, honing, maple syrup wat je maar wilt! Het is het mooist als het een suiker is met een bruine kleur zodat het zichtbaar wordt tegenover het wit van de yoghurt. Maak er wat swirls in met een vork en plaats het in de koelkast. Doordat je het even laat staan (in de koelkast) 'smelt' de suiker mooi in de yoghurt. Je kunt er zelfs met een brandertje overheen voor je het in de koelkast plaatst om de suiker te karameliseren, een extra mooi effect!
Je kunt er ook voor kiezen om hem zo'n 5 minuten in een hete oven (op de grill stand) te plaatsen zodat er wat belletjes ontstaan bovenop. Daarna kun je hem in de koelkast plaatsen. De smaken zijn dan wat meer met elkaar 'versmolten', maar dat hoeft natuurlijk niet.
Als het geheel wat afgekoeld is kun je het elk moment serveren en.. GENIETEN MAAR! Fris, romig en zó zomers. Eetsmakelijk! Scroll vooral even helemaal naar beneden om te zien hoe Boy en ik deze hele schaal in 10 minuten hebben opgemaakt!
Tip: kruimel er vlak voor het serveren wat Bastogne koek kruimels overheen!