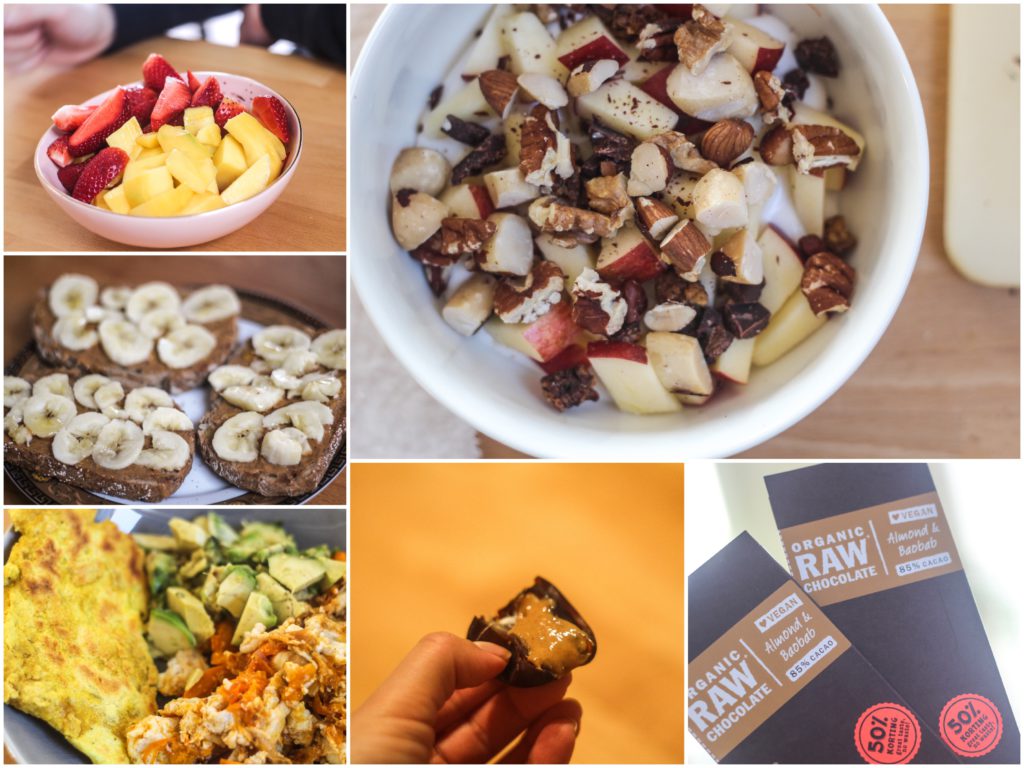 Het is weer tijd voor een heerlijk voedingsdagboek. Vol kleur, smaak en hopelijk ook wat inspiratie!
Op naar de foto's!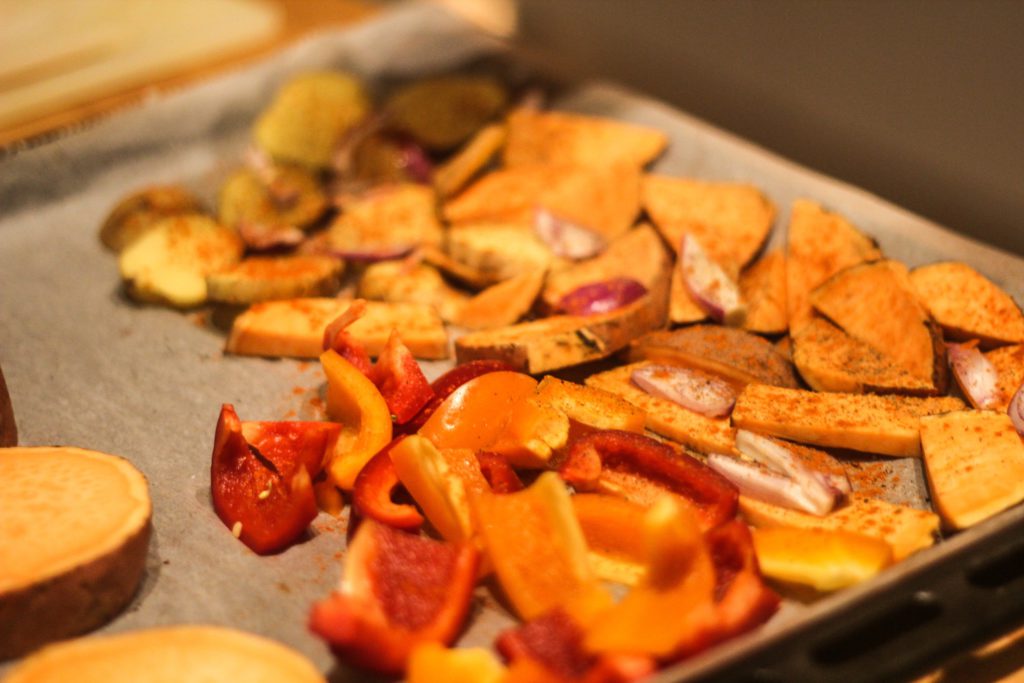 Zoete aardappel, ui en groente uit de oven is zo simpel, lekker en gezond. Het is voor mij de ultieme luie manier om lekker te eten. Met wat "tajine" kruiden, kokosolie in een voorverwarmde oven van 200 graden voor 25-35 minuten.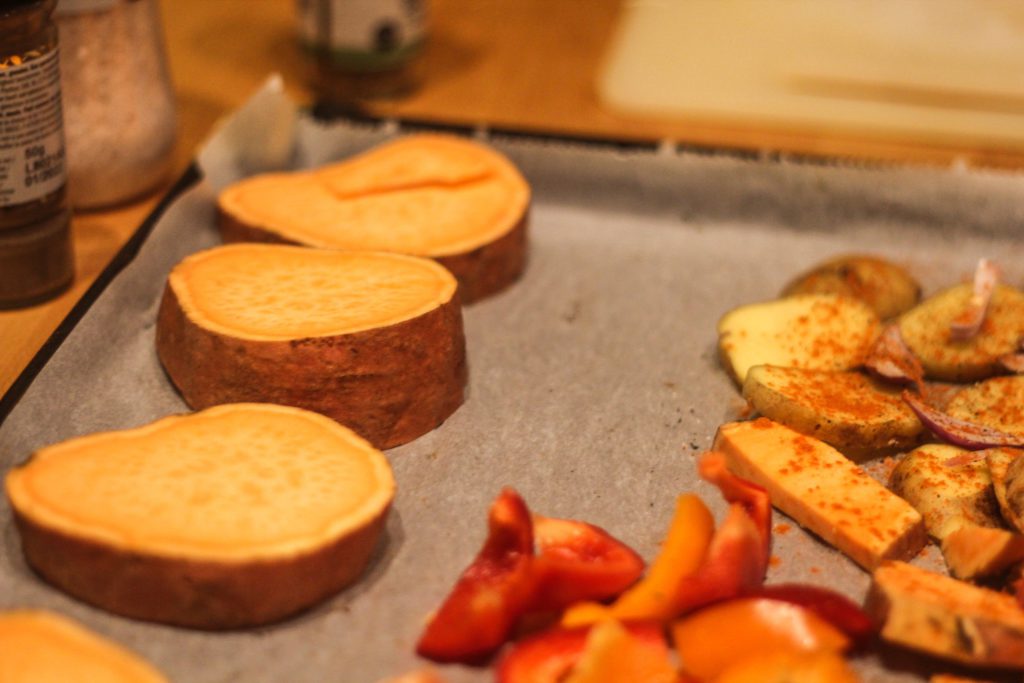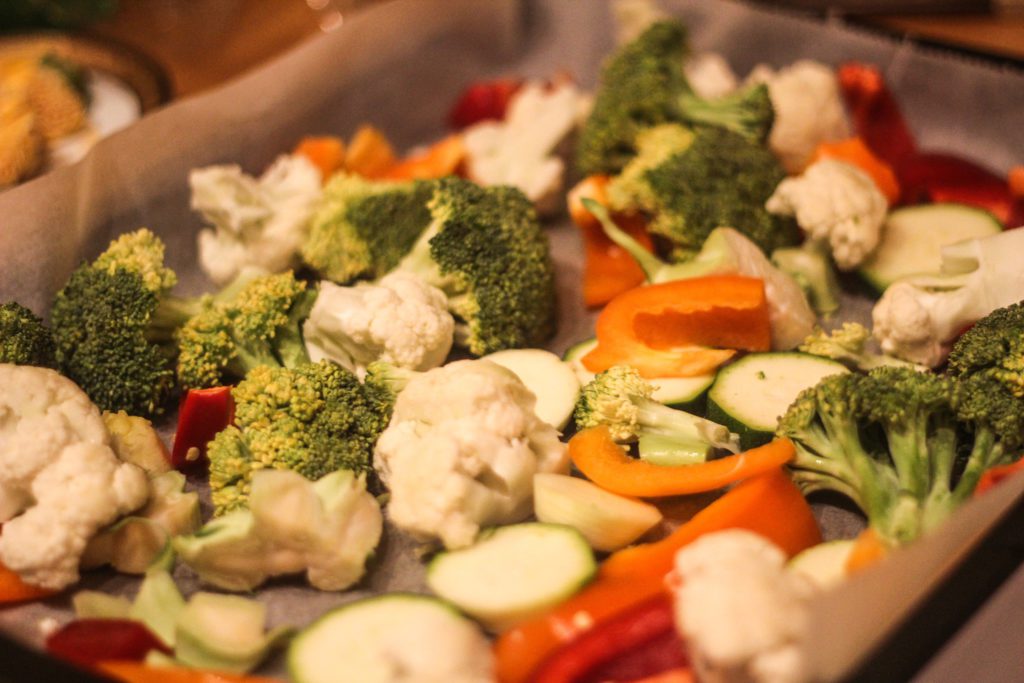 Van bloemkool tot broccoli, courgette, paprika en aubergine. Alles kan.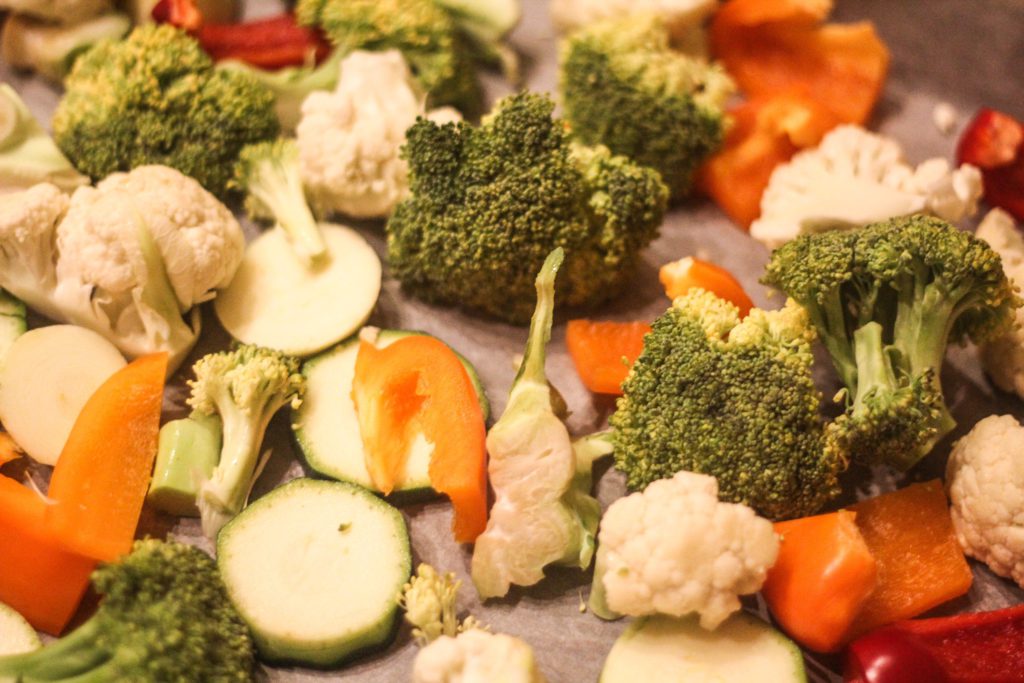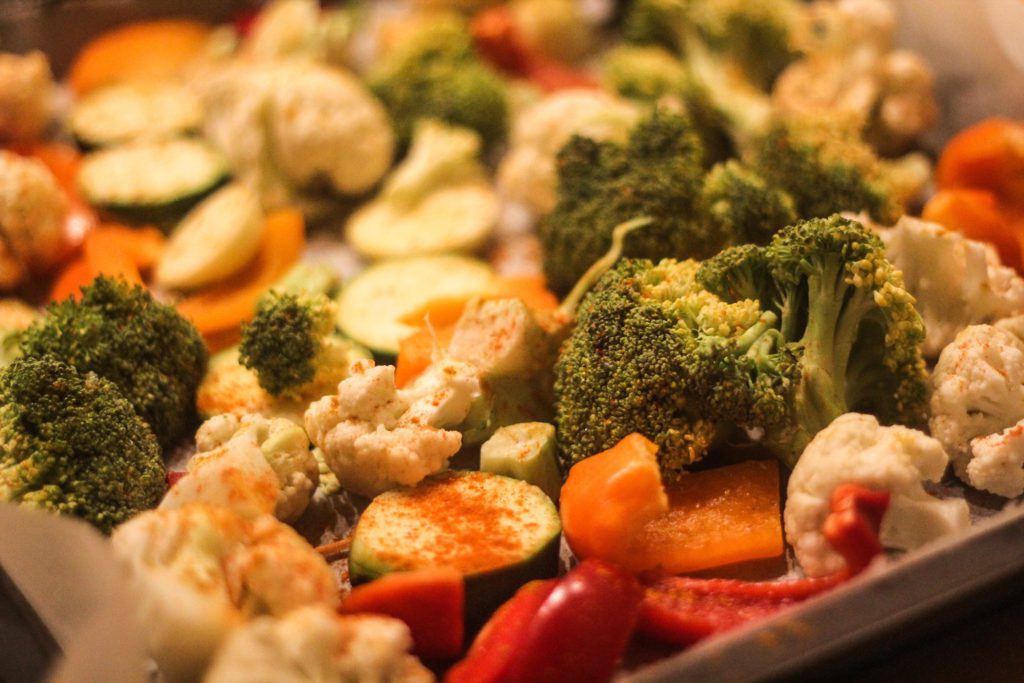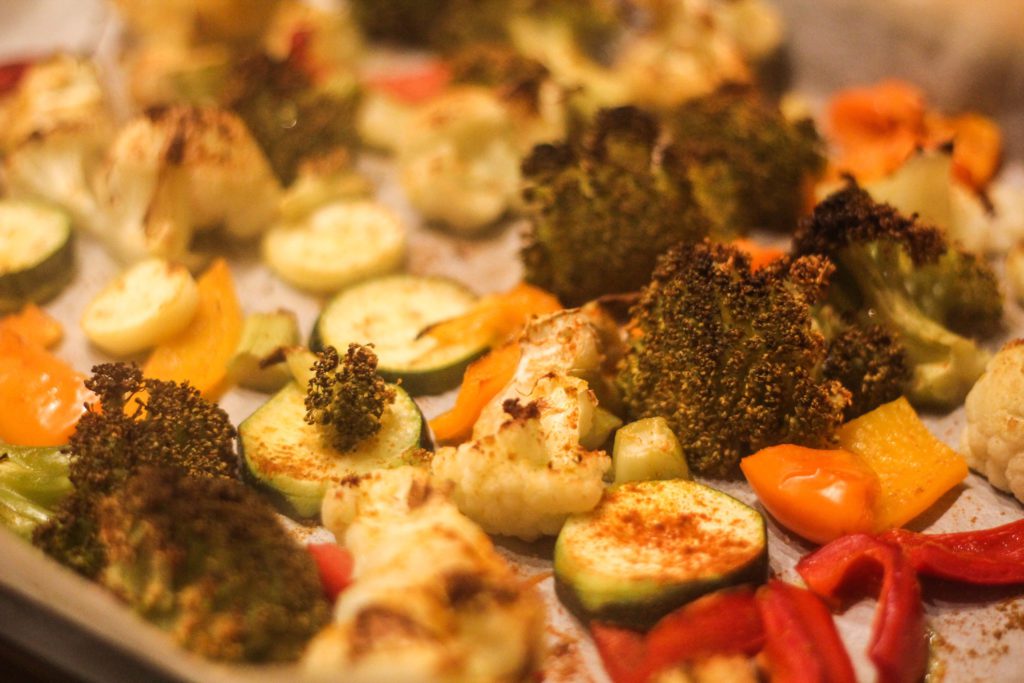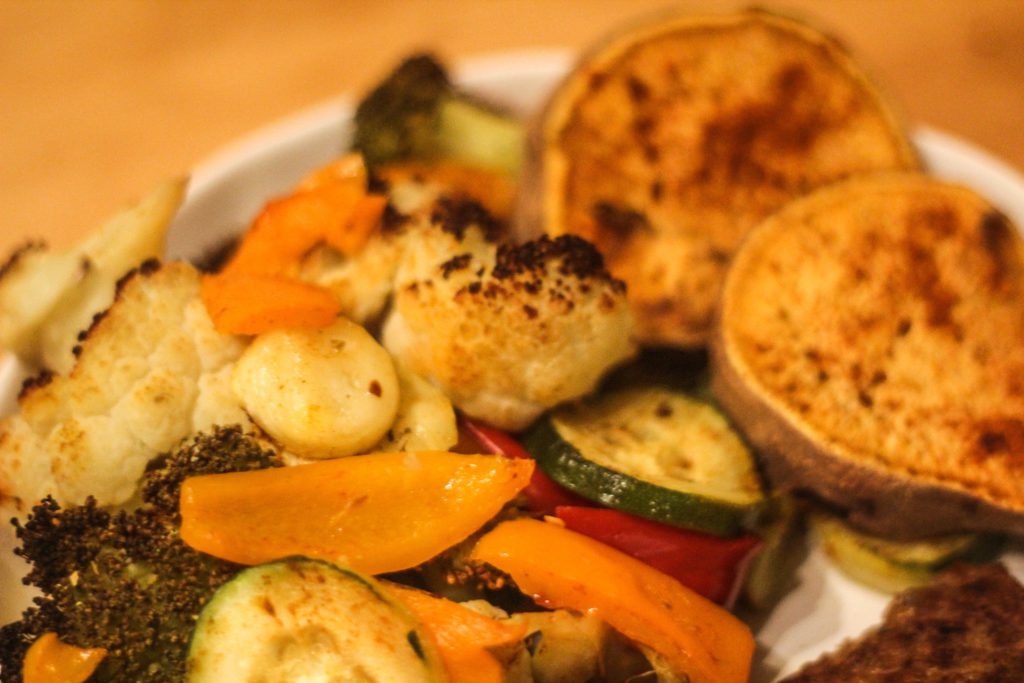 De dikke plakken zoete aardappel hebben wel meer tijd nodig dan de broccoli en bloemkool (zoals je ook ziet aan de bloemkool haha). Ik prik er dan met een vork een paar keer in, dat zorgt dat ze een beetje gaan 'poffen'. Als je de zoete aardappel in kleinere stukjes snijd (eerste foto) kunnen ze gewoon net zo lang als de rest.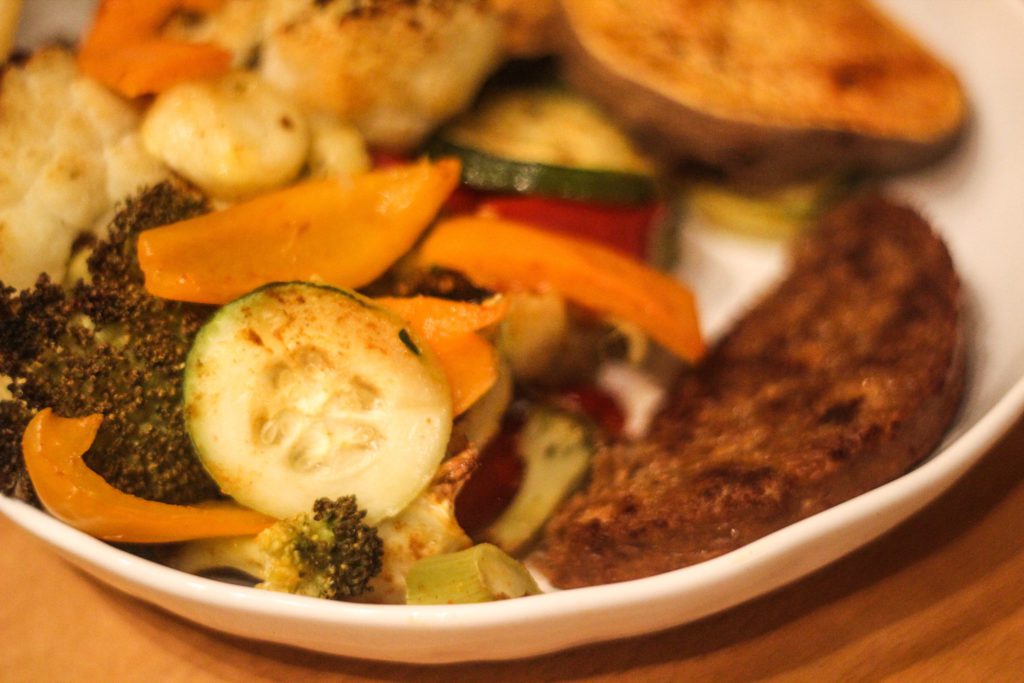 Stukje vegetarische burger ernaast en ik ben hartstikke blij.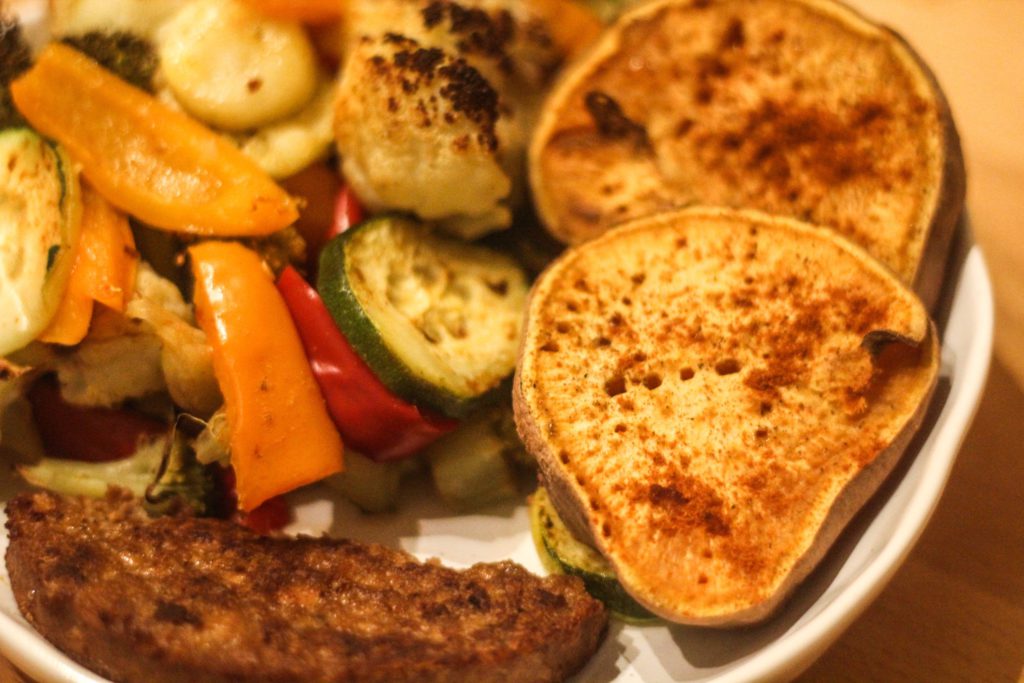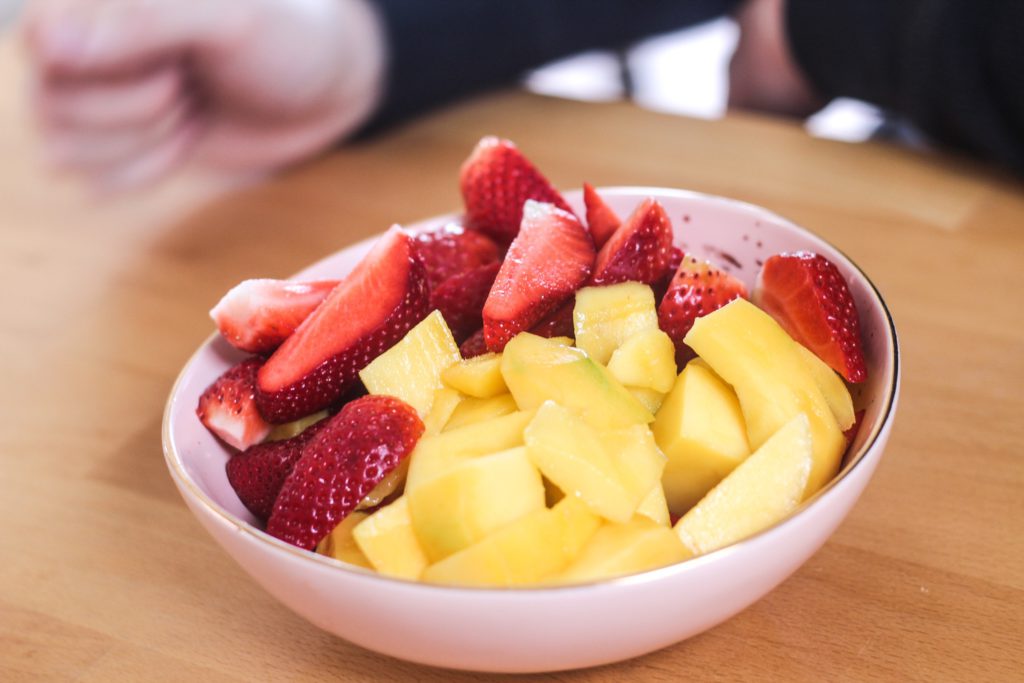 Hmmm, zoet fruit! Mango en aardbeien.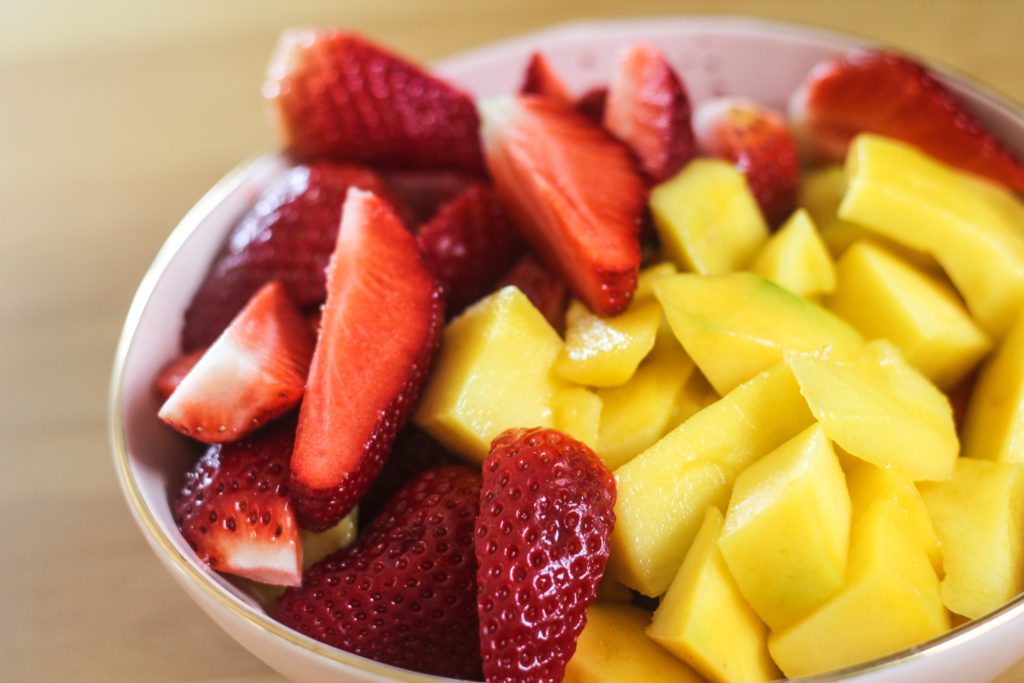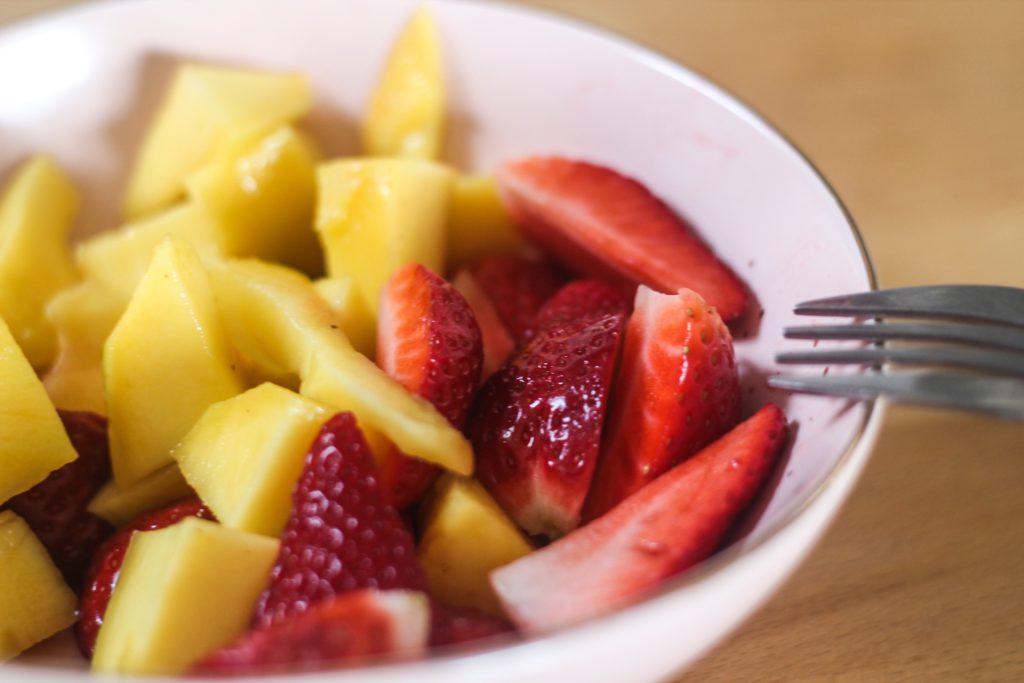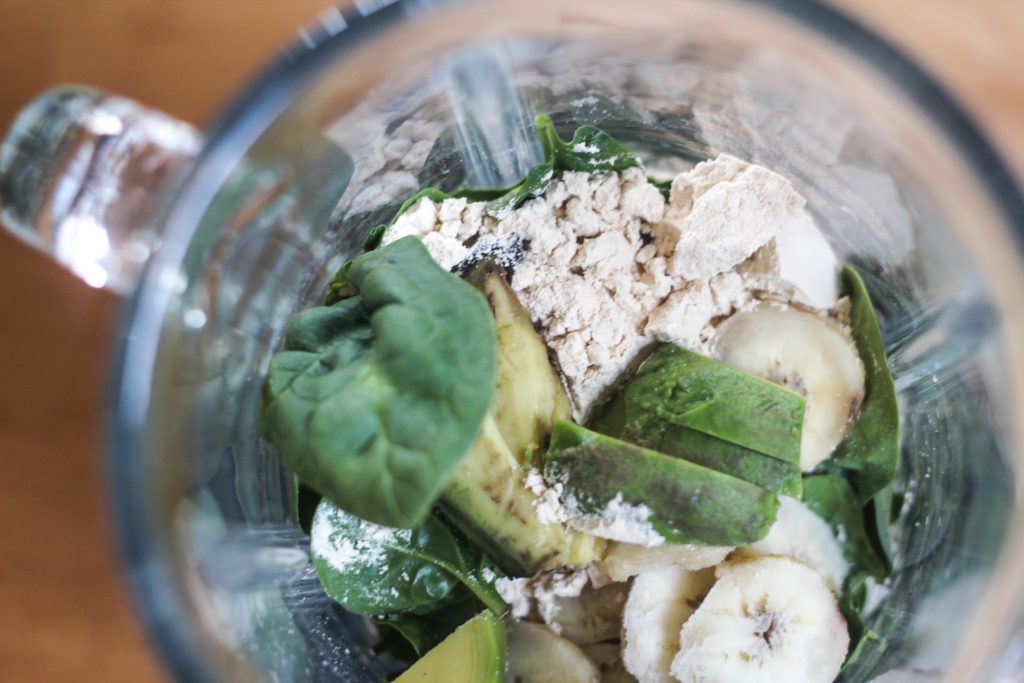 Tijd voor een groene romige smoothie met diepvriesblomkool, avocado, spinazie, vegan vanille eiwitpoeder, banaan uit de vriezer en amandelmelk.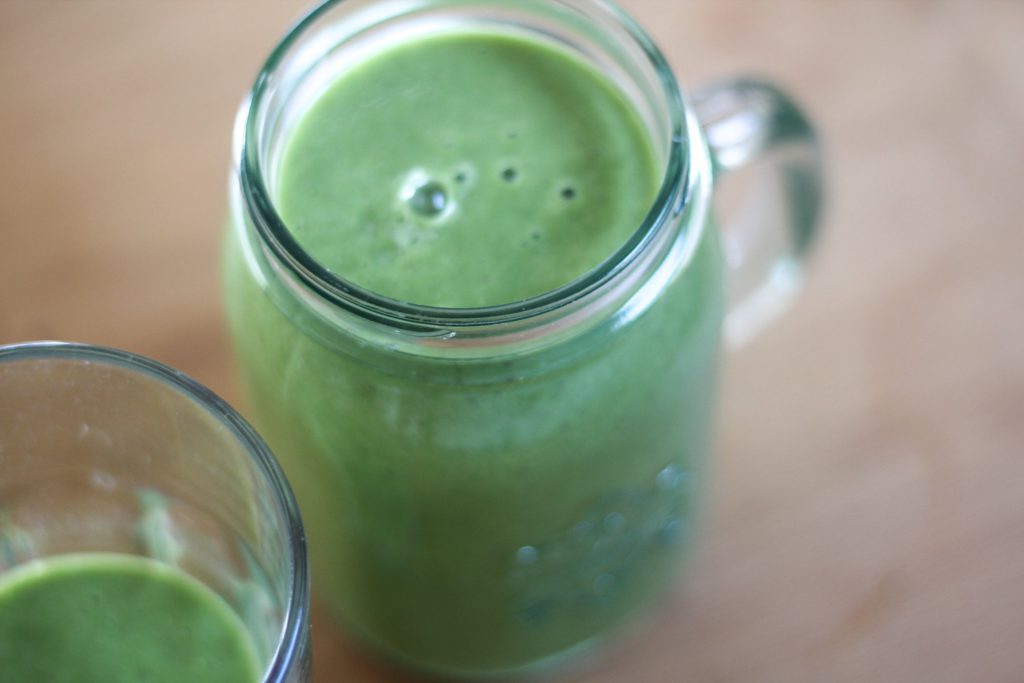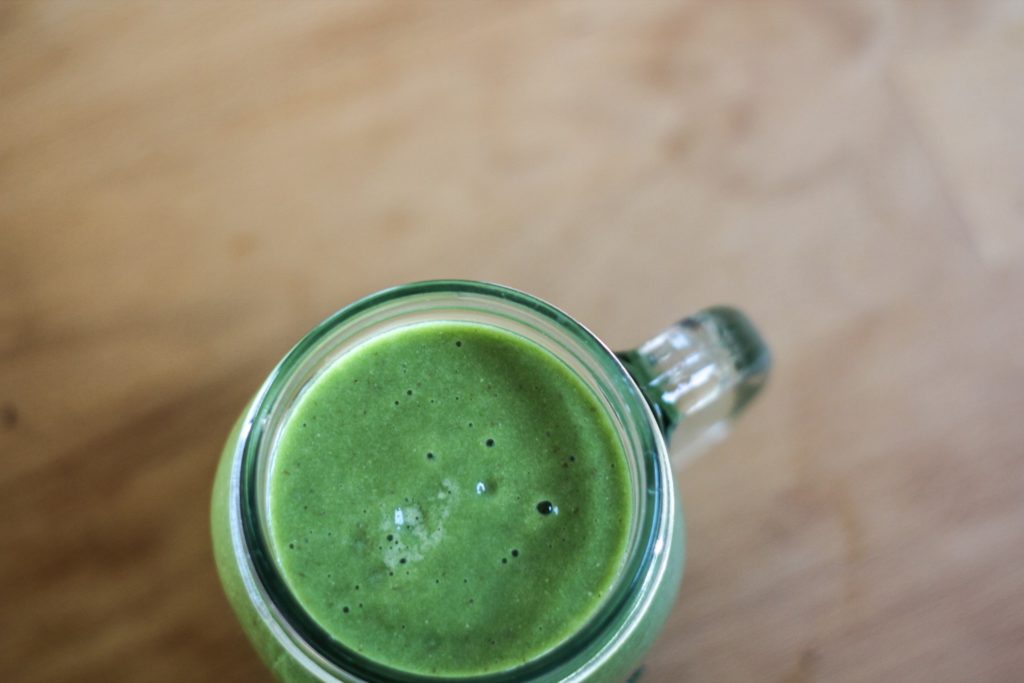 Heerlijk en vullend!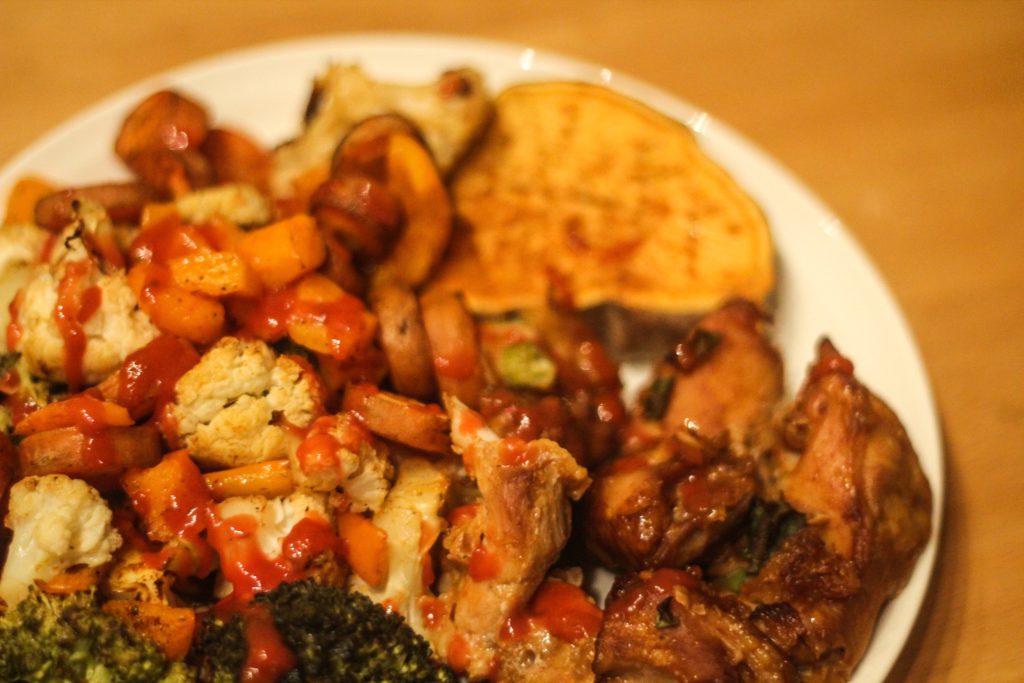 Kip uit de oven, zoete aardappel en andere groente uit de oven. Getopt met ketchup en Sriracha – tja, zo ben ik dan ook wel weer, ketchup op alles haha.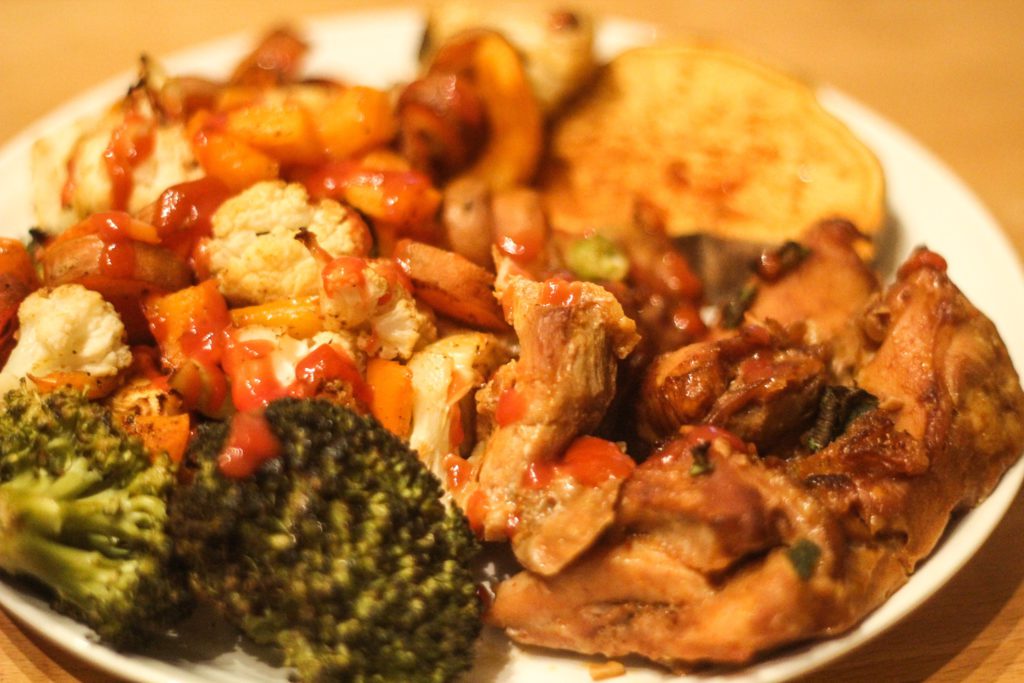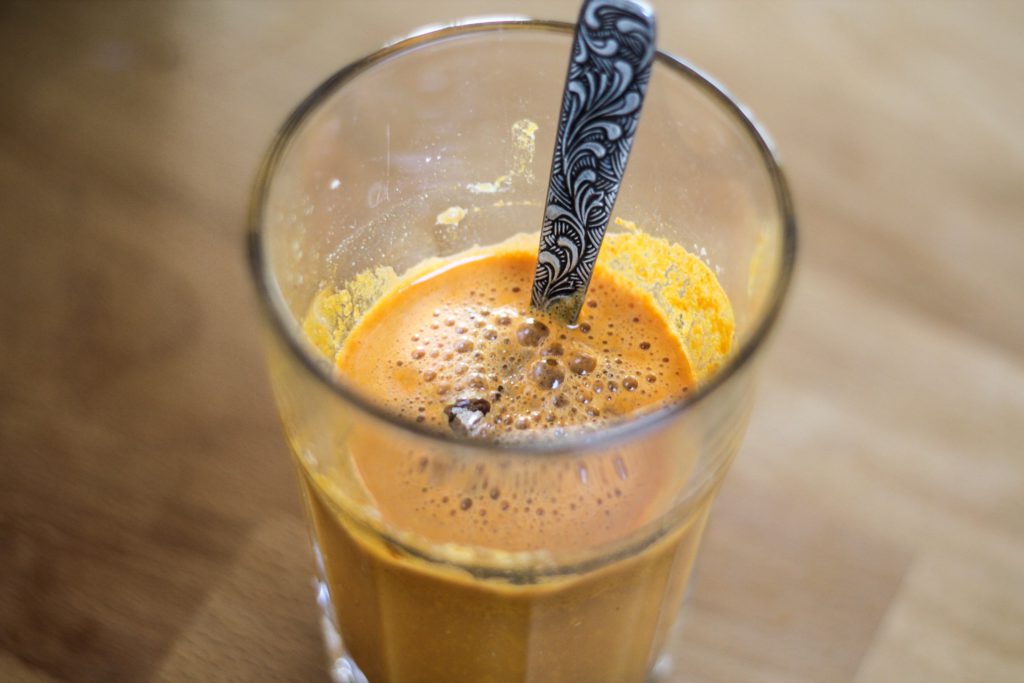 Mijn ochtendshotje met: appelazijn, citroen, gember, wortel, kurkuma, peper, maca en cayenne.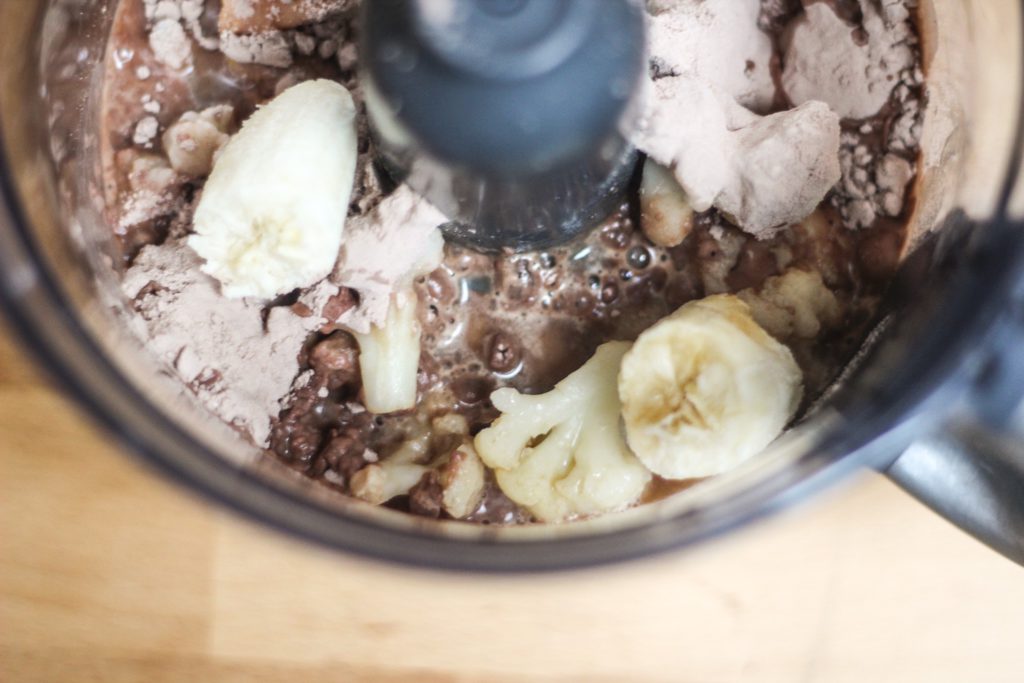 Dit ziet er heel vreemd uit, maar het werd een soort mocha smoothie. Diepvriesbloemkool, banaan (uit de vriezer), chocolade vegan eiwitpoeder, amandelmelk en een scheutje espresso.
Smoothiebowl! Daar moet natuurlijk nog wat bovenop.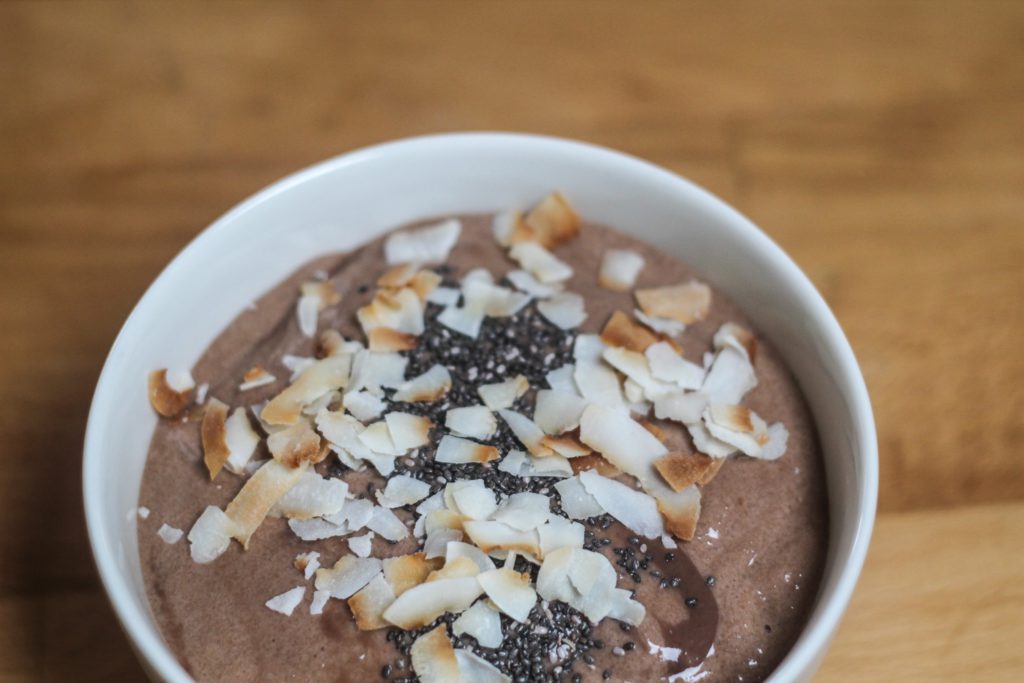 Kokos en chiazaad. Nu is het af.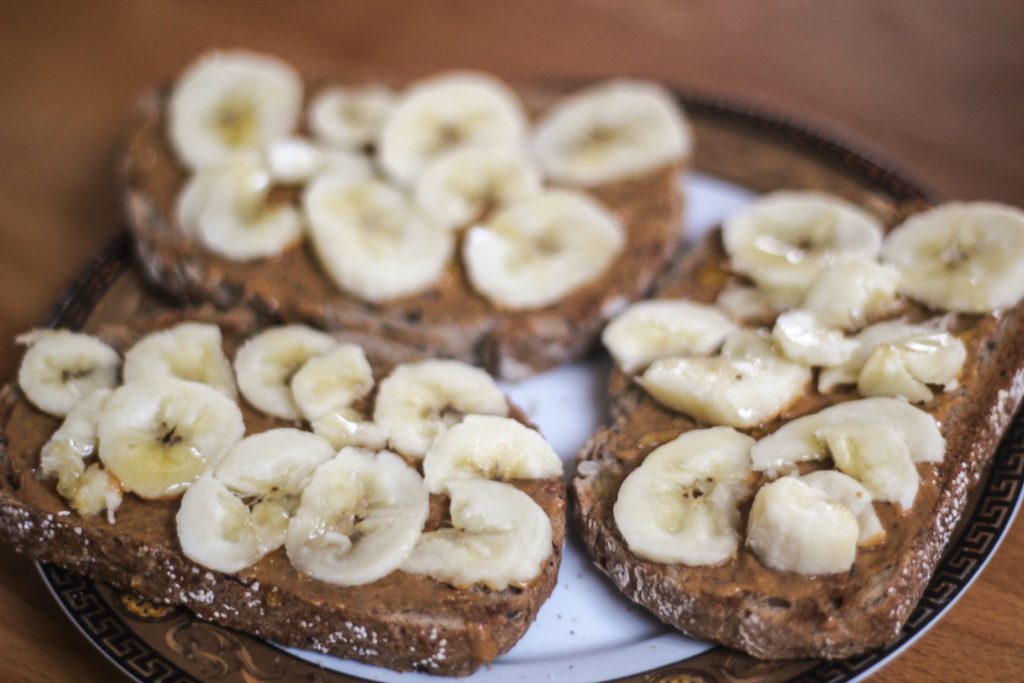 Met daarnaast nog flink wat broodjes met pindakaas, banaan en honing. Genieten dit!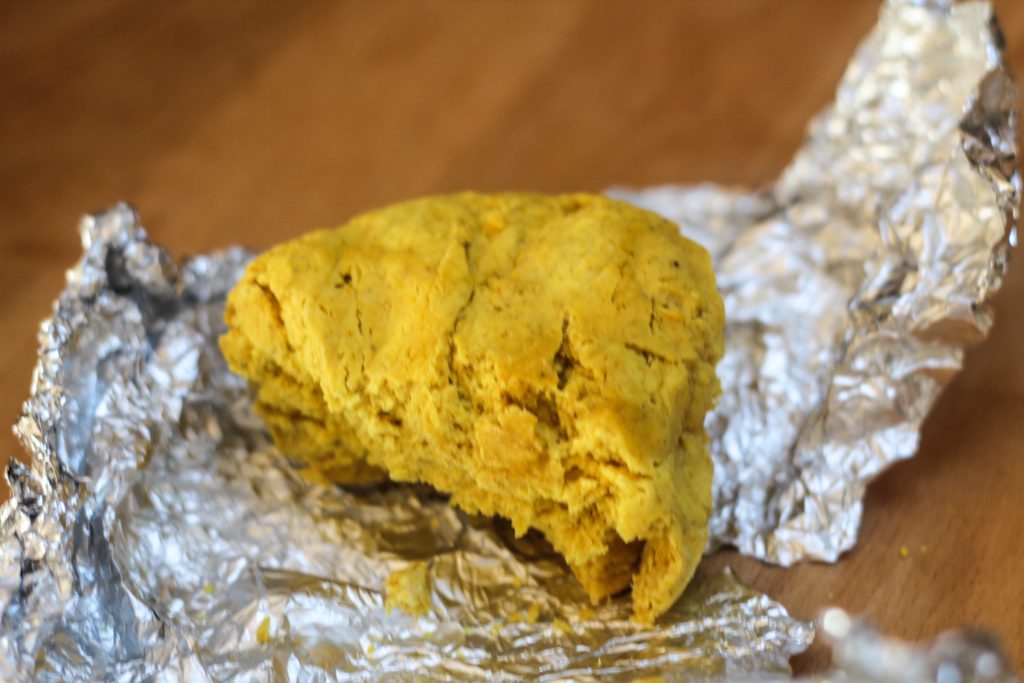 Ik had weer eens naanbrood gemaakt (dit recept moet ik echt zo snel mogelijk delen want veel mensen vragen erom!) maar niet helemaal opgemaakt. Ik bewaar het deeg dan in aluminiumfolie in de koelkast en kan het de volgende dag makkelijk even bakken.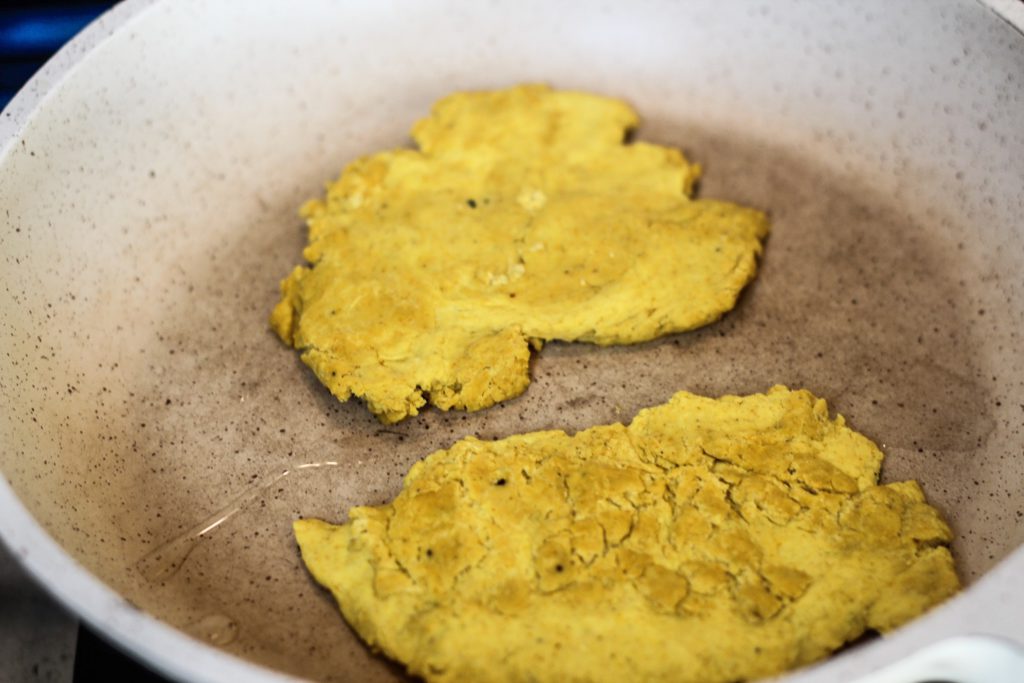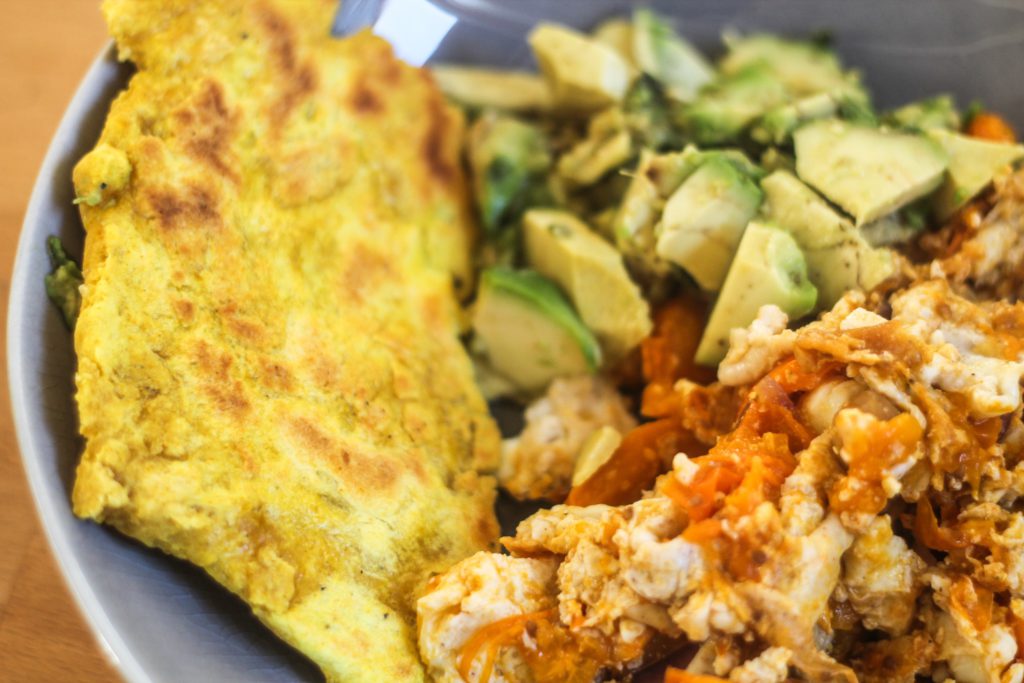 Met een omelet + avocado. Heerlijk! Dit is trouwens naanbrood met kurkuma, vandaar dat het geel is.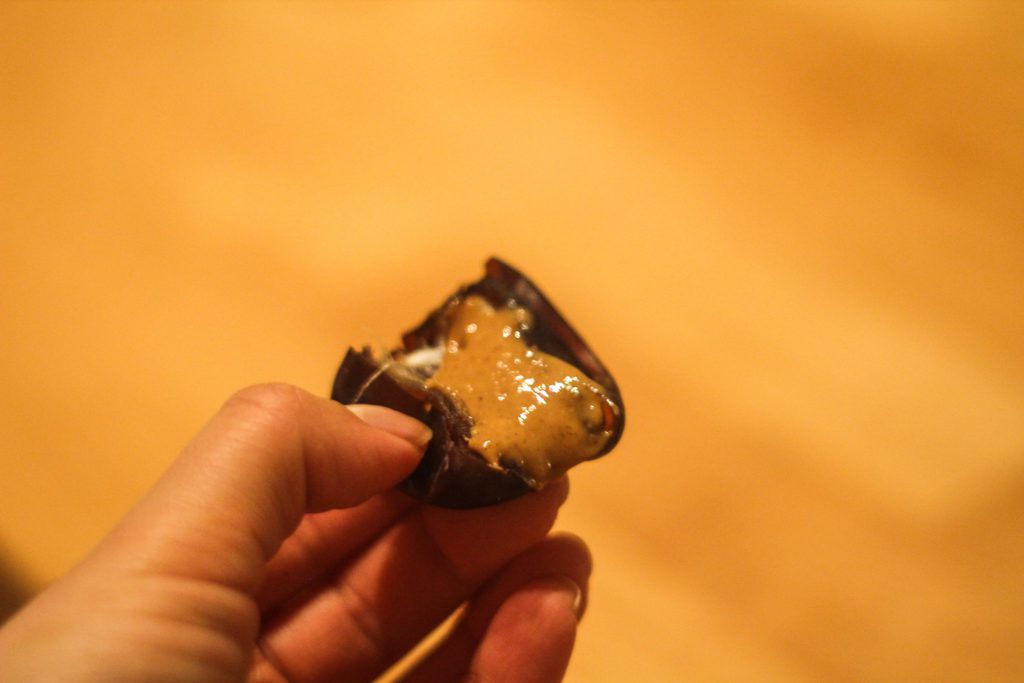 Ultieme gezonde snack voor mij: dadel met pindakaas.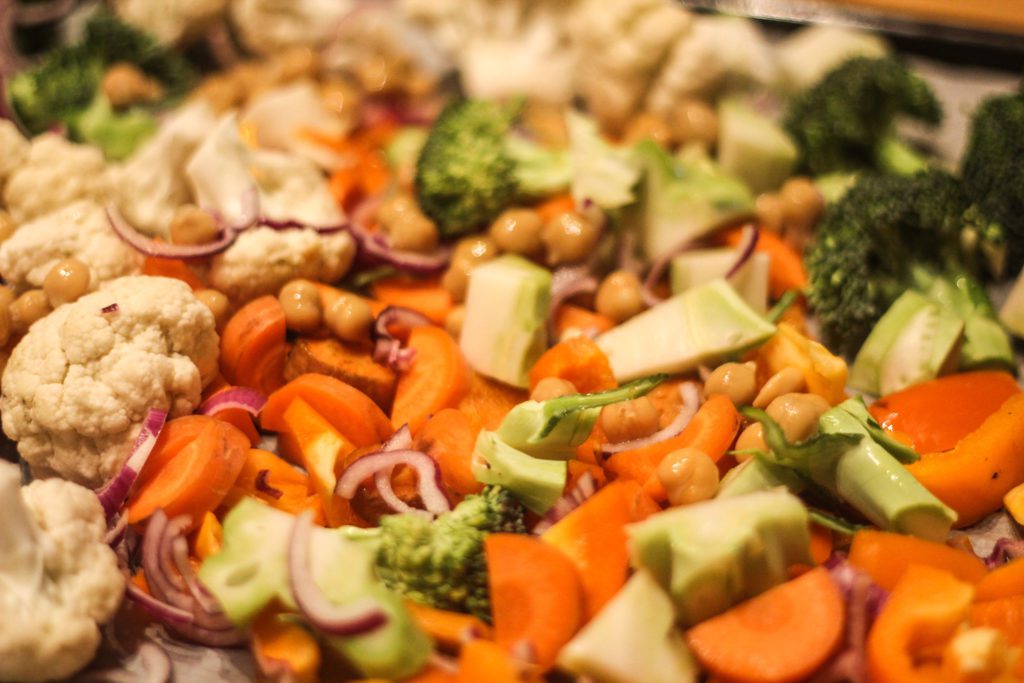 Daar gaan we weer! Deze keer met wat verdwaalde kikkererwten tussendoor.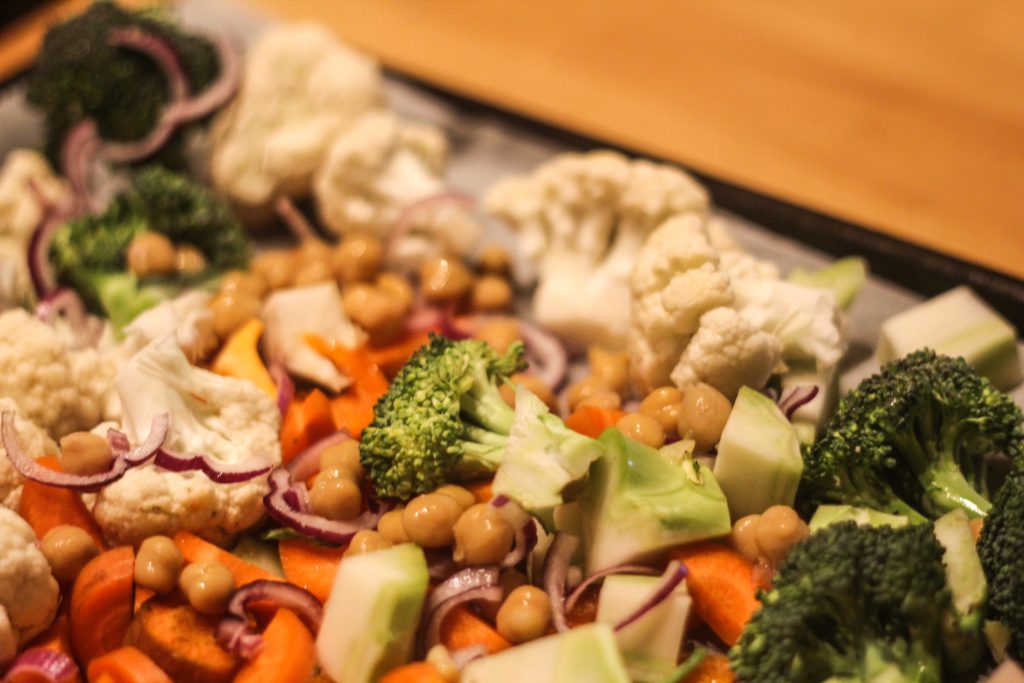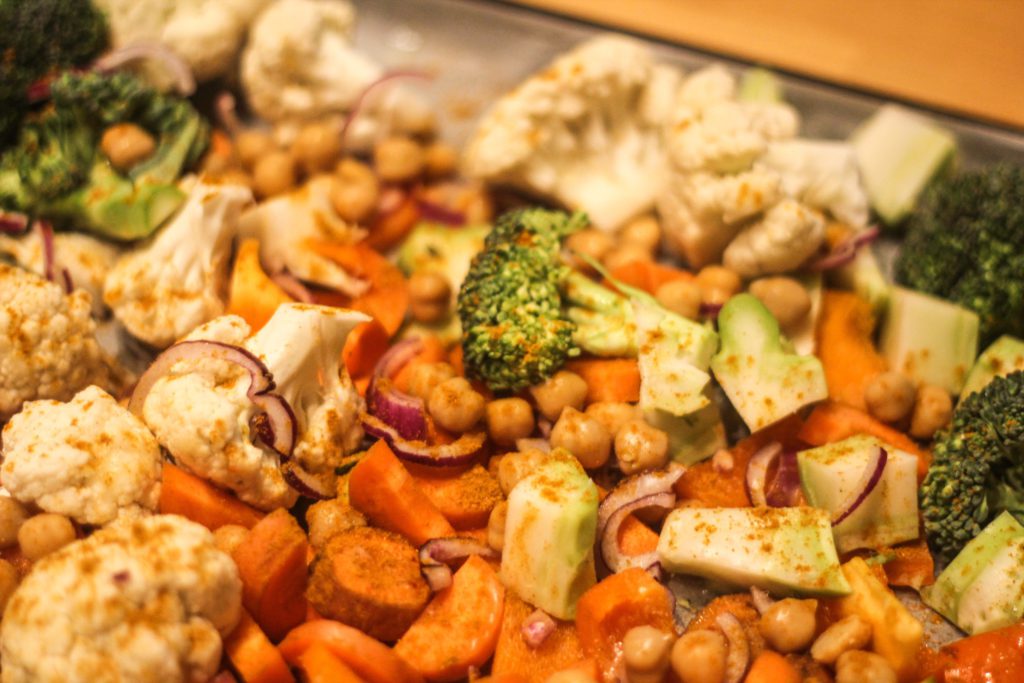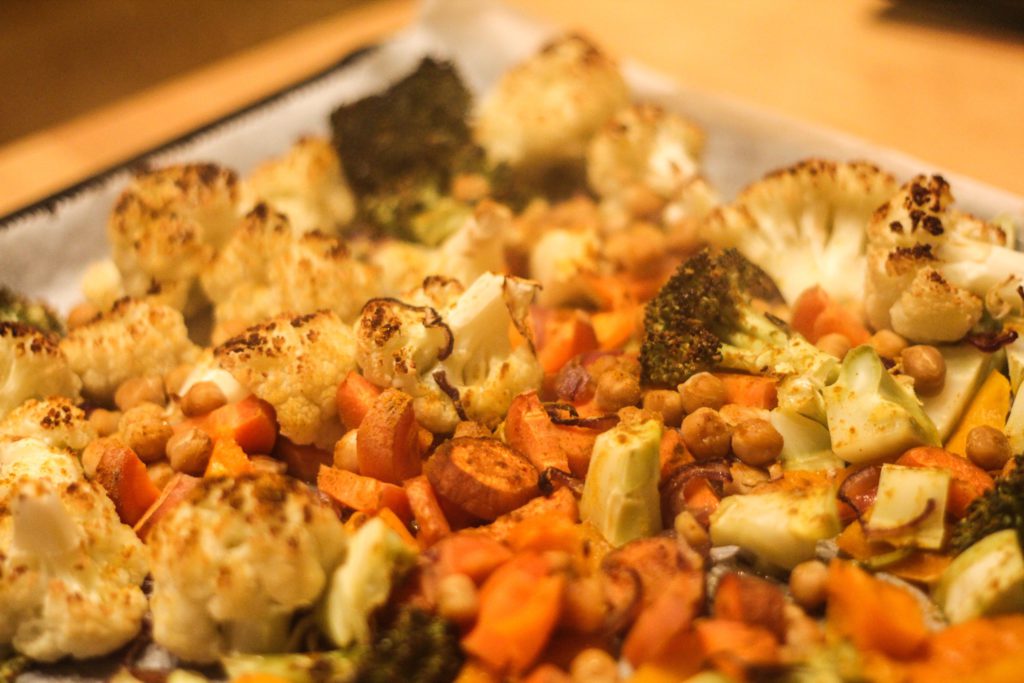 Paprika, wortel, bloemkool, broccoli, ui en kikkererwten.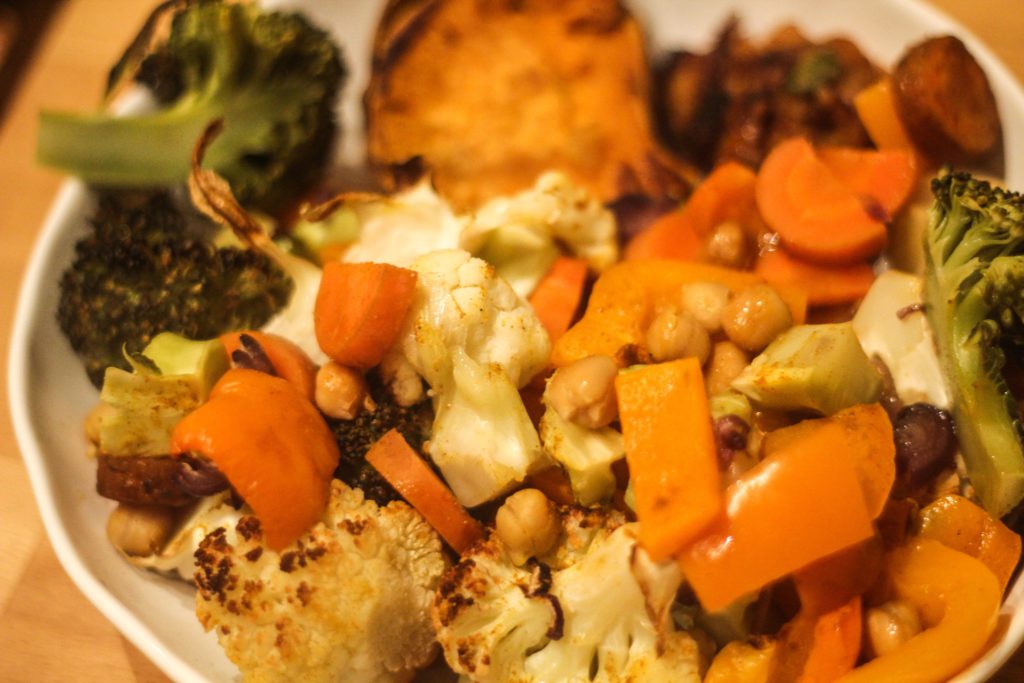 De foto vóórdat er ketchup overheen ging!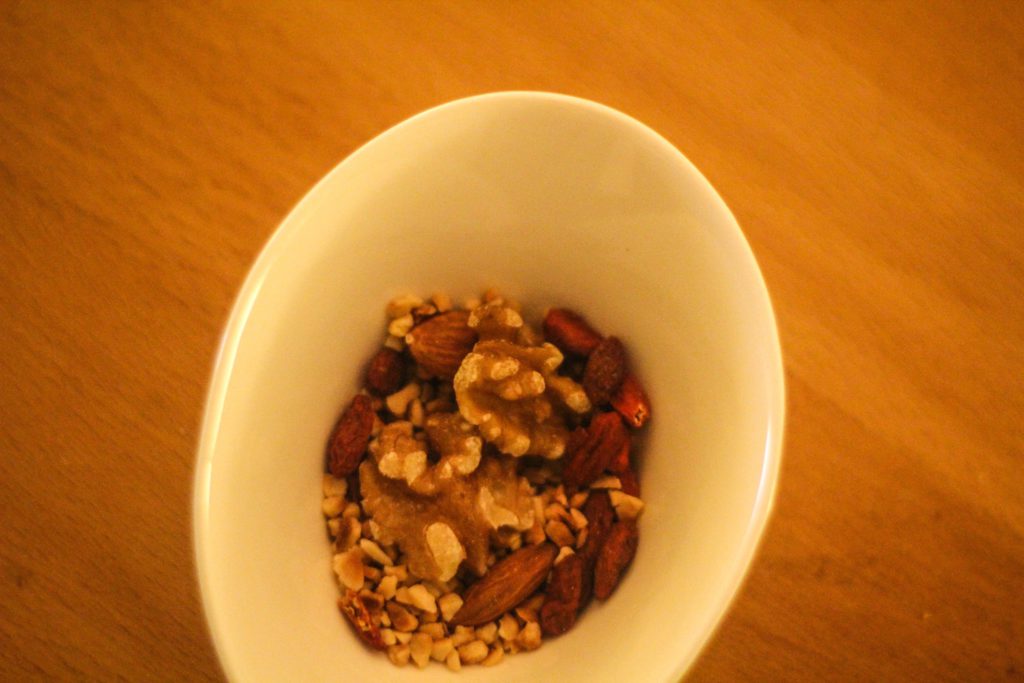 Na het eten nog snacken met wat noten en goji bessen.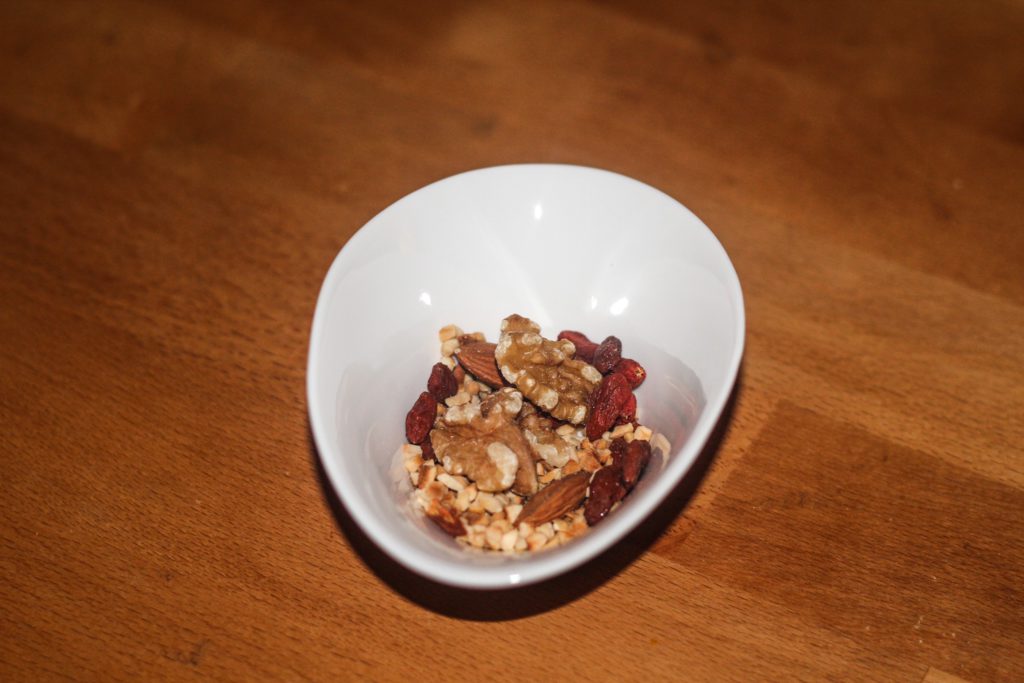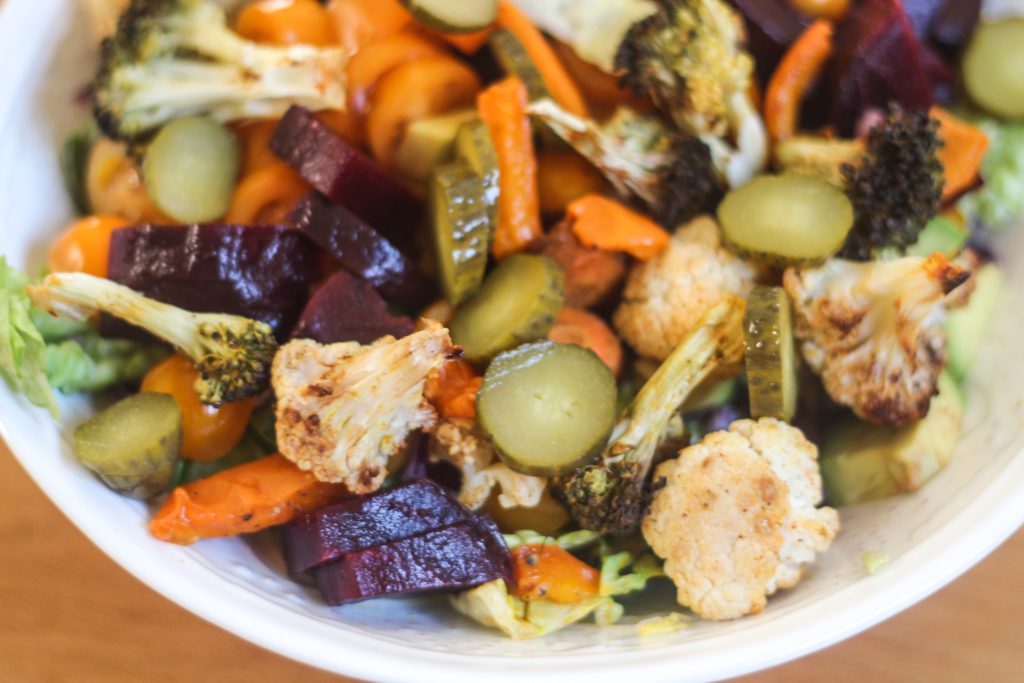 Salade met overgebleven groenten uit de oven, rode biet en augurk.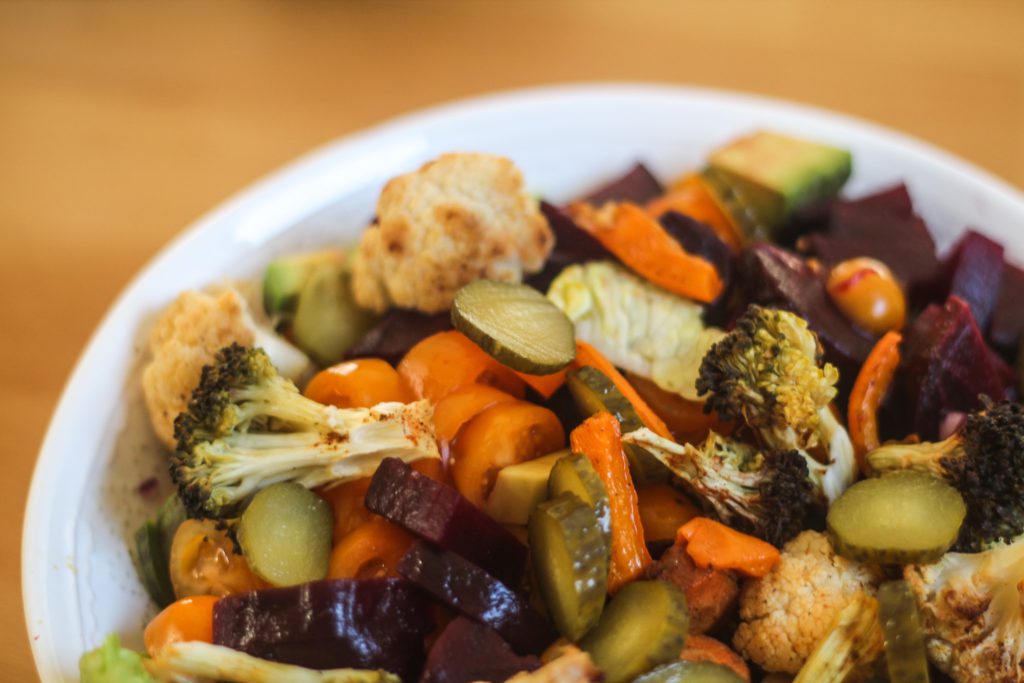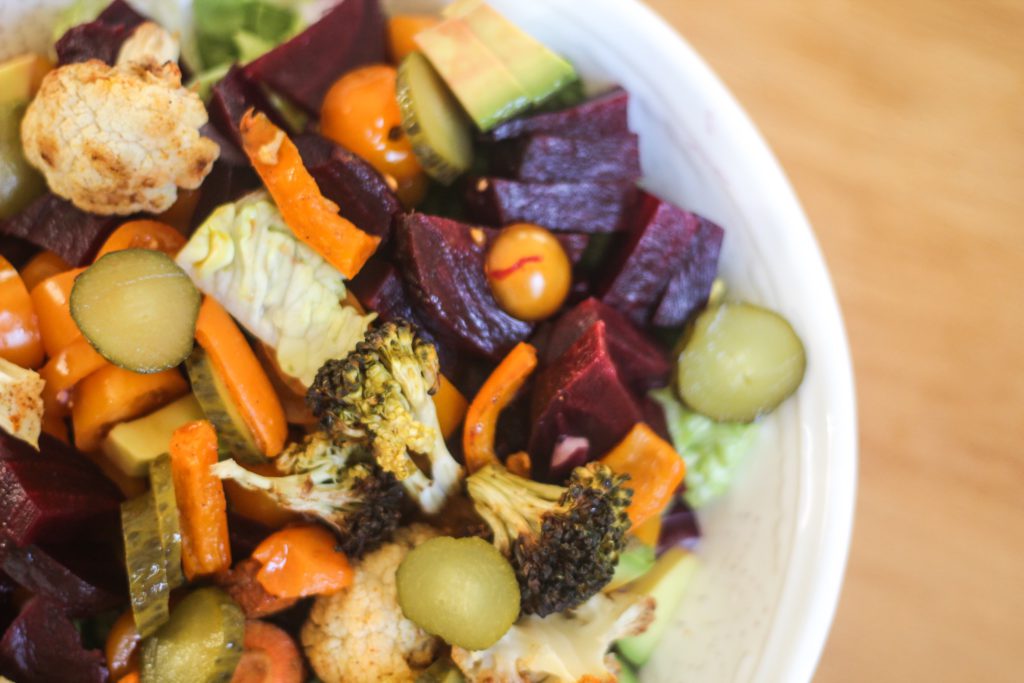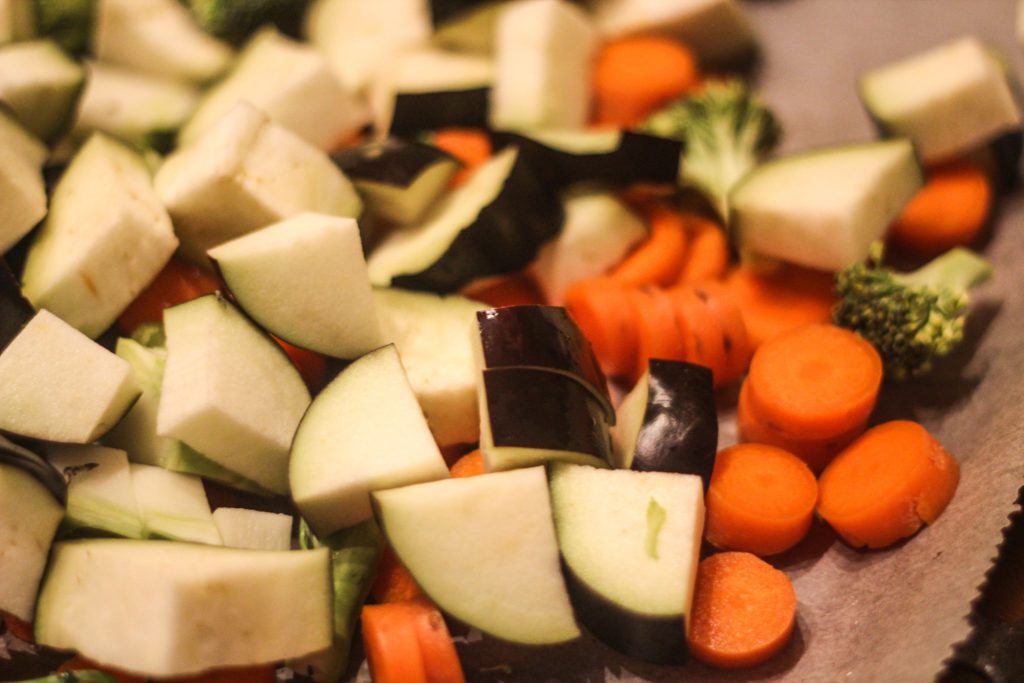 Volgende ronde! Nu met aubergine.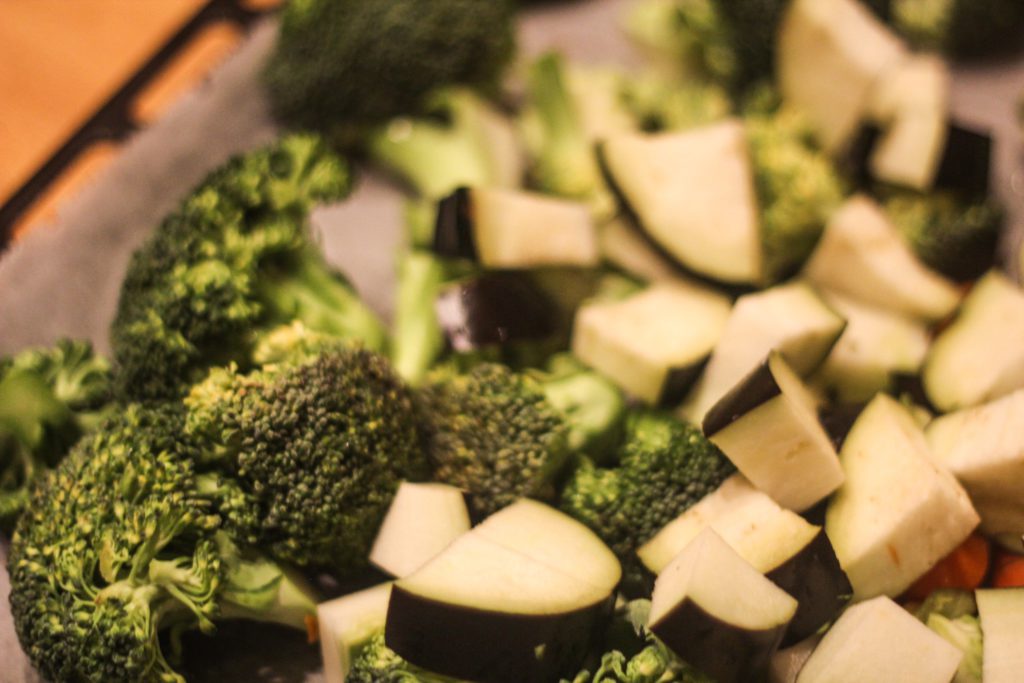 Zo kun je elke avond variëren en krijg je ZO veel voedingsstoffen binnen – elke keer iets anders eten en zoveel mogelijk 'kleuren' binnen krijgen.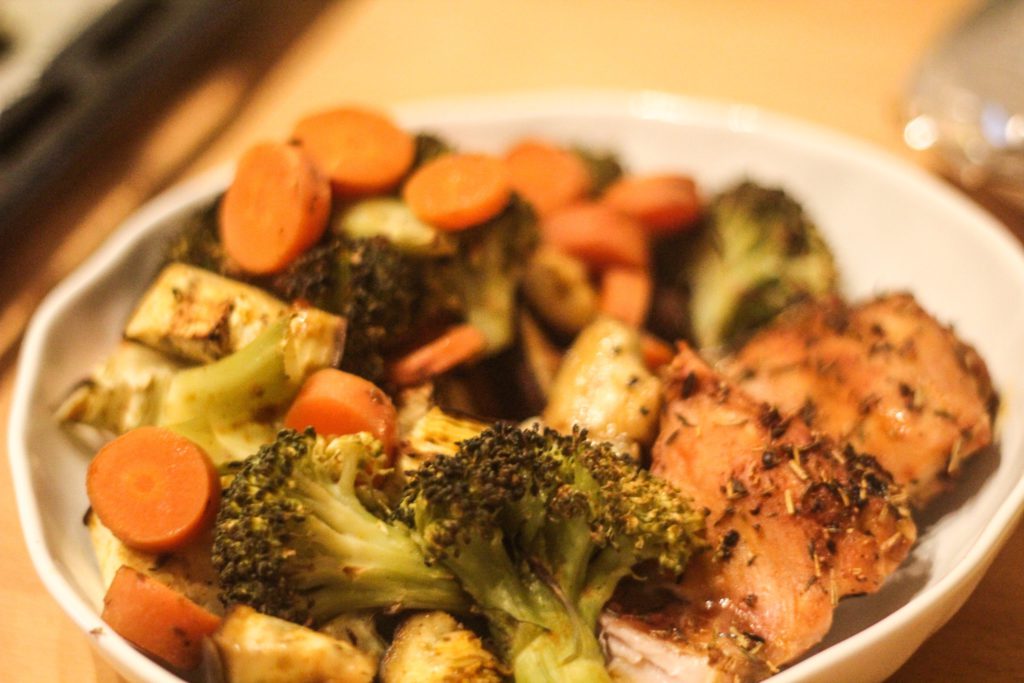 Deze keer weer met kip uit de oven.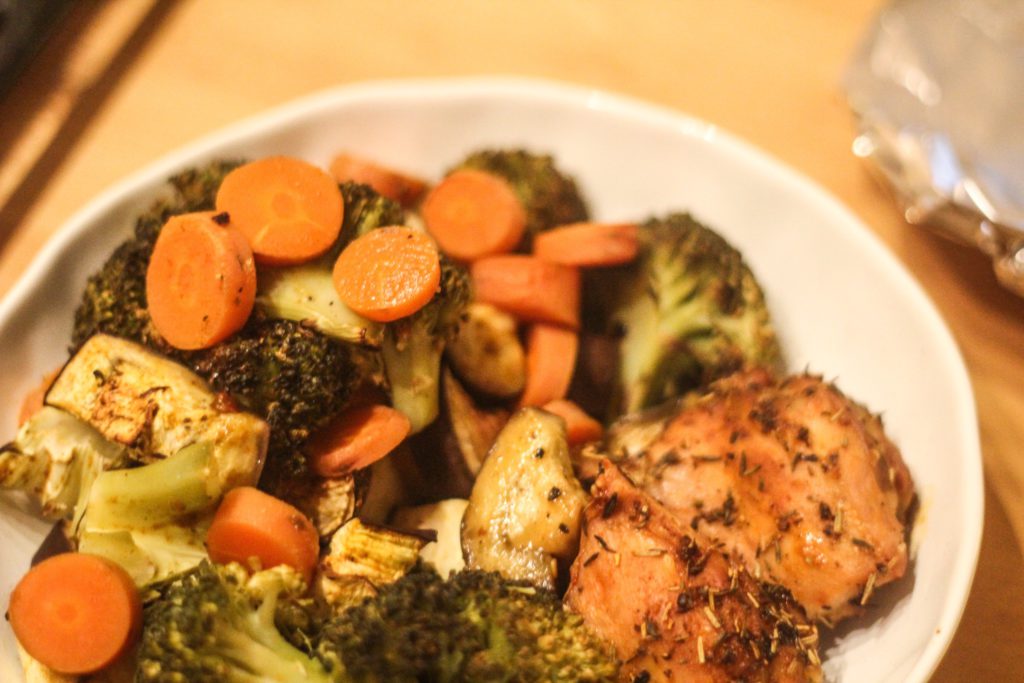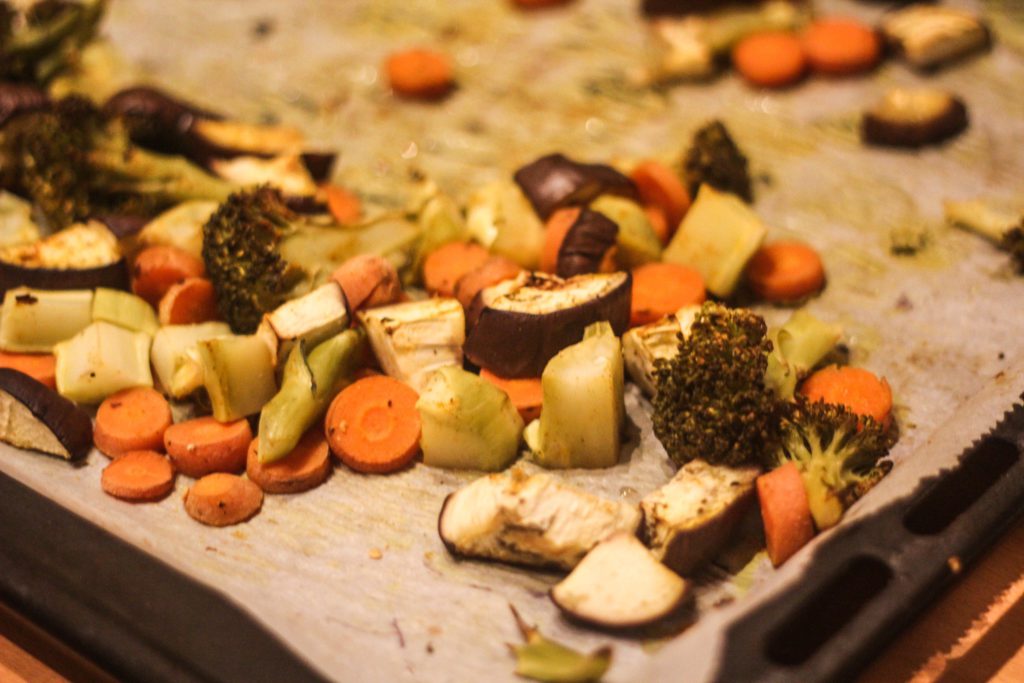 Restjes voor de volgende dag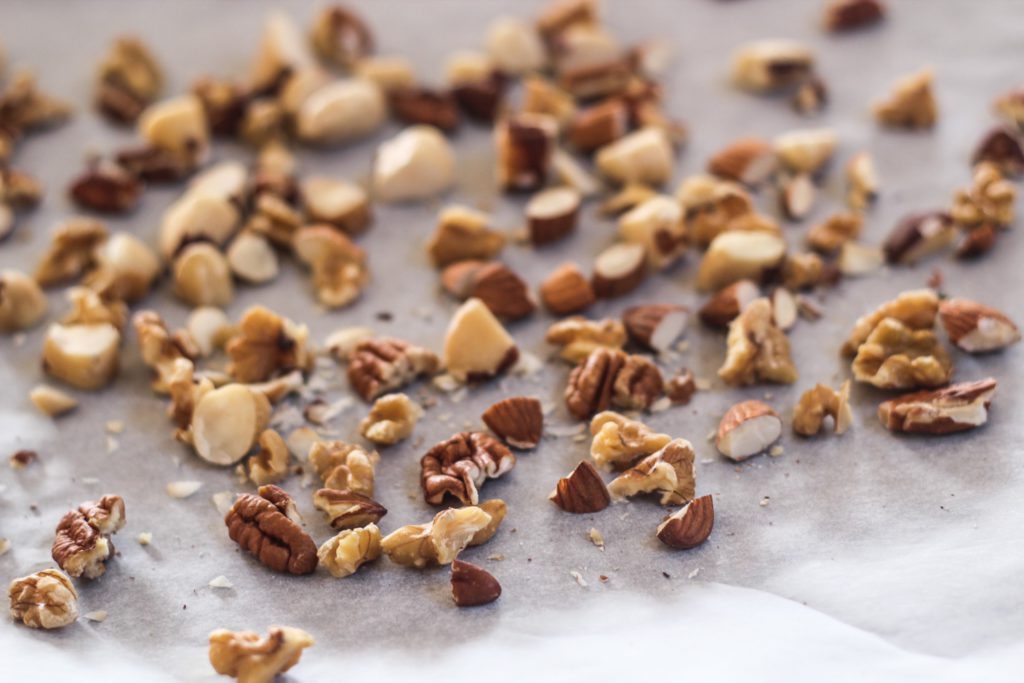 Ik had heerlijk wat noten gekocht bij de Lidl – even roosteren in de oven en dan in de koelkast bewaren voor een heerlijke crunch.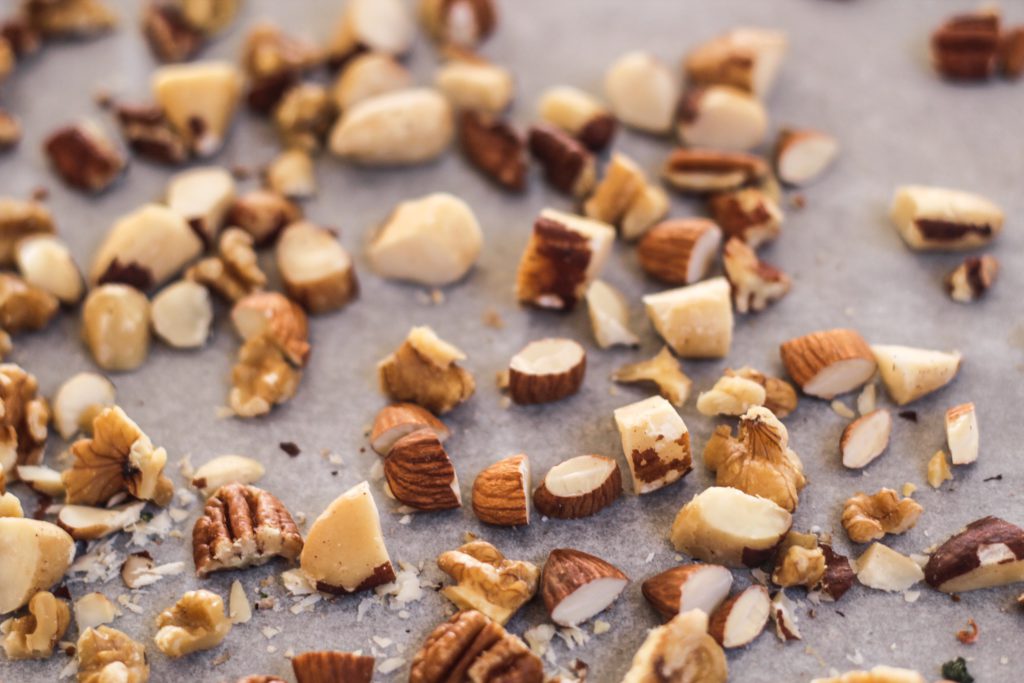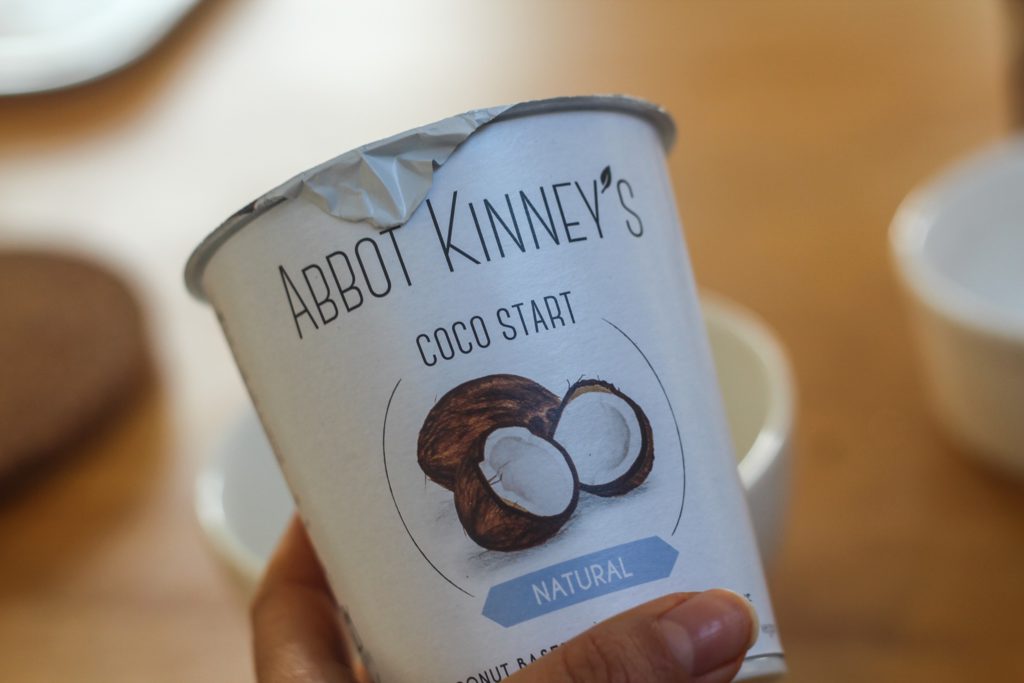 Kokosyoghurt gekocht – af en toe waag ik me er toch aan. Ik vind het erg lekker maar soms ZO romig dat ik er misselijk van word.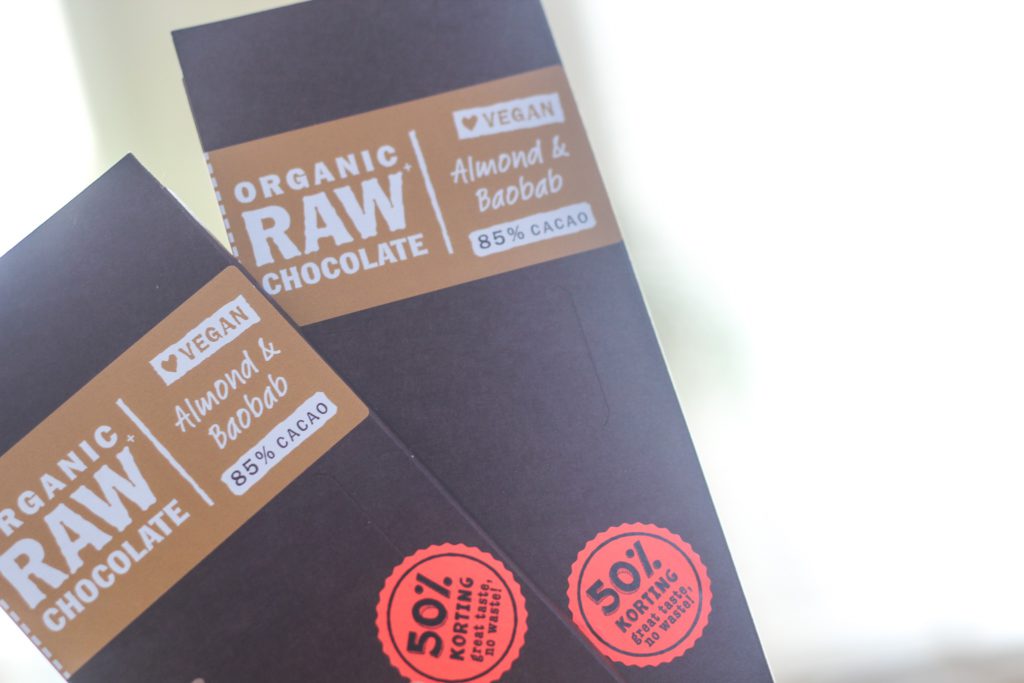 Ook vegan chocolade gekocht bij de EkoPlaza. Eerst maar eens de afgeprijsde om te kijken of het me bevalt – ik vind het trouwens heerlijk! Dus de volle mep zou ik ervoor over hebben.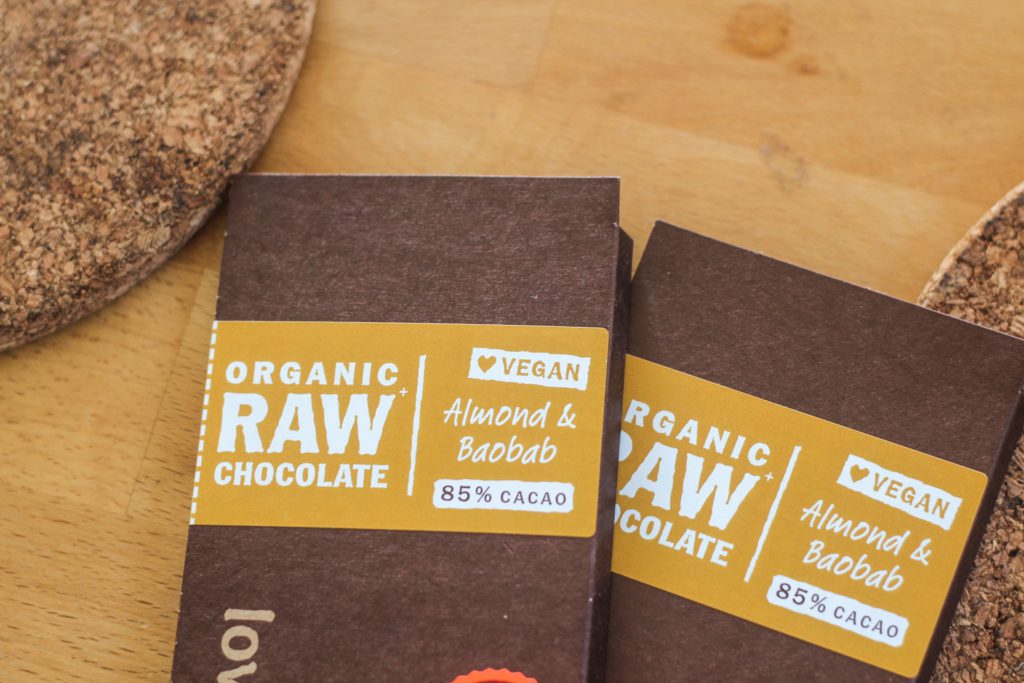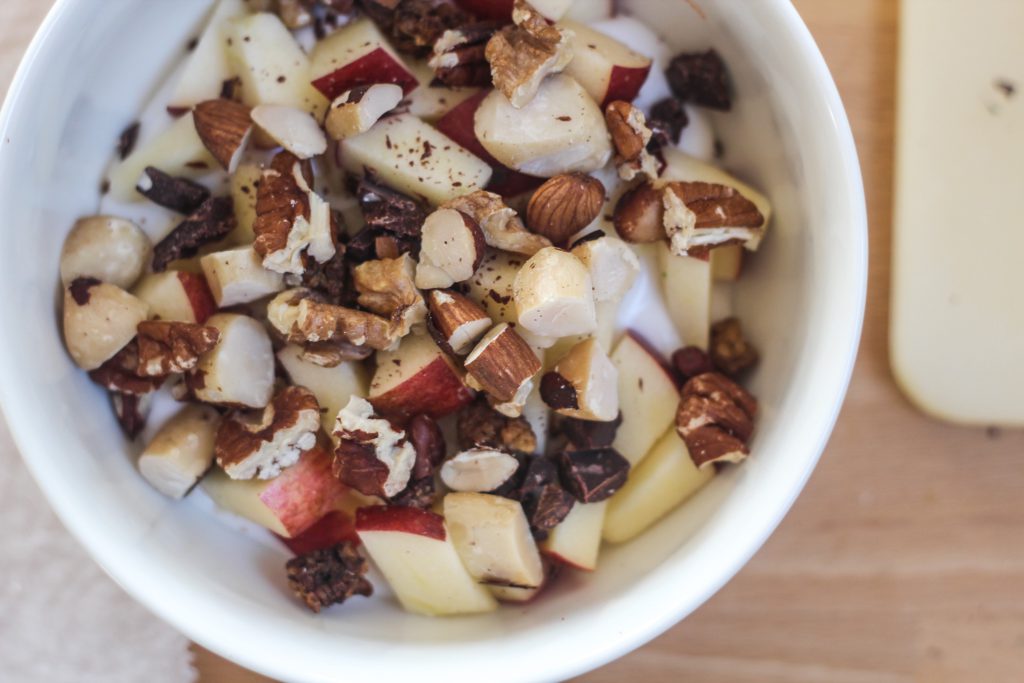 Het resultaat, een vegan ontbijtje met flink wat noten, en een halve appel.
Naast deze foto's eet ik natuurlijk ook nog buiten de deur, dit zijn enkel de foto's die binnenshuis zijn gemaakt. Hopelijk heb je net zo genoten van de foto's als ik!
Heb een hele fijne zondag lieve allemaal!
Bewaar, Like, Tweet of Pin!