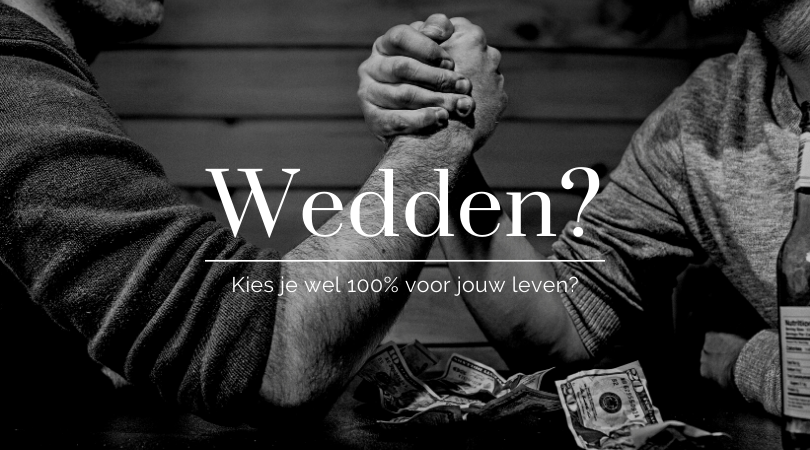 Als we echt eerlijk zijn tegen onszelf, kunnen we dingen ontdekken waar we slechts half bij betrokken zijn? Waar we maar half ons best voor doen? Misschien zelfs minder dan de helft? Dingen waar we absoluut om geven en graag in verbeteren – maar toch half bij betrokken zijn.
We zeggen wel dat we gezonder willen eten, meer willen sporten, meer willen lezen, minder tijd op onze telefoon willen besteden, maar gaan we er wel vol voor? Maken we een nieuw eet-plan en halen we de boodschappen ervoor? Gooien we rotzooi weg? Plannen we onze workouts in? Zetten we de wekker eerder? Pakken we dat boek elke dag even op om te lezen? Ruimen we ons huis regelmatig op?
Gaan we er zo volledig voor vanuit ons hart dat we erom durven te wedden?
Misschien herhaalt dit patroon zich op meerdere vlakken van je leven. Misschien maak je wel afspraken op je werk (naar je team toe, naar een klant, een partner) maar kom je het niet volledig na. Je raakt misschien afgeleid, je stelt het uit en je gaat er uiteindelijk maar half voor.
We doen soms hetzelfde richting de mensen waar we van houden – we zijn er soms maar half voor ze. Een gevoel van vanzelfsprekendheid dat ze er altijd zullen zijn maakt ons soms lui om volledig aanwezig te zijn op belangrijke momenten.
Dit gaat niet om het aanpraten van een schuldgevoel of gevoel van schaamte bij je, noch gaat dit om oordelen of kritiek hebben. Dit gaat om het duidelijk krijgen wáár je je tijd aan besteedt en hoe je dit doet. Dit gaat erom of je bewust bent van hoe je in het leven staat. Ga je ergens 100% voor? En zo niet, weet je dat van jezelf en heb je bewust die keuze gemaakt? Of kabbelt alles maar een beetje voort en maak je loze beloftes?
Hoe vaak stellen we anderen teleur door niet op te dagen zoals we hadden beloofd? Hoe vaak stellen we onszelf teleur? Hoe vaak blijven we scrollen op onze telefoon terwijl de mensen waar we van houden snakken naar onze aandacht?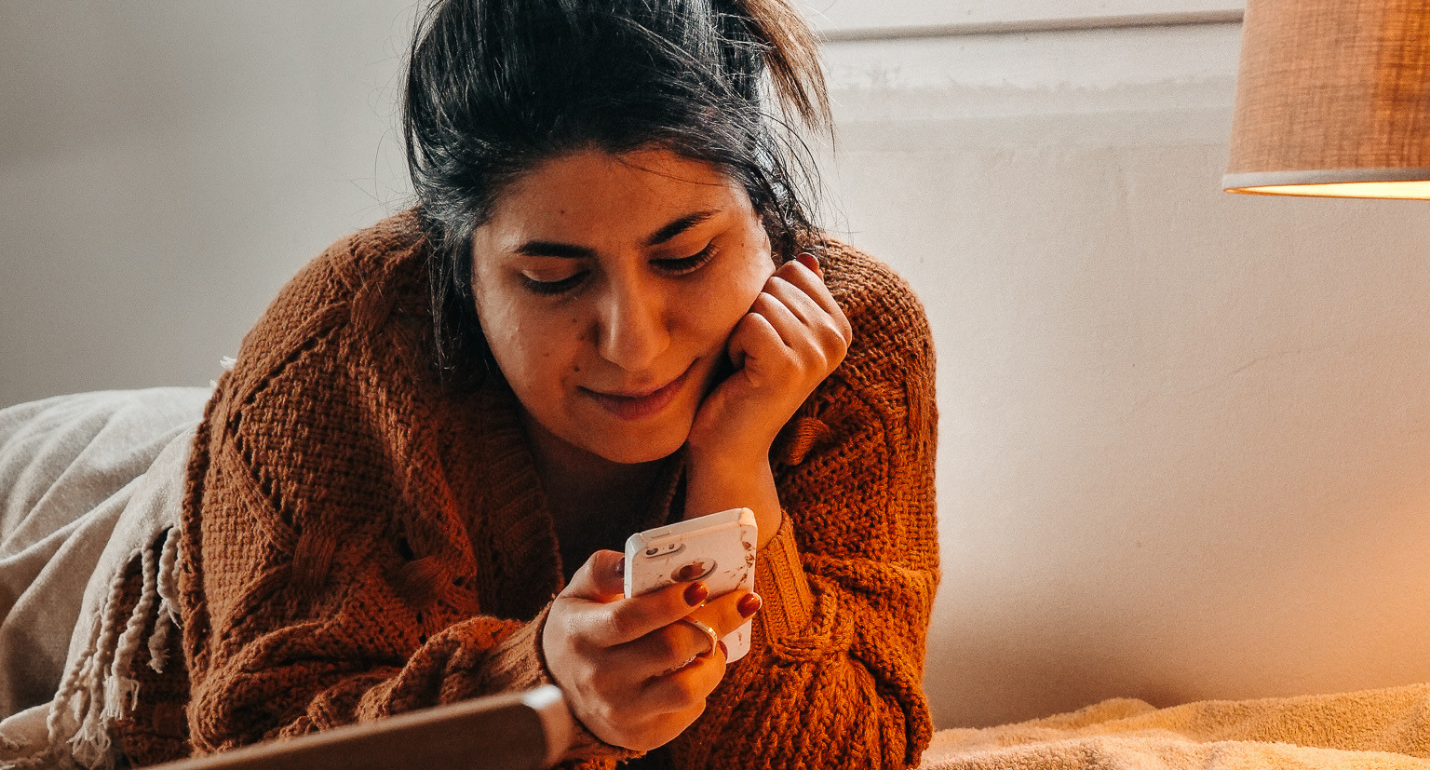 Wat voor effect heeft dit op de mensen om ons heen, onszelf en het werk dat we doen in de wereld?
We verliezen het vertrouwen in onszelf, worden boos op onszelf omdat we weer lijken te falen, creëeren een negatief zelfbeeld en dat heeft weer effect op alles.
We creëeren een gewoonte om weg te blijven van alles wat moeilijk en eng is, we blijven binnen onze comfortzones en maken onszelf klein.
We verliezen het vertrouwen in anderen, we breken harten en hopen dat we het op de één of andere manier de volgende keer beter gaan doen.
Zolang je niet bewust bent naar waar je aandacht naartoe gaat, is verbeteren verrekt lastig. Grote kans dat de patronen in je leven zich blijven herhalen. Is het misschien tijd om de focus te herpakken? Om actief keuzes te maken om ervoor te gaan in plaats van passief te zijn en het leven je te laten overkomen?
Vaag allemaal, he? Wat denk je van de volgende actie punten:
Pauzeren, realiseren wat je inzet-level is op de – voor jou – belangrijke vlakken in het leven (gezondheid, vriendschap, liefde, werk, zorg, zelfontwikkeling etc.)
Kijk in je hart en vraag jezelf af of je écht jezelf volledig wilt geven aan deze dingen? Voel je een diep verlangen om je hiervoor in te zetten? Voelt het goed? Zou je er  €10.000,- op kunnen wedden om daadwerkelijk je volle aandacht erbij te houden? Zo niet, waarom niet?
Het is oké als het antwoord 'nee' is, dan hoef je namelijk niet meer te doen alsof. Dan hoef je niet meer 20% van je tijd zogenaamd te besteden aan het doen alsof iets belangrijk voor je is omdat je denkt dat dit moet terwijl jij dit niet voelt. Zo, dat was een lange zin.
Misschien is je werk wel helemaal niet zo belangrijk voor je en wil je gewoon elke dag om 17:30 naar huis. Prima, dan doe je wat je moet doen en hoef je ook geen promotie of een hogere positie te verwachten. Dat kan zoveel rust geven.
Misschien is het zijn van een betrokken ouder wel iets waar je graag je aandacht aan besteedt, misschien voel je dit in je hart heel sterk en heb je het gevoel dat je het niet hebt gerealiseerd. Spaar energie op andere vlakken om de energie te steken in wat er écht toe doet voor jou.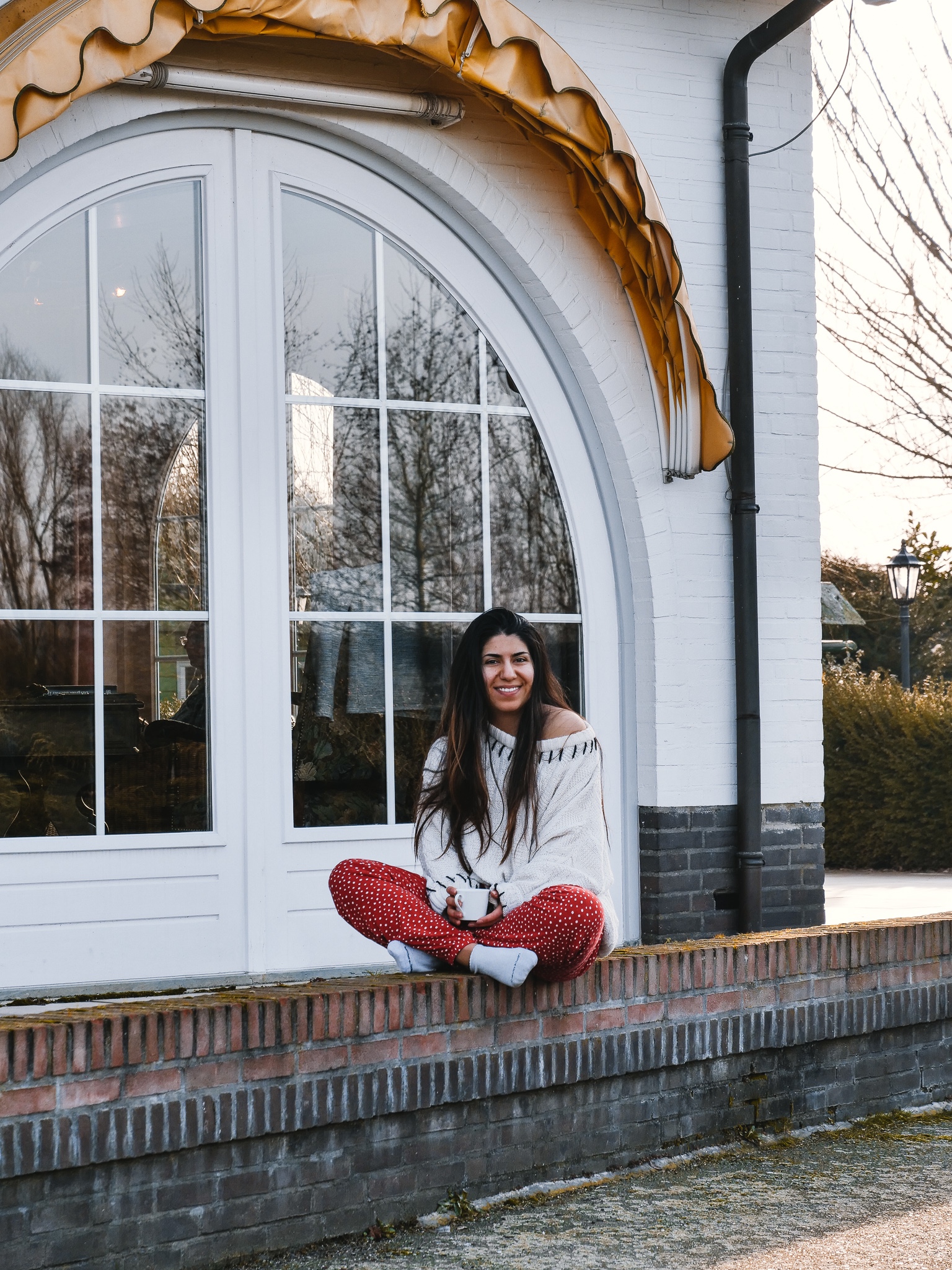 Onthoud: dit is voor iedereen anders. Kijk niet om je heen naar waar anderen hun aandacht en energie aan besteden. Kijk naar binnen. 
Als je weet waar je je aandacht en tijd voor de volle 100% aan wilt besteden is het tijd om kleine stapjes te zetten om je eigen vertrouwen op te bouwen. Wil je fitter en gezonder worden? Misschien kun je tijdens je wandeling besluiten dat je minstens 2,5 km wandelt, wat er ook gebeurt. Als dat keer op keer lukt, kun je een stap verder gaan.
Wil je meer tijd besteden met je kind(eren)? Misschien kun je afspreken met jezelf dat je elke avond 10 minuten gaat voorlezen. Misschien kun je een middag per week samen een activiteit doen die hij/zij uitkiest.
Iedereen heeft dezelfde uren in een dag, het is waar je ze mee besluit te vullen wat het aan het einde van de dag waardig maakt. Je hoeft niet meer te doen alsof, besteed ze hoe jij wilt en heb schijt aan wat anderen daarvan vinden.
Het is tenslotte jouw leven.