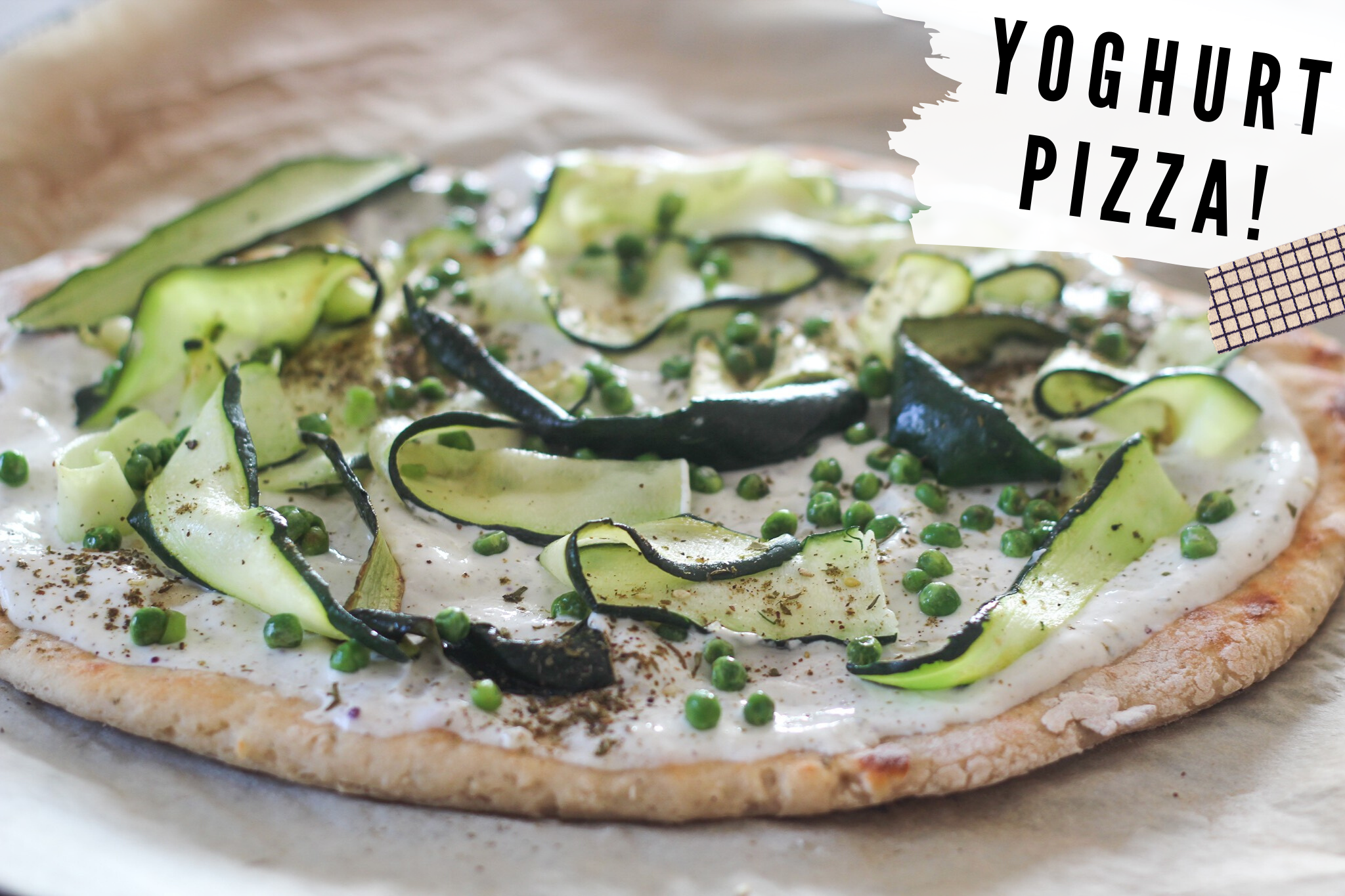 Zal ik een geheimpje verklappen? Dit pizzadeeg heeft maar twee ingrediënten waarvan de eerste yoghurt is!
Deze pizza heeft een super frisse draai gekregen en is heerlijk  om koud op te eten. Een perfect bijgerecht voor de bij barbecue die je van te voren al klaar kunt maken bijvoorbeeld maar ook helemaal prima als lunch.
Ik noem maar wat ideeën op 😉
Wat heb je nodig?
Voor de bodem:
200 gram zelfrijzend bakmeel
280 gram yoghurt of kwark
Optioneel: zout of Za'atar kruiden
Voor de topping:
150 gram yoghurt of kwark
1/2 courgette, met een kaasschaaf of schilmesje in slierten 'geschild'
100 gram diepvriesdoperwten
olijfolie om in te bakken
knoflookpoeder, peper en zout
optioneel: Za'atar kruiden
Verwarm je oven voor op 250 graden Celsius (of de hoogste stand die mogelijk is). Meng het zelfrijzend bakmeel (stiekem heeft dit dus twee ingrediënten, maar daar hoef jij niets voor te doen) met de yoghurt met een vork tot er langzamerhand een plakkerig deeg ontstaat. Optioneel: voeg hier wat (1/2 eetlepel) Za'atar kruiden of een theelepel zout aan toe voor extra smaak. 
Als het te plakkerig is, doe er dan wat meel bij. Rol het deeg uit in de vorm die jij wilt voor je pizza, verplaatst dit voorzichtig naar een ovenplaat bedekt met een velletje bakpapier. Zet je oven iets lager (220 graden Celsius) en zet je bodem 10 minuten in de oven. Na 10 minuten zal de bodem gaan opbollen, prik er met een vork wat gaatjes in zodat de lucht eruit kan en laat de bodem weer 10-15 minuten afbakken.
Let op, als je je bodem uit de oven haalt en meteen aansnijdt zal hij van binnen 'zacht' voelen. Dit is niet erg, dat het komt door de yoghurt maar de bodem is gewoon gaar om te eten. Als je je bodem laat afkoelen zal alles wat meer doorgaren en niet meer vochtig zijn van binnen.
In de tussentijd verhit je wat olijfolie in een koekenpan en bak je hier de doperwten en courgette met peper, zout en knoflookpoeder. Meng ondertussen de yoghurt ook met peper, zout en knoflookpoeder (of alleen met een theelepel Za'atar kruiden) in een schaaltje.
Als de pizzabodem uit de oven is kun je hem even 10 minuten laten afkoelen en dan bedekken met de yoghurt + de courgette en doperwten uit de koekenpan. Druppel er eventueel nog wat olijfolie overheen en klaar is je frisse pizza! Enjoy!