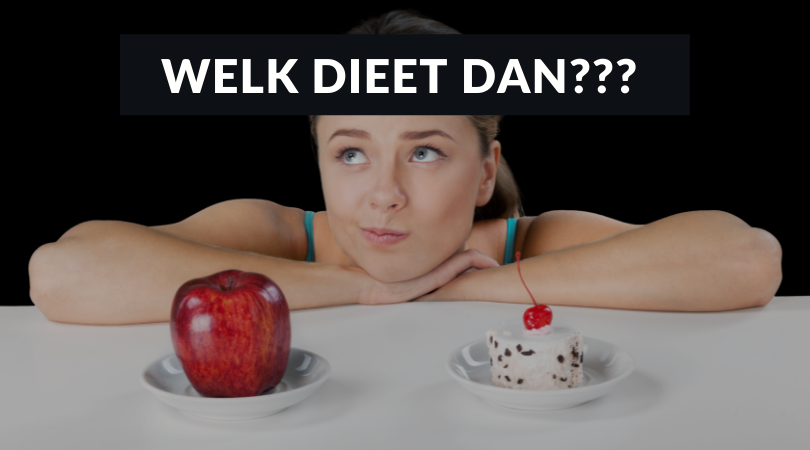 De vraag welk dieet goed is om te volgen gaat denk ik over afvallen. Welk dieet is om goed om te volgen als je wilt afvallen?
Want, waarom zou je anders een dieet volgen en daar deze vraag bij nodig hebben om te stellen. Als er een medische reden is, dan zou je vragen "welk dieet is goed om te volgen bij diabetes type 1" – bijvoorbeeld.
Ik wil graag antwoord geven op deze vraag, op de manier die je van me gewend bent.
Door een spiegel voor te houden..
STOP. MET. DIËTEN.
Als je wilt afvallen kun je een dieet gaan volgen. Een bekend dieet wat een hype is of langs de diëtist voor een gepersonaliseerd dieet.
Er zitten heel veel verschillen in alle diëten die je zou kunnen volgen, maar eigenlijk is mijn mening dat 90% van deze diëten niet voor lang termijn bedoeld zijn.
Lang termijn succes boeken met afvallen en het gewicht er ook af houden, betekent dat je iets aan je leefstijl moet veranderen. Je hebt het vast vaak genoeg gehoord, maar het is werkelijk de enige manier.
Wat de manier waarop je afvalt, is ook de manier waarop je het gewicht eraf houdt. Als je na het afvallen weer iets anders gaat doen dan hetgeen dat ervoor heeft gezorgd dat je afvalt, kom je weer aan.
Een dieet is niets meer en minder dan een voorgeschreven plan om naar te eten.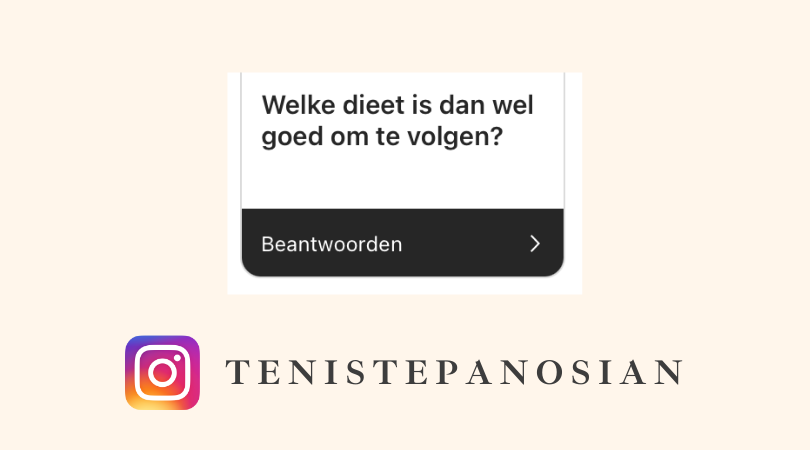 Elke week behandel ik vragen die op Instagram gesteld worden, vergeet me daar niet te volgen om meer live content mee te krijgen en je vragen direct te kunnen stellen! @tenistepanosian
Leefstijl!
Ik hoop dat we op een plek komen waar wij, als vrouwen, niet meer denken in diëten tenzij het om een medische reden is of voor een sportprestatie. Diëten in de alledaagse vorm die we kennen om af te slanken, zouden veranderd moeten worden in leefstijlen. Een leefstijl of voedingspatroon die je volgt.
Als we dan op dat punt zijn, dat we een leefstijl of voedingspatroon hebben om te volgen – dat we dit veranderen naar een leefstijl die bij je past en je een goed gevoel geeft.
Zodat je het op een gegeven moment niet meer 'volgt' maar integreert in je leven.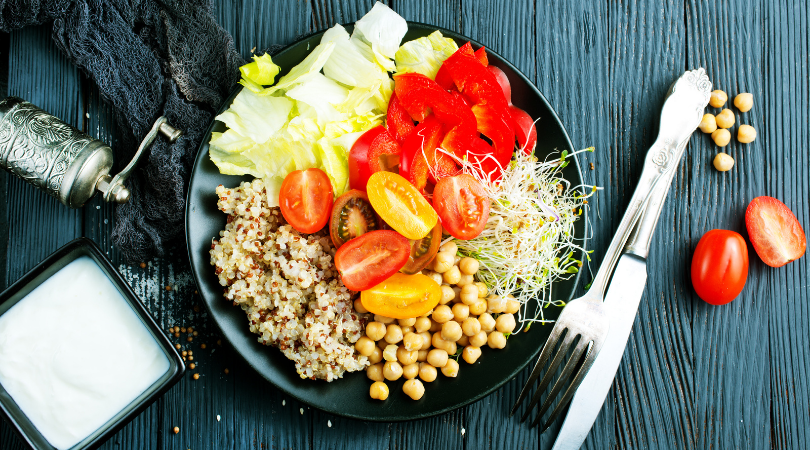 Mijn allerbeste advies om te geven voor iedereen die wil afvallen is: Eet wat je eet, maar verander daar deze week 1 klein dingetje aan. Halveer je ontbijt. Of vervang iets vettigs met iets eiwitrijks. Of gebruik groente bij je avondmaaltijd daar waar je een zetmeelproduct gebruikte.
Maak dit soort kleine aanpassingen hier en daar en wissel het af met wat je nu doet. Dus eet je graag spaghetti? Eet een avondje pompoen spaghetti of courgette spaghetti en de volgende avond weer gewone spaghetti.
Niks is verboden. Als er iets verboden is, dan wil je het alleen maar en houd je het toch niet vol.
Begin met iets kleins en wissel af. Je hebt tijd zat. Hoelang wil je al afvallen en hoelang wil het niet lukken? Precies, dan wordt het tijd om het via een andere boeg te gooien. Lang termijn afvallen op een gezonde en constructieve manier!
Lees de volgende artikelen voor extra tips en inspiratie:
Nog meer tips om je te helpen met afvallen | Maar je kent ze vast al!
Een dieet met heel weinig calorieën is het beste voor afvallen | FABEL